Tyler Kolek: Josh Beckett or Todd Van Poppel?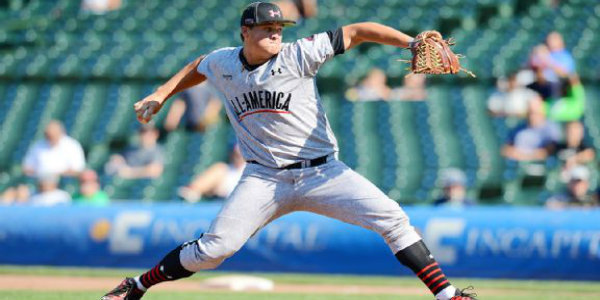 The NFL and, to a lesser extent, the NBA drafts have become sports holidays. Tons of hype and prime-time TV coverage have made moderate sports fans into armchair Mel Kipers and Jay Bilases (Jay Bilii?). Only the most ardent fans know *anything* about the MLB draft.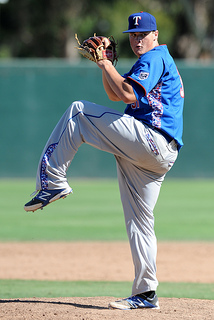 Even while access to information is increasing, ask a random fan sitting in the bleachers his or her opinions on Carlos Rodon, the stud LHP from North Carolina State University, Brady Aiken, a High School left-handed pitcher from California, or Alex Jackson, the Rancho Bernardo HS catcher who is generally thought of as the best position player in the draft. You'll be lucky to a "I think I've heard of them" instead of a "WTF are you talking about, weirdo?" All three of the above are a part of a four-way battle for the number one overall pick along with possibly the most powerful High School pitcher in history – Tyler Kolek.
Outside of Sidd Finch there may not be a single pitcher in the history of baseball who has thrown as hard, as consistently at his age as Tyler Kolek.
A native of the small town Shepard, Texas (population ~2,000) located about an hour and a half northeast of Houston in San Jacinto county – named for the Battle of San Jacinto in which Texas won its independence from Mexico and where the battle cries "Remember the Alamo" and "Remember Goliad" come from, though Goliad is ironically often forgotten – Kolek is straight out of MLB central casting. Standing, at least, 6-foot-5 and weighing 240 pounds. The Oxford English Dictionary placed Kolek's picture under the word "workhorse". The young man literally spends his time away from baseball on his father's ranch hauling bales of hay.
When not making cliche characters come to life, Kolek also spends some time on a baseball mound. Though Kolek has shown a better feel for pitching than he is sometimes given credit for, his game is all about power. He throws a devastating hard slider, a power curve-ball and a fastball. Oh, that fastball. Throughout his senior seasons and the summer showcase circuit, Kolek's fastball sat 94-96 MPH and often touches higher. At the Perfect Game event he hit 99 MPH. Reports of 100 MPH have become almost common place for Kolek. Recently he threw a single pitch at 102 MPH, out of the stretch.
But, for all of Kolek's upside, he is not a can't-miss bet. Young pitchers with long-levers and young pitchers who throw hard often have trouble repeating their mechanics. While Kolek's long arms and legs help him produce incredible velocity, he has had some trouble doing things like maintaining the landing spot of his stride foot; this causes command problems.
Kolek usually "lands closed" in his stride or "thorws across his body" which can make it harder for a pitcher to command the outside edge of the plate and adds some extra stress to the delivery. It is virtually impossible to throw a baseball as hard as Tyler Kolek does without a huge degree of what's called "maximum external rotation", basically how much the forearm bends back during the throwing motion. The ulnar collateral ligament (UCL) bares a lot of the load during this action, the further back the forearm bends the more energy is available to go into the ball, or the arm itself. Velocity is a double-edged sword. Throwing really, really hard helps get batters out but it also increases the risk of injury.
Healthy pitching mechanics are all about timing. The window where the forces created by a pitcher's legs, hips, torso, back and arm should go into projecting a ball towards home-plate is very small. The energy that doesn't go into the ball finds its way into muscles, tendons, ligaments and bones. The small inconsistencies in Kolek's mechanics make him drift in and out of this window. Occasionally everything's great, sometimes a little less so.
Without proper fitness, nutrition and most importantly rest/recovery times most pitchers will break down eventually. Predicting exactly when and where an injury will strike is mind-blowingly difficult and doing so from the outside, without access to any medical or hard bio-mechanical data, is flat-out impossible.
It's like a $5 million dollar mansion located near a fault line. The risk is relatively low in the short-term, moderate in the middle-term but pretty high over the long-term that an earthquake will hit. You hope that it never hits and if it does that it's a 5.0 rather an a 8.0 quake.
But there's a chance of something bad happening to any house, anywhere. Floods, tornadoes, iconic food-shaped vehicles is a slightly elevated risk level prevent you from moving into the world-class home? Should we ever get out of bed in the morning? What can Tyler Kolek teach us about existential despair?
No high school right-handed pitcher has ever gone first overall in the MLB draft. Only twice has a prep southpaw been the first selection, David Clyde by Texas in 1973 and Brien Taylor by the Yankees in 1991. Those historic failures played a big part in college players outperforming high schoolers in the draft for years.
Here's the thing though, neither David Clyde nor Todd Van Poppel have anything whatsoever to do with Tyler Kolek. MLB draft pundits tend to group players by age and position and while the success rates of the group can tell us some things they don't tell us anything about future individual members of the group. Especially when those group-wide trends are vanishing.
Staying away from Kolek will make your draft marginally less risky but it also cuts out 100% of the potential upside, which is enormous.
Josh Beckett taken second overall by the, then, Florida Marlins in 1999 is the highest drafted high school right-handed pitcher of all-time and one of the best selections in recent years. He gave the Marlins four years of terrific starting pitching then was flipped as part of a trade for Hanley Ramirez who gave the Marlins several more seasons of MVP caliber production.
The Marlins knew Beckett was talented but as a high school pitcher was inherently risky and took him anyway. In the face of a random and chaotic universe they bet on upside and talent and were rewarded as handsomely.
Kolek as just as, if not more, talented than Beckett at the same point in his development. Pitchers with potential scouting grades of an 80 fastball, and two 60+ breaking balls are rare and valuable. Kolek has a chance of turning into one of the games best starting pitchers, a dominant ace who racks up lead leading strike-out totals. There's also a chance he gets hurt, loses velocity and returns zero investment for future Major League and fantasy owners alike.
Maybe you end up with Nolan Ryan, maybe your mansion is destroyed by an earthquake. Maybe you get several good seasons then trade him for a huge return, maybe you get hit by a bus crossing the street on your way to draft him. Maybe ancestors survived millions of years of potential predators and famine by taking great risks and succeeding, maybe
"Life's but a walking shadow, a poor player
That struts and frets his hour upon the stage
And then is heard no more. It is a tale
Told by an idiot, full of sound and fury
Signifying nothing."
– Macbeth (Act 5 Scene 5)
If you're not willing to take a risk on a guy like Tyler Kolek there's not much point in taking any risk. If you're not willing to take any risk, I feel sorry for you.
Whether Kolek succeeds will tell us only about Kolek himself. How you feel about whether guys like Kolek will succeed tells us everything.