Underrated Athletics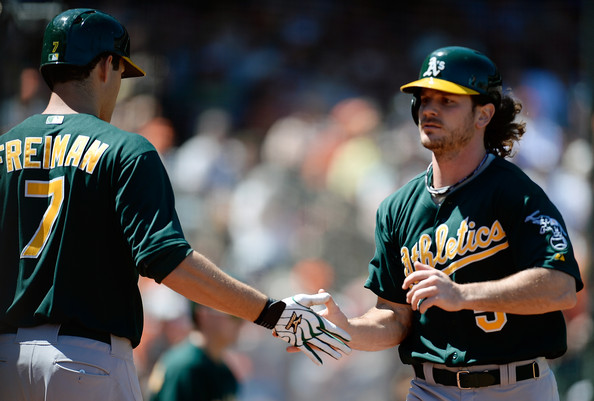 A majority of the fantasy coverage on the main sites (ESPN, Baseball Prospectus, FanGraphs) centers around players that are relevant in mixed leagues. When an injury occurs, a players replacement is deemed mixed league worthy, or not. However, guys who get around 350 plate appearances each year, platoon players, are tremendously valuable fantasy assets in only-leagues, even if they aren't useable in mixed league formats. The Oakland Athletics have two such undervalued commodities, who make excellent AL-Only players. Nate Freiman and John Jaso don't get much coverage, but when they get the right matchups, they are deadly.
Freiman is a right first base, who plays the less plentiful part of the platoon with Brandon Moss for Oakland. While Freiman only has 85 plate appearances this year so far, he is hitting an awesome .339 versus lefties with 2 homers, 4 doubles and a triple and 14 RBI. His 11:7 strikeout to walk ratio is also encouraging from a young player who could earn some more playing time. Additionally, the Athletics are not shy about pinch hitting, even early in games. Over the course of the season, it would not be unresonable to expect Freiman's playing time to go up if Chris Young keeps struggling and the Oakland outfield struggles to stay healthy. It is precisely because Freiman hasn't played all that much yet that his owner in your league might not fight to hard if you attempt to trade for him.
Jaso came to the Athletics via a trade with the Seattle Mariners and has accrueed 166 plate appearances while splitting time with Derek Norris. He bats from the left side of the plate, but is actually passable versus righties, hitting .250 versus lefties and .271 versus righties. Jaso's real skill lies in his ability to see the ball well, however. Against right handers, Jaso has a .365 OBP and more often than not, against right handers, Jaso gets to hit in the 2 hole. Over the course of the year, Jaso will outperform the value prescribed to him by the larger fantasy community because he is going to get those extra plate appearances from playing at the top of the order.