Utilizing Your DH Spot For AL-Only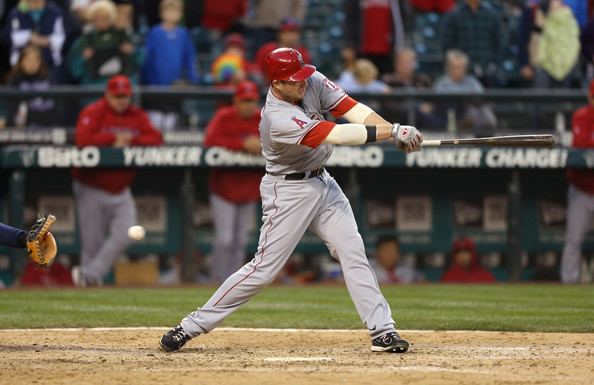 Chances are if you play in AL-Only, you view your DH slot as sort of pesky nuisance, a place to stick that 12th round C/1B/OF/DH player who isn't particularly good at anything. The DH positional slot, however, can be an enormous boon to your power categories if you select the right sorts of players to rotate in and of these slots. I'm certainly not opposed to an early selection of Pujols or Edwin Encarnacion, but chances are that you will be flipping through the DH slot consistently, which means you need some cheaper options for consistent production. I have identified 3 less expensive options who also have eligibility at other positions who you should target for cheap power in AL-Only.
Mark Trumbo, 1B/OF/DH, Los Angeles Angels: Fantasy analysts seem to be all over the place on Trumbo's value. Many seem to harp on his K% of 26, but that is seriously underrating the man. Playing in a lineup with Albert Pujols, Mike Trout and Josh Hamilton is going to allow Trumbo to score alot of runs and drive in alot of runs. In his two seasons in the majors, Trumbo has bashed 61 homeruns in just over 1,100 plate appearances. There will be leagues where Trumbo is 11th or 12 designated hitter taken and that will be a huge mistake. Playing in that lineup with his prodigious power is a recipe for sheer fantasy goodness.
Adam Dunn, 1B/DH, Chicago White Sox: Adam Dunn is true three outcome hitter. He will either strike out, walk or bash a home run; this causes many fantasy analysts and players to avoid him like the plague. Everyone remembers the season with the worst batting average in major league history. Many don't realize that Dunn was tied for 5th with Ryan Braun for Major League Homeruns with 41. Despite the miserable batting average and lack of production in other categories, getting that many home runs late is seriously vital. You can find help in the other 4 hitting categories relatively cheaply. That is not so with home runs. Grab Dunn in the later rounds of your AL-Only draft and laugh as you watch your lead in the HR's category builds up.
Kendrys Morales, 1B/DH, Seattle Mariners: Morales injury issues have had his fantasy stock falling off a cliff for the last several years. His injury issues have caused people to forget that he once posted a season with a .264 ISO and hit 34 home runs. With the fences coming in at Safeco and playing a lineup that should be somewhat better with Jesus Montero's progression and the Micheal Morse trade, Morales could be a surprising fantasy asset. Safeco isn't going to all of a sudden turn into Coors Field, but if it even becomes 5% more hospitable, Morales could improve upon his line of last season. In 522 at-bats, he his 22 homers and knocked in 73 runs. Not great numbers, but nothing to sneeze at. There is no real reason that he isn't worth a flyer in your rotational DH slot; with an ADP of 254 in mixed leagues, Morales could provide some real value in AL-Only formats.
Any questions will always be answered at my twitter @davismattek