Why Brett Gardner's Contract Extension is Deserved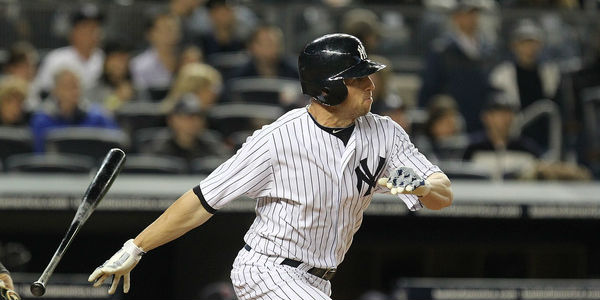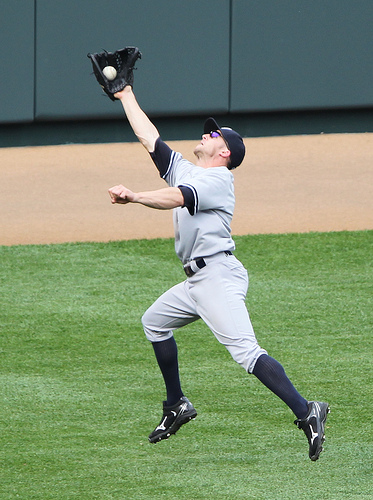 The New York Yankees have locked up Brett Gardner to a four year extension after the 2014 season.  The extension buys out his last two arbitration years and first two years of free agency.  The extension in total is worth $52 million over those four years.  There has been shock from some and approval from others, but the deal is ultimately fair for both sides for a variety of reasons that we will break down for you here.  Aside from his ability see a lot of pitches, steal bases,  and score runs, Gardner's defensive metrics and WAR (Wins Above Replacement) should ease the hysteria and uproar about his 52 million dollar extension.  Also hop to the bottom if you want to look at Brett's FANTASY VALUE for this season!

First let me say that to a certain degree, I can completely understand the surprise emitted by many regarding Gardner's contract extension.  He is a powerless, .268 lifetime hitting corner outfielder.  I get it, trust me.  However, if you look deeper into Brett's value as a player overall, you will see where he earns his pay.  In a fantasy obsessed age where the average fan has all but forgotten about the underrated value of the defensive contribution of a non-pitcher, Brett Gardner goes the way of the dinosaur in the eyes of many.  The fact is, his value to the Yankees from a defensive perspective could be made as a stand-alone argument in justifying the contract alone.
UZR is the most commonly used stat to most accurately quantify a player's defensive value.  Gardner had a down year in 2013, and missed virtually all of 2012, so I want to take a good look at 2010 and 2011 to show his true value and capability on defense in the outfield.  First take a look at the numbers below regarding UZR for a player, you'll see anything above 15 is considered a gold glove player.
| | |
| --- | --- |
| Defensive   Ability | UZR |
| Gold   Glove Caliber | +15 |
| Great | +10 |
| Above   Average | +5 |
| Average |  0 |
| Below   Average | -5 |
| Poor | -10 |
| Awful | -15 |
 (chart courtesy of: fangraphs.com)
In 2010 Brett Gardner's UZR was 25.8. If there was a chart for above 25 what would it be called, super human?  That was no fluke, because in 2011, Gardner's UZR was even better at 26.1.  That was 8 better than the next player in the majors, Dustin Pedroia who had a 18.1.  The next best outfielder ironically was Gardner's new teammate Jacoby Ellsbury at 16.  Gardner was not only the best defensive outfielder in baseball, but he was the best fielder in baseball.  With all of that said, he was still robbed of a gold glove.  Gold glove or not, the baseball world is well aware that Brett Gardner is one of the best defensive outfielders in the sport, a designation that loses merit in an offensively obsessed world.
We can stop right there to justify Gardner's new pay day, but of course I am not going to.  If the wheels haven't turned in your head yet and you can't understand why Brett Gardner deserves $13 million when a DH only Adam Dunn takes in $15 million, then you can probably stop reading and move on to something else.  If I have your attention, let's move on to another supporting fact for Gardner, WAR.
WAR is an acronym that stands for "Wins Above Replacement". It determines how many wins a player is worth compared to a replacement player of average talent.  The graph below from fangraphs.com charts how to fairly categorize a player based on their individual WAR.
| | |
| --- | --- |
| Scrub | 0-1   WAR |
| Role   Player | 1-2   WAR |
| Solid   Starter | 2-3   WAR |
| Good   Player | 3-4   WAR |
| All-Star | 4-5   WAR |
| Superstar | 5-6   WAR |
| MVP | 6+   WAR |
 (chart courtesy of: fangraphs.com)
Over his last 3 full seasons Brett Gardner has averaged a WAR of over 5, which would put him in the All Star-Superstar category.  He is worth 5 wins to the Yankees every season, which as we all know in the always tight, down to the wire AL East, five wins are critical.  To say that a player who brings a team five wins on his own is not worth $13 million is silly.  Not to take on too much heat, but who cares, I will, the legendary, the iconic, greatest of all time, Mariano Rivera only had a WAR above 5 once in his entire storied epic career, and it dates back to 1996.  Yes, as important as Rivera was to the Yankees, often earning $15 million per season in salary, Brett Gardner was worth more to the Yankees in wins than he was.
Player value can be determined from converting WAR to dollars, calculating what a player would earn in free agency based on their wins over a replacement player.  Based on WAR dollars, Brett Gardner could have earned $24 million in 2010, $22 million in 2011, and $16 million in 2013.  It's not tangible of course but it is equated based on real contracts and comparatives with player WARs.
I thought I would need to go into Gardner's offensive statistics but I really don't have to.  The basic rundown there is that he will be a .270 hitter that takes a lot of pitches (6th in all of MLB in 2013), that can steal up to 50 bases and score 100 runs in a full season.
When people think of corner outfielders these days, they look for power production, RBI and home runs.  Gardner is certainly not that player, but what he brings to the table in getting on base, stealing bases, scoring runs, in addition to the best defensive play in the game, justifies his new extension without a doubt.  I would almost argue that the Yankees got a bargain if he maintains his level of play through the 2018 season.  People need to remember that baseball is played on both sides of the field, and Brett Gardner represents the elite while roaming that huge left field in Yankee Stadium.
FANTASY VALUE: Yahoo! Sports has Gardner ranked at #150 overall, which would have him going in the middle of the 13th round in standard 12 team drafts. His current Average Draft Position in the early going is 165, which bumps him back to the 14th round.  I wouldn't reach for Gardner by any stretch but if you get to this point in your draft and you see your roster is weak in stolen bases, keep your eye on him in the 13th round because when healthy, he can certainly get you 40-50 steals and score some runs.