2013-14 Fantasy Basketball: In The Bonus Week 3 – Finding the Next Breakout Player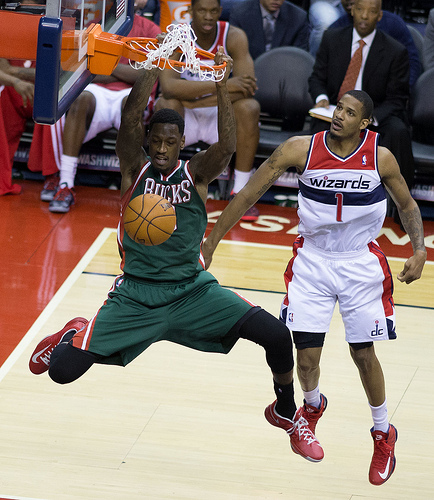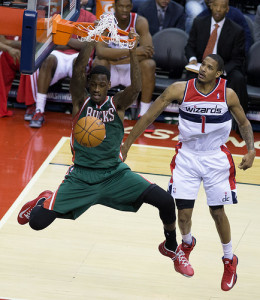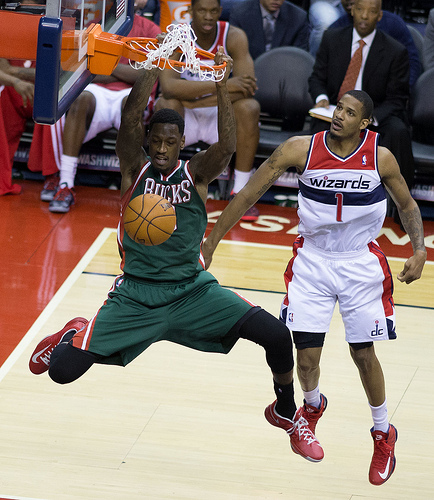 We're two weeks into the NBA season and already we find ourselves stressing over players' performances. There are those we scouted, targeted and eventually drafted in the mid-to-late rounds, all of whom we felt had such great upside, and two weeks later, we're wondering what went wrong. So we're left to decide: were our thoughts and assumptions off-base or were these just slow starts that will soon pass? I wouldn't make any rash decisions on early-to-mid round players, but I also wouldn't put anyone on a pedestal simply because you drafted them. We all make mistakes in the draft, but don't further extend that mistake by holding on to a late round draftee if there's an enticing free agent whose hot start you believe will extend itself deep into the season.
Now, a lot goes into determining who's "for real" and who's not at this early point in the season. For instance, Will Bynum started off nicely, but when you look at the bigger picture, he was only starting until Brandon Jennings and Rodney Stuckey got healthy enough to push him back down the depth chart.
The end of your fantasy bench is a spot to take some chances though. In a daily league, you likely will use those spots to stream until you come across a player worth holding onto. Last year around this time, there was a player off to a super-hot start, averaging nearly a double-double and more than two blocks in less than 28 minutes a night. At the time, he was just an out-of-nowhere guy who couldn't possibly keep it up. He then digressed over a couple weeks and most early-adopters dropped him. Two weeks later, the coach finally gave him his minutes back and everyone scrambled to add him. We all want to find the next Larry Sanders, and for every one of him there are dozens of players who will have a hot streak only to fall flat. Sanders showed that he could be a beast of a big man with his quick start to the season, and despite the team giving Dalembert a shot to keep the job, it was only a matter of time. Don't be afraid to stash a guy like this on your team for a little while and hope they get their deserved chance to breakout.
With that said, let us look over a few players that are worth watching after their impressive starts, beginning with a few seemingly obvious names that are owned in many leagues but merit mentioning.
Michael Kidd-Gilchrist (owned in 67% of leagues) – MKG has started off this season looking much improved. He's being more aggressive with the ball and appears a lot stronger. He should continue to put up solid points, rebounds, steals and blocks. He should be owned everywhere.
Andrew Bynum (50%) – I wasn't willing to reach for Bynum in drafts, but if he fell to his rank in the 120-130 range, I felt he was worth stashing. No one knew he'd start playing right away, even in a limited role, and though he's still not playing back-to-backs and won't until at least December, he's the starter in the games he does play. With more than 20 minutes early on, I expect him to log more minutes come December. He has a big downside, but if he's available, you have to grab him in case he stays healthy and is able to approach his old numbers.
Dion Waiters (49%) – I'm not sure why Waiters is floating around in more than half of leagues, but congratulations to you if he is in yours. Waiters can play, and the Cavs haven't shied away from rolling out their three guard lineup thus far. He fills the stat sheet, although he's not going to help out your percentages. Also, should Kyrie Irving get injured again, Waiters would put up even bigger numbers.
JJ Hickson (49%) – There's a good chance that Hickson is being swooped up in your league as we speak. He was owned in around 35% of leagues just a few days ago, and the percentage is steadily rising. I'm not a huge fan of Hickson's game, but now that McGee is out indefinitely, he has a nice role carved out. He'll be somewhat inconsistent but should provide solid points and boards with some blocks. Keep an eye on Mozgov to see how Denver splits their minutes, but Hickson is the favorite to benefit most.
Now to the players owned in less than 30% of leagues. These players should be on your radar, and — depending on your team's needs — you should consider adding them.
Jordan Hill (20%) – Hill is finally getting the starter's minutes he has deserved in L.A. His per-36-minute stats are ridiculous and have been for the past couple of years. Simply put, when he gets on the court, he's killing it. In the past two games in which he has started and gotten more than 25 minutes, he has shown that it's not an anomaly either, averaging 19.5 points, 13.0 rebounds, 1.5 steals and 2 blocks. Now he's not going to average that all season, but with no one around to take the gig from him, he should be able to average a double-double with solid steals, blocks, and even percentages the rest of the way. Before you finish reading this article, see if he's still available in your league, but after that, please come back and finish reading my first piece for The Fix.
Patrick Beverley (26%) – Bev has been quite inconsistent through four games since returning from injury. I believe in Bev though, and I think he'll eventually get on a good track. He'll for sure be splitting time with Lin, but he's a better defensive player which will earn him more crunch time minutes. When he's in his zone he can do a little bit of everything. Keep a close eye on him in the coming games if you need help in guard stats.
John Henson (24%) – Who better to use in a piece with a "next Larry Sanders" intro than the guy who is benefiting the most from Sanders being out for 6 weeks? Henson is a must own for me, at least while Sanders is out. He's going to put up solid points and rebounds with an exceptionally high upside in blocks. The only fear here is Bucks coach Larry Drew, who is known for holding guys like Henson back. Henson hasn't started a game since Sanders has been out, but even Larry Drew should be able to figure out that he should be.
Lou Williams (10%) – I planned on mentioning Lou as one of my stash players before the Hawks activated him, but now he warrants even more consideration. His FG% leaves something to be desired, but he's a nice help elsewhere. Atlanta needs a bench guard, and he will happily be that guy. You can chalk him up for his usual averages of 14.0 points, 2.0 rebounds, 3.5 assists, 1.0 steal and 2.0 treys, plus, he's really nice from the free throw line. He'll almost certainly be eased back rather slowly, but in the end, he'll be worth it.
Digging a little deeper for those in bigger leagues. These are guys worth looks in 12+ team leagues and guys just to monitor for those in smaller leagues in case they take another step up.
Timofey Mozgov (1%) – Moz will get a minutes boost while McGee is out and has potential to get the edge in minutes over Hickson if he plays well. He had a great on Wednesday thus deserving of a look in deeper leagues for now and a sharp eye in common leagues. He's a nice blocks stream guy if needed anyways.
Mo Williams (1.7%) – Mo gives you a solid scorer and some decent dimes as well. He's also starting to get back his three ball which is nice to see.
Marcus Morris (0.6%) – "The other Morris" is very overlooked this year. He's been contributing pretty well this year in categories that it's not as easy to find. He's doing solid in rebounds but more importantly is the 1.5 steals and close to 2 treys a game.
Diante Garrett (0.2%) – Garrett is one that everyone needs to watch the coming games. He played very strong when given the opportunity on Wednesday. He led the Jazz to a nice comeback win over the Rockets and there's not much competition at PG in Utah until Burke is back. It may not amount to anything but he's for sure worth tracking.
You can follow me on twitter @BigZack44 to see my up to the minute thoughts and feel free to ask any fantasy hoops questions you have.
All Percentages owned were gathered from ESPN.com