2013 Fantasy Basketball: Suns/Wizards Trade Breakdown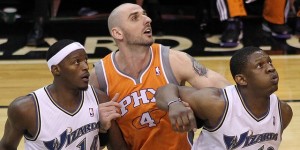 The Phoenix Suns trade:Marcin Gortat, Shannon Brown, Malcolm Lee, and Kendall Marshall.
The Washington Wizards trade: Emeka Okafor and a 2014 first-round pick (top-12 protected).
What it means for the Suns: The Suns are moving in the right direction.  They can potentially have four first round picks next season, in what is considered a deep draft.  I say potentially because they have protections tied to them, however, I think it is likely they end up with all four.  They can now look to build a strong team through the draft and trades (possibly trading the extra picks to move up).  This is what the new CBA wants you to do.  This team will soon be having plenty of young talent to go along with Eric Bledsoe and Alex Len.  Keep those chins up Suns' fans, today is a good day.
Updated: 10/29/13 (Plumlee to start)
What it means for the Wizards: The Wizards have decided to take a different approach.  John Wall has made it known he wants into the playoffs.  So the Wizards went out and got him a big that can help push them into the playoffs.  Forget the other pieces, as it is likely they won't even make the roster, this trade is all about Marcin Gortat.  Gortat is a solid center and he will help the Wizards.  But he is also a free agent after this season and is 29 years old.  He is making almost $8 million this season and you wonder what his market will be.  If the Wizards can sign him to a reasonable deal, then all the better.  But they may also get desperate and offer something like four years at $44 million.
Overall, the Wizards should be able to make the playoffs this season, and although they may never get off the treadmill, that may have already been inevitable until after the 2015/2016 season.  At least now they will be solid for the next few seasons.  The Suns have to be happy as brighter days may be only one offseason away.  It seems like a win-win for both teams.
What it means for fantasy owners: Well, I originally told you to pick up Alex Len, but it turns out Miles Plumlee will be the starter.  He should be able to help in rebounds, percentages, and even in blocks.  As long as he gets minutes, he should be useful.  You definitely want to keep an eye on Alex Len, however.  Markieff Morris should likely be drafted in most standard leagues.  Marcus Morris and Channing Frye could be drafted in certain leagues, but as of right now, I am watching them from the waiver wire.  I think that covers the role changes for the Suns.  Besides Plumlee, Markieff Morris and Channing Frye may be able to help fantasy owners the most.  They both can hit threes and even block some shots.  Markieff Morris was probably drafted, but there is a chance he is available in your league, so consider picking him up.  Marcus Morris gets a bump in minutes, but as of right now, he is only a guy you should watch from the waiver wire. 
As for Marcin Gortat, his value should take a small hit in the short term and if he gets off to a slow start, try to trade for him.  He still will be playing with a strong point guard in Wall, but it may take a couple of weeks before he gets settled.  I assume Nene Hilario moves over to the PF spot, but I am not sure it changes his already low fantasy value.  Players like Trevor Booker, Al Harrington, Jan Vesely, and Kevin Seraphin all got a lot less interesting.  As of now, they seem like waiver wire material.  Keep an eye on them from there, however, as Nene and Gortat both have had injury issues in the past.