2014-15 Fantasy Basketball: Box Score Browsing – Canaan Fodder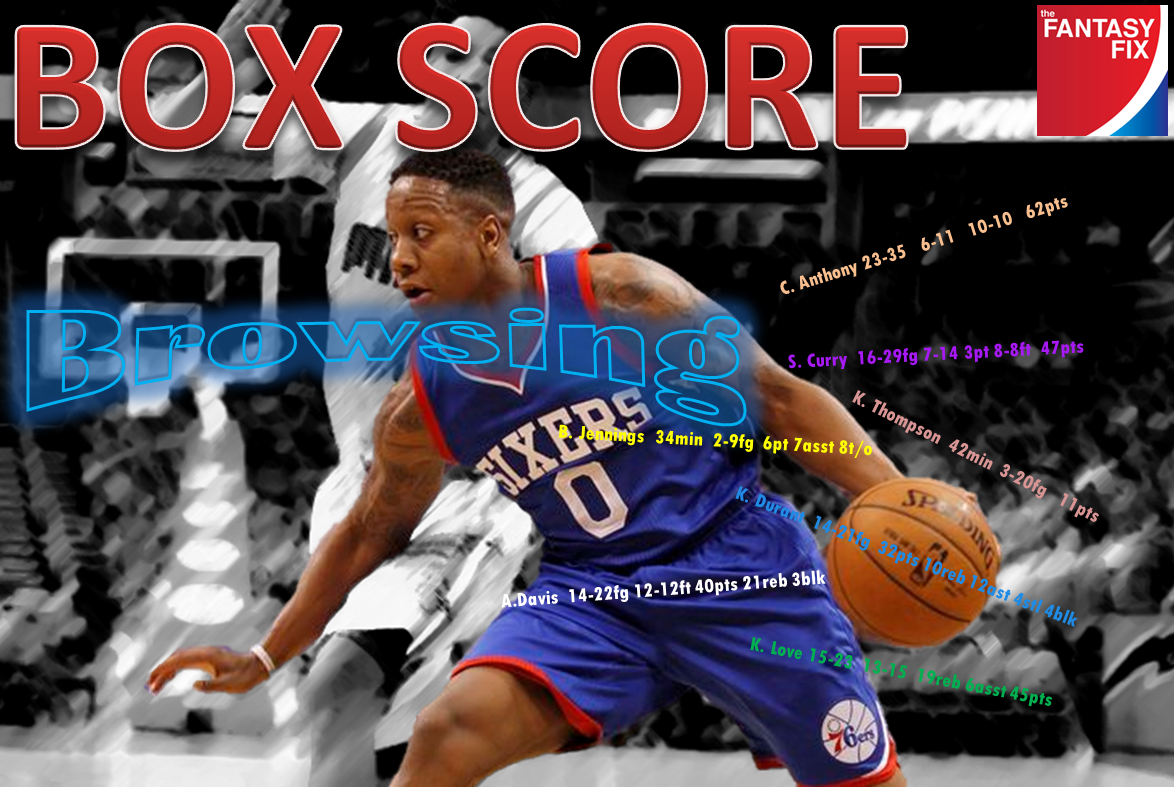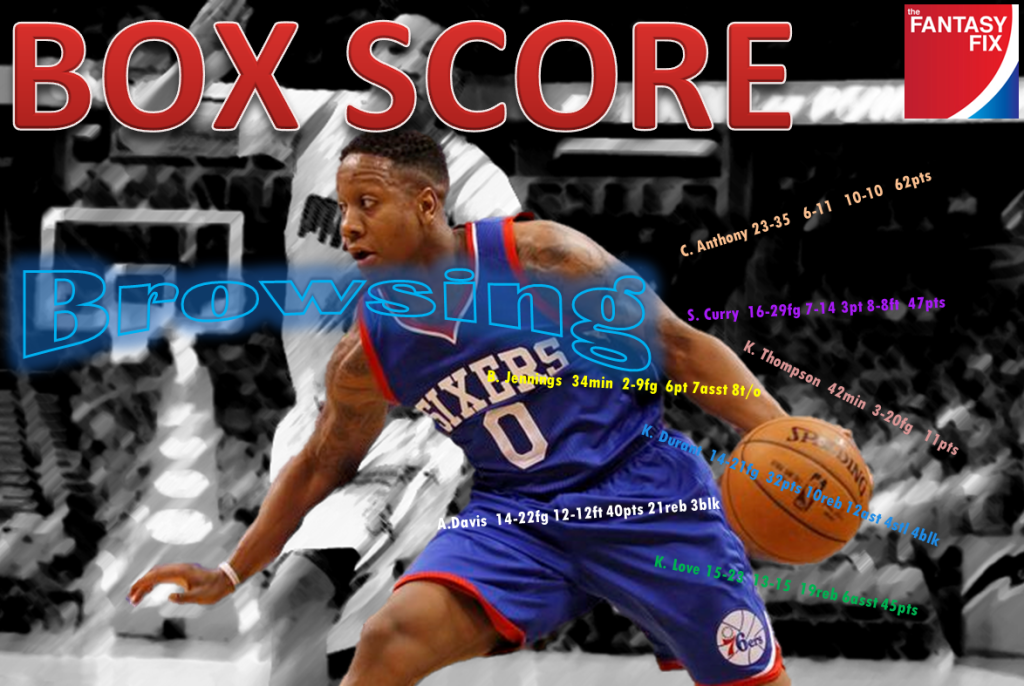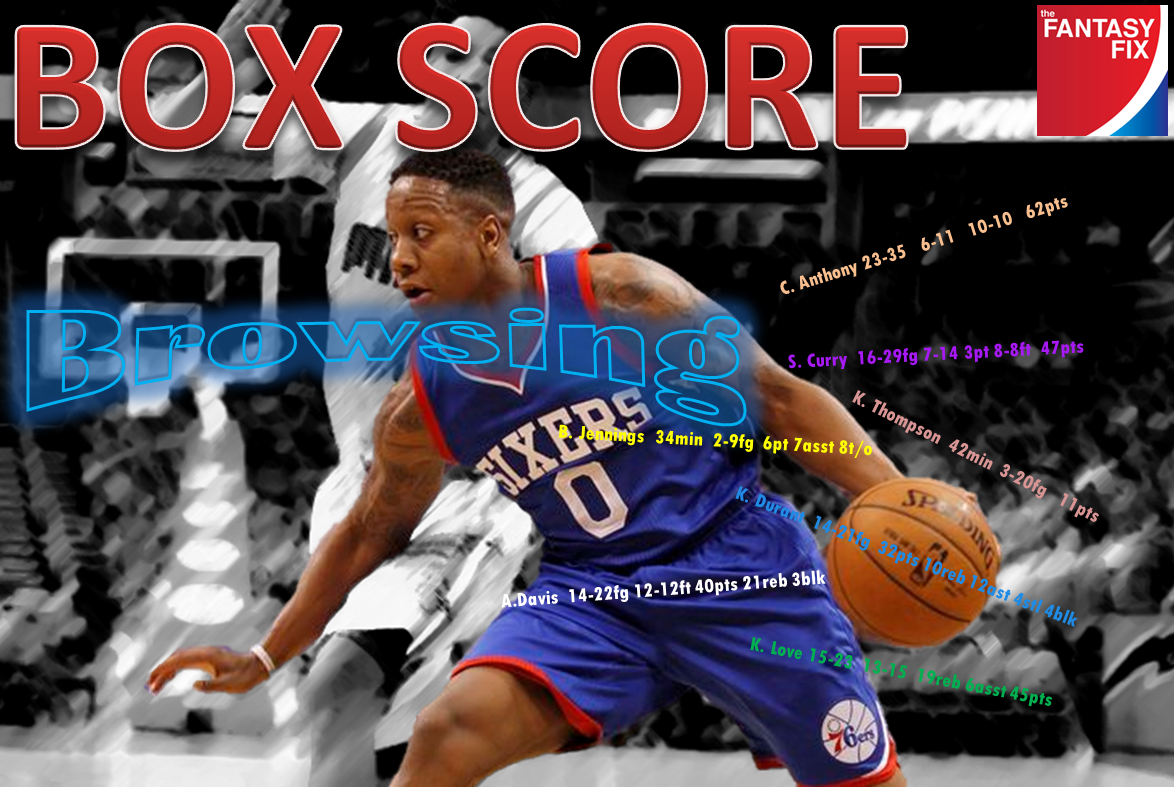 The Philadelphia 76ers are seemingly playing draft pick monopoly, accruing future firsts at an unheard of rate.
Out the door was counting stats guru but shooting averse (Rookie of the Year no less) Michael Carter-Williams, into the fire is Isaiah Canaan.
Coming out of the NBA hotbed of Murray State, he enjoyed a stellar four year career which included an All American team in 2012 and culminated with a senior year that saw him average 21.8 points, 3.5 rebounds, 4.3 assists, 1.5 steals and an impressive 3.0 threes per game.
A shoot first point guard with a penchant for the long ball, Canaan has come out firing in his first real gig as a consistent starter. As others have mentioned, he essentially played a shoot-point while starting alongside James Harden earlier in the season, but now he's most definitely the primary ball-handler for a team who willingly traded for JaVale McGee.
Canaan isn't a pass-first point guard like his predecessor MCW (sort of) was, nor is he particularly defensive or good at rebounding, but he can shoot and he can score and he's been given the green light to do both on his new team.
From here on out, we expect Canaan to get the majority of minutes at point guard, which translates well when you see his game log in terms of playing at least 28 minutes a game. Average the very small sample size (six games) and he's produced averages of 15.3 points, 3.5 rebounds, 3.2 assists, 1.5 steals, a respectable 48% clip from the floor and an amazing 3.7 threes per night (22-48, 46%).
He's not going to be a top 40 guy the rest of the way, but he's locked into a starting gig for a team that (externally at least) truly believes in his talent, and he could very well win you threes while helping in assists, steals and points.
After the seemingly nuclear detonation of the Phoenix Suns' core at the trade deadline, there are still some fantasy notables left standing.
Tucker is a hard-nosed, leave it all on the floor player who is no stranger to transactions, having played professional basketball in no less than seven different countries.
Once the dust was settled in the desert, he was still standing there as the starter at small forward. At times he'll match up on defense with anyone from James Harden to Zach Randolph, such is his will and hunger for the game. Coach Jeff Hornacek knows he has a warrior on his hands who would hug a cactus if it meant his team got the win, so he's continued to play him despite other options at small forward like Gerald Green, Marcus Morris and T.J. Warren.
Tucker played a lot of minutes last year, though he rarely contributed enough in any category to truly be a fantasy asset. Since the All Star break though, he's picked up his game – perhaps seeing that Suns' brass may want T.J Warren getting more burn at the 3 spot.
In his last four games, including the last one leading into the All Star break, Tucker has been ballin'. 15.3 points, 8.5 rebounds, 1.5 steals, 2.0 threes and 50/70 splits – while playing 32.0 minutes per night. Those are pretty solid stats for a guy who basically plays small-power forward, with shooting guard eligibility proving to be a real asset with those rebounding stats.
Stuckey is the sort of fantasy player I hate. Maybe hate is a strong word – more like he is the sort of player who frustrates the bejesus out of me.
I get that he dropped back-to-back 30 point monsters within the last week, but he's just as likely to shoot 5-30 over the next two games combined. And of course after I pick him up (which I have), the latter will most certainly happen.
He's one of those combo guards who doesn't quite get enough assists or threes to warrant an immediate pick-up, which is a problem because there's always a trigger (aka 'ADD PLAYER NOW') manager in every league and you can't give him a week to see if it's the typical flash in the pan (yes you C.J Miles).
Anyway, ranting aside, Stuckey has proven to be useful at times this season for a Pacers team mired in mediocrity but also promising a lot more with the potential return of Paul George. Stuckey's an elite slashing guard, getting to the rim at will against bigger defenders and posting up smaller point guards. His issue has always been a lack of consistency and a hankering for taking long jumpers – not of the three point variety – but the worst kind.
*I've just woken up, checked the box scores and seen Stuckey's latest 'performance' and couldn't be happier about the second paragraph and for benching him in my money league. Whilst putting my socks on preparing for work, it leads me to compare him to putting socks on in the dark. You can never quite get the seams properly aligned and it doesn't quite fit right until you've got the lights on and you see the error of your ways. You, Rodney Stuckey, are like putting socks on in the dark. Sure, you're on my roster (feet) but at what cost?*
Allow my colleague Zack and I some time to gloat about the 76ers defensive juggernaut, as we both touted him highly as a fantasy asset coming into the season.
Earlier in the season Noel had his growing pains, along with his shooting issues, strength issues and questions about what position he really was – but ultimately he has proved his supporter's right by really putting it all together over the last month or so.
Steals and blocks are very difficult to find on your waiver wire, generally because they're the hardest stats to accrue in reality and you need to play a lot of minutes to rack up consistent, rosterable numbers. James Johnson comes to mind, along with young bigs like Alex Len, Rudy Gobert and Jusuf Nurkic. Only Nurkic has a comparable steals rate since becoming a full-time starter and even then it pales compared to Noel's.
In his last 11 games, Noel has had three games with at least four steals, as well as a six block effort against Minnesota and a nine block/four steal masterpiece against Indiana. The dude just racks up defensive stats, which has seen him rocket up the fantasy rankings. Sure, if you put his game under a fantasy nerlens you're going to see flaws, but his defensive upside overrides any sub-par shooting percentages and absence of assists or threes.
Dating back to 7 February, Noel has averaged 12.6 points, 6.6 rebounds, 2.4 assists, 2.0 steals, 3.6 blocks and very respectable 54% shooting from the floor and 71% at the line. That five game stretch saw him as the ninth best player in fantasy in terms of total value, as per Basketball Monster, so he is delivering on the promise many NBA fans saw in his injury-plagued solo campaign at Kentucky.
If you hung onto him earlier in the season through his up and down rookie year, kudos to you. If you don't have him in dynasty leagues, make a play for him with a more established name because the defensive stats he's capable of putting up are right up there with Anthony Davis.
Layups
Payton is doing his best Rajon Rondo/Ricky Rubio impression this year.
There's the great rebounding, low threes and poor free throw shooting of Rondo, mixed with the great steals and solid scoring of Rubio.
The difference between the two vets and this Magic rookie is the beastly 51% he's shot from the floor over the last five games, in which he's averaged 10.6 points, 6.8 rebounds, 6.0 assists, 2.0 steals and just 2.0 turnovers per night.
He's not going to rack up triple doubles or 20 point games, but Payton's become the primary ball-handler, with eight games of at least seven assists in his last 16 games – compared to 12 through his first 42 games.
What's more, the Magic are winning and they're winning with Payton playing big minutes. They're 3-1 in their last four games, with Elf playing at least 32 minutes in each. If you can absorb the lack of threes and the poor free throw percentage (just 13-22, 59% during that stretch), then he's a viable asset in most fantasy formats.
Ricky Rubio is on many of my fantasy teams.
If you graphed my team averages over the course of the season you'd see a smile in both assists and steals while he was out, such is the production he delivers in those two categories.
People forget he led the entire NBA in total steals last year at 191, while coming second in assists at 704. Basically what I'm saying is, when he's healthy he's a very good fantasy point guard.
He was averaging a robust 10.0 assists per game prior to his severe ankle injury, along with 1.2 steals and 5.6 rebounds. Since returning from said injury he's been very solid, averaging 12.1 points, 5.4 rebounds, 7.0 assists, 1.0 three and 2.0 steals per night, in seven games.
The bad news?
He's shot just 36% over that span, including 4-19 (26%) over his last two contests. Rubio's got a myriad of athletes and score-first types on this young Wolves team, so you can expect close to double-double production, along with massive steal totals and above average free throw shooting.
As always we welcome your feedback, so feel free to hit me up on Twitter (@macetastic) and I'll do my best to reply to any comments.
Big ups to the amazing Basketball-Reference, for all the links and for de-railing me so often, all in the name of research.