2014-15 Fantasy Basketball: Box Score Browsing — We Wish Jrue a Merry Christmas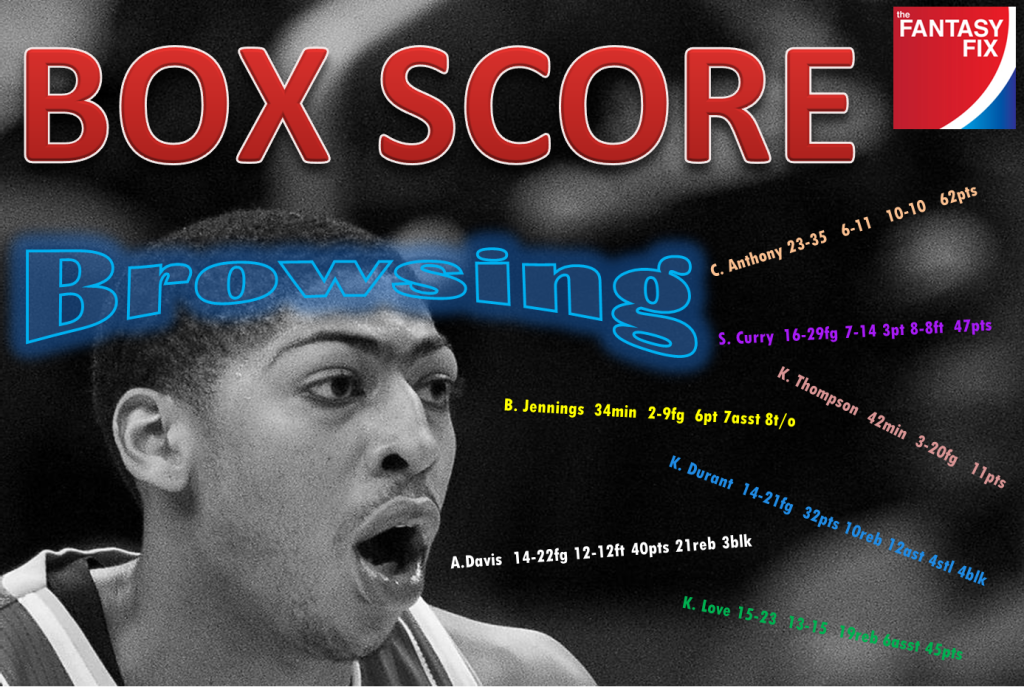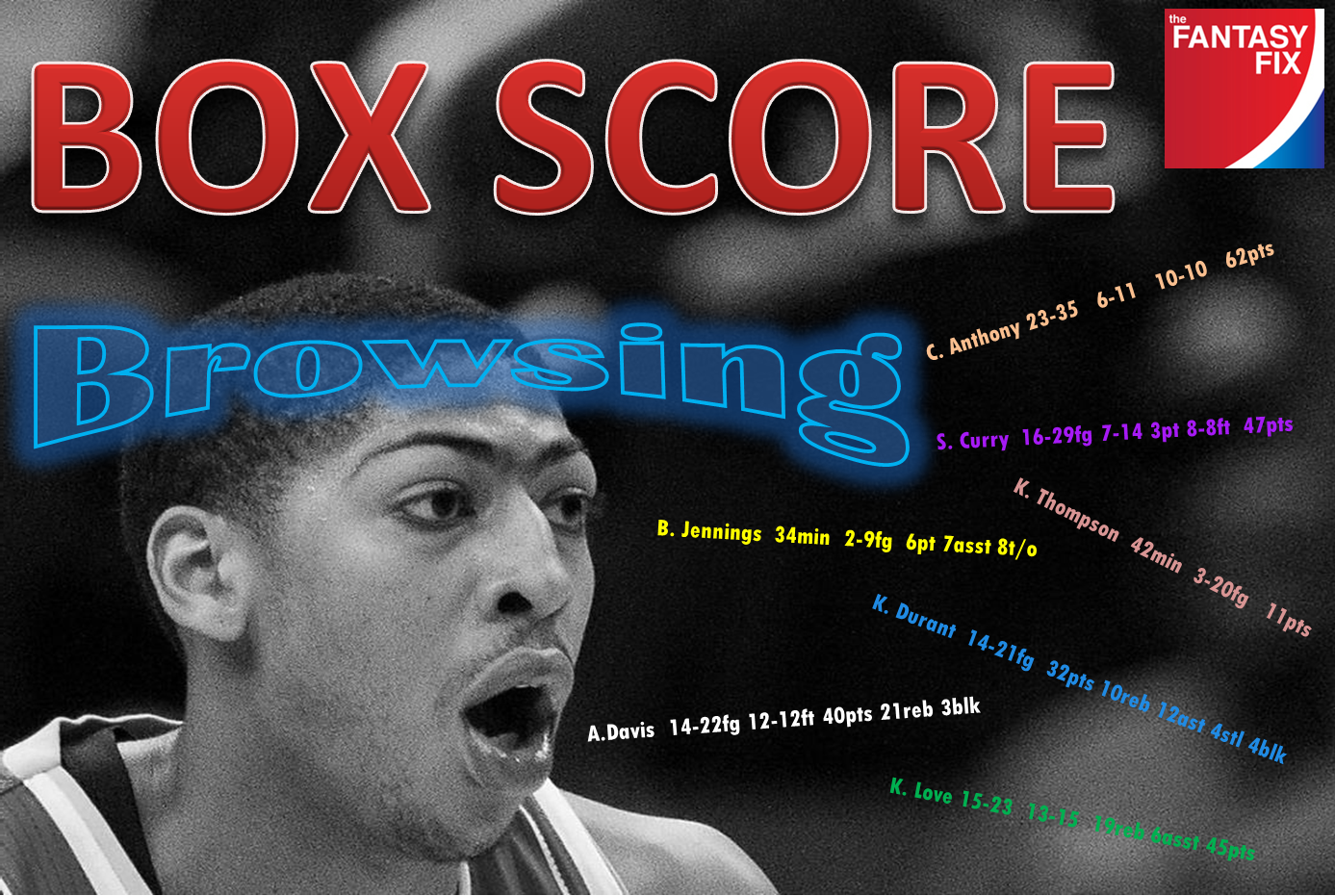 Happy Holidays – tis the season for Pelicans' guards to start producing!
It doesn't hurt that the fantasy force known as Anthony Davis has been banged up over the past week, but both Holiday and Tyreke Evans (more on him below) have seriously stepped up their play as of late.
Holiday was an All Star in 2013, which is often over-looked as he's continually underrated in both fantasy and reality. The dude has great size for a point guard at 6'4", which has enabled him to rebound well (3.6 for his career) and grab a nice amount of steals (1.4 for this season and for his career).
Holiday isn't being asked to do too much for New Orleans and it's showing in his efficiency with his PER of 19.41 easily surpassing the 16.7 from his All Star campaign (which was a great fantasy season as he ended the year ranked 27th overall).
In a season with quite a few ups and downs, the overall stat line is very useful in all formats of fantasy NBA. Holiday's averaging nearly 16 points, 3.3 rebounds, 7.0 assists, 1.4 steals and career highs in field goal (46%) and free throw percentage (89%).
Over the last week he's been a monster, averaging 20.0 points, 2.5 rebounds, 8.8 assists, 2.3 steals, 1.8 threes, and 52% shooting from the field with 78% at the line. He's been so good that he's been the seventh best player in fantasy during that span, trailing LeBron James, James Harden, Russell Westbrook, Kawhi Leonard, Stephen Curry and Kevin Love (per Basketball Monster).
A more cynical fantasy owner than I might suggest selling high on Holiday and buying low on another star player. Last night I actually traded my Jrue Holiday and Jared Sullinger for Kevin Love and Mirza Teletovic. I'm banking more on Love getting it all together than I am Holiday dropping off too much; the deal could potentially even come down to who steps up more out of Sullinger and Teletovic.
There's something jaw-dropping about Russell Westbrook and how he plays the game. His reckless abandon, unflappable confidence and Wolverine-like healing ability make him a fantasy beast, an explosion of fantasy goodness wrapped neatly in a bundle of muscle and tenacity.
Westbrook is having a hell of a season. He's averaging career highs in points (league leading 26.4 per game), rebounds (5.8), field goal percentage (49%, wow), three point percentage (36%), along with highs in free throw attempts (9.4, at an 83% clip) – along with the inevitable 3.8 turnovers per game.
Those career highs are quite remarkable for a player in his seventh season, especially with three All Star campaigns already on his resume and a fourth that would have been, had he been healthy.
It's actually quite remarkable that Westbrook is still only 26 years old, yet only he and LeBron James can say they are in the career 20 point + 5 rebound + 6.8 assist + 1.6 steal club. Sure, it's a made up club, but LeBron James is no stranger to that.
If he continues to dominate at his current pace, Westbrook would be in truly elite club – joined only by James, Michael Jordan and Larry Bird – and none of those players were shorter than 6'6", much less 6'3" like Russ is.
Over his last three games, Westbrook has produced 31.3 points, 6.7 rebounds, 7.0 assists, 2.7 steals, and unreal 53/88 shooting splits. What's more absurd is that he's doing these stats while averaging under  30 minutes per game. You could argue he has a shot at ending the season in the top spot if this shooting continues and the turnovers drop by one per game.
Tyreke Evans has been on a legit tear over his last five games.
Anthony Davis has been essentially out for two of them and Evans has done more than just pick up the slack. He's slashed and bullied his way to 23.8 points per game in that span, including back-to-back gems against the Cavaliers (31 points and 10 assists) and Warriors (34 points, 8 rebounds, 5 assists), respectively.
Evans did similar production over a second half stretch last season, as he moved into Monty Williams' starting line-up, providing top 50 value through en masse scoring and assist production, while qualifying at PG, SG and SF.
Evans isn't going to continue this scoring binge, but while Eric Gordon is out (let's face it he was there by name only, even when he was healthy) there's a hole to be filled by a capable scorer and Evans may as well be it.
He's taking a career high 2.7 threes per game, so while it inevitably hurts his field goal percentage which is at 43% (the second lowest of his career), you'll tolerate that if he can finish the season at one per game. His 66% from the charity stripe will need to improve, and it likely will get back to his career rate of around 76% – just has he's done over his last five games (16-21).
The Spurs are deep.
Like they're as deep with basketball talent as London is with hipsters (a lot, trust me).
The system is team first, offensively fluid and driven by unselfishness, which has led to an unparalleled run of success in the NBA.
Tony Parker has been banged up with a nagging hamstring injury, Joseph has slotted seamlessly into the starting PG role which has been the All Star Frenchman's for more than a decade. Joseph has really filled the gap vacated by Parker, especially over the last four games where he's averaged more than 35 minutes a night. He's produced 12.5 points, 4.0 rebounds, 3.8 assists and 1.3 steals, while nailing 55% of his field goals and turning it over just 1.8 times a night.
Manu Ginobili essentially plays the point guard role whenever he's on the floor; the ball movement, passing and three point shooting that is always a staple of the Spurs, can be run by any lead guard who values winning over individual success, which is why there is less pressure on Joseph.
Last season he got his first significant run playing alongside the big boys, and he showed middle of the road fantasy numbers which hinted at more. They don't wow you, but when he got 25 minutes (12 games) he produced 10.3 points, 3.7 rebounds, 3.7 assists, 1.5 steals, just 1.3 turnovers and handy 47/93 shooting splits.
Coach Popovich has a notoriously short leash for young players, but fortunately for Joseph, Pop has as much confidence in him running the point as the young guard does in himself. Monitor Parker's minutes and health as the season goes along, because if the champs hope to repeat they're going to need their big three four at 100% – which means Joseph will play in March and April.
Layups
Wingpan, youth, athleticism, and a hunger for defense. What more could you ask for to play next to Enes Kanter?
Derrick Favors is banged up and Gobert has seized the opportunity for a bigger (starting) role, providing consistent rebounds and defensive stats that were always just below the surface when he got minutes.
Last year he had just three games with at least 8 points; this season he already has 6 – in just 25 games. You always want improvement in young players, Gobert is no different. He has upped his per-36 stats in scoring, assists, steals and blocks, while increasing his field goal clip from 49% to 61%.
Favors will likely return shortly from his ankle sprain, but this Jazz front-court situation simply isn't working, so don't be surprised if one of the Jazz's big trio is moved for an upgrade at point guard.
Over his last four games Gobert's averaged a sigh-worthy 8.0 points, but his accompanying 8.0 rebounds, 1.6 assists, 0.8 steals, killer 2.8 blocks and awesome 65% from the field (15-23 field goals) means he's a good buy in most leagues.
Gobert's a really solid play in deep leagues, and holds even more value in keeper or dynasty leagues where he has legit top 75 potential due to his percentages and defensive stats.
Yes, this season of fantasy basketball has been quite a weird one.
My elderly grandmother back home in New Zealand frequently phones me here in London, and every time she states with confidence that "I haven't gone doolally yet Sam". I can't say the same, as Carlos Boozer has wormed his way into my weekly piece.
I feel somewhat dirty. So many times I've stated Boozer's shortfalls in fantasy: his black-hole defense leads to fewer minutes, his free throw shooting is poor, and he couldn't block a shot if it was me trying dunk on him.
Ed Davis was on this 'column' as recently as last week, however, there's a reason there's no such thing as a professional fantasy NBA player! Give me a mulligan for that one.
Boozer is cruising over his last four games, racking up 16.0 points, 11.3 rebounds, 1.5 assists, just 0.8 turnovers and 55% shooting from the field, while playing under 28 minutes, as the first big off the Lakers' bench.
Expect him to return to the starting line-up shortly, as the Lakers only own their pick if it lands in the top 5 – so losing but not seriously losing, is not an option.
A lot can be said for the working class man. Brewer never quite gets his dues in either fantasy or reality, because of both how high he was drafted (7th), who was selected after him (Joakim Noah, Spencer Hawes and Thaddeus Young), and how inconsistent he's been in his relatively young career.
Brewer is what he is – that goes for fantasy and reality once again – a flawed player who could just as easily drop 51 points as he could fail to top 50 points over 7 games.
This season he's taken on more play-making responsibility out of necessity, due to the injury bug and the incredibly young Timberwolves roster. This has resulted in a career high 3.3 assists per game – nearly double his career average – while his rebounds and steals are also at career high clips due to the 34 minutes per game he's played over his last five games.
I'd sell high on Brewer, right now. If you have someone offering a better long-term player or prospect (David West, Thaddeus Young or Kenneth Faried for example), then make the deal.
Brewer reminds me of a moody baby who is one 2-15 game away from filling his fantasy nappy.
Sure, now he's smiling and playing nice with others and not throwing any toys, but he could flick the switch on at any moment and throw a real tantrum. I'm talking breaking glasses, shattering ear-drums, and embarrassing you by creating a scene and generally being very unpleasant to your line-up.
No I don't have kids, but I have owned Corey Brewer before – I can imagine it's quite similar.
As always we welcome your feedback, so feel free to hit me up on Twitter (@macetastic) and I'll do my best to reply to any comments.
Big ups to the amazing Basketball-Reference, for all the links and for de-railing me so often, all in the name of research.