2014-15 Fantasy Basketball: The Chris Bosh Surge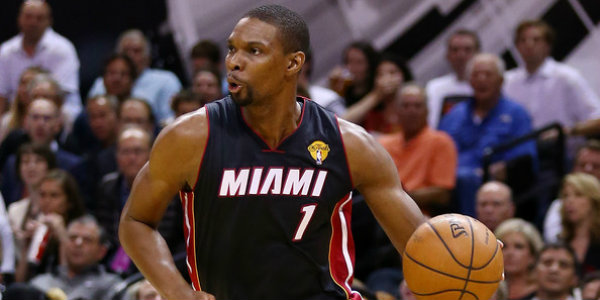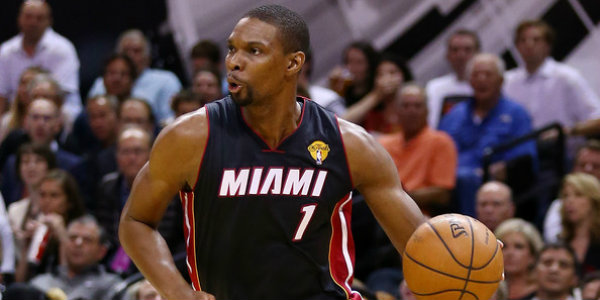 Time can really water down the memory of something's greatness. When I was younger I was obsessed with Surge soda for the six years it was around before it was discontinued. If anybody asked me since then what my favorite soda was, I would still say "Surge, R.I.P." As time passed though, I only remembered it as something I enjoyed for awhile, the memory lost more and more of it's luster by the year. Coca-Cola recently announced that Surge will be making a comeback after being out of production for 11 years, and I found myself ecstatic to be reunited with my past love. I feel the nostalgia of it, but time has made me forget just how good it really was. So, while I'm pumped for it, I'm a little foggy on what exactly to expect even from a taste that I once treasured.
I bring this random soda love story up to relate it to how many people are treating Chris Bosh right now. How quickly it's forgotten just how big of a fantasy force he was before becoming the third wheel in South Beach. Over the last few seasons you probably got irritated watching Bosh and all of his exuberant screams for attention when he did something well (unless you were or are a Miami fan). What you don't realize is he did those same things when he was in Toronto, but it just wasn't relevant enough to be shoved down our throats on SportsCenter like it was in Miami. You have to ignore your annoyance of Bosh when it comes to fantasy. Everyone remembers he was a lot better for fantasy pre-Miami, but from Bosh's third season in the league to his last season with the Raptors (five seasons from 2006-2010), he was an absolute monster across the board statistically. Check out his averages over that five season span:

Coach Erik Spoelstra liked spreading the floor out to benefit LeBron's style of play, which frequently had Bosh away from the block and instead loitering around the free throw line and even more so the 3-point arc. This really took a toll on his rebounding numbers, but surprisingly enough he was able to keep his field-goal percentage above 50%. His points and shot totals went down naturally, he lost an assist a game and he went from being an elite big man at FT% — due to his high FTA — to just solid as his attempted free throws were almost cut in half. Many like to mention that Bosh added a three-point game in Miami, but he stayed really low there until 2014 when he hit 0.9 treys a game. I could see him hitting about 40 trifectas this coming season, which is a slight boost to his roto value compared to most big men, but it's nothing to count on going forward.
In his last season in Toronto, Bosh had 489 FGA (made 64%) at the rim, and in his most recent season with Miami, Bosh only had 292 FGA (made 70%) at the rim. Bosh was more efficient when he got to the rim for Miami but 200 less shots at the rim for a big man is quite significant. If Bosh can get back to over 400 FGA at the rim this season, it will make for a much better fantasy output. Bosh hasn't been shy this off-season saying he wants to be seen (that's nothing new) and heard this season. He also said he looks forward to getting back in the paint and banging. These are things us fantasy players want to hear. He's out of the LeBron shadow and should have a much more featured role in the offense, returning to putting up studly, center-esque, stat lines instead of lines that look more like that of a small forward.
The Heat were able to lure in veteran small forward Luol Deng and versatile power forward Josh McRoberts this off-season. Deng is obviously a huge downgrade from LeBron at the wing for Miami but still a quality player who can take defensive attention away from Bosh. McRoberts is ideal for Spoelstra to use as he did Bosh last season. McBob will (as insane as this sounds) pick up some of the slack left from LeBron's departure on the offensive side. Josh isn't a scorer, but he has become a threat from deep and is a really good passer for a big man. He'll stretch the floor like Bosh did and make swing and entry passes like Bron often did. But even in a good situation I wouldn't expect McBob to score over 12 PPG.
I feel Bosh will be the top option on offense with the newly remodeled Heat, then Dwyane Wade and then Luol Deng. Each of those three should get a good share of the points as guys like Mario Chalmers, Danny Granger, McBob and others pitch in to a lesser degree. One player to keep your eyes on for WHEN (not if) Danny Granger gets hurt is James Ennis. This kid stood out in summer league as a high intensity player who could really make an impact off the bench if given the opportunity. For now he's just a grab in deeper league drafts (16-teams and up), but keep tabs on the Heat rotation through the preseason.
Back to Bosh now. His minutes played decreased the past couple of seasons as the Heat blew teams out and could rest guys and were never worried of their playoff hopes. This season Spo will not have that luxury and will need more from his stars, Bosh and Wade. Both should see minute bumps from last season, and Deng is no stranger to playing big minutes as he logged over 37.5 MPG under Tom Thibodeau over his last five seasons in Chicago.
I am admittedly expecting much closer to the Toronto day stats from Bosh, and that's why I have him ranked 15th in H2H and 14th in roto leagues as of now, right between Serge Ibaka and Blake Griffin. I keep getting more optimistic of his potential to blast back and finish inside the top 12 by the day. Time may have made you forget just how beastly his stats were and how high he used to be drafted as a Raptor, but in those five seasons — shown above — Bosh had an ADP of 13 and his numbers lived up to that each of those seasons. Bosh had an ADP last season of 43, and so far this season his ADP in Yahoo drafts is 25. So, it's quite realistic that you could get one of my top three (Kevin Durant, LeBron or Stephen Curry) and pair them with a big man in Bosh who doesn't hurt you anywhere. That's what I call a helluva start to the draft.
My current projections for Bosh this season are: 36 MPG, 20 PPG, 10 RPG, 2.8 APG, 0.8 SPG, 1.2 BPG, 0.5 treys/gm, 52% FG (on 15.5 FGA), 80% FT (on 7 FTA).
Those are some ridiculous stats and the crazy part is, I don't even think it's a reach. Over the last twenty seasons (1994 to 2014) only nine players have averaged over 19 PPG – 9 RPG – 50% FG – 79% FT and as you'll see the members of this group are fantasy elites and Bosh has already done it twice before with a third time coming in 2014-15.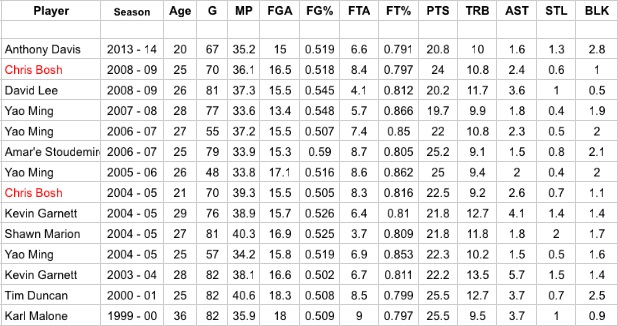 You can follow Zack on Twitter @BigZack44 for more fantasy hoops analysis or to answer any questions you may have.