2014-15 Fantasy Basketball: Waiver Wire Fix — Week 12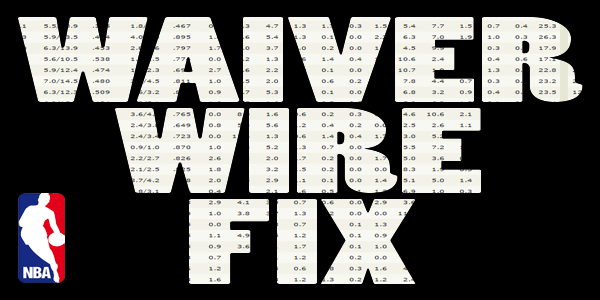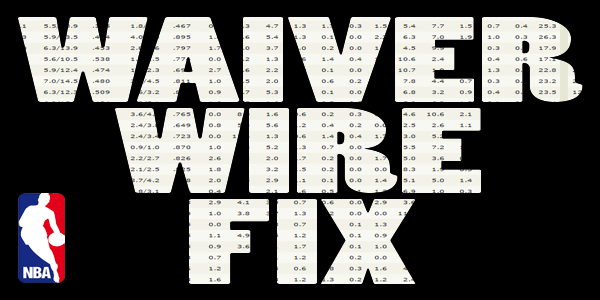 Welcome to the week 11 Waiver Wire Fix. Be sure to check back here every week for the duration of the fantasy hoops season for more wire targets. I've begun breaking the column down according to player types. This should help you find the player that best fits your team's specific needs. There will be different categories every week, so I hope you enjoy the new format. If you're not sure if you should drop a certain player from your team for one of these targets, then shoot me a tweet and I'll give my two cents.
I only discuss players that are owned in less that 51% of ESPN leagues. I also won't repeat players that I've mentioned in a previous column unless it's absolutely needed because they've leaped into an even better opportunity. This all said, if any of these players are available in your league you should grab/consider them: Mason Plumlee (owned in 56% of ESPN leagues), Trey Burke (52%), Nerlens Noel (46%), Hassan Whiteside (44%), Jarrett Jack (43% – MUST OWN while Deron Williams is out), Mo Williams (43%), Manu Ginobili (42%), Louis Williams (42%), Rudy Gobert (39% – should be 100%), Robert Covington (35%), DeMarre Carroll (35%), Elfrid Payton (34%), Enes Kanter (34%), George Hill (30% – stash him), Kelly Olynyk (25%), Timofey Mozgov (24%), Michael Kidd-Gilchrist (21%), Jusuf Nurkic (19%), Khris Middleton (18%), Zaza Pachulia (11%), C.J. Miles (9%), Marcus Smart (7%) and Wesley Johnson (7%).
Let's get to this week's wire targets.
Big fellas:
Alex Len (17%) – I mentioned Len a month ago as a guy to keep your eye on in standard leagues but more of a deeper league add at that time. Well, in case you took your eyes off of him, the time to add him in standard leagues is either too late or right now. Len has brought down eight or more rebounds in six straight games. He's also swatting away 2.9 shots per game over the last seven games. It's been a very happy new year for Alex who has seen his minutes rise since January 6th and game by game you can see him improving in all facets. With his great boards, blocks and percentages he's definitely worth owning, and he's even recorded at least one steal in five straight contests. Len has been great for the Suns defensively, and he should see big minutes the rest of the way.
Amir Johnson (27%) – Amir finished the past two seasons inside the top-100 and after a pretty slow start to the season, he looks to be shaping into his usual form again. In the past 8 games he's put up more than 10 points, eight rebounds and one block while shooting 58% from the field. Amir's FT% (64% last 8 games) has been up and down his whole career but regardless, he shoots so few that it isn't going to majorly effect your team one way or the other in that category. If you're in need of a consistent big man to help pad your stats in those areas, Johnson is a great target.
Stat stuffing wings:
Matt Barnes (12%) – Barnes is a guy who was a popular sleeper pick by fantasy analysts including myself, seeing him at an ADP of 137 on Yahoo when we knew he'd get around 30 minutes starting at small forward for the Clippers where he produced top-75 numbers after getting the starting gig last season. He was a guy who didn't do anything at an overly elite level but he did so many things solidly that it amounted to a great all-around fantasy game. Barnes started off the season in a total funk and has been very inconsistent all season long but over the past eight games he's finally looking like the guy we were targeting in drafts with a line of 14.1 points, 5.3 rebounds, 1.9 assists, one steal, 0.6 blocks and 2.6 3-pointers while shooting 52% from the field and 93% from the charity stripe. If Barnes can keep that up the rest of the way he can salvage his worthless early season play. He's the perfect roto guy but his game still translates well in H2H leagues for the end of the roster type add he is. I'm all for adding him right away and being optimistic that he'll keep it up as he didn't get the starting job and begin his great play last season until February.
Eric Gordon (36%) – I'm walking through the forest and I see a $100 bill sitting in the middle of net on the ground with ropes streaming down from the treetops and I know for sure it's a trap, but I still can't walk away from that money. That's how I feel every time Eric Gordon has a short stretch of good health and play. You know his health is a ticking time bomb but when you see his 14.5 points, three boards, four dimes, 0.8 steals, two treys and 84% FT shooting plus a survivable 43% FG shooting, you have no choice but to add him and hope that the trap at least holds off for awhile. While I don't have to warn you that this good play could end at any given moment with him being shut down with a knee injury, you can't ignore his great play in his current 8-game healthy run. With guys like Jrue Holiday, Anthony Davis, Tyreke Evans and Ryan Anderson around him, it gives the play-making SG plenty of opportunities to get open looks and good dish off targets. Add him and run with it as long as it lasts.
Deeper options:
Donatas Motiejunas (27%) – Motiejunas is quietly having a really productive season for the Rockets although you never hear him mentioned with all of the big names surrounding him there, but that to me is what makes what he's doing that much more impressive. When Josh Smith came to town we figured Motie would take a minutes hit but he's remained over 30 minutes since his arrival and he's continued to deliver nice stat lines. Donatas isn't a league winner by any means but over the past eight games he's dropped a healthy 14 points, 6.8 boards, 2.5 dimes, 1.2 steals and 0.6 treys stat line while shooting 59% on field goals and 70% from the line. Now, there are rumbles that Terrence Jones is finally nearing a return from his mysterious injury but until he actually takes the floor, I'm not buying it and even when he does he's not going to totally end Motie's run after the way he's played. I'd definitely consider the PF in 12-team and up leagues.
Greivis Vasquez (5%) – It appears the Raptors have decided to send Terrence Ross to the bench and have inserted Greivis Vasquez into their starting five. There's no telling how long this will last but in six starts this season Vasquez has played 31 minutes and averaged 11.8 points, 2.7 rebounds, 4.5 assists, 0.8 steals, 0.5 blocks and 1.2 3-pointers although most of those starts were with DeMar DeRozan out of the lineup. Now, DeMar is back and Greivis is not going to be consistent as he's not a top option on offense. That said though, assists aren't always easy to come by and if he could keep up 4.5 assists as well as knocking down and three and grabbing a steal a game mixed in with a little bit of scoring, he'll hold some value for sure. Right now he's a deeper league target or a 12-teamer if you're desperate for help in the assists department. Keep an eye on this and see how he plays along the other usual Raptor starters.

For more fantasy hoops analysis and to have any questions you may have answered, follow Zack on Twitter @BigZack44