2014-15 Fantasy Basketball: Waiver Wire Fix — Week 13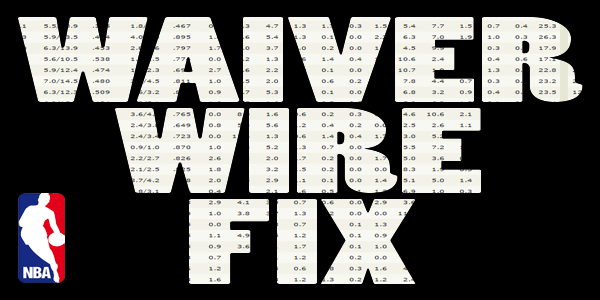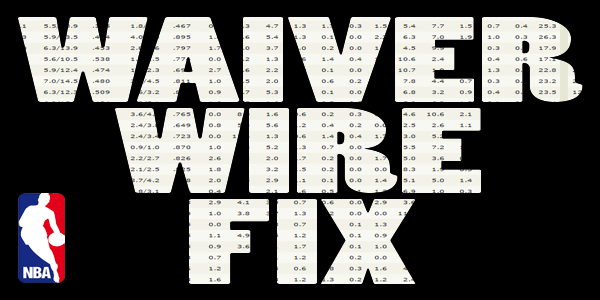 Welcome to the week 13 Waiver Wire Fix. Be sure to check back here every week for the duration of the fantasy hoops season for more wire targets. I've begun breaking the column down according to player types. This should help you find the player that best fits your team's specific needs. There will be different categories every week, so I hope you enjoy the new format. If you're not sure if you should drop a certain player from your team for one of these targets, then shoot me a tweet and I'll give my two cents.
I only discuss players that are owned in less that 51% of ESPN leagues. I also won't repeat players that I've mentioned in a previous column unless it's absolutely needed because they've leaped into an even better opportunity. This all said, if any of these players are available in your league you should grab/consider them: Mason Plumlee (owned in 53% of ESPN leagues), Eric Gordon ($51%), Nerlens Noel (49%), Jarrett Jack (48% – MUST OWN while Deron Williams is out), Enes Kanter (46%), Trey Burke (45%), Hassan Whiteside (44%), Rudy Gobert (44% – should be near 100%), Elfrid Payton (44%), Louis Williams (43%), Mo Williams (42%), Manu Ginobili (39%), Timofey Mozgov (37%), Robert Covington (36%), DeMarre Carroll (34%), George Hill (34%), Amir Johnson (23%), Michael Kidd-Gilchrist (20%), Khris Middleton (18%), Matt Barnes (14%), Alex Len (13%), Jusuf Nurkic (11%), Zaza Pachulia (11%), C.J. Miles (9%), Marcus Smart (7%), Wesley Johnson (6%) and Greivis Vasquez (4%).
Let's get to this week's wire targets.
Must add:
D.J. Augustin (26%) – Don't hesitate here, open another tab and go to your league(s) and check to see if DJ is available. If so, add him right away. With Brandon Jennings finished for the season, Augustin finds himself in a similar situation to last season when he was a backup until he was dealt to the Bulls after Derrick Rose went down for the season. In Chicago last year Kirk Hinrich remained the starter at PG but Augustin was playing more minutes, averaging 30 minutes a night. DJ played 60 games with the Bulls only starting nine times but in his 30 minutes a night he averaged 15.2 points, 2.1 boards, 5.0 assists, 0.9 steals and 2.2 treys and shot 82% from the free throw line.
Here in Detroit though, Augustin will be the starter for the foreseeable future and should get above 30 minutes a night with just Spencer Dinwiddie behind him. It's likely that the Pistons will bring in a better backup but DJ would remain the starter and see premium minutes still. In his first game since the Jennings injury, the Texas Longhorn alum went off on the Raptors to the tune of 35 points, four boards, eight assists and five 3-pointers. Don't expect this to be the norm, but he's very capable of nights like this although more likely he'll sit closer to his averages from the seven games in which he's played more than 28 minutes this season for Detroit of 17.2 points, three rebounds, 6.5 assists and two treys. While it seems you can always find a good big man on the wire, it's a lot more rare for a legit point guard to fall into your lap. If it's not too late, add him pronto.
Tempting guards:
Langston Galloway (17%) – Talk about out of nowhere. How often do we hear about players tearing it up in the D-League and then they get brought up on a 10-day contract and we forget they're even around before we see they're sent back down? Langston got his call up early in January and he's made the most of it from his first game with the Knicks where he lit it up at Madison Square Garden. Over his eight games he's had a solid line of 12.1 points, 4.1 rebounds, 3.0 dimes, 1.1 steals and 1.5 threes. Even when Carmelo Anthony returned to the lineup he still managed to put up reasonably good fantasy nights and he's even started at the point a couple of nights with Calderon missing time. Due to the Knicks injury issues and the fact that they simply stink, Galloway makes for a sneaky good add in the hopes that he'll continue to thrive. He's played more than 30 minutes in four straight games so it appears head coach Derek Fisher is also a fan and wanting to see more.
O.J. Mayo (14%) – It's been an up and down season for Mayo thus far but recently it appears that he's really settling into a set role and playing quite well. Over the past eight games the juice man has played 25 minutes a night and scored 14.4 points, grabbed 2.6 rebounds, dished out 3.5 assists, ripped away 0.9 steals and knocked down 2.3 from behind the arc while shooting an impressive 55% from the field. Maintaining the 55% shooting and 60% from treyville isn't realistic for the career 43% shooter but if he could settle in at about 45% that would be just fine. Until he does cool off though, you should consider swooping him up in 12-team and deeper leagues.
Brian Roberts (1%) – Not even Brian Roberts name sounds exciting here and the fact that he's on this list is a bummer because it means flashy Kemba Walker is going to miss time. Kemba will undergo surgery and miss about six weeks and at least as of right now, the Hornets starting point-man will be B-Rob! Yeah, I tried to make it better and it still didn't work. Roberts is no stranger to having to step in for a far superior player though as last season he started 42 games in place of the injured Jrue Holiday for New Orleans. In those starts last season Roberts played 28 minutes while posting a decent line of 12 points, two boards, four assists, 0.7 steals and 1.1 threes. In three starts in which Kemba was out recently, Roberts put up a very similar stat line of 13 points, four assists and one trey but he shot a mediocre 39% from the field. While he's never been a great shooter, he at least kept it at 42% last season which seems like a realistic expectation for him now as well. There's already been rumors that the Hornets could bring in another guard to help out, so this may be short lived especially if it's a player who would start over Roberts. Whoever they do add like potentially Ramon Sessions, you should keep tabs on because they could leap into fantasy relevance.
Stash house:
Robin Lopez (21%) – You know when there's a real good player on your wire who is injured and you're weighing when to add and stash them and then in comes a positive injury update so you race to the wire to add them and they're gone? I know it's happened to everyone at some point or another. You're thinking, "OK, I'll keep Brandon Bass for this one last game and then I'll probably add and stash my guy" then you get greedy and push it another day or two until you see that positive blurb and you have to scramble to make the move. When a player seems within one to two weeks from a return, that's the time to make the move. Don't wait until it's too late and risk missing out. Think about how badly it'd sting if your top competition happened to be on Twitter when the good news hits and he makes the add before you.
RoLo was a top-65 player in 8-category leagues last season and he's looking at an early February return. Seems far out, but it's the last week of January! Say they play it safe and rest him through the All-Star break (which I'm not sure they do unless necessary because they need wins to stay in the brutal West playoff race and already are nagged by big man injuries) that's still only 2.5 weeks (since half of a week there are no games due to All-Star festivities). Those of you in roto leagues I can at least understand your thirst for stats every night but if you're in a head-to-head league, what are you waiting for? Look at your worst player right now, I bet it's somebody who hardly effects your weekly matchup results. Either way, you lose a couple of categories for two matchups, big deal. Think big picture here, guys. Top-75 player from the All-Star break and forward. If you're basically a lock for the playoffs it's an even bigger no brainer. You know it'll be nice to have a 10 points, 8.5 boards, 1.5 blocks and plus percentages big man down the stretch.
Deeper option:
Dante Exum (5%) – The rookie point guard from Australia wasn't really on any fantasy radars outside of dynasty leagues and the deepest of the deep redraft leagues, and then somewhat out of nowhere we get word last week that Trey Burke had been benched and Exum was going to start. Burke had been playing subpar and the Jazz second unit was in need of an offensive lift, so it made some sense but we really didn't know what to expect out of the rookie in the starting role. One of Dante's biggest critiques leading up to the NBA draft was his shooting inefficiency and in a bench role with the Jazz he was only shooting 39% on the season.
In his first two starts though, Exum shot a surprising 10/19 from the field and drained eight 3-pointers also adding nine assists. In Exum's third start going up against two very aggressive on ball defenders in Marcus Smart and Avery Bradley, Exum had a rough time and never got anything going. I'm just keeping an eye on the rook for now unless you're in a 14-team or deeper league and want to take the flier. He's sure to be very inconsistent in his new role as basically any 19-year-old would be but his athleticism and play-making ability are worthy of keeping tabs on as he gains experience.

For more fantasy hoops analysis and to have any questions you may have answered, follow Zack on Twitter @BigZack44