2014-15 Fantasy Basketball: Waiver Wire Fix — Week 15/16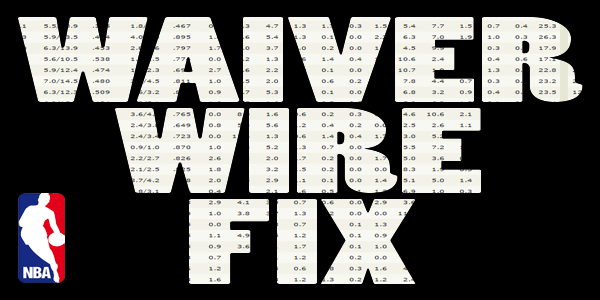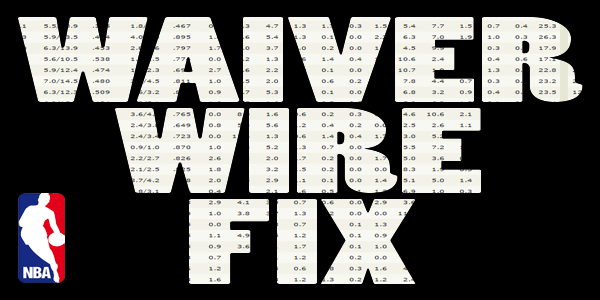 Welcome to the week 15 and 16 Waiver Wire Fix. Be sure to check back here every week for the duration of the fantasy hoops season for more wire targets. Since I took last week off I decided to make it up to you guys by doubling my usual amount of players mentioned. There are some near must-add players, stash worthy options and even a couple of deep league targets.
I only discuss players that are owned in less that 51% of ESPN leagues. I also won't repeat players that I've mentioned in a previous column unless it's absolutely needed because they've leaped into an even better opportunity. This all said, if any of these players are available in your league you should grab/consider them: D.J. Augustin (owned in 64% of ESPN leagues), Jarrett Jack (54%), Eric Gordon (53%), Nerlens Noel (52%), Enes Kanter (50%), George Hill (48%), Louis Williams (47%), Robert Covington (46%), Robin Lopez (44% – should be 100%), Khris Middleton (42%), Trey Burke (41%), Rudy Gobert (37%), Mason Plumlee (37%), Timofey Mozgov (36%), Elfrid Payton (34%), Manu Ginobili (34%), DeMarre Carroll (31%), Matt Barnes (26%), Amir Johnson (22%), Michael Kidd-Gilchrist (21%), Mario Chalmers (20%), Wayne Ellington (18%), Gerald Henderson (18%), O.J. Mayo (17%), Langston Galloway (16%), John Henson (14%), Jordan Clarkson (12%), C.J. Miles (11%), Jusuf Nurkic (9%), Marcus Smart (9%) and Wesley Johnson (4%).
Let's get to this week's wire targets.
Mo Williams (27%) – I know Mo is one that I have discussed before but as I stated above, I'll give players another mention if something drastic changes with their situation. Mo was traded to the Hornets this past week to fill-in as the starting point guard while Kemba Walker is sidelined. Williams see a very nice jump in value with this deal as he goes from a bench role backing up Ricky Rubio and splitting time with dunk champ Zach LaVine, to once again being a starter. Now, don't go thinking he's about to drop another 52-point night by any means but he should provide quality points, assists and treys although his shot can be streaky and sometimes damages your field goal percentage.
Spencer Hawes (10%) – When Blake Griffin first was ruled out for 3-6 weeks, Hawes seemed a no-brainer add in all formats because of what he's done even as recent as last season when given significant playing time. But in three games since Griffin's injury, Hawes has only logged over 20 minutes once and has a total of 5 rebounds. In the first game Blake missed Spencer played 35 minutes scoring 17 points and hitting two treys and adding a block but only grabbed one rebound. Not sure how a guy of this size can play 35 minutes and only bring down one board but it happened. Maybe Hawes is working hard over this All-Star break to get himself ready to play significant minutes and contribute on the glass as well, so I am still considering him an add in 12-team leagues and deeper even if just for a couple of games post break to see if he can deliver what we originally expected of him after Blake was ruled out. I was projecting what I thought to be a very realistic 14 points, 7.5 boards, 1.5 treys and 0.7 blocks playing around 28 minutes for Hawes but at least after three games that's been far from the case.
Mitch McGary (11%) – Steven Adams is slated to be out a couple more weeks and in the meantime McGary seems a nice source of points and boards although not much else. He's played in three games for the Thunder since the Adams injury and put up two impressive double-doubles in just 24 minutes played over the two games. In his third game he ran into the Grizzlies and had a forgettable night of zero points and just two boards in 15 minutes played before fouling out. Despite that game, I'm buying into the short-term value of McGary who should continue to see minutes in the low-to-mid 20s which is plenty of time for him to put up solid fantasy performances in the two categories he contributes in. If he can even come close to the 18 points and 10 boards he averaged in the first two games he played, he'll be worth owning in most standards.
Rasual Butler (1%) – It's very possible that Bradley Beal could miss at least a couple of weeks with a stress reaction in his fibula. He's had injuries like this previously so seeing this news it's surely concerning. With Beal out, Butler should keep seeing minutes in the mid-20s and plenty of shots — many of which from behind the arc where he's shooting 43% on the season. Temper your expectations here though as Butler doesn't do much outside of scoring and 3-pointers and in 29 games this season when he's played more than 23 minutes Butler is averaging just 11.3 points and two treys. Only five of those instances was Beal out for though. In the five games with Beal out Rasual has went for 13.8 points and 2.2 treys per game. So, if you're in need of some decent scoring and treys, he's one that can help you out for at least the next couple of weeks, but if the Wizards get worse news on Beal in the next day or two they may go out and trade for a player like Arron Afflalo, Kevin Martin or the like as they have their eyes set on winning a title and that'd crush any value Rasual has.
Monitor situations:
James Johnson (5%) – Primarily known for his defensive abilities, Johnson wasn't on many fantasy radars in his bench role but he had a great game in just 19 minutes last week and then drew starts in the last two games before the All-Star break. Oddly enough though in those three games it was his offense that showed up big making 18-of-21 shots (86%) while scoring 14 points per game. In one of his starts he played 30 minutes and in the other just 19, so it's hard to tell what exactly his role or playing time will sit at when the season resumes this week. He's definitely worth adding in deeper leagues and very worthy of keeping an eye on in standard leagues. I'm hoping he can stick in the starting lineup and play around 24 minutes a night for the Raps, in 14 games this season when Johnson has played over 23 minutes he's averaged 13.5 points, 6.1 boards, two assists, one steal, 1.5 blocks and shot better than 65% from the field. The field goal percentage isn't a fluke either because he's shot 61% on the season and that's mostly due in part to him taking 76% of his field goal attempts in the restricted area (at the rim).
Hollis Thompson (6%) – Somewhat out of nowhere Hollis Thompson got a big jump in playing time the past couple of weeks playing 29.6 minutes over the last six Sixer games. As I've said in this column a man of times, when it comes to terrible teams fantasy value can fluctuate week-to-week and can make even a subpar player rosterable due to lack of other options. As long as Thompson is playing this much he's worth consideration in 12-team leagues for sure. The first five of those six games he really went off before having a poor night against the NBA's top defensive team, the Warriors, in the last game where he went scoreless. In the five games before that dud Hollis averaged 15.8 points, five rebounds, 1.4 assists, one steal, 0.4 blocks and 2.6 treys while shooting an impressive 47% from the field and 89% from the line. How long this surge of playing time will last nobody knows but there's no harm in adding him until his time runs out then dropping him for the next hot wire target.
Shabazz Muhammad (14%) – Shabazz was must-own there for a pretty long stint while he was starting for the Wolves with Kevin Martin out, but then Shabazz missed a couple weeks with an injury and in the meantime Martin returned making playing time for Bazz an uncertainty. In his first game back Shabazz played 24 minutes and got hot posting 18 points, one trey and eight boards but in his next game he played just 14 minutes for six points and four boards. If Bazz gets around 24 minutes a night he'll be productive but it's possible he'll see inconsistency in playing time until Kevin Martin is traded by the deadline (crosses fingers) or gets injured again. Shabazz is more of a watch and see guy in standard leagues right now but if he gets nice minutes in the next game and you're in need of scoring, he's worth a speculative add and if Kevin Martin is traded between now and the 19th, he's a definite grab.
Stash house:
Paul George (17%) – If your league has an IR-spot, George is a must add and stash player. If you're not fortunate enough to have that luxury or have a player like Kemba Walker in your IR-slot already, it gets a lot more difficult of a situation. If you're in a position where you feel the playoffs are a sure thing, sure, add him and wait for his mid-March return which should be right in line with the start of most league's playoffs. Can't imagine they let him play unless he's 100% so you should expect really good stats upon his return even if they ease him in with 20-25 minute games to start. If you're in a roto league it's a tough call because having an inactive player for the next month will hurt but getting 4-6 weeks of Paul George down the final stretch could be huge. If you're in a H2H league and clawing for the final playoff spot I think you have to avoid the temptation if no IR-spot, because you'd be better off streaming that spot for the next few weeks to accumulate as many stats as possible to just have a shot at the playoffs. Paul George does you no good if you miss the playoffs.
Reggie Jackson (43%) – I don't have any recently hot stat lines to go over here. Jackson is playing just a measly 18.7 minutes over the past couple of weeks for OKC. I'm really surprised RJax is still owned in even 43% of leagues because of how bad he's been recently but there are a lot of dead owners out there and/or savvy owners doing what I'm about to advise here. There's a very good chance that OKC trades Reggie Jackson before the trade deadline Thursday afternoon as they obviously don't plan to sign him in the off-season and he's not playing a big enough role to hold. He also has too much talent to just let go at seasons end with nothing in return, so making a trade seems an obvious call. If Jackson lands somewhere that he'd either start or get 25ish minutes in a Jamal Crawford-type role, he could really make for a big add down the stretch. Think similar to what Isaiah Thomas has done this season if he lands a solid role. If he somehow lands a starting role and gets big minutes, watch out because he can be a league momentum shifter. He's a guy possibly worth adding and just waiting until the deadline (Thursday afternoon) to see if he's moved and if so where to, if he stays or goes somewhere not ideal, simply drop him.
Rudy Gobert (34%) – I've hyped this guy since the preseason so there's nothing more I can tell you that wouldn't be an echo, but I had to at least mention him here as an add because if Enes Kanter gets traded this week as he's requested, Gobert becomes an absolute MONSTER. If you missed out on adding Hassan Whiteside, this is your shot to catch up in those rebound and block categories. Gobert should be owned in 100% of leagues right now and if Kanter doesn't leave and you (for some odd reason) don't want to hold on to Rudy's 7.6 points, 8.1 boards, 1.0 steal and 2.3 blocks he's went for over the past 7 games, then fine drop him again but don't sit on your hands here and have one of your opponents add him and get the potential mega boost if Kanter leaves then cry about it.
** I will have an NBA trade deadline post here at the Fix on Thursday that I will update all day long with each and every trade that goes down and it will include the fantasy implications of each deal. I took the day off from my day job just to dedicate that day entirely to the deadline and getting my readers the info they need ASAP (and also to recover from my night of beers watching my Tarheels play Duke the night before).
Deeper leagues:
Patrick Patterson (10%) – In deeper leagues it's time to give Pat-Pat a look as he's been getting really solid minutes off the bench for the Raptors and been a steady stat contributor. Over the last 16 games Patterson has averaged a respectable 27.6 minutes, 9.5 points, 6.5 rebounds, 1.8 assists, 1.1 steals, 0.5 blocks and 1.3 treys which isn't too shabby at all from a bench big fella. In anything deeper than a 12-team league Patterson should be picked up.
Ed Davis (12%) – If you're in need of a short-term boost in rebounds and blocks, Davis is a nice target while Jordan Hill is sidelined. Ed swatted 10 shots over the past six games and averaged 9.3 boards and 2.7 assists over that same span. Davis really should keep a bigger role like this but when Hill is healthy he tends to take a hit in his performance and minute consistency. He's at least a deep league option but can help those in standard leagues if you need to make a leap in blocks.
For more fantasy hoops analysis and to have any questions you may have answered, follow Zack on Twitter @BigZack44