2014-15 Fantasy Basketball: Waiver Wire Fix — Week 17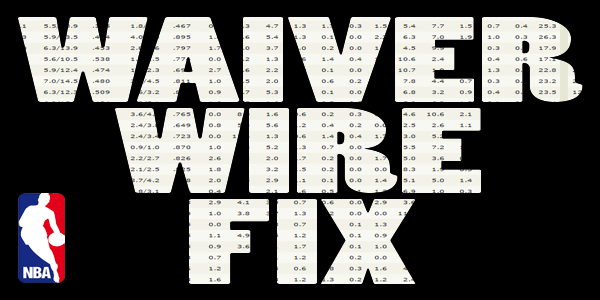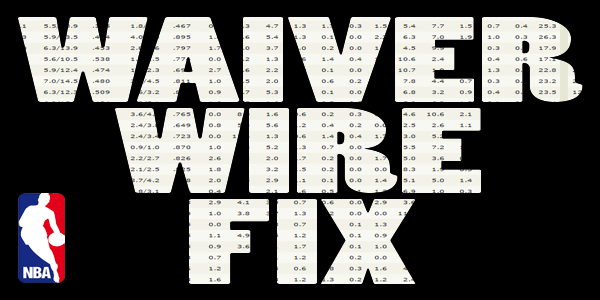 Welcome to the week 17 Waiver Wire Fix. Be sure to check back here every week for the duration of the fantasy hoops season for more wire targets. I've begun breaking the column down according to player types. This should help you find the player that best fits your team's specific needs. There will be different categories every week, so I hope you enjoy the new format. If you're not sure if you should drop a certain player from your team for one of these targets, then shoot me a tweet and I'll give my two cents.
I only discuss players that are owned in less that 51% of ESPN leagues. I also won't repeat players that I've mentioned in a previous column unless it's absolutely needed because they've leaped into an even better opportunity. This all said, if any of these players are available in your league you should grab/consider them: Nerlens Noel (owned in 55% of ESPN leagues), Enes Kanter (54%), Jarrett Jack (47%), Eric Gordon (51%), George Hill (50%), Robert Covington (50%), Khris Middleton (48%), Louis Williams (45%), Rudy Gobert (44%), Timofey Mozgov (42%), Robin Lopez (40%), Mo Williams (39%), Trey Burke (36%), Elfrid Payton (36%), DeMarre Carroll (33%), Manu Ginobili (28%), Paul George (28% – Stash if you're playoff bound), Gerald Henderson (25%), Amir Johnson (20%), Jusuf Nurkic (18%), Michael Kidd-Gilchrist (18%), O.J. Mayo (15%), Langston Galloway (16%), John Henson (14%), Wayne Ellington (12%), Matt Barnes (10%), James Johnson (9%), C.J. Miles (6%) and Wesley Johnson (3%).
Point men:
Isaiah Canaan (14%) – The new starting PG for your Philadelphia 76ers is Isaiah Canaan. In his first game with his new team he drew the start and played 29 minutes right away so there was no 'easing him in' phase. Canaan has done decent with the Rockets whenever he's drawn starts and that's on a team with a lot of fire power around him. Here in Philly there's not much to stop Canaan from being very productive. In his first game he scored 14 points on 5-of-12 shooting, four of those makes were from behind the arc. Isaiah also grabbed four boards and dished out three assists in the game. He's a big time deep threat and will have some off shooting nights I am sure but he's worth an add even in standard leagues right now simply for the upside he holds as a starter in Philly. Add him, light the fuse and FIRE THE CANAAN!
Norris Cole (3%) – When a team is missing it's starting point guard, it's superstar starting power forward and their deep threat backup power forward there's no secret that the rest of the team has to pickup the slack. Most of that weight will land on the shoulders of Tyreke Evans and Eric Gordon (hopefully his knees can withstand it) but they're already owned in your league. New Orleans traded for Norris Cole on deadline day and he played 29 minutes off the bench in his first game with the team putting up a fair line of 12 points, six rebounds, three assists, one steal and one triple against his former team of Miami. Cole should continue to see an expanded role for the Pelicans until they return to health and that's at least a few weeks away. If you're in need of some mid-level point guard stat help, you could do a lot worse than the defensive pest that is Cole.
Scoring unit:
Danilo Gallinari (9%) – Well, when Denver moved Arron Afflalo before the deadline most thought it'd be Randy Foye stepping into the starting SG job but instead Brian Shaw declared Gallinari the starter. The Italian wingman is mostly just an asset for those in need of scoring, threes and FT% as he doesn't consistently do anything else well. He's started in two games now and once he played 36 minutes and the next he played 19 minutes, although he scored more on the night he played less minutes. This is Brian Shaw we're dealing with here so this could change at any given moment but for now view Galli as a temporary three point scoring fix. There is upside here as Danilo was once a true star in the making until the knee injuries began.
Rodney Stuckey (10%) – By the time I'm done writing this Stuckey's hot streak may be over but coming off of back-to-back 30 point nights, he's earned the mention here. In fact, over his last five games Stuckey is averaging 21.8 points, shooting 60% from the field and 95% from the charity stripe which all combined has him at a ridiculous 71% TS% (true shooting percentage) over that span. Stuckey has also hit two treys in each of the past four games which has never been a part of his game averaging only 0.5 3-pointers per game on the season. So, while he's obviously on a heater and can only go down from here, why not ride the lava wave until it crashes into the bank? Rodney has also handed out three assists and one steal per game in the past five, so it's not completely points, treys and percentages you'd be getting from him. He should continue to see big minutes and solid stats at least until Paul George returns in possibly as soon as two weeks.
Tim Hardaway Jr. (10%) – With Melo out for the remainder of the season and a true lack of talent remaining on the Knicks, Tim Hardaway Jr. should see a hefty role the rest of the season. I would be shocked to not see him log over 30 minutes on the regular the rest of the way and when he's played 30+ minutes this season (15 times) he's averaged 15.4 points, 3.4 boards, 2.7 assists, 0.5 steals, 0.5 blocks and 2.2 3-pointers. He also has taken 13.3 FGA per game in those games which is good for his scoring output but it's also part of his one big downfall — field goal percentage. In those 15 games in which he played 30+ minutes he Hardaway shot 76/200 (38%) from the field and at 13+ FGA that can really put a dent in your FG% down the stretch so he's really only an option if you're already really poor at FG% but he should remain solid elsewhere the final 27 games of the Knicks season.
Stash house:
Kelly Olynyk (10%) – I know he's currently sidelined and listed as day-to-day but with Jared Sullinger done for the year, when Kelly returns he's going to have a lot of opportunity to produce big statistically. The Celtics bigs are really thin with really nobody to call upon outside of Tyler Zeller, Brandon Bass and Kelly O and with Olynyk having the highest ceiling of that trio, he should see a heavy share of mins going forward if he can stay healthy. Kelly has played 26+ minutes 18-times this season and in those he posted an impressive 17.1 points, 6.8 rebounds, 0.9 blocks, 1.3 steals and 1.5 treys. He should see close to or above 30 minutes a night when he returns to 100% so he could be a big chip on your way to the playoffs or race to the finish line depending on if you play H2H or roto.
Deeper option:
Trevor Booker (0.5%) – If you're in a deeper league and/or in need of some rebounds the rest of the way, you can look to Trevor Booker for help there. With Enes Kanter gone to OKC, Booker should see a good role off the bench for the Jazz. In five games this season with Enes Kanter out Booker has played 21.5 minutes, scored 9.6 points, brought down 9.0 rebounds and swiped 0.8 steals per game.
For more fantasy hoops analysis and to have any questions you may have answered, follow Zack on Twitter @BigZack44