2014-15 Fantasy Basketball: Week 3 Buy/Sell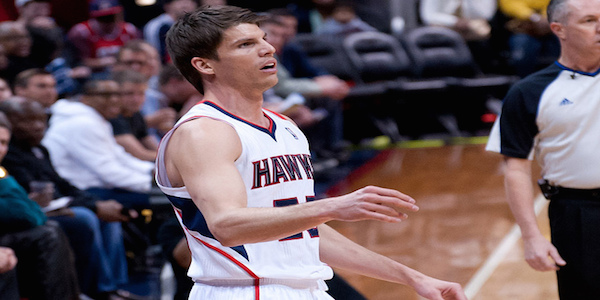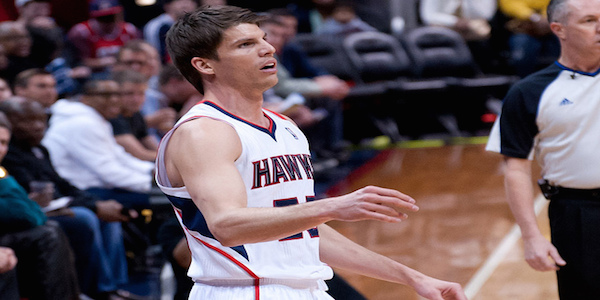 Welcome to the Week 3 Buy Low, Sell High report. As we approach the end of the third week, fantasy values are starting to take on more meaning with a larger sample size to analyze from and it's one of the best times of the year to execute trades with fickle-minded fantasy owners who have no patience based on slow starts. It would have been unfathomable to predict players like Trevor Ariza, Courtney Lee, Jimmy Butler would be among the top-15 players so far while notable studs like Blake Griffin, Al Jefferson, and Eric Bledsoe fail to sniff top-75 value and that's what makes fantasy basketball so great. You never know what's going to happen until the players lace 'em up and get out on the hardwood. The purpose of this article is to bring some much needed clarity for owners in terms of who are some of the best trade targets and best sells to this point of the season.
The number listed directly to the right of each players name indicates their 9-cat value according to Yahoo. Without further ado, let's get started. You can follow me on Twitter @MattMoczy for more basketball news.
Buy Low
Andre Drummond (237) – 8.6 PTS, 10.9 REB, 0.4 AST, 0.5 ST, 1.6 BLK, 41.7% FG, 37.5% FT
Make no mistake about it, Drummond owners can be none too pleased about the lackluster play of their early-round selection so far. All one must do is take a look at his box score production below compared to last year to see how the 21-year-old has seen a noticeable drop in production and efficiency.
| | | | | | | | | | | |
| --- | --- | --- | --- | --- | --- | --- | --- | --- | --- | --- |
| Year/Cat | PTS | REB | AST | ST | BLK | TO | FG% | FT% | MPG | PF |
| 2013 | 13.5 | 13.2 | 0.4 | 1.2 | 1.6 | 1.4 | 62.3 | 41.8 | 32:20 | 3.4 |
| 2014 | 8.6 | 10.5 | 0.4 | 0.5 | 1.6 | 1.8 | 41.7 | 37.5 | 28:13 | 4.4 |
Detroit Pistons head coach Stan Van Gundy is asking Drummond to diversify his offensive game as more of a post-up presence than simply the pick-and-roll and putback dunk extraordinaire role he's been accustomed to the last few seasons and the early results haven't been promising. According to NBA.com, the 21-year-old from Connecticut is only shooting 51.9% from less than 5 feet and 14.3% from 5-9 feet this season after shooting 65.3% and 33.3% from the same marks a year ago. His shot charts seem to show he's still getting plenty of good looks, but his touch is undoubtedly off.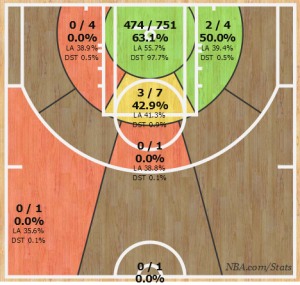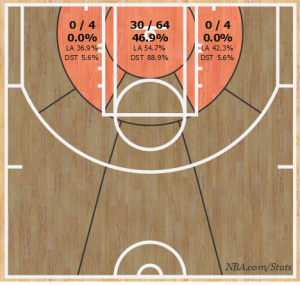 It's surprising the 6'11/279 pound beast can't even shoot a league-average mark from the restricted area after dominating in field goal percentage the last two years, but look for him to drastically improve upon his current 41.3% mark from the field. He's simply too talented to be held down for long and his low percentage is rather fluky considering the types of shots he takes. The other part of his game holding him down is the absurd 4.4 fouls per game he's committing through the first eight games. After averaging 3.4 fouls per game in 32.5 MPG last season, Drummond's early foul trouble has limited him to 28.1 MPG in 2014. If he wants to have a chance at matching the gaudy numbers he posted last year, he will need to drastically cut down on the fouls in order to stay on the court.
Don't expect Drummond to improve upon his ghastly free throw percentage or to dish out more assists as those are the weakest points of his game, but the UConn product has plenty of room to better his averages in points, rebounds, field goal percentage, and steals from here on out based on his past production. Furthermore, Drummond has a 19.5 usage rate this year (16.7 in 2013), so the opportunity for improved output is there. If you're punting free throw percentage, he remains one of the best buy-low candidates out there. Steal him for a reduced price from a disgruntled owner before it's too late!
Carmelo Anthony (128) – 21.0 PTS, 5.2 REB, 4.0 AST, 0.6 ST, 1.2 3PM, 41% FG, 74.4% FT
With an ADP of 7.5 in Y! leagues, Melo has been a colossal disappointment to this point of the schedule as his rank of 128 in 9-cat leagues would attest. Excluding assists, Anthony has seen regression in virtually every category. While concerns before the season about him and the team adjusting to the triangle offense were valid, no one could have envisioned one of the best basketball players in the world would struggle to this extent based on his remarkable consistency the past 11 seasons. The 21.0 points Anthony is averaging would be his lowest mark since 2004 while his 5.2 rebounds per game is the second-lowest rate of his career after he established a career-high 8.1 rebounds per last season. Additionally, his averages in steals (0.6), blocks (0.2), FT% (74.4 percent), and FG% (41.0 percent) would all be career-lows. It appears the perennial All-Star has let the bad start get into his head and he even admitted as much after a recent game.
Before you make a hasty trade you might very well regret, know that Anthony has nowhere to go but up in fantasy terms from here on out. The triangle offense has meant less three-pointers and more mid-range jumpers for Melo and while he's known for his prowess in the mid-range game, he's been inefficient in those situations this campaign. The 30-year-old Syracuse product shot 44.3% on mid-range shots last year but is only hitting at a 40.2% clip in those spots in 2014. While the difference may not seem like much, it will be crucial for him to be more efficient in this area going forward since it's going to be a staple of the offense and he's likely to do just that. His eFG%, which is adjusted for three-pointers being 1.5 times more valuable than two-point shots, is down to 44.1 percent after coming in at 50.3 percent in 2013. It obviously hasn't easy so far, but Melo is one of the best pure scorers in the NBA and will get it figured out sooner rather than later. In fact, over the last three games he's averaging 24 points, 7.7 rebounds, and 3.3 assists on 46.7 percent shooting from the field. The buy-low window is closing fast and when it's all said and done he'll still end up being a first- or second-round value.
Al Horford (45) – 13.1 PTS, 7.1 REB, 2.6 AST, 1.0 ST, 1.4 BLK, 47.3% FG, 85.7% FT, 1.4 TO
It would have been foolhardy to expect Horford to get back to being his dominating self right off the bat this year considering he's coming off his second torn pectoral muscle in three seasons and his up-and-down play so far has backed that claim up. The 28-year-old Florida alum recently admitted his rhythm and conditioning isn't all the way there, yet he's still managed to be the 45th-ranked 9-cat player. While he hasn't provided the second- or third-round value many owners drafted him for, there's plenty of optimism from here on out as he works his way back to full strength.
His biggest drop-offs have come in points (18.6 > 13.1), FG% (56.7 > 47.3), and rebounds (8.4 > 7.1). Boards should be the least of owners worries as he's averaged 9.5 rebounds in his career and he also owns a career 54 percent mark from the field as well. The shots from 5-9/10-14 feet are currently giving him the most trouble as he's hitting at just a 9.1 percent and 25 percent clip from the two areas. Horford made 40.7 percent of shots from 5-9 feet in 2013 and 55.3 percent from 10-14 feet so some improvement is bound to happen. Contending with Jeff Teague, Paul Millsap, and Kyle Korver for shots, Horford is likely to settle in to the 15-16 PPG mark. His 22.6 usage rate is only slightly lower than his 24.6 rate from last season so he's still seeing plenty of opportunities on offense. Regressing from the charity stripe (85.7%) is really the only category he's likely to fall off in and an excellent buy-low window exists for more one of the best centers in fantasy.
Sell High
Kyle Korver (5) – 16.7 PTS, 4.7 REB, 2.7 AST, 0.6 ST, 3.7 3PM, 1.0 BLK, 48.6% FG, 91.3% FT
Ladies and gentlemen, Ashton Kutcher Kyle Korver is the No. 5 ranked player as of this writing. That's not a misprint, folks. His 70.3 ADP indicates just how big of a steal he's been so far. The 33-year-old Creighton alum is setting career-highs in points (16.7), 3PM (3.7), 3PT% (55.3), and blocks (1.0) through seven games. We all know how great of a shooter Korver is, but it's insane he's shooting that well from deep considering he's taking 6.7 three-point attempts per game, the second-highest rate of his career. Obviously it's very early in the season, but after finishing as the 33rd-ranked player last year, the sharpshooter is showing he's the real deal. I dare you to look at his shot chart and not come away impressed. Yowza. He sports a mind-boggling eFG% of 66.7 percent.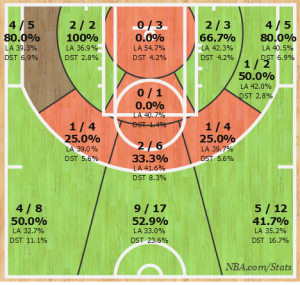 It may seem counterintuitive to list all his career-best statistics Korver under the "sell high" headline, but his blistering start is making my case for me. Don't get me wrong, I'm a big believer and firmly believe he can easily return third-round value again considering his 16.1 usage rate is higher the 14.1 mark he posted last year, but it's unlikely he finishes as a top-25 player. When Horford returns to his normal self it will likely cut into Korver's scoring and usage a bit, although expecting him to keep up his current mark of 16.7 PPG would be awfully optimistic anyways. While there's no doubt in my mind Korver can hit 3+ treys a game, his mark of 3.7 3PM will fall as will his 55.3 percent mark from deep. He is certainly underrated as a defender, but his early average of 1.0 blocks per game is quite fluky. Basically, his value won't be any higher than it is right now, so why not see what kind of haul you can get back in return?
Jeff Green (29) – 18.9 PTS, 5.3 REB, 2.3 AST, 0.9 ST, 2.3 3PM, 0.7 BLK, 43.2% FG, 87% FT
Green has always been a player long on talent but short on consistency and while consistency has yet to be a problem through his first seven games with the Celtics this year, I'm not buying he'll finish as a top-50 option. In 2013, Green set a career-high with 16.9 points and 1.6 3PM. As you can see in his stat line above, the 28-year-old has again increased his output in those categories. It must also be noted he is shooting a respectable 35.6 percent from deep on a career-high 6.4 attempts per game. His percentage from deep becomes all the more surprising when you factor in he's actually shooting better from three-point range than from 5-19 feet (35.5%). It doesn't take a rocket scientist to surmise his mid-range game will improve while his three-point percentage will regress.
Green has never been anything more than an ordinary rebounder and passer and while you would think the athleticism would translate to some nice steal totals, he's averaged a pedestrian 0.8 swipes in his eight-year NBA career. He's only a career 44.1 percent shooter from the field and is launching a career-high 15.9 shots per game this year so there will likely be a boatload of inefficient games the rest of the way. The problem with Green is that when his shot isn't falling he doesn't provide enough popcorn stats to prop up his fantasy value. Additionally, his stellar free throw percentage (87%), is likely to regress considering he's never shot better than 81.8 percent from the charity stripe. Furthermore, his 23.7 usage rate is nearly identical to the 23.4 usage rate he had last year so his increased production isn't due to an obvious increase in opportunity. If you can trade Green for someone like Joe Johnson, Nicolas Batum, Wesley Matthews, or Draymond Green, you should be all over that. Multi-cat versatility is the name of the game when it comes to fantasy basketball.
Jordan Hill (64) – 13.6 PTS, 9.3 REB, 2.6 AST, 0.4 ST, 1.3 BLK, 48.4% FG, 75% FT, 30:47 MPG
Hill was a popular sleeper pick in the fantasy basketball community this season due to him being projected for an increased role on the Los Angeles Lakers due to them fielding a putrid roster and he's delivering in a big way for fantasy owners considering Hill had a 113.2 ADP before the season. After never averaging more than 21 minutes in his first five NBA seasons, Hill is averaging 31 MPG through eight games so far and it's doing wonders for his fantasy value. The 27-year-old Arizona alum is on pace for career-best marks in points, rebounds, assists, blocks, and free throw percentage. He's already had four double-digit rebound games and has also had a game with seven assists. Even if you exclude his seven assist game, Hill would still be averaging 2.0 assists and this is music to fantasy owners ears considering his previous career-high was 0.8 assists per game.
His per-36 statistics from this year are nearly identical to last year and his 19.7 usage rate (19.8 in 2013), suggests he'll have no problem keeping up his current pace. Yes, his assists may dip off a bit and his free throw percentage will likely fall closer to his career 68.3 percent mark from the free throw line, but Hill is going to get all the minutes he can handle on a Lakers team devoid of talent. His high minutes total is one of the reasons owners should consider selling high as he's had trouble staying healthy throughout his career. Hill has never played in more than 72 games in a season and has only played in 267 of a possible 402 games (66.4%) in his career. This is a classic case of a player whose output shouldn't be put into question, rather the name of the game becomes cashing in when the price is right. Much like I mentioned with Korver, Hill's value is unlikely to get much higher than his current mark. If you can trade him straight up for the likes of Tim Duncan, Robin Lopez, Greg Monroe, Markieff Morris you should consider making the move.
Thanks for reading and be sure to comment below with any questions or remarks you have concerning the article. You can follow me on Twitter @MattMoczy and I'm more than willing to answer any questions.