2014-15 Fantasy Basketball: Week 4 Trend or Mirage?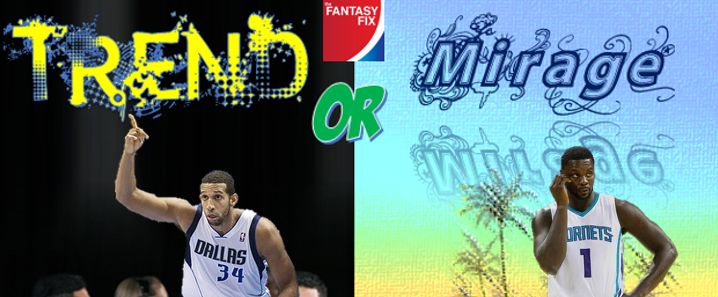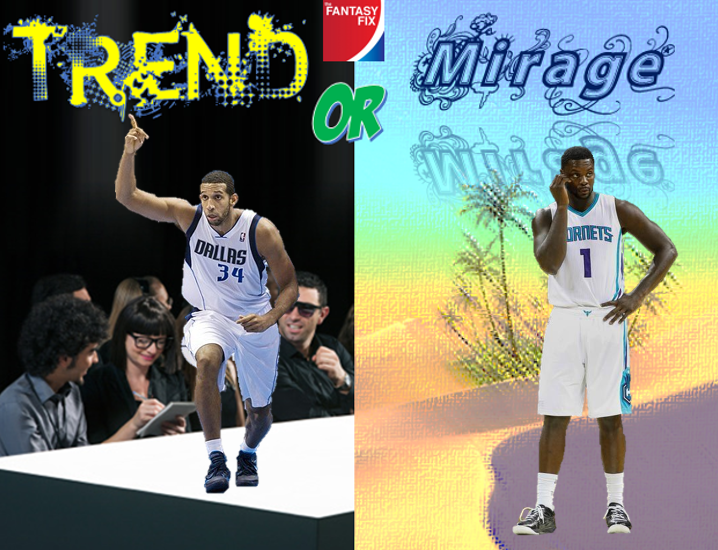 Brandan Wright – TREND
Is there a more efficient bench player in the league than Brandan Wright?
There may not be a player who makes the most out of both his opportunities and his team fit, as Rick Carlisle utilizes his back-up big beautifully off the bench. Wright's been absolutely crushing it from the field, to the tune of 77.2% – yes you're reading that right, 71-92 shooting – including an absurd recent four game stretch where he shot 23 out of 25.
While he's not going to grab you 12 rebounds or block you five shots off the bench like a Chris Kaman or John Henson type might, he is going to be consistent and efficient enough to plug into your starting lineup, unlike the other two aforementioned bigs. Wright is a sure fire bet that you can get from an exclusive bench option, so if anything happens to the very injury prone Tyson Chandler, expect Wright's minutes to go up.
Lance Stephenson – MIRAGE
Rebounds? Up.
Assists? Up.
Minutes, field goal attempts, free throw attempts at just about last year's averages, turnovers down.
So what the hell is wrong with Stephenson this year? His fantasy stats are as ugly to look at as they are annoying to own. The do-it-all (and then some) point-forward just hasn't met the lofty expectations many fantasy experts suspected, as his percentages are all well under his career marks. The 8.1 rebounds is as much a mirage as the 37% shooting from the field, 21% (rounded up no less) and 60% clip from the line, so hold off moving Lance while his value is low and look for him to improve on those eye-poppingly crap shooting stats.
The Bobcats have lost seven straight games and Lance has been awful, but he's simply too good and needed too much for this slump to last much longer – which means his first month is a mirage. Now whether he's worth the hassle to own, that's entirely up to you.
Don't take this the wrong way because I simply can't stand his fantasy game, but at least with Josh Smith's horrendous percentages you're getting a steal and over a block and a half per.
Harrison Barnes – MIRAGE
Overrated, underrated, potential star, underachiever and now lottery pick come good – Harrison Barnes has been called it all in his young career.
Known more for some highlight reel dunks and for failing to grasp the starting gig basically handed to him by Mark Jackson (and taken away despite solid individual play) last season, Barnes fits like a glove in the new Steve Kerr run offense. Over the last eight games he's really producing from the field, hitting his field goals at 52% and his free throws at 79% and throwing in 5.8 rebounds, 1.1 threes and just 1.o turnover for good measure.
Barnes will have an eye on free agency, and if he doesn't try to do too much – which he isn't – you can expect this solid play to continue as the season progresses. It needs to be mentioned that David Lee is expected back soon, but early grumblings make it look like Lee's offense and rebounding will be utilized off the bench, so Barnes is safe for now.
Kris Humphries – TREND
It doesn't hurt to have such a fragile land mass playing in front of you, in Brazilian bruiser Nene. Humphries was a lowkey (cheap) signing, considering his per-36 stats are 13.4 points and 11.0 rebounds, along with 1.2 blocks.
People forget that he's actually had two double-double seasons in his career, which has consistently been overshadowed by Kim Kardashian's massive accompanying ass circus. Fortunately he's away from that spotlight, where he's been allowed to concentrate on his game and what he does best – the dirty work – rebounding, blocking shots, setting screens and banging in the paint.
His numbers are slightly underwhelming so far and over his last three games he's averaging a solid 7.3 rebounds, but he had stretches last year where he proved to be useful when given consistent minutes. Up and down is the real trend and there'll be moments when Kevin Seraphin and DeJuan Blair steal his minutes, but for now the starting gig is his to lose.
As always we welcome your feedback, so feel free to hit me up on Twitter (@macetastic) and I'll do my best to reply to any comments.