2014-15 Fantasy Basketball: Week 6 Buy/Sell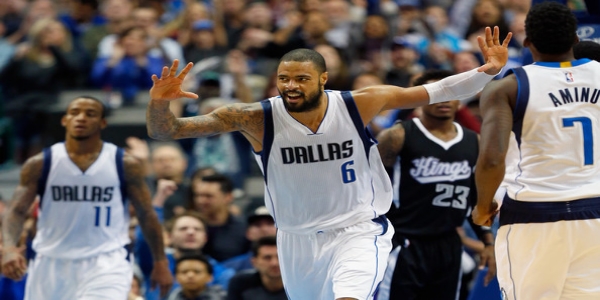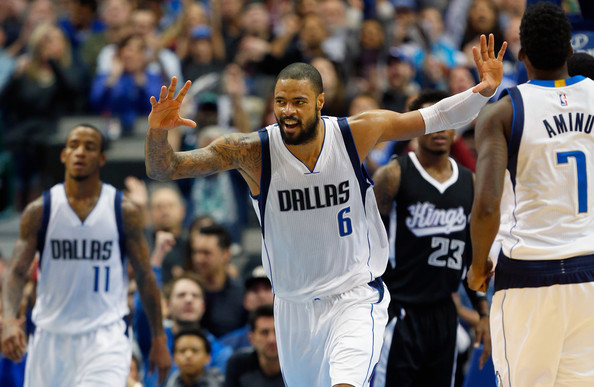 Welcome to the Week 6 Buy Low, Sell High report. It's hard to believe that we're already into the month of December, and with that has come the return of some explosive injured players, Kevin Durant and Russell Westbrook. If you've read my buy/sell columns all season then hopefully you were able to sell high on names like Roy Hibbert and Reggie Jackson, and bought low on Andre Drummond, Paul Millsap and Kawhi Leonard. Most of the players I've labeled as buy or sells that haven't changed yet, I still advise you do the same only now you can buy lower or sell higher. One player that hasn't turned things around just yet, I actually felt the need to mention again and my colleague Zack labeled as his "fizzlin'" player for this week, Nic Batum. Without further intro, let's get to the good stuff.
Buy Low
Nicolas Batum – (69) 8.6 PTS-6.4 REB-5.2 AST-1.0 3PM-1.2 ST-0.8 BLK-37.3% FG-85.7% FT
Talk about a shooter being mired in horrendous slump. Batum is 1-of-24 from three-point range in his last five games and he's only making one trey per game to go along with a career-low 23% mark from downtown. Additionally, his field goal percentage (37.3%) is abysmal which helps explain his meager output of 8.6 points per game. While these distinctions would be the deathblow to the fantasy values of many players, Batum is still returning sixth-round value in 9-cat formats thanks to his well-rounded game. This isn't to suggest that owners shouldn't be disappointed in his putrid start so far considering he sported a 24.4 ADP in Yahoo leagues, but right now is shaping up for an excellent buy-low window for one of the most versatile players in fantasy basketball.
A bruised knee recently sidelined for 12 days and while he has been able to play the last seven games without incident, Batum admitted he is still struggling with his shot due to the injury. As time goes by the 25-year-old Frenchman should slowly but surely see his field goal percentage creep back up to around his career mark of 45%. Over the last five seasons Batum has averaged at least 1.5 3PM every year and has never shot below 34.5% from deep during that timeframe either. In other words, he's a virtual lock to improve in those areas based on his current output. Batum has always been an above average rebounder for a small forward and his passing remains elite as he's dishing out 5.2 assists per game. When you add in his steals (1.2), blocks (0.8), FT% (85.7) and low turnovers (1.9), you have yourself all the makings of a fantasy stud once he sees some positive regression. Get on it before he goes on hot streak as you can pencil him in for top-30 value by the end of the year.
Chandler Parsons – (86) 14.9 PTS-5.2 REB-2.4 AST-1.9 3PM-1.0 ST-40.9% FT-72.3% FT
Parsons is a mini-Batum in the sense he contributes across the board and that's why many (including myself) anticipated a smoother transition from moving from the Houston Rockets to Dallas Mavericks. As of now his points, rebounds, assists, FT%, FG%, and steals are all down from a season ago, although some areas are more concerning than others. While the Mavericks are definitely a deep team in regards to talent, it's been surprising to see his scoring drop by 1.7 PPG considering the Mavs lead the NBA in scoring (110.2). The root of the problem can be traced to his career-low 40.9% mark from the field and career-low 32.2% shooting from deep on a career-high 5.9 three point attempts per. Furthermore, after averaging 4.0 assists last season, Parsons is only averaging 2.4 assists this season. The 26-year-old recently expressed his desire to receive more playmaking opportunities and it wouldn't be surprising to see the team grease the squeaky wheel so to speak. This would obviously be welcome news to owners as more dimes can only improve his fantasy value. Parsons owns a career field goal percentage of 46.7 and once the buckets start to drop with more regularity, he'll have no problem returning top-60 value.
Sell High
Tyson Chandler – (23) 11.3 PTS-11.9 REB-1.4 AST-0.6 ST-1.5 BLK-69.2% FG-69.7% FT
While Chandler is having one of his finest seasons of his career to date as he's been reunited with the Mavericks after a three-year stint with the New York Knicks, I can't help but think this is a perfect sell-high opportunity considering his durability issues. Before we get into that, let's look at what the 32-year-old is doing well to achieve his lofty ranking of 23rd in 9-cat formats. His averages in points (11.3) and rebounds (11.9) would represent the second best rates of his career while his ludicrous field goal percentage (69.2%) and assists (1.4) would be career-highs. Not to mention, his 1.5 blocks per game would be his highest mark since 2006. Chandler has been phenomenal over his last five games with averages of 14.2 points, 16.4 rebounds, and 1.8 blocks. It's worth mentioning Dirk Nowitzki missed two of the games, but Chandler is on a major roll regardless.
While his production may not keep up to this extent, it's obvious that Chandler remains a perfect fit as the defensive anchor and pick-and-roll machine so his production when he's on the court should remain stellar. With that being said, it would be very wise if Chandler owners explored the trade market to gauge interest based on his aforementioned durability issues. Over the last five seasons he's missed roughly 22 percent of his schedule due to injuries and he has only played in 70+ games once over that stretch. Don't trade him unless you receive an offer to your liking, but if you should strongly consider it if you can move him for someone like Jared Sullinger, Nikola Vucevic, Serge Ibaka, or Derrick Favors.
Andrew Bogut – (44) 7.6 PTS-9.3 REB-3.2 AST-0.8 ST-2.2 BLK-57.1% FG-52.9% FT
Bogut is another player whose skillset isn't in question, but his durability surely is. Bogut has only played in 245-of-394 games (62.2%) over the last five seasons and the last time he managed to play in 70+ games was all the way back in 2007. The 30-year-old Australian got off to a similar start last year before his season was derailed by nagging injuries down the stretch and as someone who owned him last year and remained optimistic about his chances of staying healthy early in the season, I learned my lesson the hard way. The Aussie is dishing out a career-high 3.2 assists per game and his production in field goal percentage (57.1) and blocks (2.2) remains stellar so owners don't have to worry about that. One caveat that comes with owning the 7-footer is his atrocious free throw shooting as he's barely making half of his attempts and it makes it easier to ship off players who kill you in certain areas. If you can find an owner willing to take a gamble on Bogut, by all means exhaust all your options to sell-high on him. Odds are you likely won't regret it.
Goran Dragic – (74) 15.5 PTS-3.3 REB-3.2 AST-1.2 3PM-1.0 ST-48.7% FT-87.8% FT
If an unsuspecting owner in your league isn't aware that Dragic's recent hot streak coincides with the absence of sixth-man extraordinaire Isaiah Thomas, it's time to pounce on the sell-high window that has opened up for Dragic. The Dragon has scored 20+ points in four of his last five games and it's not a coincidence his increased output is happening while IT2 recovers from his ankle injury. The 28-year-0ld Slovenian put up a filthy 34-5-3 line on 11-15 FG with five treys and four steals last night against the Indiana Pacers. Yowza. The points and three-pointers were season-highs and he did it all in only 35 minutes. Dragic will likely see his production and minutes slip into the low-30's when Thomas returns as Phoenix Suns head coach Jeff Hornacek isn't afraid of riding the hot hands at the guards position on a night-to-night basis. Dragic has seen his average in points drop by almost five points per game while his assists have also drastically fallen off compared to last year. Even after the huge game, Dragic is only returning seventh-round value and unless an injury keeps either Eric Bledsoe or IT2 out for an considerable amount of time, he'll struggle to return top-50 value.
Thanks for reading and be sure to comment below with any questions or remarks you have concerning the article. You can follow me on Twitter @MattMoczy and I'm more than willing to answer any questions.