2014-15 Fantasy Basketball: Week Two Buy/Sell Targets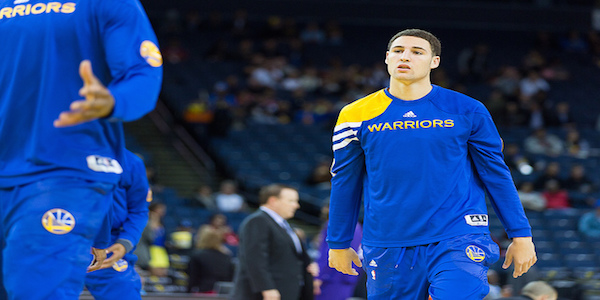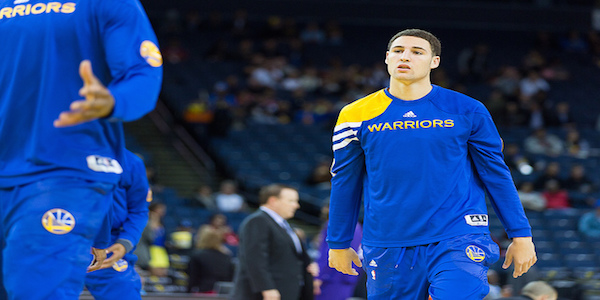 As we approach the end of Week 2 a number of compelling fantasy storylines have developed in what has been a thrilling start to the 2014-15 NBA season. Whether it be the emergence of young up-and-comers (Klay Thompson, Gordon Hayward, Derrick Favors), the struggles of LeBron and Co. in Cleveland, or Anthony Davis cementing his status as the No. 1 overall player, it's of utmost importance for fantasy owners to adjust on fly to seesawing values. While sample sizes aren't yet large enough to draw definitive conclusions in many cases, some early developments hold substantial merit in regards to the value of players the rest of the season. The purpose of this article is help identify some of the best trade targets and a few of the players you should be looking to unload based on their early production and rest of season outlook.
FYI, the numbers listed to the right of each players name indicates their 9-cat value and the bolded statistics indicate the categories holding down or propping up said players fantasy value. Without further ado, welcome to the first edition of the weekly Buy/Sell column.
Buy Low
Nicolas Batum (76) – 8.6 PTS, 7.4 REB, 5.8 AST, 1.0 ST, 1.2 3PM, 0.6 BLK, 34.9% FG, 87.5% FT
What makes Batum such a great asset to own is the fact that he consistently contributes across the board and doesn't hurt you in any specific category. It's been more of the same this year as his 5.8 assists per game would represent a career-high while his 7.4 rebounds per game is just shy of the career-high 7.5 boards he averaged a season ago. Additionally, his ability to post nearly a steal and block per game to go along with 1.5+ three-pointers and an excellent free throw percentage separate him from a lot of other SF types. You're probably wondering why I'm gushing over a guy who was drafted to provide second- or third-round value when he is currently ranked 76th. In the words of Aaron Rodgers, R-E-L-A-X. The main cruxes of his value have been his 8.6 points per game and anemic 34.9 percent shooting from the field. Both these marks would be career-lows for the 25-year-old Frenchman. Let's take a look at his shot chart to see where he's struggling.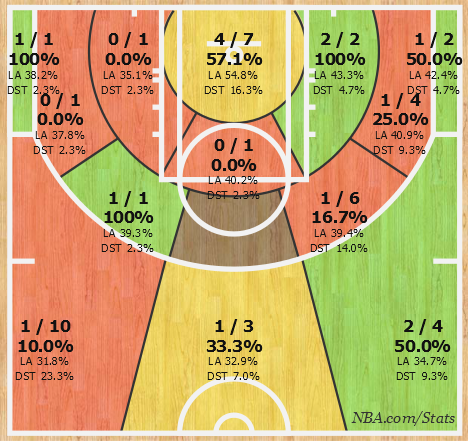 3-pointers on the left wing and long two-pointers from the right wing and corner are the shots giving Batum the most problems to this point of the season. Owners can probably chalk up his early season struggles to small sample size as Batum shot 38.9 percent, 35.7 percent, and 52.8 percent last year from the aforementioned problem areas. While his current 34.9 percent mark from the field is killing his value at the moment, he's a career 45.2 percent shooter and his percentage should steadily improve from here on out. His 8.6 PPG have come on only 8.6 FGA per game and it appears Batum has been extremely passive to this point. The Blazers SF has averaged at least 10 FGA the last four seasons so owners can bank on him returning to averaging between 13-15 points very shortly. Perhaps the best indicator that he will get back to posting third-round value in due time is the fact that his 16.1% usage rate almost mirrors the 16.4% usage rate he posted in 2013. If you're in a league with a panicky Batum owner, send him offers for the multi-cat stud before it's too late.
Paul Millsap (103) – 14.0 PTS, 6.5 REB, 3.3 AST, 2.3 ST, 3.3 TO, 0.5 3PM, 41.2% FG, 66.7% FT
Millsap was the only player in the NBA last season to average at least 17.0 points, 8.0 rebounds, 3.0 assists, 1.0 steals, and 1.0 blocks so it's safe to say owners were expecting much more from their early-round selection in what has been a disappointing start to the year. While the improvement of Jeff Teague and return of a healthy Al Horford has no doubt put a dent in his value, his lackluster play has been just as much to blame. One of the reasons Millsap emerged as a top-25 asset last year was due to him developing a three-point shot (1.0 3PM on 35.8% shooting). This year, he's only 2/10 from long distance, so expect him to get going soon in that area. The 29-year-old Louisiana Tech alum led the NCAA in rebounding three straight years and has pulled down an average of 7.2 boards in his NBA career, so don't be too worried about Horford's presence in that regard, he'll up his current average.
Lousy percentages from the field and charity stripe have also been to blame, but Millsap owns a career 50.6 percent field goal percentage and a 72.4 free throw percentage so he stands to markedly improve in those categories. Don't expect him to continue turning the ball over 3.3 times per game either, his 2.5 mark last year was a career-worst. His season-high in points is just 17 and once he comes out of his slump he should settle into to the 16-17 PPG territory. Basically, Millsap has nowhere to go but up from this point on and owners can safely pencil in him to finish as a top-40 asset by seasons end. Buy, buy, buy.
Kawhi Leonard (108) – 8.0 PTS, 6.0 REB, 2.7 AST, 1.7 ST, 0.0 BLK, 0.3 3PM, 26.9% FG
While Leonard owners have a right to be a tad bit concerned after his pedestrian first three games, one must realize the 23-year-old is going to be just fine. The eye infections which cut his preseason short has ultimately left Leonard quite rusty to start the year as the career 50.2 percent shooter sports a putrid 26.9 percent mark from the field this season. Furthermore, he has only hit one trey and is averaging a measly 8.0 PPG. Once he gets comfortable on the floor, averaging 14-15 PPG is definitely within reach and he should average double-digit FGA for the first time in his career with an increased role on offense as his current 18.7% usage rate would represent a career-high and it's likely to increase to over 20 percent as the season wears on. It's surprising he's yet to record a block after averaging 0.8 swats per game a season ago, but those will come in short order. Leonard is still making nice contributions in rebounds, assists, and steals so once he gets his shooting corrected he's going to bust out. It's worth mentioning he's a perfect 9-9 from the charity stripe. It probably won't take as much to acquire Leonard since many don't consider him a star in real-life terms, but he's a surefire top-25 9-cat value.
Kenneth Faried (130) – 10.2 PTS, 9.0 REB, 2.0 AST, 0.2 ST, 0.8 BLK, 45.7% FG
After an offseason spent with Team USA and glowing reports concerning the improvement of his overall game, pundits like me were screaming from the rooftops about his impending breakout season. To this point of the 2014-15 NBA season though, Faried has been a major letdown for fantasy purposes. The 24-year-old opened up the season with a monster 22-17 line but since then the Manimal has been anything but a beast so far on the offensive end. After averaging 13.7 PPG in 2013, it was reasonable to expect a bump to 15-16 PPG, but his current 10.2 PPG mark would match his career-low from his rookie year. While his 45.7 percent mark definitely is a factor considering he's a career 55.2 percent shooter, the elephant in the room is the fact head coach Brian Shaw has yet to display consistent rotations for the struggling 1-4 Denver Nuggets. To date, Faried has only played 30+ minutes in a game on one occasion. It will be hard for Faried to improve upon his rank of 87 last year if Shaw continues to only give him 27 MPG.
Owners should take solace in the fact that talent should eventually win out in this case and the Manimal will eventually be unleashed from the stubborn ways of his inexperienced coach. His rebounding and assists numbers are encouraging and while he'll likely never be a dominant shot blocker due to his 6'8 stature, owners will be happy with him providing a block per. He is also hitting his free throws at a 75 percent clip and finishing at over 70 percent would be considered a win for owners as he's a career 64.1 percent free throw shooter. Faried has also averaged 0.9 steals during his career and with hustle being one of his trademarks, he should have no problem improving upon his current average (0.2 steals). Get him on the cheap before he gets back to being the Manimal, he's going to be a fun player to own once he heats up.
Lance Stephenson (217) – 8.3 PTS, 10.5 REB, 5.3 AST, 0.7 ST, 0.2 3PM, 31.7% FG, 3.5 TO
Even though Stephenson has given us great moments like his buzzer-beater from last night and perhaps the greatest GIF known to mankind, his flashy brand of basketball has yet to translate to reliable fantasy production this year. For starters, his buzzer-beating three-pointer was his first made trey of the year after he averaged 1.1 3PM with the Indianapolis Pacers last season. Additionally his field goal percentage (31.7%), is way down from the 47.5 percent clip he posted over the last two years. Once his shot starts dropping on a more consistent basis, Stephenson should have no problem putting up 14-15 PPG. His value will continue to be much higher in 8-cat leagues which don't count his 3.5 turnovers per game, which really hampers his 9-cat value.
After pulling down 7.2 boards per game last year, Stephenson has excelled in that area this year by averaging 10.5 rebounds per. Tobias Harris and Tyreke Evans at 9.0 rebounds are the next closest SF to Stephenson in that regard and he ranks 11th overall in rebounds in the NBA. Yowza. Obviously he'll regress somewhat but averaging eight boards isn't out of the realm of possibility. Owners shouldn't expect too much regression in the assists department considering Lance is a great playmaker with the ball in his hands. While the 24-year-old from Cincinnati has loads of upside, just remember his shortcomings held him to being the 111th ranked player in 9-cat formats last year. I'm listing him as a buy-low simply for the reason there is too much potential profit to pass up right now based on his current value, even if he barely cracks the top-100 in 9-cat. He's a better 8-cat target as previously mentioned but his potential for triple-doubles anytime he steps on the court make him a viable target in any format for his current price.
Honorable Mention: LaMarcus Aldridge (53), Al Jefferson (55), Blake Griffin (83), Tobias Harris (95), Goran Dragic (134), Carmelo Anthony (180), Andre Drummond (214).
Sell High
Klay Thompson (3) – 27.0 PTS, 2.3 REB, 2.5 AST, 1.3 ST, 1.0 BLK, 3.3 3PM, 53.7% FG, 92% FT
There's no denying that Thompson has been one of the most pleasant surprises in fantasy basketball so far and his evolution as a player has made the Splash Brothers a nightmare for opposing defenses. There's also no denying he can't keep it up to this extent and remains a great sell-high guy. First, his 27.0 PPG is second in the NBA and I'd be much more comfortable projecting him for 20-22 PPG considering he's never eclipsed the 20 PPG mark to this point of his career. The career owner of 0.6 blocks per game will struggle to keep his lofty pace up while his field goal percentage is likely to suffer as well. Thompson is a career 43.7 percent field goal shooter and will be lucky to end the season shooting 47-48 percent due to the 6.5 3PA hoisted per game that he's currently "splashing" in at a 50 percent clip.
With that being said, it's hard to overlook the fact that he is getting to the line 6.3 times per game after he established a career-high 2.3 trips to the foul line in 2013 while hitting them at a 92 percent clip. It will be hard for him to slip out of the top-30 with increased efficiency but besides points, threes, and FT% he won't stand out in any particular area. If you can unload him for a guy like Gordon Hayward, I'd jump all over that due to his multi-cat versatility.
Kevin Martin (10) – 23.0 PTS, 4.5 REB, 3.0 AST, 0.5 ST, 3.0 3PM, 43.5% FG, 96.2% FT

That's not a misprint, Martin is the 10th ranked player in 9-cat leagues to date. His scorching start should be ringing alarm bells for owners that this is the perfect time to SELL K-Mart. Let me explain why. Martin does four things consistently; score, hit threes, get to the charity stripe, and get injured. Major emphasis on the fourth point. The 31-year-old has been notoriously injury-prone throughout his career as he has played in only 575/722 (79.6%) of games (excluding rookie season). Martin is a great producer while on the court but his knack for being sidelined makes him a headache to own at times.
K-Mart has never averaged over 3.6 rebounds, 2.8 AST, or 2.3 3PM so it's safe to assume his current marks in the aforementioned categories will continue to fade. His current average of 23.0 PPG would be the first time he's cracked 20+ the last three seasons and would be his highest mark since the 23.5 PPG he averaged with the Houston Rockets back in 2010. It's unlikely he'll be able to keep up to the output, but with news breaking today saying Ricky Rubio (ankle) is expected to miss 7-8 weeks, Martin will be relied upon to score more than ever on a young Timberwolves squad. He will likely return top-50 value but there are more reliable options to own. Make the move, fellas.
Brandon Knight (12) – 18.2 PTS, 7.0 REB, 7.5 AST, 1.7 ST, 1.5 3PM, 41.5% FG, 91.4% FT
The 22-year-old from Kentucky is certainly enjoying the finest season in the NBA as Knight is setting career-high marks in points, rebounds, assists, steals, free throw percentage, and three-point percentage (45%). He is certainly benefitting from the tutelage of head coach Jason Kidd and there's no doubting he's the best player on the Bucks. Additionally, while Knight's rebounds and assists totals are likely to fall from their lofty marks, he's always been a solid contributor in both areas. Talent, playing time, and production really don't appear to be an issue with Knight so why is a sell-high candidate you ask? It can't get any better from here on out, so why not cash in and see if you can get a more proven guy like Damian Lillard, Kyle Lowry, or John Wall. I'm not advising you to trade Knight just for the sake of making a trade, but now is the best time to dangle him out in offers because his value is at it's zenith and there are surely some panicky owners willing to deal in your league due to slow starts, injuries, etc.
Zach Randolph (41) – 16.7 PTS, 10.3 REB, 1.3 AST, 1.7 ST, 0.2 BLK, 50.6% FG, 83.3% FT
Randolph is still a nightly double-double threat but owners would be wise to sell high on him considering he's essentially a glorified two-cat contributor. Last season Z-Bo came in as the 109th ranked player in 9-cat formats and the 33-year-old isn't exactly getting any younger. He provides virtually no blocks for a big man and guys like this are hard to stomach for this very reason. Additionally, Randolph has only averaged at least 1.0 steal per game once in his career so his current mark of 1.7 thefts per game is surely going to regress to the mean. He hasn't become a defensive stalwart all of  a sudden. Furthermore, while he owns a career 47.2 percent FG%, Z-Bo has only hit over half of his shots twice in his 13-year career. In other words, it ain't happening this year either. Lastly, while he owns a career 76.2 percent FT%, he hasn't shot that high of a percentage from the charity stripe since 2009. Don't be expecting any miracles in regards to him continuing to shoot 80 percent or better from the free throw line. Z-Bo is a great example of better player in real life than fantasy and now makes for the perfect time to ship him off for a more versatile contributor.
Tyreke Evans (92) – 17.8 PTS, 9.0 REB, 6.0 AST, 0.8 ST, 1.8 3PM, 39.1% FG, 62.5% FT
Ah, at last, we've reached zone designated for the mercurial talent that is Tyreke Evans. An eerily similar player to Lance Stephenson who was listed in the "buy low" section, Evans has landed here because even though he has exceeded all expectations, his 9-cat rank (92) is still rather unremarkable. 'Reke finished as the 141th-ranked player in 9-cat formats last year due to his imperfections and they are once again holding him back from reaching his full potential. He only owns a career 44.6 percent FG% and Evans launching a career-high 17.3 FGA per game may have something to do with his wretched high-volume shooting. With that being said, his overall percentages are bound to improve as he is also a career 76.5 percent free throw shooter.
While being one of the primary ball-handlers and playmakers for the New Orleans Pelicans along with point guard Jrue Holiday will help his assists, it will also tarnish Evans' 9-cat value because of his high turnover output (3.0 TO). Evans' current rebounding mark is blowing his previous career-high (5.3) out of the water and while he's always been an above average rebounder for a SG/SF, you're pushing it if you expect him to average 6.5+ rebounds a game all of a sudden. Additionally, it's unlikely Evans has developed a reliable three-point shot considering he's yet to eclipse 1.0 3PM during any season of his career and you can go ahead and just chalk it to up a fluky three-game stretch where he got hot. Don't believe me, just check out the 3-pointers in the shot charts from 2014 compared to 2013.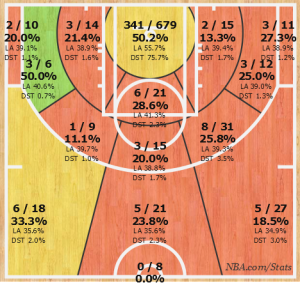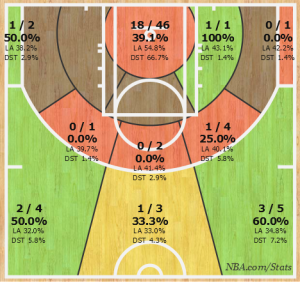 Honorable Mention: Courtney Lee (8), Jamal Crawford (19), Jeff Green (20), Greg Monroe (22), Jeff Teague (39), Garrett Temple (51), Tony Wroten (68).
Thanks for reading and be sure to comment below with any questions or remarks concerning the article. You can follow me on Twitter @MattMoczy and I'm more than willing to answer any questions you may have.