2014-15 Fantasy NBA Awards: The Fixies, Part II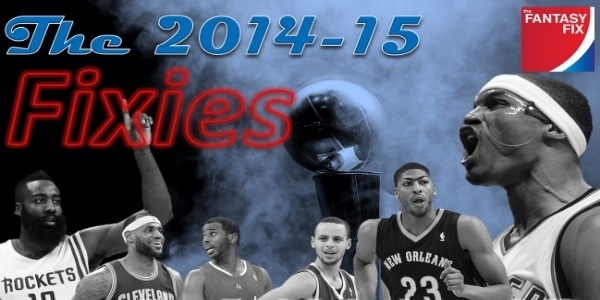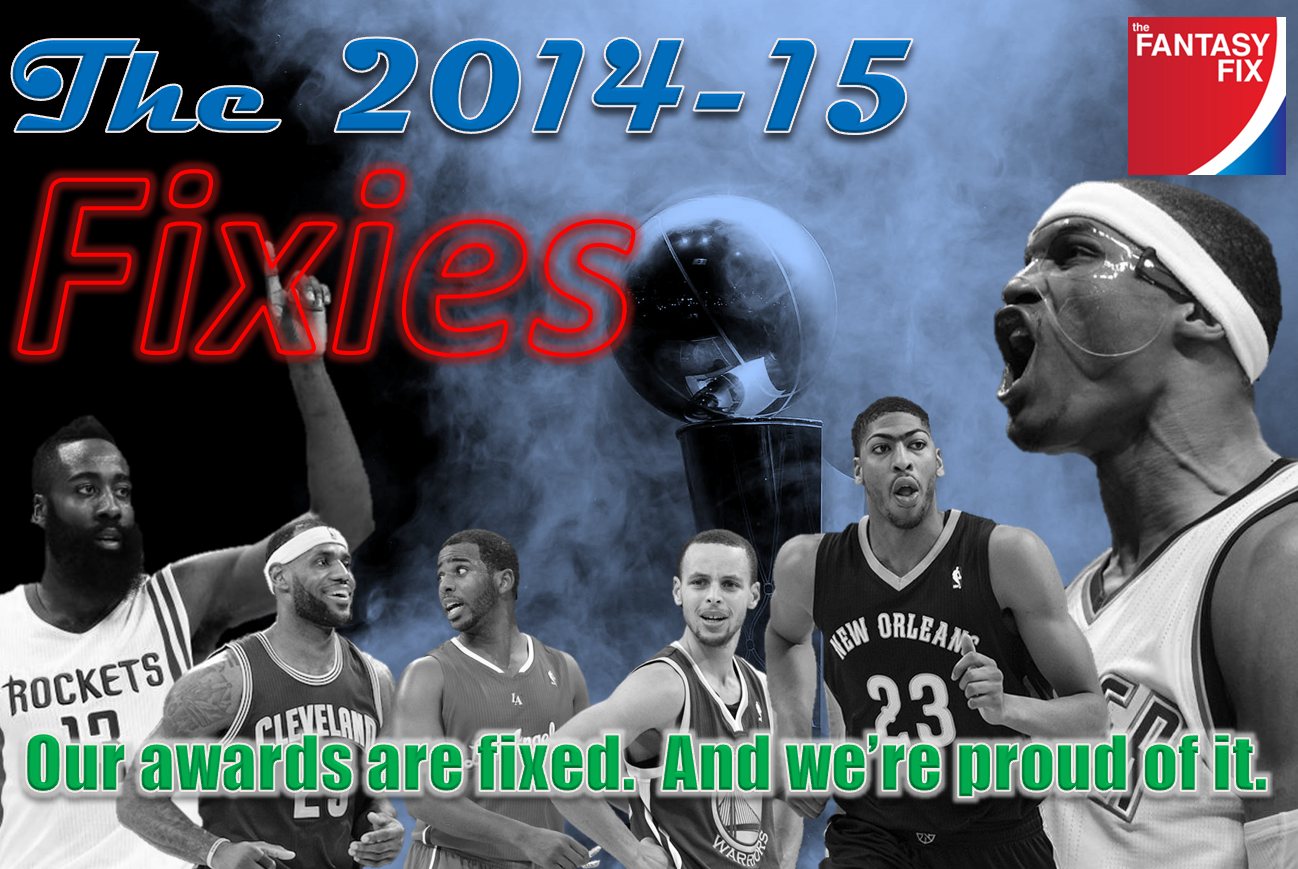 Welcome, you've either liked what you've seen from Part I and needed to know the rest, or you've clicked the page link accidentally and are drawn in by the bright lights of hyperlinks.
Put aside the 2013-14 season in which he played all 82 games, and Ricky Rubio has played in just 52% (120 of a possible 230) of the Timberwolves' games. When he does play, he is strictly a two category guy owned purely for his assists and steals.
His field goal percentage is deplorable – it's the worst in the modern era for players with a min. of 1750 field goal attempts. He doesn't hit a three per game or get to the free throw line enough to make a true impact, and his negatives (don't forget career 2.9 turnovers) far out way his positives.

Now that rookie surprise Zach LaVine has showed promise as a starter, Rubio will not be on any of my teams next season.
SETH:   
People chastised me when I said I wouldn't draft Damian Lillard in the first two rounds. And they made it even harder on me when he was putting up top 10 value throughout the first couple of months. But Lillard eventually became Lillard – a great scorer who doesn't shoot well or get steals, and he doesn't dish out enough assists to be considered an asset at the PG position in the first round.
Over the last two months, Lillard was the 39th-ranked player in 9-cat leagues, and while there will be some fluctuation throughout next season, I think that's a fair range for the Blazer. I won't draft him earlier than the late-second/early-third round in leagues.
MAX:
Someone that I do not believe the hype about for the 15-16 season would be Eric Bledsoe.
Bledsoe is a good fantasy player, but there are many players I would rather have over him at the point that he will be drafted. He got off to a rocky start, which was cleared up once they dealt Goran Dragic to the Heat and he was given the sole ball-handler duties.
I believe Bledsoe is a great player, but I don't believe he is worth going as high as he will in fantasy drafts (ADP this season 39, per FantasyPros).
SAM:    
I just don't get the fuss with Dante Exum.
There's been loads written about him and his struggles with scoring, penetrating and getting to the line and he clearly isn't the big point guard the Jazz were hoping for. I'd go for Trey Burke or Alec Burks over him next year, and it isn't particularly close. The Kobe comparisons should start and end with their size and the fact both were 'cultured' at the same age.
Exum hasn't wowed anyone with his athleticism, hasn't shot the ball well from anywhere, and also hasn't seemed to do anything when given minutes – something similar draft question mark Zach Lavine HAS done.
ZACK:
I had Andrew Wiggins on my "5 players to avoid" in this column last year and now after a solid rookie campaign I'm still not buying the hype?
Nope.
The poor kid has been run into the dirt playing 40 minutes a night from the new year to the seasons end and while he's been solid, he still ended only 108th in 8-category leagues on the season. He has a good ways to go before he'll be a top-50 fantasy player, desperately in need of a 3-point game because six treys in the final 34 games of the season is weak-sauce. Would also like to see him improve on his steals a decent bit as well.
He'll be reasonably good again next year but likely drafted inside the top-50 and he's just not that guy…yet.

MATT:  
Let these guys be someone else's problem because they miss too many games with injuries: Dwyane Wade, Derrick Rose, Kobe Bryant, Jrue Holiday, Deron Williams, Ricky Rubio, Kevin Martin, Luol Deng, Ryan Anderson and Nikola Pekovic.
Let these guys be someone else's problem because they are not very good fantasy players: Dwight Howard, Rajon Rondo, Tony Parker, Lance Stephenson and Roy Hibbert.
Let these guys be someone else's problem because they are too old and past it: Dirk Nowitzki, Manu Ginobili, Joe Johnson, David West and Paul Pierce.
SETH:   
Jrue Holiday has the talent and he won't turn 25 till June, but he's quickly becoming one of the most injury prone players in the NBA, and his numbers just aren't good enough for me to risk a mid-round pick him.
He's missed 65 percent of the Pelicans games over the past two seasons and his leg issues don't seem to be going away anytime soon. Not only is his health a big question mark, but his statistics have dipped in the two years since joining the Pelicans, with a decrease in assists and a three-point drop in scoring.
Just think, the Pelicans could've had both Anthony Davis AND Nerlens Noel in their front-court had they not made that draft day swap!
MAX:
One player next season that I am staying away from, regardless of all of the reports, is Derrick Rose.
I believe the days of Derrick Rose being an elite fantasy player are over. Since he won MVP, Rose has been decimated with injuries and has yet to get back to true form. He has had years to prove to get back to being the elite player that he was, and he just keeps getting hurt.
It's an unfortunate scenario, but he's someone I would stay away from for the rest of his career because he's one more injury away from possibly ending his career. I mean, how many knee surgeries can a guy have in one NBA career?
SAM:    
Derrick Rose, you are my fantasy dumpster fire.
I won't take him unless my only PG options remaining are Ish Smith and Trey Burke. Rose's injuries are a sad story that everyone can appreciate, if only from a human angle. The guy has gone through physical and mental torture, his career being up in the air multiple times and many questioning his toughness. I don't question that, but toughness isn't a fantasy category I can bank on, so he won't be on any of my teams next season.
While I'm on my soapbox, add Rajon Rondo to the discussion as players I wouldn't touch with a 10-foot fantasy pole.
The guy is a nightmare to your percentages – in the seemingly rare time that he is actually healthy and playing, he's averaged just 47 games played over the last four years. Even his assists have dropped to under 8.0 (admittedly due to the system Dallas runs) for the first time since 2007-08, but that doesn't explain his horrible turnover rate (3.7 per-36) which tied his career high mark set two seasons ago.
Do what Rondo does and PASS.
ZACK:
I'm burning two players in my dumpster fire today, Dwight Howard and Rajon Rondo.
I wasn't on either guy this past season either but I want to be sure that everyone who reads this drops them off of the fantasy cliff as well.
Both guys are category killers and that used to be ok because they were elite in several other categories, but neither guy is producing enough elsewhere these days to make up for the categories they can crush you in.
Howard now just a decent scorer, rebounder and blocker (career-low 1.3 per game) while Rondo doesn't pile up the assists and steals the way he once did.
Even if Rondo splits town and goes to the Lakers, I'll be passing. Even if Dwight Howard says he's as healthy as he's ever been and the coach says he'll have an increased role, no thanks.

MATT:  
If Giannis Antetokounmpo is not ranked inside the top 50 going into next season, he will definitely finish there. Not only will he finish there, I will go as far to say that he will be the fourth best fantasy small forward behind Kevin Durant, LeBron James and Kawhi Leonard.
His statistics are comparable with Kawhi Leonard after two seasons in the league, yet Giannis is two and a half years younger. His post All Star stats read 14.0 points, 6.9 rebounds, 2.7 assists with nearly a steal (0.8) and just over a block (1.1) per game. Look for a further improvement again next season.
Nikola Mirotic should be ranked outside the top 50, but he already has 'sleeper' written all over him. Taj Gibson is now expendable and there is no way Pau Gasol and Joakim Noah miss less than 20 games between them like they did this season.
Mirotic will see substantial playing time and offers a unique mix of points, rebounds, threes, free throw percentage, steals and blocks.
SETH:   
Isaiah Thomas' season was always in flux. He was part of a poorly-designed PG trio in Phoenix, and then got shipped off to Boston. He also battled injuries.
A full season with the Celtics should do him wonders, especially if he's anointed to the starting PG role (he came off the bench this year). A return to his 2013-14 numbers with Sacramento (20.3 pts, 6.3 ast, 1.3 stl, 1.8 3pt) seems very doable, and there's room for improvement. Thomas could be a top 30-40 guy next season.
Tristan Thompson has largely failed to live up to expectations after the Cavs chose him with the fourth overall selection in the 2011 Draft — and it's easy to see why. Thompson doesn't generate a lot of his own shots and isn't anything special on defense, but he is entering restricted free agency, and someone will pay him heavily. Thompson famously — or infamously — turned down a four-year, $52 million extension from the Cavs just before this past season, but NBA front offices LOVE paying big men. He could be back with the Cavs. Kevin Love isn't happy in Cleveland and could be on the move and Anderson Varejao will be coming off Achilles surgery. They may be forced to match another team's offer, though Timofey Mozgov has a very club-friendly team option. Most likely, Thompson will be heading elsewhere, and for the money they'd be paying him, he'd probably be a starter.
In 15 games as a starter this season, Thompson averaged 12.6 points (54.5 FG%), 9.7 rebounds, and 0.9 blocks. Those numbers aren't eye popping, but good enough to produce better than the 178th player ranking he finished with this year. His scoring could even go up a little if he wasn't on a team with LeBron James, Kyrie Irving and Kevin Love taking all the shots. We shall see.
MAX:
Two guys that I would set my sights on for next season that aren't necessarily a top-50 player now would be Robert Covington and Jordan Clarkson.
The second-year player out of Tennessee State has had a great (essentially) rookie season for the 76ers, after playing just seven games for the Rockets last season. Covington has been great for the Sixers this season and I believe that he could make a jump next season. Definitely someone to keep an eye on.
Jordan Clarkson from the Lakers emerged as a great fantasy option in his rookie season, and he could make a definite jump next season with another year of growth. I'm not putting him in the same category as Andrew Wiggins, but I do believe that Clarkson has the chance of being a solid option at point guard, especially when the Lakers have a little more talent added to their roster.
SAM:    
Much like my guy Matt, I'm buying stock in Nikola Mirotic.
The Bulls have to either trade Taj, Pau or Noah to get him starting somehow. Or perhaps trade Mirotic for a starting SG/SF (Butler plays either very well). Wouldn't Mirotic for Bradley Beal make sense for both sides?
Mirotic has 1+ three, steal and block potential and he rebounds at a well above average rate, so there's lots to like. He played 32 games with at least 24 minutes this season, and averaged 17.7 points, 7.4 rebounds, 1.6 assists, 0.9 steals, 1.2 blocks, 2.0 threes and 45% from the field with 83% from the line in those games.
I really like what I saw out of Rodney Hood when given minutes. His per-36 minute stats aren't overly special, but much of those stats are derived from when he was going in and out of the rotation and playing behind Alec Burks.
His last seven games are really solid and the sort of stats you need to keep in the back of your mind when the last 1-2 rounds approach during next year's drafts. Hood put up 16.7 points, 3.4 rebounds, 3.4 assists, 1.1 steals, 1.7 threes and just 1.1 turnovers, while shooting a respectable 45% from the field and an impressive 91% (3.3 attempts per) from the line.
ZACK:
"Is the guy who just a bit ago yelled at himself for ignoring injury red flags, going to the well 5 minutes later?".
It's true I am using optimism here with Danilo Gallinari but in this case you'll be able to get Gallo in the later rounds of your drafts so there's little-to-no risk here and believe it or not he's only 26-years-old. They've taken it easy on him late in the year and over the last 13 games of the season he's put up an eye opening line of 20.7 points, 5.2 rebounds, 2.6 assists, 2.8(!!) treys, 1.2 steals and 0.6 blocks while shooting 48% from the filed and 88% from the charity stripe — good enough to sit him 9th best in 8-cat averages over the last month of the season, via BasketballMonster.
He won't be top-10 next year but I think he'll be drafted in the 80-90 range but provide top-40 value. I'm glad they rested him a decent bit down the stretch with nothing to play for. Watch for a 100% healthy Italian stallion ballin' out next year.
This isn't just a Magic homer pick, I really love Elfrid Payton to take a big step forward next season fantasy-wise.
He's ending the season fantastically and those who called me insane for saying he was an un-stubborn minded Rajon Rondo have all slowly faded away. He has all the same abilities to put up triple-double type stats but is not the best shooter from the field or stripe. That's where not being stubborn and listening/learning from his coaches will pay off.
The last 14 games of the season Elf actually shot 46% from the field and 73% from the stripe which was nice to see the late season improvement. He's a long ways from adding a 3-point game to his arsenal but my "way too early" projections for him next year (who lands their head coaching job will be critical) are 12 PPG – 9 APG – 5.5 RPG – 2 SPG – 44% FG – 65% FT. So while the percentages and lack of treys is not ideal for a PG, his other stats will make him a nice steal in drafts.
The Jonas Valanciunas breakout is coming.
He is about to enter his fourth season in the league and will be just 23 years of age. He has all the hallmarks of being an elite fantasy big man with solid points, rebounds and blocks whilst being extremely efficient. If Coach, Dwane Casey, final plays him 32 minutes a game he will become a top 30 player.
One way or another Gorgui Dieng needs to play big minutes in Minnesota. He is the best of a young group of potential laden big men – Anthony Bennett, Adreian Payne and Justin Hamilton – and needs to play with Ricky Rubio/Zach LaVine and Andrew Wiggins, to accelerate the chemistry between them.
Like Valanciunas, Dieng has all the assets to be a fantasy beast and I'll be drafting both players a round or two before their average draft position, to secure them on my teams next season.
SETH:   
I think Terrence Jones can be a player who makes a big leap next season. It took him half a season to get healthy, and then he got hurt again, but when he's played, he's been phenomenal.
Josh Smith is on a one-year deal and I don't expect Houston to re-sign him. Jones will start at PF for the Rockets next year. He'll be a valuable source of points, rebounds, blocks, and FG%. He'll even hit the occasional trey. He won't turn 24 till January and will be a steal in the middle- to-late rounds of drafts.
MAX:
Call me captain obvious on this one, but Andrew Wiggins finished the season 69th on the player rater in my personal ESPN standard league, behind people like Jarrett Jack and Wilson Chandler. I believe that Wiggins not only has the chance to improve his ranking, but I could see him taking an Anthony Davis-sized leap as a top 10 player as soon as next season.
When Wiggins would take the ball to the basket, draw contact and get to the foul line, he was a much more effective player than when he was a pure jump shooter. By the end of his freshman season at Kansas, Wiggins had taken a very noticeable jump as a collegiate college basketball player, scoring 41 points in the Jayhawks season finale. Just as he did at Kansas, Wiggins flourished at the end of the season for the Timberwolves.
I believe Wiggins will be the next star of the NBA, and could be one of the top-10 players in fantasy as soon as next season.
SAM:    
Jimmy Butler and Klay Thompson took it this year, I think Gorgui Dieng takes it next year. The Timberwolves will look to move Nikola Pekovic out of town via trade (likely on a hospital bed or in a wheelchair), so that Dieng can get consistent starter's minutes alongside franchise cornerstones, Ricky Rubio and Andrew Wiggins.
Dieng has as much upside as any young big – though he's slightly older than you likely think (25) for a second-year player.
He has 12-15 points, 9-10 rebounds, 1+ steal and 2+ block upside, right where he was towards the end of this season.
ZACK:
I love and agree with the Dieng and Valanciunas calls by Sam and Matt, but I'll continue to expand our coverage and go another direction. A guy I see making a significant "leap" next season is a guy I had in my sleeper column from this past off-season, Rodney Hood. The 22-year-old out of Duke didn't get near the draft attention as college teammate Jabari Parker but Hood is a great player as well. Hood has all of the tools and measurable to be a long time NBA starter and he's in a great place to show off his talents and make them translate into great fantasy numbers.
The player that I like to compare Hood to is Klay Thompson and I believe Rodney will put up numbers in his sophomore season similar to the second year numbers Klay produced (16.6 points – 3.7 rebounds – 2.2 assists – 2.6 treys – 1.0 steal – 0.5 blocks – 42% FG – 85% FT). I know Klay played 35 minutes a game that season and that's the one spot that I can't see being the same.
With Alec Burks back and likely in the sixth man role, Hood should start at shooting guard and get backup small forward minutes as well leaving him likely around 30 minutes a night give/take. So, yeah, I have Hood as a guy who will go later in drafts with definite upside to potentially hop into the top-50 or better if all goes well.
—————————–
We thank you all for taking the time to read and contribute to The Fantasy Fix, whether on Twitter or through the site – it really means a lot when we get feedback from our valued readers (the good kind, not that 'KJ McDaniels??? WHY THE KJ MCfrigginDANIELS LOVE!?" stuff).
Please follow us all on Twitter if you don't already, and special mention to the walk-ons who we tricked into writing for us with the promise of future unprotected picks and customized desk plaques.
Matt Smith – SmanSports
Seth Klein – SethDaSportsMan
Max Haldeman – Maxhaldeman13
Sam Macey – macetastic
Zack Rewis – BigZack44