2014 Fantasy Basketball Daily Fix, November 12, 2014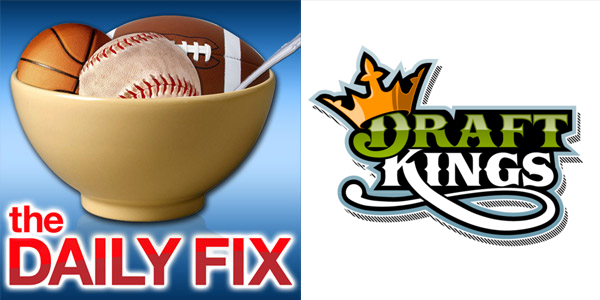 Daily News for November 12th, 2014
NBA Daily Fantasy is unlike any other sport due to the amount of time sensitive information that is constantly rolling in at various times. Here at The Fix we try our best to bridge the divide between giving you the information you need in time to get your lineups set, while also preparing you for any wacky information that may come across as late as five minutes before tip-off. Therefore it is very important to check twitter as frequently as you can. That being said, here is the information you need to be ready for between now and tip-off.
The Houston Rockets have a couple of injuries still up in the air as Patrick Beverley and Terrence Jones are questionable to suit up tonight.  James Harden's ( $10,300 ) usage rate is bumped even higher without Beverley on the court, and both he and Dwight Howard ( $8,500 ) should see a boost if Terrence Jones were to sit out again.  Backups like Kostas Papanikolaou ( $3,700 ) and Donatas Motiejunas ( $3,400 ) would see more minutes but are nothing more than GPP gambles.  Isaiah Canaan ( $3,600 ) would draw the start for Beverley, and makes for a fine value play tonight.
The Denver Nuggets have lifted minutes restrictions on both Nate Robinson ( $3,000 ) and Danilo Gallinari ( $3,500 ), further muddling things in that rotation.  Bryan Shaw won't hesitate to bench his starters if he doesn't like what he sees.  I would not recommend any Nuggets in my cash game lineups, and would reserve them for GPP use only.  With more players to use and a head coach still trying to figure out what works, it's just not a situation I want to have much exposure to.
For the Hawks, DeMarre Carroll has already been ruled out, and Mike Scott has been as well.  Thabo Sefolosha ( $3,000 ) will draw the start and could play heavy minutes as the only option to guard Gordon Hayward ( $8,000 ).  He's minimum salary and worth rostering if you need a cheap guy to make your lineup work.  I do not consider him to be a core play, however.
The Pacers and Thunder are still dealing with the same injuries as before, so nothing has changed there.  The only Pacer I would consider tonight in Miami is Roy Hibbert ( $7,000 ).  For the Thunder, Reggie Jackson ( $6,500 ) is still underpriced, and Jeremy Lamb ( $3,900 ) makes for a decent value play as well.
That's it for the news.  Let's get to the plays.
[am4show have='p13;p7;p11;' guest_error='Front Office' user_error='Front Office' ]
Point Guard
Reggie Jackson ( $6,500 ) – As long as DraftKings insists on pricing Jackson too low, he's going to be in many of my lineups.  For a guy with his usage rate and skill set, he's a play based purely on pricing.  Fire him up and expect another 30+ fantasy point night with 40+ being a real possibility.
Isaiah Canaan ( $3,600 ) – If Patrick Beverley is out, Canaan will draw the start again and should see enough court time to eclipse the 20 fantasy point mark.  I would give him a boost in what should be a fast-paced, high-scoring affair with the Timberwolves.  He's a solid value option tonight provided there are no elevator fires in Mexico City.
Deron Williams ( $7,700 ) – Williams has been one of the more consistent PG options this season, and with Brooklyn likely playing up in pace against Phoenix, he should see a boost above his normal numbers.  I think he can reach the 40 fantasy point mark tonight, with possible upside for more.  He's a very solid cash game play, and I think he's in play in GPP lineups as well.
Honorable Mention: Jrue Holiday ( $7,400 ), Ty Lawson ( $7,000 ), Zach LaVine ( $3,200, GPP Only )
Shooting Guard
Jeremy Lamb ( $3,900 ) – Lamb is still cheap, and still playing heavy minutes for a depleted Oklahoma City team.  He was off last night, making only 2 of 13 shots, but still managed to score 23 DK points.  Facing a Boston team that is not as strong defensively as the Bucks, and allows a high percentage of 3 pointers, I expect better things from Lamb tonight, making him a solid value play at only $3,900.
James Harden ( $10,300 ) – Harden has a terrific matchup with the Timberwolves that only gets better if Patrick Beverley and/or Terrence Jones sit out.  Minnesota simply has no one that can hope to guard him.  This game should be fast-paced and high-scoring, and Harden should end the night as the #2 fantasy point scorer behind Anthony Davis.
Evan Fournier ( $4,900 ) – Fournier will be a low-owned option tonight, but he has significant upside tonight facing a Knicks team that cannot defend three pointers.  Chris Herring of the Wall Street Journal tweeted yesterday that the average distance between a three point shooter and the nearest Knicks defender is six feet.  That's crazy.  Fournier should see plenty of open looks, and if he can knock them down, could be in for a second big night in a row.
Honorable Mention: Dwyane Wade ( $7,800 ), Tyreke Evans ( $7,600 ), Iman Shumpert ( $5,000 )
Small Forward
P.J. Tucker ( $4,300 ) – Considering the talent level of the three Suns guards, Dragic, Bledsoe, and Thomas, Tucker will likely draw Brooklyn's least talented defender whenever he is on the court.  He's a capable scorer, and a solid rebounder playing for a team that does not rebound well.  At $4,300, I think he's a solid option at a small forward position that isn't offering us any great plays.
Carmelo Anthony ( $8,600 ) – Melo finally decided to do more than just score last game, as he tallied 9 rebounds and 7 assists.  This may be a fluke, but hopefully it's a sign of things to come.  Melo has been a poor investment all season, but he's worth having exposure to when all of the other small forward options are so un-intriguing.   He does not have a difficult matchup with a Magic squad that should be tired from a tough loss in Toronto last night.
Honorable Mention: Jeff Green ( $7,000 ), Josh Smith ( $7,800 ), Trevor Ariza ( $6,400, GPP )
Power Forward
Anthony Davis ( $11,200 ) – Do I even have to write anything?  The guy posts monster lines every game and is facing a putrid Lakers team that will be forced to put Carlos Boozer on him.  Lock him into all of your lineups and build around him.
LaMarcus Aldridge ( $8,900 ) – Aldridge has turned it up the last couple of games and should continue to see increased rebounding totals with Batum out of the lineup.  Facing a Denver team that defends the point guard and wing positions well, but is routinely destroyed by opposing front court players, Aldridge is set up perfectly to post his third huge score in three games.  He's a steal at this price and I will have him locked into many of my lineups tonight.
Channing Frye ( $5,200 ) – Frye will see the same three point boost as Fournier as he faces off with the Knicks and their inability to guard the perimeter.  He went off last night, and hopefully he can ride that momentum into another hot shooting night tonight.  Given he'll be able to pretend he's in an empty gymnasium, I like his chances for another high-scoring night.
Honorable Mention: Kenneth Faried ( $6,300 ), Ryan Anderson ( $5,500 )
Center
Chris Bosh ( $8,700 ) – The Pacers are bleeding fantasy points to the center position, and I don't expect that to change this evening against Bosh.  Bosh is the focal point of the Heat offense, and he should have little trouble knocking down open jumpers against Indiana.  Hibbert isn't going to chase him around all night, and he can simply shoot over everyone else.  He's in for a big game tonight, and is worth paying up for if you can fit him in.
Chris Kaman ( $3,500 ) – Kaman has scored 60 fantasy points in his last 37 minutes of court time, spanning two games.  Obviously that rate is unsustainable, but players from last season will remember what Kaman did when he drew starts for the Lakers.  He fills up the stat sheet so fast, that even in limited minutes, he's a solid value play at this price.  Matching up with the Denver backup bigs, he should have no trouble scoring and rebounding while he's on the court.  He's an off the board pick that can pay off big and allow you to fit more studs into your lineup.
Honorable Mention: Roy Hibbert ( $7,000 ), Jordan Hill ( $6,500 )
[/am4show]