2014 Fantasy Basketball Daily Fix, November 24th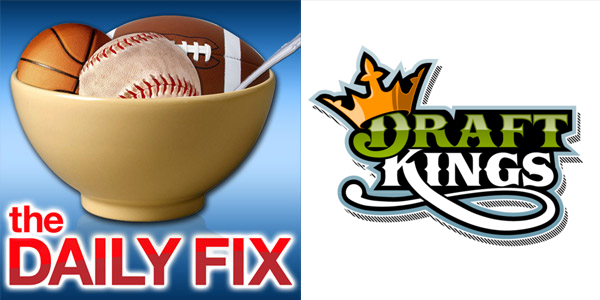 Game Breakdowns
This article was a collaborative effort between Joshua Lewis and Joshua Kay.
Orlando Magic @ Cleveland Cavaliers: Start Time – 7:00 PM
Notable stats:
Nikola Vucevic usage rate with Tobias Harris off: 31.6%
Cleveland is 21st in defensive rebounding per 100 possessions
SPIN (ORL): Small Forward Tobias Harris is questionable for tonight's game with a calf strain. The former Tennessee product missed morning shoot-around so the prospects of him playing are not good. This is big for the production level of Center Nikola Vucevic ( $8,700 ). If Harris is out, "Vuc" is the top play at center. The rest of this team is somewhat uninteresting, although Victor Oladipo ( $6,300 ) draws Kyrie Irving and his non-existent defense. Oladipo is a GPP only type of play though, as his production levels are wildly inconsistent.
SPIN (CLE): This is a tough situation for the Cavaliers, DFS wise. On one hand, if Tobias Harris is out then Cleveland should blow Orlando out. However, the Cavs only have one blowout win all year — against Atlanta. The real issue obviously for the Magic defensively, is who guards Lebron if Tobias misses? Willie Green? Evan Fournier? Moe Harkless? All those options are laughter inducing. The real issue though is that Lebron James ( $11,300 ) is wildly overpriced. He's priced at Anthony Davis levels, and Lebron has achieved only two "huge" games DFS wise. With all the cooks in the kitchen in Cleveland capping each other's upside, it's hard to justify even paying for Kyrie in cash games. He's a great GPP play though, and as always Kevin Love ( $8,500 ) isn't in play in GPP's since he has broken 40 points just twice this year.
Summary:
All Games: Nikola Vucevic – C
GPP Only: Lebron James – SF (only if good value plays emerge), Kyrie Irving – PG, Victor Oladipo – SG, Evan Fournier – SG
[am4show have='p13;p7;p11;' guest_error='Front Office' user_error='Front Office' ]
Los Angeles Clippers @ Charlotte Hornets – Start Time – 7:00 PM
Notable stats:
The Clippers are tied for last in rebounding rate ( 46.2 )
The Clippers are last offensive rebounding rate ( 16.7 ).
The Clippers are 20th in defensive efficiency ( 104.7 )
The Clippers are 9th in pace ( 96.5 )
Charlotte is 24th in pace ( 93.5 )
SPIN ( LAC ):  The Clippers are generally not a team worth targeting except on short slates when there aren't many good options.  Blake Griffin ( $9,200 ) is extremely overpriced.  He's a big reason why the Clippers are terrible at rebounding, and he'll very rarely contribute enough points to pay off his hefty price tag considering he does earn many blocks or steals.  The play here is Chris Paul ( $9,500 ).  He's expensive, and forcing expensive players into your lineups is rarely a wise move, but if enough value presents itself, he should be a lock for 45 or more fantasy points.  Facing defensively-challenged Kemba Walker, CP3 should have no trouble penetrating and controlling the flow of the game.  Other Clippers can safely be ignored.
SPIN ( CHA ):  Al Jefferson ( $7,900 ) is a terrific play tonight in both cash games and GPPs.  Every stat listed above supports rostering him tonight.  Charlotte will be playing up in pace, resulting in more possessions, the Clippers are absolutely awful at rebounding, and the Clippers aren't a particularly good team on the defensive end.  As an added bonus, Los Angeles currently ranks 25th against opposing centers.  Big Al is a piece worth building around tonight, and for those of you worrying that Charlotte is playing their 3rd game in 4 nights, the last time that happened Big Al dropped 49 DK points on Miami.  In fact, that was Charlotte's 4th game in 5 nights, so there's no reason to be concerned give how good this matchup is.  Other Hornets aren't intriguing fantasy options tonight given their expected production relative to their price. Gary Neal ( $3,000 ) is always in play as a cheap GPP target given his ability to get hot off the bench.  The Clippers second unit is a mess defensively, so the potential is there for a big night.
Summary:
All Games:  Chris Paul – PG, Al Jefferson – C
GPP Only:  Gary Neal – SG
Portland Trail Blazers @ Philadelphia 76ers – Start Time – 7:00 PM
Notable stats:
The 76ers are tied for last in rebounding rate ( 46.2 )
The 76ers are tied for 2nd in pace ( 100.0 )
Portland is 4th in rebounding rate ( 52.2 )
SPIN ( POR ):  It's going to be the same thing every time a team faces the 76ers.  The blowout is always in play given how bad this team is.  While they aren't the worst team in the league defensively, they are hands-down the worst team offensively, and it's not particularly close.  Given their egregious inefficiencies and their inability to rebound the basketball, the Sixers tend to fall behind their opponents in a hurry, and they are incapable of catching up.  That's likely what will happen tonight, and the Blazers are simply too expensive to roster given this game is almost certainly going to be a blowout that sees the starters resting the entire fourth quarter.  Portland has no intriguing bench players, so there is no one worth recommending to capitalize on some extra garbage time run.
SPIN ( PHI ):  Philadelphia's offensive game plan seems to center around Michael Carter-Williams ( $7,200 ) chucking up a lot of bad shots and praying they go in.  He's successfully nuked the value of Tony Wroten ( $5,600 ), and the other Sixers players simply aren't good enough to even remotely consider using tonight.  MCW is the only Sixer worth considering given his ability to contribute in every area of the stat sheet, and, given his volume of shots, the off chance that he might shoot well.  He won't be impacted by the likely blowout.  He will still see fourth quarter time against Portland's woeful bench, and could pile on fantasy points in a hurry in garbage time.  He's worth a look as a GPP target only.
Summary:
All Games:  None
GPP Only:  Michael Carter-Williams
Phoenix Suns @ Toronto Raptors – Start Time – 7:30 PM
Notable Stats
The Suns are 5th in pace ( 98.5 )
The Raptors are 11th in pace ( 96.3 )
The Suns are 26th in assist percentage ( 52.4 )
The Raptors are 29th in assist percentage ( 51.7 )
SPIN ( PHX ):   The mistake a lot of players are going to make is heavily targeting this game due to it easily having the highest over/under of the evening.  The Suns are a difficult team to project as it is, and it's not recommended to try to do it against a Raptors team that ranks 6th in the NBA in defensive efficiency.  The Suns get much of their production from their guards, which is exactly what Toronto defends well.  The Raptors are terrible against opposing centers, but a Miles Plumlee recommendation should result in immediate banishment from the fantasy sports community.  The Suns simply don't match up well here, and the only player that's worth taking a GPP flier on is Markieff Morris ( $6,700 ).  It is possible he becomes the beneficiary of Toronto's lack of interior defense and trouble rebounding.  He's too inconsistent for cash game use, but he's capable of a big game, and the setup is there for him.
SPIN ( TOR ):  Targeting Raptors is a bit easier.  Kyle Lowry ( $8,000 ) is a solid option for both cash games and GPPs.  Phoenix ranks 22nd against opposing point guards.  DeMar DeRozan ( $7,100 ) is attractively priced, while Phoenix ranks 19th against opposing shooting guards.  Temper your expectations for these two, however.  Toronto's ranking of 29th in assist percentage is very important.  Despite the relatively high scoring projection for this game, the fact that the Raptors assist on just over half of their field goals limits the upside of their players.  Lowry does not often hit double digit assists, and DeRozan averages about 4 per game.  Lou Williams ( $4,500 ) has gone insane his last two games, posting 80.75 DK points over his last 48 minutes of court time.  In a very small sample, he's somehow managed to reach Anthony Davis levels of fantasy point production.  He's not safe in cash games because he's still a bench player, and he's still Lou Williams.  However, he's worth rostering in a lineup or two in the event that his recent play has earned him extra minutes, and his momentum continues.
Summary:
All games:  Kyle Lowry – PG, DeMar DeRozan – SG
GPP Only:  Markieff Morris – PF
New York Knicks @ Houston Rockets – Start Time – 8:00 PM
Notable stats:
Houston attempts 35.4 3-pointers per 100 possessions. The next closest team is Dallas at 28.5.
47.4% of the Rockets shots attempts with Dwight Howard off the court, are 3-point shots.
The Rockets defensive rebounding percentage does not suffer a dip with Dwight off the court (35.2% and 34.8% on/off)
With Dwight off the court, teams are shooting just 24.4% from 3-point land against the Rockets (25.5% with him on)
SPIN (HOU): The Rockets are going to be without the services of starting center Dwight Howard (knee) for the third straight game tonight. They become a very interesting team with him off the court. Predictably, on defense, the Rockets allow just a sparkling 52.8 FG% on layups with him on the court, and a paltry 65.8% with him off the court. On offense, the Rockets become a super fast paced group of three-point chuckers. As you can see in the "notable stats" section, the Rockets attempt an absurd amount of 3-pointers, especially with Dwight off the court. The player who experiences the biggest dip in production so far (and it's a bit of a small sample, albeit it makes sense) is Trevor Ariza ( $6,100 ), whose shooting percentage takes a bit of a nose dive (down to 32.1%) without the big man on the court. I would still expect him to have a very strong game today against a Knicks team that allows the third highest FG% on jump shots, though. James Harden ( $10,300 ) sees his usage rate climb to 33% with Dwight off the court. He's a strong play as well. Although Patrick Beverley is out, I'm really not all that interested in Isaiah Canaan ( $4,000 ) at point guard for that price. He's a GPP only play, since he's proven he isn't a sure thing even with Bev out. Kostas Papanikolau ( $3,600 ) is well priced and will see a ton of run today. He's fine for cash and GPPs, as he's garnered 34 and 38 minutes the past two games that Dwight has missed.
SPIN (NYK): The Knicks like to play a lot of matchups, so I will expect to see Amare Stoudamire ( $4,800 ) in favorable situations tonight, despite his minutes limit. He's a nice GPP target at his price. The lack of minutes make him unreasonable to use in cash games. Jose Calderon ( $3,000 ) is obviously cheap, but given his 21 minutes in his debut against the Sixers, I'm really not all that excited about running him out there even against a Rockets team without three of their best players. The presence of Pablo Prigioni and Shane Larkin are enough to ensure Calderon is unlikely to hit 30 minutes, at least for a while. There really is nobody on this team that can guard Carmelo Anthony ( $9,500 ). He's a better price play than Lebron is tonight, despite the vast differences in ceilings. I'd much rather use Papanikolau at a weak Small Forward position, but Anthony is a fantastic GPP target.
Summary:
All Games: James Harden – SG, Kostas Papanikolau – SF
GPP Only: Trevor Ariza – SF, Carmelo Anthony – SF (price reasons for why he's not a strong cash game play), Amare Stoudamire – PF
Indiana Pacers @ Dallas Mavericks – Start Time 8:30 PM
Notable stats:
Roy Hibbert is out for this game, so the vast majority of the Pacers's stats are irrelevant up to this point
SPIN (IND): With Hibbert out, Ian Mahinmi ( $3,400 ) draws the start at center. Mahinmi put up a gaudy stat line in relief against the Phoenix Suns, with 34.5 fantasy points in 26 minutes off the bench after Hibbert went down. However, don't get too sucked in here. Mahinmi is a fine value play but his penchant for fouling incessantly makes him a bit of a risk. He's not someone that can be plugged in across most of your lineups, especially not with the other really good options at center today. Rodney Stuckey ( $4,100 ) is back and he draws a pretty strong matchup. He's fine for cash games, but his role is still a bit cloudy, so I wouldn't use him in a cash game unless I absolutely loved everything else about my lineup. His upside does make him a great GPP play though. Solomon Hill ( $5,200 ) is fine at Small Forward but he's more expensive than Papanikolau, so I'd rather go that route.
SPIN (DAL): This game could easily be a blowout, but even if it is Tyson Chandler ( $6,200 ) should have an excellent game. He's a perfect mid-priced target if you can't squeeze in Vucevic — you can even use Chandler at the Utility spot. With the potential blowout looming, and the expected pace of this game being weak (Indiana plays very slow), I'm not all that interested in anyone else from Dallas in cash games. Brandan Wright ( $4,500 ) is a decent GPP gamble, but I prefer Amare — who is just $300 more. Devin Harris ( $4,200 ) would be interesting, but J.J. Barea ( $3,900 ) played well enough in his absence that I don't think there is any potential big winners there with blowout minutes.
Summary
All games: Tyson Chandler – C, Ian Mahinmi – C, Rodney Stuckey – SG
GPP Only: Brandan Wright – PF, Solomon Hill – SF
Chicago Bulls @ Utah Jazz – Start Time – 9:00 PM
Notable stats:
The Jazz are 27th in defensive efficiency ( 108.2 )
The Jazz are 27th in pace ( 93.0 )
The Bulls are 10th in defensive efficiency ( 101.7 )
The Bulls are 18th in pace ( 95.4 )
SPIN ( CHI ):  As usual, injury news rules the day with Chicago.  Pau Gasol ( $7,300 ), who was probable yesterday, was downgraded to a game-time decision.  If he plays, he's an elite play against a Jazz team that is routinely abused my opposing power forwards.  If he's out, Nikola Mirotic ( $4,300 ) becomes an every lineup player.  He's was fantastic when Taj Gibson ( already ruled out for today and tomorrow ) went down last time, and he'll likely have a huge night against Utah if he draws the start.  He's going to receive good run off the bench even if Pau plays, and he'll likely pay off his salary in a bench role.  It's worth constructing your lineups in a way that allows you to late swap him in if Pau is ruled out.  Or, you could simply roster him anyway given he will very likely be a solid play even off the bench.  
Derrick Rose ( $6,400 ), to no one's surprise, is a game-time decision as well.  To further muddle things, Kirk Hinrich ( $4,200 ) has been upgraded from doubtful to questionable.  As we've seen before, these injury status reports don't mean too much in Chicago, so it's anyone's guess as to who plays and who doesn't tonight.  If Rose and Hinrich sit, Aaron Brooks ( $4,900 ) would draw the start at point guard again.  He'll get all the minutes he can handle and should do very well matched up with Trey Burke.  He's a solid target in both cash games and GPPs if Rose and Hinrich are out.  Other Bulls guard options can be ignored as they have little to no fantasy value even if they receive a bump in minutes.  If either Rose or Hinrich plays, Brooks likely won't see enough minutes to justify his price increase, and can be safely faded as well.
Regardless of how the injuries shake out, Jimmy Butler ( $7,400 ) and Joakim Noah ( $7,200 ) are solid plays today.  Each injury gives them a boost, with Butler receiving the most benefit from Derrick Rose sitting out.
SPIN ( UTA ):  Thankfully, the Jazz do not have half of their team's status up in the air, so this section won't be nearly as long-winded.  In fact, facing a Bulls team that is solid defensively, the Jazz seem safe to fade across the board tonight.  Gordon Hayward ( $7,600 ) is a high ceiling option some nights, but tonight is a poor night to target him as he will likely be guarded by Jimmy Butler.  
Summary:
All Games:  Aaron Brooks – PG ( if Rose and Hinrich out ), Jimmy Butler – SG, Pau Gasol – PF ( if he's active ), Nikola Mirotic – PF ( must play if Pau is out ), Joakim Noah – C
GPP Only:  None
[/am4show]