2014 Fantasy Basketball Daily Fix, November 3rd 2014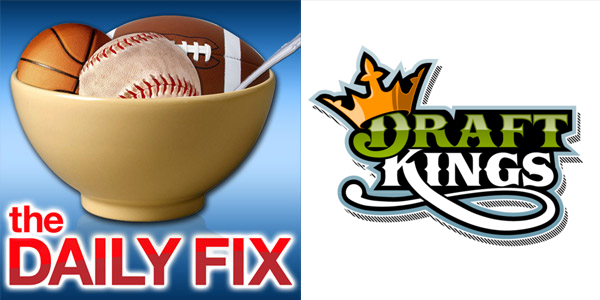 Daily News for November 3rd, 2014
NBA Daily Fantasy is unlike any other sport due to the amount of time sensitive information that is constantly rolling in at various times. Here at The Fix we try our best to bridge the divide between giving you the information you need in time to get your lineups set, while also preparing you for any wacky information that may come across as late as five minutes before tip-off. Therefore it is very important to check twitter as frequently as you can. That being said, here is the information you need to be ready for between now and tip-off.
I've delayed writing this a bit because I was hoping to get more clarity on the various injury situations that are going on in the NBA today.  Ty Lawson ( $7,000 ) was questionable earlier, but word has just come that he's good to go.  The big news we're waiting for is which Houston players will sit or play.  Both Patrick Beverley ( $4,800 ) and Dwight Howard ( $8,500 ) went through shoot around, but they're still listed as questionable.  Houston may opt to rest them, or limit their minutes given the easy matchup with the Sixers before playing Miami tomorrow.  I expect this news won't come until much closer to game time, so keep refreshing Twitter and be ready to adjust your lineups appropriately.  If Beverley is out, Isaiah Cannan ( $3,800 ) becomes almost must play.  He doesn't have huge upside, but the lack of good value plays makes him much more attractive than he normally would be.  If Howard is out, Terrence Jones and James Harden becomes players I will force into every one of my lineups.  I probably will anyway, but my already high confidence in them will simply soar higher.  Howard's backup has already been ruled out for tonight.  As of now, I haven't seen anything regarding who would start in his place.  The Rockets bench players don't do much for me, and I think the main beneficiary will be Jones, who will be forced into heavy minutes and increased usage.
For Oklahoma City, Reggie Jackson ( $5,900 ) is set to return to the lineup.  We saw what happens when a player is forced into a prominent role, as Perry Jones ( $6,400 ) went from obscurity to a DFS must-play overnight.  With Jackson back, Jones's production will suffer as Jackson is forced to play the Russell Westbrook "do everything" role.  He produced very well as a starter alongside Kevin Durant last season, and with Durant now out of the picture, Jackson is in position for a monster night.  Unless he suffers a setback and is forced to sit out, he needs to be in every DraftKings lineup you make.
That's it for the important news of the day.  Now, on to the plays!
Top Plays
Point Guard
Reggie Jackson ( $5,900 ) – As I said in the section above, assuming Jackson is active tonight, he needs to be in every lineup tonight.  At $5,900, he is simply too cheap relative to his expected production tonight.  He will be taking a ton of shots, and will be handling the ball almost exclusively when he's on the court.  Deron Williams does not pose a difficult defensive matchup.  Regardless, Jackson is a must-play based simply on volume, usage, and an extremely low price relative to his projrected output.  Plug him into your lineups and don't think twice about it ( but do check Twitter close to tip-off to make 100% sure he's in the lineup ).
[am4show have='p13;p7;p11;' guest_error='Front Office' user_error='Front Office' ]
Darren Collison ( $7,000 ) – Collison is thriving in his new starting gig with Sacramento.  The beauty of using Kings is that they only have 3 players who produce, and the rest of the team is nowhere near usable or useful.  Jason Thompson and Ben McLemore provide absolutely nothing on the court.  This team is reliant on their trio of Collison, Gay, and Cousins.  For this reason, it will be difficult for any of them to have lineup-tanking performances, and they always have nice upside in favorable matchups.  Collison has a great matchup with Ty Lawson, who is nursing an ankle injury.  He posted the same defensive rating as noted poor defender Damian Lillard last season, and his current hindrance to his mobility is just going to make things even easier on Collison.  This game should be played at a fast-pace, and we should see high scores from both teams.  Collison should once again see heavy minutes, and contribute anywhere from 35-45 fantasy points tonight.
Honorable Mentions: Isaiah Cannan ( $3,800 ) if Beverley sits, Tony Wroten( $7,000 )
Shooting Guard
James Harden ( $10,300 ) – Harden is the top play of the evening.  He has a terrific matchup with the Sixers, and could see an even higher usage rate if Dwight Howard is forced to miss.  Even if Howard does play, the possibility exists that he may be limited.  Regardless of who sits and who plays, Harden has massive upside tonight in a game that will be played at a very fast pace, with high scores and little defense.  I strongly believe Harden needs to be used across the board tonight.  I cannnot honestly recommend another shooting guard option over him tonight.
Small Forward
Rudy Gay ( $7,500 ) – Small forward is another position where there is one clear top option to me.  Gay is another of the trio of elite Kings options that should thrive in Denver tonight.  For the Kings to have any chance of winning any game this year, they need heavy minutes and production from the only three good players on their team.  As long as he's healthy, Gay will play heavy minutes and have plenty of opportunities to contribute points, rebounds, steals, blocks, and maybe even the occasional assist.  Tonight's matchup with Denver should be fast-paced and high-scoring, making Gay an elite option tonight.
Luc Richard Mbah A Moute ( $3,800 ) – A Moute left last game against Miami with a lip laceration, but not before putting up 21.75 DK points in only 18 minutes.  He's never been a dfs option as long as I've been playing NBA, but he is now due to having a prominent role on a terrible team.  As a veteran presence, I expect him to play 30 or more minutes, which should give him plenty of time to meet or exceed his value threshold.  I don't expect him to earn over a point per minute, but somewhere around 25 fantasy points is more than a reasonable expectation tonight.  As of now, there aren't many value options available.  A Moute deserves serious consideration because of his ability to produce a high score relative to his price, and his ability to provide the necessary cap relief to roster the elite options at positions that are not offering any value today.
Honorable Mention: Hollis Thompson ( $4,000 )
Power Forward
Terrence Jones ( $6,300 ) – Jones will be in all of my lineups regardless of Dwight Howard's status. If Howard is out, he just becomes an even more amazing play. Jones has had two very impressive games, and somewhat of a dud sandwiched in between. He was in foul trouble against Utah, but still managed to have a good second half. I don't foresee issues with fouls tonight. In this matchup, at this price, a player like Jones simply has to be used. You're getting 45 point upside for $6,300. Plug him and in and don't think twice about it.
Kenneth Faried ( $7,500 ) – Faried has always had ridiculous home/road splits, so it's no surprise he had a great game at home and followed it up with a dud on the road. He's back at home facing a Kings team playing their 3rd game in 4 nights, and 2nd leg of a road back to back. With his energy, he should have no trouble out-hustling and out-rebounding Sacramento tonight.  Jason Thompson is not an imposing matchup, and Faried should turn in a big double-double tonight.
Honorable Mention: Jared Sullinger ( $6,400 )
Center
DeMarcus Cousins ( $9,700 ) – With Howard questionable, Cousins is the only center I will have on any of my rosters tonight.  Denver bled fantasy points to big men last season, and they have no hope of stopping the most dangerous and talented center in the game.  $9,700 may seem expensive, but I can assure you it's not.  He has 60 point upside tonight.  Another aspect of choosing players that often is not written about is what happens if you don't pick an elite option.  Sometimes a value play exists that gives you more upside relative to price, but tonight at the center position we don't have that.  Choosing to fade Cousins forces you to pick a suboptimal play.  In basketball, that is almost always the wrong move.  Roster Cousins and forget about the other options.
[/am4show]