2014 Fantasy Basketball Daily Fix, November 7, 2014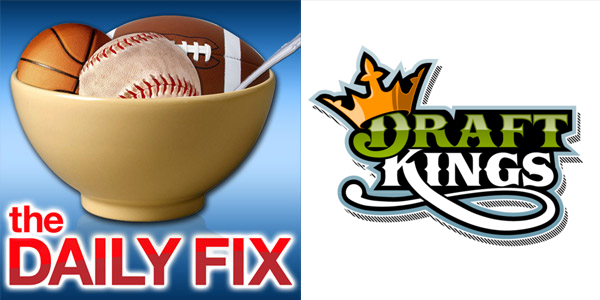 Daily News for November 7th, 2014
NBA Daily Fantasy is unlike any other sport due to the amount of time sensitive information that is constantly rolling in at various times. Here at The Fix we try our best to bridge the divide between giving you the information you need in time to get your lineups set, while also preparing you for any wacky information that may come across as late as five minutes before tip-off. Therefore it is very important to check twitter as frequently as you can. That being said, here is the information you need to be ready for between now and tip-off.
We have a bit more clarity with the Bulls that we did on Wednesday.  Joakim Noah ( $6,100 ) is going to play, and he has a terrific matchup against a Sixers team that will be without Nerlens Noel tonight.  He's severely underpriced, and exposure to him is mandatory.  I will not be using him across the board because it's possible he settles in to the 30-35 fantasy point range tonight given the other offensive weapons on the team.  Derrick Rose ( $6,800 ) did not go through morning shoot-around and is a game-time decision tonight.  His status doesn't affect my outlook on players like Jimmy Butler ( $5,200 ) and Noah.  Both are so absurdly priced for a matchup with the Sixers that they'll be in my lineups regardless.  Aaron Brooks ( $3,100 ) would see extended run off the bench if Rose does sit, but he's an unnecessary gamble with how many value plays are out there today.
For the Raptors, both Amir Johnson and Jonas Valanciunas are game-time decisions.  Neither is in play for me if they suit up.  If at least one sits, Patrick Patterson ( $4,100 ) will draw the start.  At this price, he'd be a good value play if pricing were difficult, but it's so easy tonight that he's completely off my radar.  He doesn't offer enough upside for me at that price.
Michael Kidd-Gilchrist ( $3,700 ) is listed as a game-time decision, but considering he was listed as probable yesterday, went through all of shoot-around, and has an injury ( bruised ribs ) that doesn't flare back up or cause setbacks, my assumption is that he's going to play.  Obviously we need to be monitoring Twitter close to tip-off, and always have a plan in case he doesn't play, but if he's in the starting lineup, he's a near must-play at this price.
Oklahoma City continues to deal with a never-ending string of injuries.  Perry Jones did not practice yesterday, and his status is up in the air.  He's the latest casualty in a long list of injuries that have crippled the team's roster.  They will, however, get Jeremy Lamb ( $3,100 ) back tonight.  Expect high usage from him when he's on the court, but how long he's on the court is anyone's guess.  He's not in play for me given his minutes are an unknown.  If he's listed as a starter, I would feel comfortable taking a shot on him in a couple GPP lineups, but that's it.
One more important piece of news to note is that Chris Copeland ( $5,100 ) will be starting for CJ Miles tonight.  Copeland has been playing heavy minutes off the bench for Indiana, and this move can be viewed as an additional vote of confidence from head coach Frank Vogel.  Copeland already has the green light to shoot as much as he wants ( 29 3 point attempts over his last 3 games ), and how his minutes and usage are more guaranteed.
That should be it for relevant injury and roster change news.  Let's get to the plays.
[am4show have='p13;p7;p11;' guest_error='Front Office' user_error='Front Office' ]
Point Guard
Elfrid Payton ( $4,700 ) – He's less of a must-play at this price than he was against the Sixers for $4,000, but he's still a great play tonight.  Whereas he was a player I put in every one of my lineups on Wednesday, that will not be the case today.  There are simply too many other great plays that I want exposure too, and I do like several of the high-priced guards as well.  However, as a player that seems to be settling in to the 30 fantasy point range, $4,700 is clearly an excellent price for that production.  For me, he's more of a cash game play because his upside is still limited by his inability to score on a consistent basis.
Rajon Rondo ( $8,600 ) – Rondo gets the coveted matchup with Donald Sloan, who has been routinely torched by opposing point guards this season.  There's no reason to think tonight will be any different.  Rondo is playing at an elite level, flirting with triple-doubles on an almost nightly basis.  Expect another huge stat line from Rondo tonight.
Brandon Knight ( $7,400 ) – I'm not for one second buying the red 1 that is listed next to Knight's name in the DK lineup builder.  Brandon Jennings does not play defense, rather this defensive rating is based on Ty Lawson's horrific performance against the Pistons in the season opener, and a recent matchup with the Knicks, who have been starting Shane Larkin at the point.  Knight has been terrific for Milwaukee, and he's going to have some added incentive to show up Brandon Jennings, who was part of the trade that sent Knight to the Bucks from the Pistons.  I don't normally put much stock into revenge games, but getting a chance to outplay the guy a team traded you to acquire sure sounds like something that would motivate most players.
Honorable Mention: Tony Wroten ( $7,600 ), John Wall ( $9,800 )
Shooting Guard
Jimmy Butler ( $5,200 ) – Butler is underpriced regardless of opponent ( except maybe Memphis ), and he's an elite play against the Sixers.  There isn't much analysis required here.  Butler's putting up 35+ fantasy points per night, and is facing a fast-paced, turnover-prone team that doesn't play any defense.  Lock him into your lineups and don't think twice about it.
Courtney Lee ( $3,800 ) – Lee is coming off of a big game against Phoenix, and now faces an injury-ravaged Thunder team.   I'm not expecting another big outing from Lee, but he should settle in to about 25 DK points tonight.  That's  a great return on your investment.  Keep in mind, though, that most of Lee's value comes from scoring.  If his shot isn't falling, he's capable of putting up a dud.  He's not a core play for me, but someone I will have exposure to in case he has a hot shooting night, or manages to collect a few more peripheral stats than normal.
Iman Shumpert ( $4,100 ) – Shumpert will be handle PG duties quite a bit for the Knicks because Pablo Prigioni is out tonight and Shane Larkin just isn't very good.  With the ball in his hands more, Shumpert's value increases dramatically.  At this price, with increased usage and heavy minutes, he's capable of delivering a very good fantasy score for a minimal investment.  My expectation is many more people will use Courtney Lee, but I much prefer Shumpert at a similar price point.
Honorable Mention: DeMar DeRozan ( $7,800 ), Eric Bledsoe ( $6,700 )
Small Forward
Michael Kidd-GilChrist ( $3,700 ) – He's listed as a game-time decision, but I expect him to play tonight.  I spoke about him quite a bit in the news section, so I'm just going to reiterate that he's a terrific play at this price.  Make sure he's in the lineup, and if he is, he's a core play that will be in nearly every one of my lineups given his price and the relative weakness of the small forward position.
Gordon Hayward ( $7,600 ) – Hayward is showing a level of consistency that he didn't have last season.  I rarely used him last season because he was too up and down.  This season, however, and perhaps it's due to a better coaching situation, he's consistently producing on a nightly basis.  Tonight, the Jazz face a Mavericks team that is terrible defensively, and playing the second leg of a road back-to-back.  I expect a big game out of Hayward, with the Jazz scoring quite a few more points than they would on average.  He's capable of monster performances because he contributes in every category.
Honorable Mention: Jeff Green ( $7,000 ), Tobias Harris ( $6,300 )
Power Forward
Derrick Favors ( $7,400 ) – For the same reasons I like Hayward, I absolutely love Favors tonight.  He had one bad game against the Clippers, but he's been a beast in the others.  The Mavericks are a poor rebounding team, and a poor defensive team.  Favors has been putting up some huge stat lines all season, and he'll see a boost in one of the best matchups imaginable.  I will have him in many of my lineups tonight.
Chris Copeland ( $5,100 ) – As I mentioned in the news section, Copeland will be starting over CJ Miles tonight.  Copeland has done nothing but produce huge games for Indiana this season, and that should continue tonight.  His usage and minutes are all but guaranteed, and he's a steal at this price.
Brandon Davies ( $3,000 ) – Davies has produced nicely with the minutes he's been given.  Nerlens Noel is out tonight, and Davies will be asked to play heavy minutes for a very thin Sixers front court.  He should be in a lot of lineups tonight as the scores he's seen lately should get even better with the increased minutes load.
Honorable Mention: Greg Monroe ( $7,000 ), Jared Sullinger ( $6,900 )
Center
DeMarcus Cousins ( $9,900 ) – Cousins is facing a Suns team that cannot defend the interior.  Jordan Hill just ravaged them, so you can only imagine what the most talented big man in the game will do.  This game should be fast-paced, high-scoring, and close, meaning a full complement of minutes, and a ton of usage for Cousins.  If there is one stud you want to force into your lineups tonight, Cousins is it.  He's my top overall play of the night, and it's not even close.
Joakim Noah ( $6,100 ) – Noah is underpriced and facing a terrible Sixers team that he should be able to dominate tonight.  My only concern here is the lack of offensive output.  Still, I'd put his floor at 30, with incredible upside if he has one of those games where he just goes nuts.  It happened a few times last season.  He's the perfect cash game option, and I will have him in several of my GPP lineups as well.
Honorable Mention: Marc Gasol ( $7,800 )
[/am4show]