2015-16 FANTASY BASKETBALL: BOX SCORE BROWSING – BALLS TO THE WALL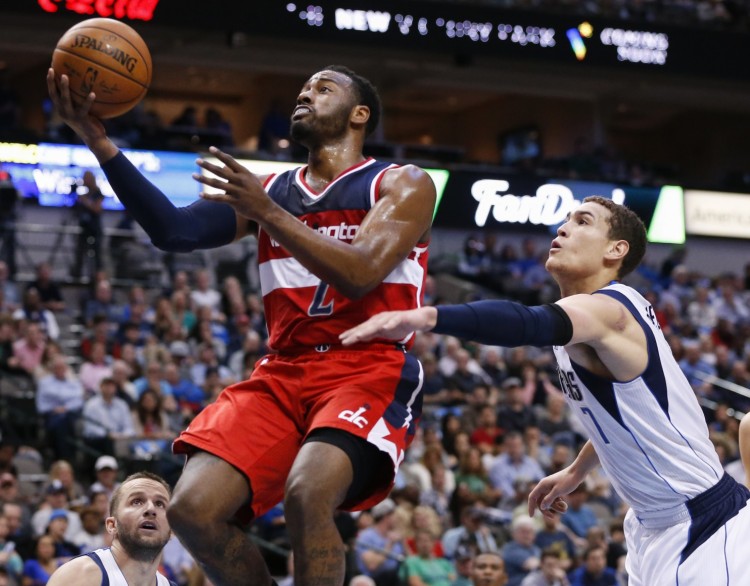 This Bradley Beal injury (seriously does anyone else get sick of reading or writing that sentence?) could be a blessing in disguise for John Wall, from a fantasy standpoint at least.
An uptick in usage has vaulted his ranking (per Basketball-Monster) from where it was just two weeks ago at 77th after 14 games, to the point where he has been the SECOND BEST player behind Stephen Curry since then (November 28 through to today).
I've had somewhat of a fan-man-crush for Wall for quite some time and even though his early showings were both inconsistent and puzzling, they hinted at a slow start that would eventuate into another potentially elite fantasy season. Through his first five games he swatted a Serge-like 12 SHOTS for 2.4 a night. Over the next 16 games he blocked just three shots, for a 0.2 average. Now I'm not going to complain that my lead point guard's blocks have tailed off, but it's slightly bizarre that he can come out and block five shots on opening night and then fail to have that in total over the last month!
Over his last nine games – bar one blip on the radar – he's been, simply put, amazing. It also goes without saying that obviously once I'd confirmed him as my lead for this week's Box Score Browsing that he would obviously crap the fantasy bed in true ironic fashion with this dud at Memphis.
The points, rebounds and assists are all outstanding and the steals and free throw percentage are the cherries on top. Sure, the Wizards are circling the bowl of mediocrity but it isn't Wall's fault.
The team needs an injection of long-range proficient beef up front as the failed Kris Humphries experiment as a stretch four has given way to Jared Dudley manning the power forward slot. While Dudley can hold his own defensively with traditional back-to-the-basket power forwards because he has a low center of gravity, sound defensive instincts and a somewhat 'doughy' disposition, he's not tall enough or fast enough to deal with more skilled power forwards. His inabilities on the offensive end – or limitations I should say – mean that Wall is missing that integral pick and roll partner.
Watch this space with the Wizards; they're likely one of a dozen teams looking to transform their frontcourt and with Nene's Brazil-sized expiring contract, the Wiz will be buyers in the festive season.
The injury depleted Raptors have managed to keep rolling despite missing 40% of their optimal starting line-up due to DeMarre Carroll and Jonas Valanciunas missing in action, and this is in no small part due to the consistency of their elite back-court.
DeMar DeRozan has taken somewhat of a back-seat to Kyle Lowry this season because Lowry is having a career year; he leads the team in threes, assists, steals, and free throw percentage and is second in points, but it's DeRozan who has been the more reliable scorer over the past week or so, which has seen the Raptors go 4-1 over their last five games.
He's scored at least 25 points in five of his last nine games, overtaking Lowry for the team lead in scoring during that stretch, as he sits at the second highest scoring mark for his career at 21.7 points per game.
Perhaps I've been overly critical of DeRozan in the past, mainly because he's one of those frustrating shooting guards who can't shoot; the PF/C version of him would be Meyers Leonard, as he can hit threes but can't rebound or block shots to save himself. Were DeRozan to add just one three or 1.5 steals per game it would likely vault him into the top 30 of fantasy players.
The fact is DeRozan is a valued fantasy option if you surround him with the right players. You need to look elsewhere for threes, but that's where a guy like Al Horford or Paul Millsap is perfect to pair with DeRozan as they mesh so well from a statistical standpoint by providing you consistent stats across the board collectively.
Bazemore had a blazing hot start to the season, becoming the hottest waiver wire add in the young season. Then he got hurt and he was one of the most dropped players in the young season – such is the life of a fantasy journeyman it seems.
Athletes are common as muck in the NBA, but one who possesses the always valued 'three and D' package? They're harder to find. Or more importantly, finding one who is a fantasy threat as well as being one of those defensive bombers in reality, is very hard to find. Bazemore's array of fantasy skills is measured easily in stats; he's giving you 12.9 points per game, 4.2 rebounds, 2.0 assists, 1.5 steals, 1.6 threes and 49/88 splits. Those are seriously strong fantasy stats, especially when you add in the 0.5 blocks and just 1.4 turnovers for a SG/SF eligible player.
Danny Green's shown that this sort of skill-set can net you both a big contract and a roster spot on many a fantasy team, but the same Danny Green has also shown that the 'three and D' fantasy player can become an afterthought as quickly as you drafted them in EVERY league in the top 60 picks because last year he helped win you a league and now he's suddenly forgotten how to shoot threes, get steals and block shots from the shooting guard spot! Rant over. Needless to say we've all been burned by Green's sluggish and frustrating start and Bazemore looks like the new version of Green.
The Hawks are mired in somewhat of a hole, despite possessing FOUR 2015 All Stars on their team and a healthy Thabo Sefolosha. Bazemore's much needed speed and athleticism saw him introduced back into their starting line-up and the results were immediate, if only from an individual player's standpoint.
This is the first year I can recall owning Gordon Hayward in one of my teams and boy was he a frustrating SOB to start the season!
With Dante Exum's injury I made the somewhat confident prediction that he was going to play a lot more point for the Jazz and a 20-6-6 season was looming. It may still happen, but his slow start didn't exactly fill me with confidence that this was a player continuing to improve across the board as he has nearly every season of his young career.
Hayward's one of those forward eligible players who dishes out fantasy morsels in every category but blocks, as he's consistently approaching 20 points a night while giving you enough threes, rebounds, assists and steals to aid your team output without hurting you anywhere.
Once again, I'm just going to pre-empt this next paragraph by saying, much like John Wall earlier, Hayward was all locked and loaded until I started writing about him. Then this happened. Let's not talk about that game for the purpose of hyping up Mr Hayward!
Over his last nine games he's been putting up the stats we all hoped for from a guy with an ADP of 29th (per Fantasy Pros) going into the season.
The scoring's always going to be there (22.6 over this nine game stretch) because he's the Jazz's best player (sorry Derrick) and his field goal percentage has been elite for a high usage guy at 48% on over 15 attempts a night. His three ball in particular has been uber efficient, making 27 of his last 50, for a 54% clip from behind the arc! To top it all off he's been a beast at the line, making 83% of his freebies on just under six attempts per night.
This is a guy you want to own on your team in standard as well as dynasty leagues as he's only 25 and he's still getting better.
—–
Feel free to hit me (@macetastic) and the rest of the hard-working Fix hoops team up on Twitter for any fantasy NBA related discussion.