2015-16 Fantasy Basketball: NBA Stock Market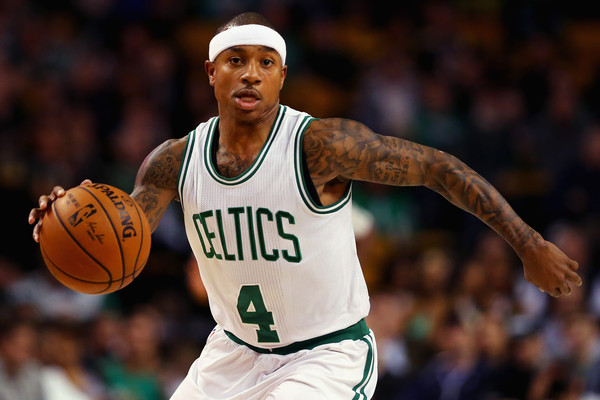 Welcome to NBA Stock Market, a weekly article where I will take the temperature of certain players around the league. This will be designed to let you know who you should be trading for, and who it may be time to cut bait with. There will be two sections in this article, one being "stock rising," meaning those players who are playing above their head, while "stock falling" will be for players who should be playing at a much higher level than they currently are. For the sake of the article we will only touch upon players with serious NBA cred. If James Anderson is having a bad week, we can just chalk it up to the fact that he isn't very good. It is pretty self-explanatory. Without further ado, let's get started.
STOCK RISING
Jarrett Jack – PG, Brooklyn Nets
Jack has been as good as advertised for the Nets this season. He's been one of the few bright spots on an otherwise mundane roster. The veteran point guard enters play Friday night with averages of 14.7 points, 7.5 assists and 4.7 rebounds on the young season. Jack has always been a capable player when given the minutes. He's been stuck doing backup duties for most of his career. When the Nets traded Deron Williams to the Mavericks this past summer, it finally gave him the chance to showcase his talents as a starter. Jack has been one of the most durable players in the NBA during his career. He's played in 80 or more games six different times and played in 79 games twice. He virtually has zero competition for minutes right now as his primary backup is Shane Larkin, who is a fringe NBA player.
Jack is definitely someone who you should target in trades, and is a player that should not be that difficult to acquire, as his name does not carry much weight with owners for whatever reason. If you are in need of some assists I highly recommend offering up some trades for the former Georgia Tech product. He can contribute in multiple areas and is a very nice piece to have on your roster. 
Isaiah Thomas – PG, Boston Celtics
Isaiah Thomas is one of the most fun players to own in all of the NBA. Few players in the league can score like he can. It does not matter whether he's coming off the bench or starting, he can come in and drop 25 on you at any time. This season, due to all the Celtics' backcourt injuries, Thomas has been asked to carry a bigger offensive load. He is sitting on averages of 20.3 points and 6.3 assists to start the year which is very nice considering he is only playing 30 minutes per game. It amazes me how Brad Stevens refuses to give his best players 35-plus minutes, he would rather play an 11-man rotation. It's impossible to figure him out. Nonetheless, IT2 will always be a sure bet to crack the 20 point plateau in any game he plays.
Thomas is in control of the offense whenever he's on the court, evident by his robust 31.3 usage rate, which ranks sixth in the league. It won't be as easy to trade for him like it would be for Jack, but you can use his lack of minutes to your advantage. Utilize the "add comment" feature when offering a deal for him. Let his owner know that his volatility when it comes to minutes is alarming and that he can afford to part ways with the former 60th overall pick. It should not cost you too much, as most people selected IT2 in the sixth round or later. He makes for the perfect trade target, as I believe he will start to see more consistent playing time. He will help out in threes department big time and is a fabulous free-throw shooter as well. Make it happen.
STOCK FALLING
LaMarcus Aldridge – PF, San Antonio Spurs
I had a bad feeling this would happen. Aldridge's move to San Antonio would hurt his value in a big way. They don't run the kind of offense that most teams do, they like to spread the floor and constantly find the open man. In Portland, a lot of times they would just let LMA isolate in the post and get out of his way, that does not happen in San Antonio. His numbers have been down across the board this year, as he is averaging 14.8 points and 9.8 rebounds on the year. I am here to tell you, however, that there is a light at the end of the tunnel. The Spurs are going to rely on him more and more as the season goes along. Greg Popovich does not want to wear out Tim Duncan or Tony Parker in the regular season, so you will start to see more scoring opportunities for LMA very soon.
Once the dog days of the season hit in February and March, Aldridge should be averaging close to 18 and 10. There is no better time to trade for him than right now. The Spurs keep winning without him having to do much and that is something that can work in your favor. Let his owner know that their style of play does not suit him and he is expendable, I guarantee there are fantasy owners out there who are fed up with his play, especially since they had to drop a high draft pick on him. LMA is someone who can help lead you to a championship come April. Go and get him now.
Tobias Harris – SF, Orlando Magic
I can't lie to you, I am a little surprised at how poorly Tobias Harris has played this year. On the surface, it does not look that bad, as he's averaging close to 15 points and nine rebounds, but if you consider that in order to get him you had to spend a fourth round pick, it makes it tougher to deal with. The problem is, there are not enough balls to go around in Orlando. Too many players need the ball in that offense and it's hard to get in any kind of rhythm. It seems like they have a different leading scorer on a nightly basis.
Harris is competing for touches with Nikola Vucevic, Victor Oladipo and Evan Fournier; three guys that need the ball in their hand to be effective. The other problem with Harris is that his peripheral stats are not there. He is not averaging one full three, steal or block on the year and that just makes everything worse on nights where his shot is not falling. There is certainly hope for Harris to get better as the season progresses, though. The team did show faith in him, as they gave him a 70-million dollar max extension over the summer. One would think that they'd soon like to run the offense through him. If the right offer comes along you should definitely take it, but there is no point getting 75 cents on the dollar for him. I would hold off another month or two and see how everything goes before pulling the plug.