2015-16 Fantasy Basketball: NBA Stock Market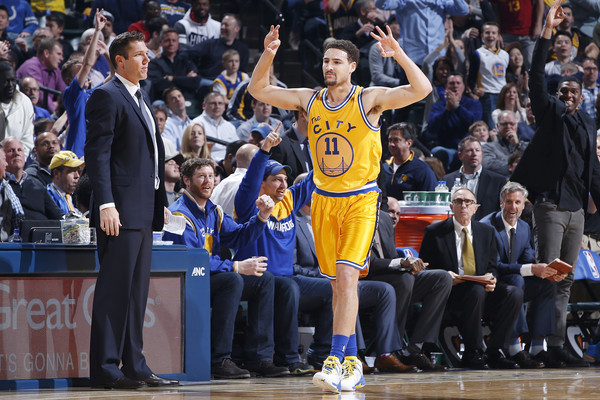 Welcome to NBA Stock Market, a weekly article where I will take the temperature of certain players around the league. This will be designed to let you know who you should be trading for, and who it may be time to cut bait with. There will be two sections in this article, one being "stock rising," meaning those players who are playing above their head, while "stock falling" will be for players who should be playing at a much higher level than they currently are. For the sake of the article we will only touch upon players with serious NBA cred. If James Anderson is having a bad week, we can just chalk it up to the fact that he isn't very good. It is pretty self-explanatory. Without further ado, let's get started.
STOCK RISING
Gordon Hayward – SG/SF, Utah Jazz
Hayward has really picked up his play recently after starting the season slow. The former Butler Bulldog is averaging 21.5 points, 4.8 rebounds, 4.3 assists and 1.7 steals in just under 37 minutes over the past two weeks. Hayward is one of my favorite players to own in fantasy because of his multifaceted skill set. He contributes across all categories and really doesn't hurt you anywhere. In his sixth NBA season he has clearly established himself as the leader of this young Jazz roster. I actually traded for him in both of my season long leagues this past week and I couldn't be happier about it, as he should continue to produce top 30 value for the rest of the season.
The window to trade for Hayward may have closed with his recent play. Personally, I acquired him as a part of a bigger package so that's why his owner was more apt to give him up. I still recommend offering up trades for him, as he is locked and loaded as a top-30 option for the rest of the season on a Jazz team that is not strong offensively. Also, I wanted to give a quick shout out to a loyal reader of mine who has been asking about Hayward all year, this one is for you, buddy.
Klay Thompson – SF, Golden State Warriors
Thompson was a former member of the Stock Falling club a few weeks back. But if you can recall, I did not place him there because he wasn't playing well, it was simply because the Warriors were blowing everyone out and he rarely played in fourth quarters. The Warriors are still blowing teams out regularly, but Thompson has also picked up his play as well. He's coming off a game against Indiana Wednesday where he dropped 39 points including a ridiculous 10 three-pointers, seven rebounds and six assists. He is averaging just over 25 points in his last five games and is starting to play like the first round player that we thought he would be this year.
I actually did not take my own advice. I traded Thompson away last week in what I thought was a fair package, but he should certainly continue to produce at a high level all season long. He is maybe the second best three-point shooter in the world behind his fellow splash brother, Steph Curry, and can contribute across multiple categories. I would not advocate trading him unless you get blown away by an offer, but for people who don't have him, I would do what you can to try and acquire his services. Especially, if you are lacking in the threes department. Maybe he shouldn't have been a first round pick, but he is still a great player and has an extremely fantasy friendly game, as he dominates three categories. Go out and get him.
STOCK FALLING
Nerlens Noel – PF, Philadelphia 76ers
Odds are, the teams in last or second to last place in all of your leagues probably has Noel on them. He has been plain putrid this season, in what was supposed to be a breakout year. Noel is averaging 10 points and eight rebounds in just over 30 minutes of action. Brett Brown is now bringing him off the bench due to his poor play. To be honest, I did not see this coming. The third year forward from Kentucky was supposed to take the next step into super-stardom this season, instead he has regressed. Personally, I was not high on Noel as a fantasy contributor, at least not at his price. He required a third round selection in most leagues and kills you in free-throw percentage, points and treys. I don't want my third round picks to be that flawed.
The big question now is what to do with him now. If I was a Noel owner I would preach to people that he can only get better and his defensive numbers should improve as the season goes along. But I do not see the point in trading for him if you currently don't own him. In order to get him you will likely have to trade someone of significant value and I just do not think it's worth the risk, especially when he hurts you in multiple categories.
Victor Oladipo – SG, Orlando Magic
Another guy caught in Scott Skiles doghouse. Oladipo has been a massive disappointment thus far. He's scored over 20 points just three times in 20 games this season and has now been relegated to a bench role. Some would argue that Dipo is Orlando's best player, which is why it is so frustrating to see what Skiles has been doing. This is nothing new for the oft maligned head coach, as I recently wrote up Nik Vucevic in this section due to the fact that his minutes have been getting messed with. Scott Skiles is a nightmare when it comes to fantasy basketball. He likes to fluctuate minutes for every player and will remove someone at the drop of a hat if they miss a defensive assignment.
I am not ready to give up on Oladipo, just as I was not ready to give up on Vucevic. He is simply too talented and can help in too many areas to be considered a bust. We are only a quarter of the way through the season. Personally, I will be offering as many trades as I can for the third year guard from Indiana. His career per-36 minutes numbers are 17 points, four rebounds and four assists. Keep in mind that is strictly through two seasons. He has immense potential and is clearly the best athlete on the Magic. He will eventually move back into the starting lineup when the Evan Fournier experiment fails and when he does, we want to capitalize. There literally won't be a better time to acquire him all season than right now, as his value is as low as it could possibly get. Odds are his owner won't be that reluctant to part ways with him either.