2015-16 Fantasy Basketball: Patchwork Players — Part II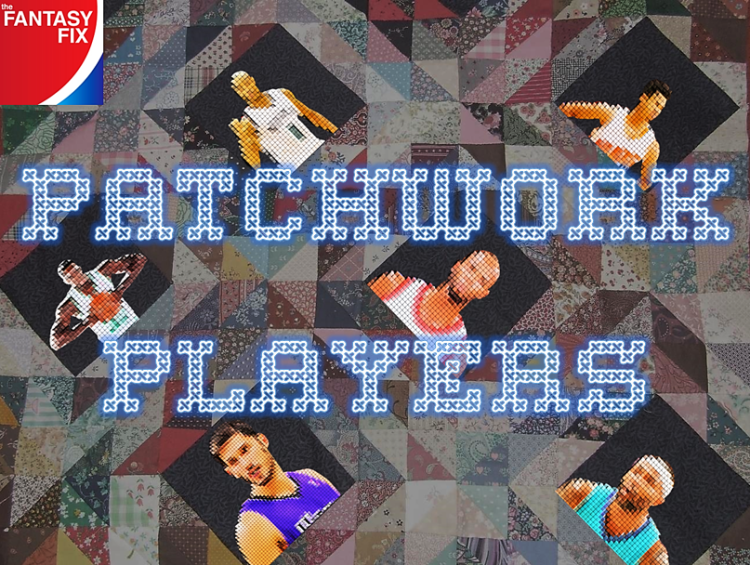 Jarrett Jack is always one of the first names I add to my watch-list immediately following a draft.
Such is the life of an effective veteran back-up point guard. The guy just ends up getting minutes wherever he plays, in whatever capacity he has, despite his team often finding his play a little too 'me-first' and actually a detriment to the team's overall success.
Check out his stats over the last three seasons when he's started. The graph has his stats as both a starter and a reserve, as he seems to alternate between those roles on a near weekly basis since joining the Nets last season.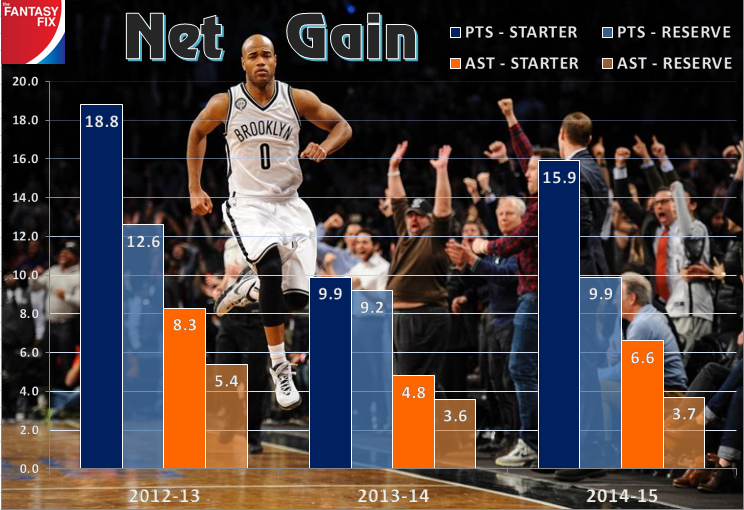 He's not very athletic (three dunks over the last three seasons), nor is he overly fast or a particularly good shooter or an elite passer, but like life, he finds a way. I don't hate the guy, these are just the facts ma'am.
Last year Jack was very up and down with the Nets, but that was largely due to the ignominious season Deron Williams was having. It was a helter-skelter 2015 season that saw Williams reach peak levels whilst the team was fighting for a playoff spot, only to revert back to 'oh that's right, he hasn't been an All Star since 2012' levels of play.
Deron Williams is a Net no more, which makes Jack an even more intriguing fantasy prospect. He's not your typical sleeper in that he's basically shown us what he can do when given a starting gig and while it's not overly exciting, it is worthy of a pick late in the draft. The Fix's Zack Rewis also likes what he sees in Jack this year, so if he doesn't pan out feel free to give him a kick in the tweets as well!
Unless the Nets make a substantial addition at the point guard spot, expect more of the same Jack consistency; in 300+ career starts he's averaged 13.4 points, 3.2 rebounds, 5.4 assists, 1.0 steal, 0.9 threes and handy 46% shooting from the field and 87% from the line. None of those stats are elite by any means, but all are very useful late in drafts at both guard spot eligibility and he might even have an uptick in threes and assists.
—-
Mo Williams knows a thing or two about patching up a line-up.
Last season when filling in for Ricky Rubio he put up one of the lines of the year when he dropped 52 points on the Pacers, in a classic 'where the hell did that come from?' moment.
There were stretches last season where he was a legit top 25 player, as he ran the Timberwolves as best he could, scoring at a very high clip whilst boosting his value by burying the three ball at a very high clip.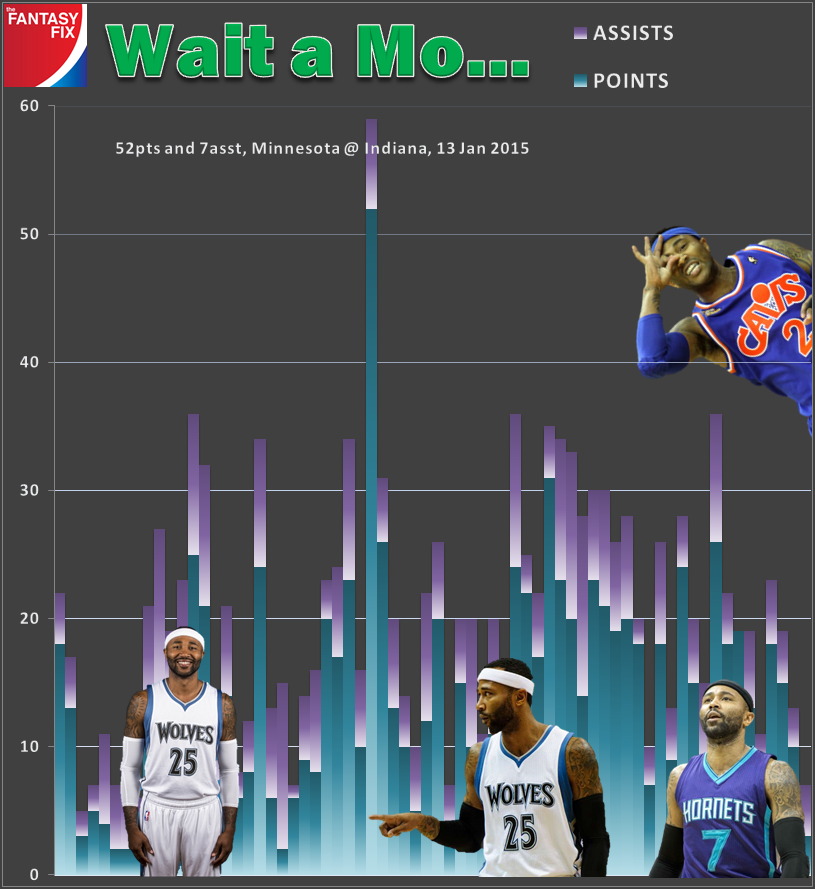 The Cavaliers will be very tough to beat in the Eastern conference, with injuries and a healthy Bulls team appearing to be the only potential speedbumps on the road. The Cavs will be much more inclined to give Kyrie Irving periodic rest whenever a niggling injury pops up – which they will – as Irving has missed 15, 23, 11 and 7 games since entering the league (not even counting the 7 playoff games he missed this post-season).
Matthew Dellavedova for all the hype and feel-good stories was hitting well above his weight and he was eventually exposed as an end of the bench guy, rather than an elite back-up NBA point guard. Tenacity only gets you so far, as Steph Curry showed when he lit Delly up to the tune of nearly 28 points a night and 5.3 threes per night over the last four finals games.
Williams will be able to play alongside Irving for some match-ups, as a small-ball shooting guard who knows a thing or two about playing with Lebron and making threes in Cleveland. I'd target him late over other bench scoring options (Lou Williams, Jamal Crawford, Nick Young etc) as he has more upside if he ends up starting for stretches.
—-
It's a pity highlights and hot streaks aren't a part of fantasy scoring, or Gerald Green would be a top 3 pick.
In the same respect he should be thankful that cold streaks and poor defence aren't categories either, or he'd be Lance Stephenson circa 2014-15 (too soon?).
Green took the reduced role with last season's Suns in stride; he didn't complain or voice displeasure, didn't call out his coach and team-mates, and he was always the first and loudest player to celebrate a made bucket. Those sorts of players are a rarity and they always end up finding a role in the league due to their selflessness and team first mentality.
Pat Riley obviously knows a bargain when he sees one, so he snatched up Green on the cheap, pairing him with his ex-Suns team-mate Goran Dragic.
The reason Green is here, is because he both excelled as a three point gunner off the bench, and he proved he is a capable replacement when his team's Option A (Eric Bledsoe in 2013-14) goes down and a back-up is needed to play alongside Dragic. Option A this time is Dwyane Wade, and we all know his part-time abilities are at the forefront of any Heat championship aspirations.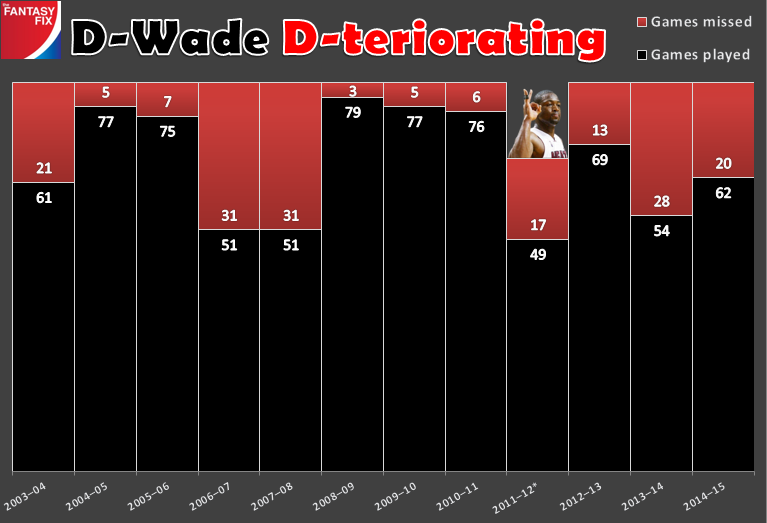 That graph validates any concerns fantasy/Heat owners have about the magnitude of Wade's injuries; they are legit and they are getting worse – even if the injury is just a euphemism for 'old man rest'.
This isn't about Wade though, this is about how Green can carry you in threes in H2H leagues, whilst providing strong scoring, free throw percentage, and low turnovers. He might only end up starting 10-12 games on this deeper Heat team, but when he does you'll want him in your line-up if recent history is anything to go by.
—-
I hyped Tony Snell up way too much last season, to the point where I projected him as the starting small forward for last year's Chicago Bulls. Yeah, I was that guy drowning in the hype flavored Kool-Aid. Per the Fantasy Hoops Insider 2014-15 fantasy guide, I had him pegged to do around 10-12 points with some rebounds and threes, though nothing to warrant drafting him in standard leagues.
Jimmy Butler was a legitimate fantasy phenomenon last year, thoroughly exceeding ALL expectations of him as both a player in reality and in fantasy. He went from being an end of the draft type 'he'll fill a gap' guy, to a legit top 25 player going forward.
Then, Butler got hurt, missing a chunk of March that saw Snell elevated to the starting line-up. Results were for lack of a better word, 'mixed'. He showed as much consistency as a post-vindaloo curry bathroom stop, hardly making a blip on the fantasy radar despite getting significant minutes.
He reminds me of a skinnier DeMarre Carroll, so keep an eye on Snell and the other Bulls' swingmen, all of whom are currently superior fantasy options, particularly on the injury front. Snell played at least 30 minutes twenty times last season, and he averaged 12.0 points, 4.1 rebounds, 1.6 assists, 0.7 steals and 2.1 threes, along with 44% shooting from the field and 86% from the line in those contests. Throw in just 1.4 turnovers per game and you've got Carroll-lite potential there.
The key to Snell's fantasy value this season will be whether he can solidify a spot in the Bulls' rotation as a 'three and D' guy, which he did prove at times during an up-and-down sophomore NBA campaign.
—-
When the Wizards replaced the departed Paul Pierce with the similarly 'athletically deprived' Jared Dudley, it wasn't to replace him as the starting small forward. Dudley even said so much in a recent chat to Grantland's Zach Lowe recently, potentially rubber-stamping Otto Porter for some real run and lining him up as a viable fantasy option.
Sure, he had stretches of production last year, but for the most part it was inconsistent production
While he's wiry thin and weighs as much as some high school point guards, Porter will likely play some small-ball power forward for the Wizards, so he'll potentially be one of those gun multi-positional players who can give you handy stats from an unusual position (i.e threes and steals from the PF spot).
The aforementioned Dudley just had surgery for a back issue he'd had since earlier this year, while first round pick Kelly Oubre won't factor early unless injuries hit, as he's simply not ready for the NBA game apart from his impressive athleticism, which means Porter will have first crack at starting at the 3.
These factors all add up to Porter building on his 2015 playoff run, which saw him post some impressive numbers as a 21 year old getting consistent burn for the first time in his NBA career.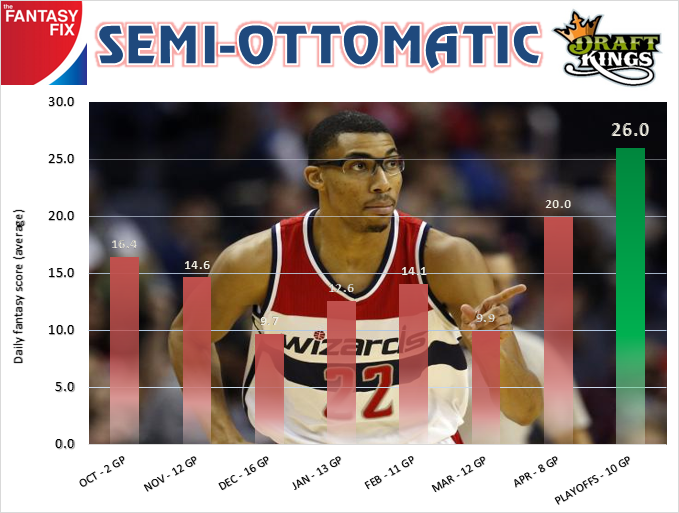 It bodes well that as the season went along, his performances reflected his coach's faith in his abilities, as he upped his daily fantasy totals over the last two stretches (April and the playoffs, per DraftKings).
Porter might be in line for one of those breakout seasons, where he could emerge as a potential fantasy option with serious upside. It isn't out of the realm of possibility that he does what he did in the playoffs – using this six game stretch as a barometer.
The scoring at 12.5 points per game seems reasonable, given the fact that 37 year old Paul Pierce put up 11.9 a night in just 26.2 minutes, while Porter should top that playing time with ease. While the 8.7 rebounds isn't likely, it isn't out of the realm of possibility either as he averaged 7.1 per game over his two seasons at Georgetown. The threes (1.8 per game in that six game stretch) and steals (1.2 per) are where his value will lie, coupling that with the rebounding potential and positional flexibility, and this is the sort of player you need to target with one of your late picks due to the upside alone.
—-
As always we welcome your questions and feedback, so feel free to hit me up on Twitter (@macetastic) and I'll do my best to reply to any comments.
Big ups to the amazing Basketball-Reference, for all the links and for de-railing me so often, all in the name of research.