2015-16 FANTASY BASKETBALL: Players to Watch A-Z: Part I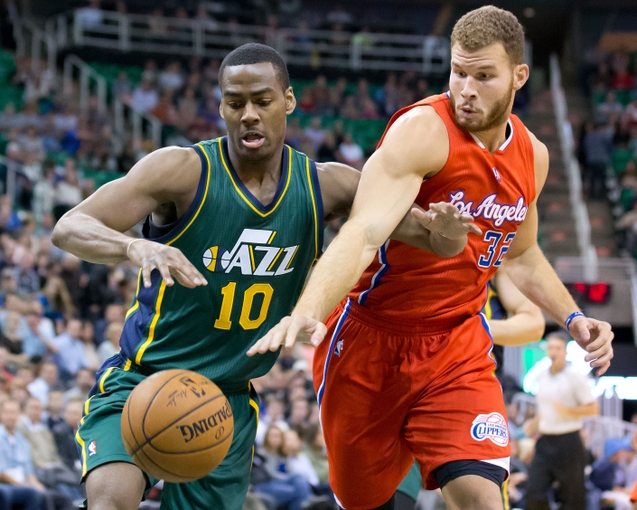 Every fantasy season there are question marks. Injuries, trades, contract years, new coaches, rotation battles, international players and rookies, to name just a few.
These 26 players (13 in this article) all have some sort of question mark surrounding their fantasy game, so I delve into their role and stats in the hope of shedding some light on how they're going to pan out this season.
And yes, before someone says 'but Kent Bazemore's name doesn't start with a Z' – there are slim pickings at some letters in today's NBA! Sorry George Zidek, not this time.
Utah Jazz coach Quinn Snyder seemingly wanted a big back-court when he anointed Dante Exum the starting PG last season – ahead of the incumbent Trey Burke. We've all seen Exum's bad injury playing for the Boomers, but in fantasy when one door closes another opens and this situation is no different. Alec Burks is a really good ball-handler for a SG, with great size and the ability to break down opponents off the dribble which sees him get to the line a lot. Sure, he's score first and Gordon Hayward likely picks up the slack in terms of creating, but Burks is a guy whose ADP (127!) is criminal considering he averaged 13.9pts, 4,2reb, 3.0ast, 1.0 three-pointer and 82% from the stripe last season. He hasn't kicked that aforementioned door down in preseason, but he's going to be the starter – at least until Rodney Hood proves he's a legit 30mins a night player.
I'm not going to lie, I'm very happy with the massive FT% and AST increase Griffin has added to his fantasy game, which has seen him go from 83 to 31 in terms of rankings since his rookie year. But as a result of his changing game and DeAndre Jordan's insatiable appetite for rebounds, Griffin's own rebound rate has absolutely plummeted. Going from 12.1 in his rookie year to just 7.6 last season is big. That's a massive drop. And it's not because of an injury and/or drop in athleticism (see Larry Johnson), it's because he's becoming more of a perimeter threat in setting up the offense and creating for team-mates – which is a good thing. Rebounds are much easier to find than assists, plain and simple. Griffin was
If you're looking for the next potential Rudy Gobert-type PF/C, then this is the guy. The Rockets have Dwight Howard entrenched as the starting C, but don't be surprised if he's rested during stretches and defensive big Capela gets first crack at replacing him. He's a great target in dynasty leagues, but let's hope last year's 17% from the free throw line (4 from 23) is an aberration. Through five preseason games he's averaging a healthy 26 minutes a night, which has seen him post 9.2pts, 10.2reb and 1.4blk a night. Definitely one to add to the watch-list or have a speculative add in deep leagues if Dwight Howard's injury history is anything to go by.
I've never been particularly enamored with DeRozan's fantasy game. He isn't a very good roto SG/SF option due to the low 3PT and AST numbers, nor is he a good H2H player due to the relatively high turnovers (2.3) and low FG% (41.3% – a career low) with just middle of the road STL (career 0.9). At this stage and on that Raptors team, he's purely PTS and FT% value, and count me among those concerned with his horrible preseason showing so far: 5 GP, 23mpg, 9.0pts, 3.6reb, 2.8ast, 0.6stl, 0.0 threes, 0.0blk and a horrendous field goal clip of 29% (13-45, including 0-7 on threes). His saving grace is that FT% at 83%, but that's not enough to make him a top 60 player in my opinion.
He got a big contract and was massive down the stretch for the Thunder, but new coach Billy Donovan has all but handed the starting C keys to my fellow New Zealand alum Steven Adams. Kanter could very well thrive pummeling second units, but his lack of AST, STL, BLK, 3PT caps his value, as does the bench role. Still, you could do worse using a Rd 6-7 onward pick on a guy who can assist in both stats from the PF/C position.
Much like the aforementioned Capela, Ezeli is another physically imposing PF/C option who only needs minutes to prove his fantasy worth. Andrew Bogut doesn't have the healthiest track record, despite shedding 20 pounds this off-season. David Lee is gone while Marreese Speights disappeared in the playoffs and Jason Thompson is, Jason Thompson. There's 18-20mins there for Ezeli, and he'll be first in line when if Bogut goes down. Ezeli's per-36 stats last season hint of the fantasy potential; 14.4pts, 11.1rebs, 3.0blk and 55/63 splits.
He was underrated going into last season and he proved his mettle by being the 48th best player in 9-cat fantasy. Once again, both Yahoo (94) and ESPN (74) have him too far down their rankings this season. His elite percentages coupled with those rebounds (8.3), assists (2.0), steals (1.0) and blocks (1.7), make him a legit roto beast. The T-Wolves frontcourt is like a scrum right now, but expect Nikola Pekovic to potentially be bought out or traded, as the team tries to free up time for Karl-Anthony Towns and Dieng.
I'm teetering on the fence with this guy. I own him in a dynasty league but frantically tried to deal him away in the off-season for Rudy Gobert or Nerlens Noel. There's so many red flags here that I had to compare him to previous defensive minded Cs who shone at fantasy at one point or another. I'll let the graphs further down do the talking – but that 'trend' line for Whiteside is what scares me. Most young-youngish pivots build slow to become strong double-double guys with blocks. Whiteside destroys that trend which illustrates how astronomically fast his rise to prominence was. Even despite my pessimism, he's had a relatively good preseason (albeit in only two games), averaging 11.0pts, 8.5reb and an absurd 5.0blk in less than half a game, so don't get your pitchforks out yet. Anyway, here's the graphs which shows the player's (Tyson Chandler, Omer Asik, Andris Biedrins, Marcin Gortat, Sam Dalembert, DeAndre Jordan, Larry Sanders and Whiteside) PTS, REB and BLK numbers:



Count me among those who thought the Jordan Hill signing was a clear sign the Pacers didn't think Myles Turner would be the starter at C, despite a dominant summer league. But somewhat unexpectedly, it's Mahinmi who has claimed the starting gig and not Hill. He's always had some semblance of athleticism and physicality when playing back-up for the Spurs, Mavs and Pacers, so he's going to have value if he can play 24-28mins and he should be a solid source of REB, STL and BLK – but watch that FT%. His per-36 stats over the last five seasons might be a bit high for what you should expect – 9.9pts, 9.0reb, 1.1stl, 1.5blk and 51/59 splits, but they're an indication of what he can do when he gets minutes.
You've all seen it by now. The six straight games with at least 16 points while starting for the seriously vulnerable Dallas Mavericks. I was all over Justin Anderson after his massive summer league, but Jenkins has had three very low usage seasons under his belt already and now's his time to step up while Wes Matthews is still banged up. Don't draft him in the top 100, hell, don't even draft him in most 10-12 team leagues, but add him to your watch-list and if you're a Matthews owner, plug him in until Wes is back. This guy was a first round pick, he's still just 24, he has career averages of 45% from the floor and 2.1 threes per-36mins and he averaged a gnat's hair under 20 points per game over his last two seasons at Vanderbilt. He made 234 threes in those 67 games. My point is, the guy can shoot.
I'm not going to go into too much depth about the four-time top ranked fantasy player, all I'll say is he looks damn good. I mean look at the multitude of categories he's led the league in over his last five healthy seasons (2009-10 through 2013-14); minutes played three times, field goals made three times, free throws made five times, free throw percentage once and total points five straight seasons. The dude is still a fantasy freak and he has the NBA elite (and a big pay day) in his sights once again.
When the Blazers drafted Leonard I basically thought his ceiling was a semi-competent, semi-athletic back-up big who could rebound and block a shot or two. But after rotting on the bench for essentially his first two seasons, he began to shoot last year. From deep. And he made them, at a very good clip (42%). Over the last six games of the regular season he produced 11.7pts, 8.0reb, 1.3ast and 1.2 threes a night. He's essentially done that this preseason also, averaging 10.7pts, 7.0reb, 1.3ast, 0.8blk and 2.2 threes (13-27, 47%) a night, which is the sort of continued production you want to see going into a season for a young player.
Here's my favorite sleeper for this upcoming season. A few of us (my guys Zack and Matt mainly) have sung his praises so much that you'd think we had shares in him, but the guy can play and WILL play this season. Gerald Henderson has tapped out as a good defensive player but he's hardly a fantasy asset or a player the Blazers need to develop. McCollum is playing a ton this preseason and his stats show the development: 17.7pts, 2.7reb, 4.5ast, 2.2 threes and 42/79 splits in a shade under 30min per. The lack of steals and low FG% is a bit of a concern, but this is a guy you'll want by the end of the season. People have forgotten this guy went one spot ahead of Michael Carter-Williams in the draft just two seasons ago, this year he's going to prove why.
So there you have part one of the A – Z of players to watch this season. Part two will be up shortly, and it includes some other youngsters, vets and players with a point to prove on new teams.
—–
As always we welcome your questions and feedback, so feel free to hit me up on Twitter (@macetastic) and I'll do my best to reply to any comments.
Big ups to the amazing Basketball-Reference, for all the links and for de-railing me so often, all in the name of research.