2015-16 Fantasy Basketball: Rest-of-Season Dreamin'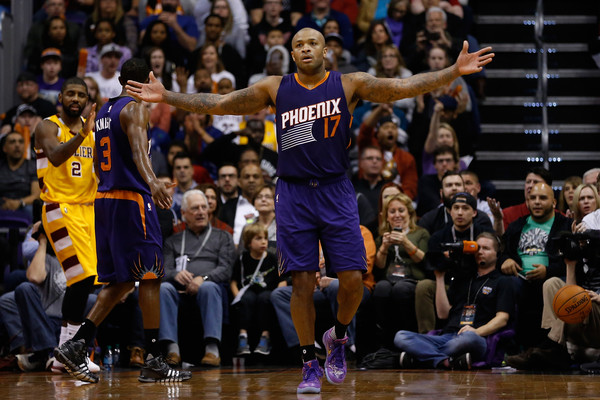 I'm pretty active on Twitter, as most of you probably already know. I'm often referred to as the "Fantasy Vampire" and other puns that relate to my lack of sleep, which usually goes hand-in-hand with my fondness for late-night tweeting.
I answer fantasy-related questions literally all day long, and I receive hundreds of illogical and poorly thought out questions regarding drafting, trades and start/sits, but the "rest of season" — or "ROS" — questions are the ones I hate the most. If you're not familiar (though you probably are since I'm sure you've asked one or two from time to time), this is a query in which a follower asks if I prefer Player A over Player B for the remainder of the season. The general idea here is that Player A is probably the guy you currently own and Player B is a hot player on the waiver wire. The person asking the question is coming from a good place, but they just drive me bananas.
The reason I hate ROS questions is because in most cases these players are end-of-bench guys or guys you're looking to stash for later on in the season. Rarely am I asked, "Russell Westbrook or James Harden ROS?" No, it's more like, "Derrick Williams or James Johnson ROS?" Point is, whether I say Williams or Johnson, neither player is likely to remain on your team all season, let alone past your current matchup. If you want to know who the better pickup is for the next five days, ask that, but don't kid yourself into thinking that Derrick Williams' hot three-game stretch is going to turn into a season-long explosion and make you look like a waiver-wire god.
Also, Twitter allows 140 characters per tweet; use them. Granted, my handle reduces that number by 16 (if you count the "@"), but you catch my drift. Give. Me. More. Info. Most ROS questions are so vague that it drives me to the point of frustration. In a situation like this, time is of the essence. Why make things even more difficult when there's someone else in your league skipping that step? By the time I ask you what size league you're in, how many categories there are and what categories you need most, your league mate had scooped Player B up. Since the players you're asking about are usually just streaming material — if that — it's even MORE important to give the details of your league or matchup. Do you need points and threes or blocks and steals? My answer may change drastically depending on what additional info you provide.
Since you've been a good sport and listened to my rant, I'll be nice and answer a few of those "rest of season" questions for ya! (But don't do it again!)
When an injury strikes, we always look to the wire for their replacement. In the case of Eric Bledsoe, there may not be a great one. Bledsoe is officially done for 2015-16 after undergoing surgery to repair his meniscus, and the above three players are guys most fantasy owners want to know about.
Booker has a sweet shooting touch and is a great dynasty hold, but he's mostly limited to scoring and 3-point shooting. He averaged 10.0 points and 2.0 treys in 21 minutes at Kentucky last year, but did little else. He's the trendy add right now, but he's too raw and his floor is basement-level low.
Warren is a guy I liked a lot coming into the season. He's had his moments, and I do think he's worth an add if you need scoring punch, but like Booker, he's nothing more than a one- or two-cat guy.
If I'm choosing right now, Tucker is the one I'm adding. He's the most experienced of the three and is one of the better perimeter defenders in the league, something the other two don't come close to. Tucker can also provide an array of stats, which the other two cannot. Last year, Tucker averaged 9.1 points, 6.4 rebounds, 1.4 steals and 1.3 3-pointers, helping him finish as the 103rd-ranked player in 9-category formats. It's actually possible that he could hover just below that range if he's given 25-30 minutes.
This is an interesting one. Both players have renewed owners' interest over the past week after returning from individual absences.
Lawson returned from a two-game suspension last Wednesday and has averaged 10.3 points (55.2 FG%), 4.3 assists, 0.8 steals and 1.3 triples in the four games since.
Bayless missed 11 games while recovering from a sprained ankle and has put up 13.5 points (61.1 FG%) and 5.5 assists in his two games back.
In my opinion, the difference between these two players is the direction they're going in. Lawson was on the outs with the Rockets all season, but seems to be making incremental strides towards getting back his starting gig. Patrick Beverley played good basketball while Lawson was in the doghouse, but you can see the minutes shifting over the past week. Lawson is averaging 25.4 minutes in his four games back, which is two more minutes per contest than Beverley during that span. Lawson may have incited the ire of his coaches (he's had two), but he's a much better basketball player than Beverley and the Rockets need to let him loose if they want to have a shot at reaching the Western Conference playoffs.
Bayless' case is the exact opposite. He was smoking hot before going down with that ankle injury — so much so that he pushed Michael Carter-Williams to the bench. But a funny thing happened just two games before his injury: he received a mysterious DNP-CD from coach Jason Kidd. Now, Kidd is known for his lineup antics, but it was strange to see him bench a player that had been one of the better producers for his team in the early going. Kidd is back home now as he recovers from hip surgery, but the minutes will continue to be staggered for Bayless. He came out of the gates guns blazing on Monday, ripping off 19 points in 26 minutes, but followed that up with eight points in 19 minutes.
It's also worth noting that the Bucks are 12-21 and in 14th place in the East, and that Bayless will be a free agent this summer. He's currently wrapping up a two-year, $6 million deal, and Milwaukee would have no shortage of takers for the remaining $3 million on his expiring contract should they continue to fall farther out of the playoff race. At 27, Bayless isn't part of the Bucks youth movement, but would be a nice bench piece for a contender.
My verdict? It's Lawson. In fact, I've been asked a lot of questions about Lawson and whether he's worth a roster spot. Folks, this is a solid player performing way below what he's capable of. He's currently available in 65 percent of ESPN leagues, which is a mistake. He was hard to keep around during the first month of the season, but right now he's a must-own player in leagues of 12 teams or more. It's not often you have a player of this caliber readily available on your waiver wire, so take advantage of it. If he falls off a cliff again, hey, all you did was drop Jerryd Bayless to acquire him, right?