2015-16 Fantasy Basketball: Waiver Wire Fix — Week 10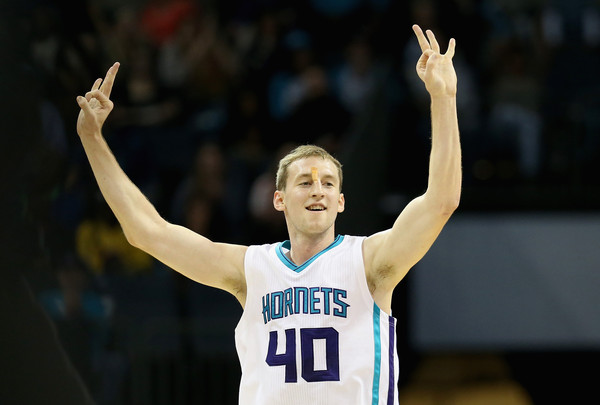 Welcome to the weekly Waiver Wire Fix, an article where I will be discussing which five players should be picked up based on recent production. The only criteria is that they have to be owned in less than 50% of Yahoo leagues. Let's get started.
Cody Zeller – Charlotte Hornets – PF/C
Al Jefferson is going to miss the next six weeks as he undergoes right knee surgery, essentially thrusting Zeller into the starting lineup for the foreseeable future. Zeller is not the most athletic player by any stretch, but he will provide a consistent source of points, rebounds and steals as long as he's seeing starter's minutes. In his first start on Wednesday he dropped 12 points, eight boards, three steals and a block in his 28 minutes against the Clippers. This will be the norm for the next six weeks. The former fourth-overall pick has yet to develop consistent production in the NBA, but will get the chance to prove his worth for the next month and a half. He's currently owned in only 20% of Yahoo leagues and should likely be picked up in all formats.
Bobby Portis – Chicago Bulls – PF
"FREE BOBBY PORTIS!" That's what all of us who fell in love with Bobby P in college and NBA summer league have been shouting since the regular season began. There's also been a lot of tears shed from the fans of teams who passed on Portis for less intriguing (at this point) options. Portis looks great when given minutes, but until a recent injury to Joakim Noah, Portis was having to wait until garbage time to get into games. Despite that, Portis has a 26% usage rate when he does play, although that's inflated due to him playing with inferior teammates in that garbage time. The last three games though, with Noah out, Bobby has been unleashed and has not disappointed averaging 14.6 points and 8.6 boards while shooting 61% from the field. Last night against the Knicks, Bobby played 30 minutes and netted a double-double of 16 points and 10 rebounds while also adding two assists and two treys with that smooth jumper he has. He's worth a temporary add at least until Noah returns, and he should be stashed in dynasty leagues as Noah and likely Pau Gasol also (has a player option) will be free agents this summer. Also, there's a chance that Taj Gibson could be traded due to the Bulls big man depth and bigger needs elsewhere.
Bojan Bogdanovic – Brooklyn Nets – SG/SF
Bogdanovic played his best game of the season on Wednesday, scoring 20 points to go with six rebounds and three assists in his 38 minutes of action. Bogdan has been seeing starters minutes since rookie Rondae Hollis-Jefferson went down with an ankle injury. He will not contribute too much in the peripherals department, but he is playing huge minutes and is an adept three-point shooter. The Nets are devoid of any real offensive threats besides Brook Lopez, so the usage can always be there for Bogdanovic if he decides to be aggressive. As it stands, he's only owned in 35% of Yahoo leagues. He isn't a must add by any stretch, but he's seeing a ton of court time and can really help in the threes department. Give him a look if you need some outside scoring.
Tristan Thompson – Cleveland Cavaliers – PF/C
David Blatt finally wised up and inserted Thompson into the starting lineup for the underwhelming Timofey Mozgov. In his two starts thus far, TT hasn't really impressed with the minutes he's been given, but the fact that he's the new starter is very encouraging. He boasts very impressive per-36 averages of 12 points and 10 rebounds for his career. As long he's starting he is a must own player as the Cavs are really weak in the front court besides LBJ. Thompson should be a consistent source of double-digit rebounds with decent scoring and maybe a block or two. Thompson actually doesn't belong in this article, being that he's 53% owned in Yahoo leagues, but we will let the three-percent slide. If for some reason he's still available in your league, run and scoop him up right now.
Jerami Grant – Philadelphia 76ers – PF
Grant slid back into the starting lineup on Wednesday and subsequently had the best game of his career. He dropped 16 points, 11 rebounds, two assists, two steals and a whopping five blocks in what resulted in the Sixers second win of the season at Sacramento. The recent re-acquisition of point guard Ish Smith has morphed Philly into an actual league average offense, something that they weren't with T.J McConnell running the show. Smith uses his feline quickness to beat defenders off the dribble and get to the hoop, which gets a ton of wide open looks for the rest of the uber-athletic front court. Grant has never lacked in the athleticism department, standing 6-foot-8, 210 pounds with freakish leaping ability. Grant's five blocks on Wednesday marked a career high, but is something that can become more of a trend than a blip. He is one of the better shot blockers in the NBA for his position. If Brett Brown was smart he would continue to run out a starting lineup of Grant and Nerlens Noel. If Grant does continue to see consistent minutes at the four, he makes for a fantastic add. He provides help in all categories and is currently only 13% owned.