2015-16 Fantasy Basketball: Waiver Wire Fix — Week 11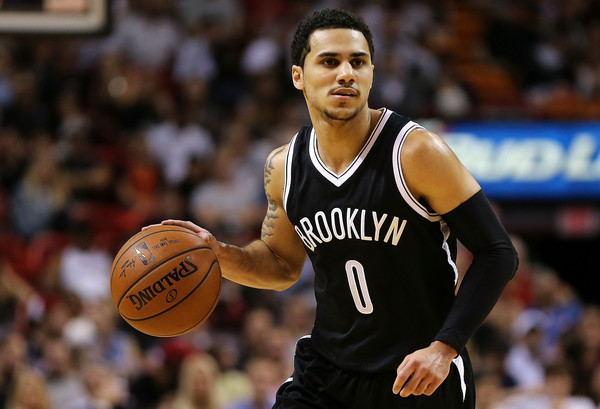 Welcome to the weekly Waiver Wire Fix, an article where I will be discussing which four players should be picked up based on recent production. The only criteria is that they have to be owned in less than 50% of Yahoo leagues. Let's get started.
Shane Larkin – PG – Brooklyn Nets
I do not personally believe that Shane Larkin is a good basketball player, but the fact remains that Jarrett Jack is out for the season and the Nets really have no other option at point guard. I am a Knicks fan, so I know the agony of having to watch Larkin run your offense on a nightly basis. He actually put up a decent showing on Wednesday, scoring nine points, while also adding five boards, four assists and three steals in a tough home loss to the Raptors. Larkin boasts career averages of 10 points, three rebounds, five assists and two steals per-36 minutes, so it's clear he can contribute across multiple categories when given the minutes. Brooklyn is really thin in the backcourt with no Jack and Joe Johnson firmly in decline. They will be forced to give Larkin all the minutes he can handle until they make a trade, which seems likely at this point. Larkin should be serviceable for the time being, and is only 27-percent owned in Yahoo leagues, so go scoop him if you're looking for some guard help.
Larry Nance Jr. – PF – Los Angeles Lakers
Larry Nance has been playing some great basketball of late. Over the course of his last five games, he's averaged 24 minutes, 10 points, 9.6 rebounds and just under a steal. The Lakers have been starting him over second-year forward Julius Randle, and it's been paying off handsomely. As it stands, Nance is owned in just 28-percent of Yahoo leagues. There is no reason why his minutes shouldn't increase as the season goes along if he continues to play at this level. He has added a much needed spark to this lackluster Lakers' starting lineup. They've actually won three of their past four and have been keeping a lot more games competitive than they were earlier in the season. At 6-foot-9, Nance is pretty athletic and should start collecting some peripheral stats on a more consistent basis, assuming he gets the minutes. He's been an alley-oop catching fool, too. Head coach Byron Scott has also been raving about him, so it looks like he is a safe add for the time being. Give him a look if you're lacking in the rebounds department.
Marco Belinelli – SG – Sacramento Kings
Marco Belinelli has been playing his best basketball of the season over the past few weeks. Yes, it's helped big time to have Omri Casspi out of the lineup for a couple of those, being that they both play similar roles in helping stretch the floor, but in the minutes he's gotten of late, he's been stellar. The former three-point champion is averaging 15 points, two 3-pointers and three boards, while also adding an assist, steal and block across 29 minutes in his last six games. Beli is one of the best three point shooters in the NBA and was a part of the Spurs championship team a few years back. You know what you're getting with him, but he's shown when he gets ample playing time that he can contribute in the peripherals department as well. Wednesday night against Dallas he put up 14 points, nine boards, three assists and three steals in his 39 minutes. Clearly he is more than just a spot up shooter. As it stands he's owned in only 27-percent of Yahoo leagues, which is way too low considering his production lately. Go give him a look if you need some threes, as it seems like his minutes will be there for the foreseeable future.
Marcus Smart – PG -Boston Celtics
Smart is still coming off the bench as he tries to get back into the swing of things. He was out for over five weeks with a leg injury and is just starting to see his minutes increase. As of now, Smart is playing in the 25-minute range, something we should look to go up as the season goes along. Brad Stevens can never stick with a solid rotation, so there will always be minutes to go around in the Celtics' back-court. Smart is a player who can contribute in the steals department, which is a very nice luxury to have when adding someone from the waiver wire. When healthy, he is one of Boston's best perimeter defenders, which should always keep him in the rotation. If you look at Smart's recent game logs, nothing will blow you away, but I believe the best is yet to come assuming he can stay healthy. He's currently owned in 50-percent of Yahoo leagues, which will tell you that there a lot of people who believe in his talent. He was highly touted coming out of Oklahoma State and definitely has a long career ahead of him. If he somehow happens to be available, go and add him before his minutes creep up into the 30s. He is a bargain right now and is someone that can help you when it really matters come April.