2015-16 Fantasy Basketball: Waiver Wire Fix — Week 9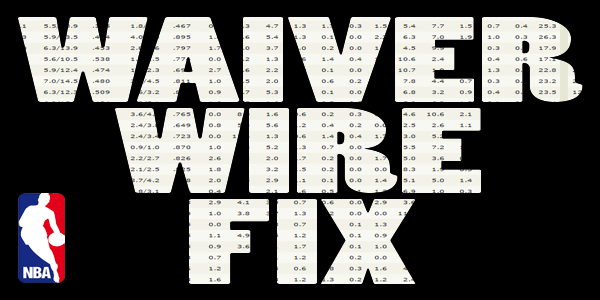 Welcome to the weekly Waiver Wire Fix, an article where I will be discussing which five players should be picked up based on recent production. The only criteria is that they have to be owned in less than 50% of Yahoo leagues. Let's get started.
David Lee – Boston Celtics – PF/C
Jared Sullinger and Amir Johnson have missed some time this week in the crowded Boston front court. In the two games with them on the shelf, David Lee posted lines of 10pts – 7rebs – 3asts – 2blks and 13 – 8 – 3 – 1, in 18 and 22 minutes respectively. The guy who used to average a double-double back in Golden State before last season is still here, he just needs the playing time. With his good showing this week, I'm betting on Brad Stevens giving him some more minutes moving forward, at least enough to be fantasy relevant.
Bismack Biyombo – Toronto Raptors – C
The Congo native has been killing it lately. Over his past five games he's put up rebounding totals of 20, 13, 15, 18 and 13. Biyombo has simply never panned out in the NBA despite his freakish athleticism, and he has never shown the will to want to improve his offensive game. He does excel in two areas however, rebounding and blocking shots. As long as Jonas Valanciunas is out, Biyombo has to be owned, especially if you are looking for a cheap source of peripheral stats. He's been playing huge minutes lately as well.
Rodney Hood – Utah Jazz – SG/SF
Another guy getting huge minutes of late, Rodney Hood has been playing some great basketball for the Jazz. Over his past three games the former Duke Blue Devil is averaging 13 points, four rebounds and three assists with a trey and steal. As long as he's starting and seeing extended minutes, he definitely warrants being owned in all formats, yet currently he's only owned in 45 percent of Yahoo leagues. The Jazz are not an elite offensive team, so any production they can get out of Hood is a plus. Look for him to remain in the starting lineup for the foreseeable future.
Alex Len – Phoenix Suns – C
The Phoenix center situation is a little mercurial at the moment. Tyson Chandler's better days are way behind him, making that contract look even worse by the day, and Len is a raw big man with strong offensive ability. He is very polished in the post, and it's only a matter of time before Jeff Hornacek stops messing with his playing time and deploys him for 30 minutes nightly. Right now you will have to deal with the volatility, though. It's a good sign that Len started over Chandler on Wednesday, despite only playing nine minutes. Len is averaging seven points and six rebounds on the season. Phoenix is a team — whether they realize it yet or not — in rebuild mode, meaning they should look to play their young talent and see what they have as the season progresses. Len is too talented to sit on the bench behind the washed up Tyson Chandler, and as of right now he's only owned in 35 percent of Yahoo leagues. Scooping him up now will give you a legit mid-round center come playoff time, a luxury that we all could use.
Jameer Nelson – Denver Nuggets – PG
Jameer Nelson has been filling in for rookie Emmanuel Mudiay while he nurses an ankle injury. Reports have surfaced that Mudiay is not close to returning to the starting lineup, meaning Nelson will continue to see starter's minutes for the next few weeks. The veteran point guard has been playing really well lately, averaging 11.7 points, 6.7 assists, 3.3 rebounds and 1.3 treys in his 33 minutes over the last week. Nelson is owned in just 19 percent of Yahoo leagues, which is a travesty. A starting point guard playing close to 35 minutes per game should not be on the waiver wire, even if his increased value is temporary. Nelson helps in a multiple areas and is a great add if you need help at the guard spot. Even when Mudiay gets back they'll likely ease him back into rotation, meaning Nelson could hold value for a good amount of time.