2015-16 Fantasy Basketball: Week 12 Preview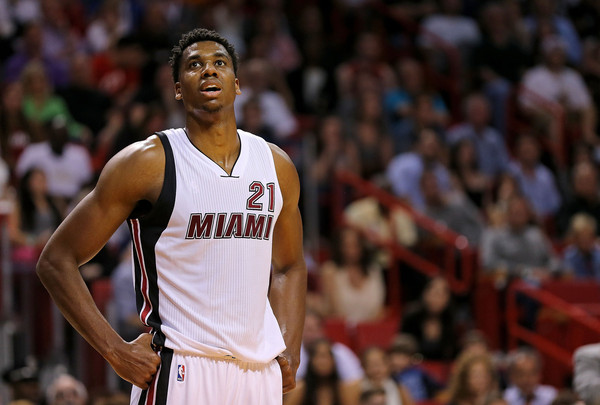 4 Games: BOS, BKN, CHI, DAL, GS, HOU, IND, LAL, MIA, MIL, MIN, OKC, SA, WSH
3 Games: ATL, CHA, CLE, DEN, DET, MEM, NO, NY, PHO, POR, SAC, UTA
2 Games: LAC, PHI
1 Game: ORL, TOR
ON FIRE
Zach Randolph – PF – Memphis Grizzlies
This is the Zbo that we have been used to seeing over the last few years in Memphis, now scoring 26, 24 and 25 points in three of his last four games for the Grizzlies. He has two double-doubles during that stretch as well, including an 18 rebound performance against the Blazers. Zbo is averaging 21.8 points, 10.8 rebounds, and even chipping in with 1.5 blocks per game over the last week, while shooting 49% from the field and 90% from the free throw line. These are the numbers that have always made Randolph an underrated fantasy option each and every year, as he has proven to be a double-double threat every night with the ability to put up huge numbers in the Grizzlies frontcourt. Paired with Marc Gasol down low, the Grizzlies have always been able to provide a tough matchup on which big man to guard. Randolph was a top-10 player this week in his flash of his old self. If the Grizzlies keep looking his way, he has proven that he is MORE than capable of putting up elite fantasy basketball numbers, and I fully expect him to return to the starting lineup soon.
Carmelo Anthony – SF/PF – New York Knicks
It appears that Carmelo has found his groove, at least for this past week, returning to his elite fantasy ways. His average draft position this season was 16.3, and he is finally living up to those expectations. Melo averaged 23.0 points, 9.5 rebounds, 5.5 assists and 1.3 blocks per game over the past week, while shooting 49% from the field and 83% from the free throw line. Carmelo appeared to be on the downslope as a fantasy basketball asset, but his recent resurgence on a Knicks team that is right in the thick of things for a playoff appearance, should rejuvenate the Knicks star player. While Kristaps Porzingis might have come in and stolen some of his thunder this season, Carmelo is still the only one that is capable of taking the Knicks to the playoffs by putting the team on his back. What we as fantasy owners love most about this recent surge is Anthony's passing numbers. If he continues to average assists like that, he will end the season as a top-10 fantasy player.
ICE COLD
Hassan Whiteside – C – Miami Heat
It has been an odd season for Whiteside, as he has been unable to really get going consistently. Whiteside began the year on fire, but has been on a roller coaster ever since. In the last week, Whiteside is averaging just 7.7 points, 9.3 rebounds and only 1.7 blocks per game. Now, 1.7 blocks and 9.3 rebounds isn't that bad, right? Well, Whiteside is averaging a league-best 3.8 blocks and 11.1 rebounds per game for the entire season, so they're down for him. Whiteside also is shooting 60% from the field this season, but shot just 40% last week. It has been a troubling time of late for Whiteside and his owners, despite the 28-point, 19-rebound performance on New Year's Day. Whiteside is still a raw work in progress for the Heat, as he came in virtually as a nobody in the NBA, getting a lot of playing time due to injuries to Bosh and other guys in Miami last season. The young big man is simply cold right now and should be avoided in DFS lineups until he has a bounce-back performance.
Stream Options
Steven Adams – C – Oklahoma City Thunder
Adams has had some impressive games for his standards over the past week, posting double-digit scoring in three of the past four games, recording two double-doubles and chipping in with shot blocking as well. Adams is owned in just 10% of ESPN leagues, and with the four Oklahoma City Thunder games this week, he should be able to provide a decent scoring but more so shot blocking and rebounding to  your fantasy team this week.
Jeremy Lamb – SG – Charlotte Hornets
Jeremy Lamb has seen an increase in minutes for the Hornets this week because of the injury that has kept Batum out of the lineup for four games. Batum returned to the lineup on Sunday, however, Lamb still played 30 minutes in the game scoring 15 points and shooting 6/14 from the field. If you need help in points and three pointers, Charlotte plays three games this week, and Lamb is capable if going for 15-plus a game if he is given the playing time. While Batum may have come back in the Hornets last game, he is likely still coming back slowly from his toe injury. Lamb is owned in just 18% of ESPN leagues.
Cody Zeller – PF/C – Charlotte Hornets
With Al Jefferson hurt and Frank Kaminsky struggling of late, Cody Zeller has seen an increase in playing time and success in the Hornets frontcourt. Zeller has now played more than 30 minutes per game over the past three games, with 10.5 points, 10.0 rebounds, 1.3 steals per game, shooting 47% from the field and 71% from the foul line. He won't dazzle you by any means, but he is owned in 40% of leagues and will be able to contribute in the three games he's active this week.
Games of the Week
Monday – Wizards at Bulls
I love matchups of great guard play, and John Wall against Jimmy Butler headline the night of a three game slate in the NBA.
Tuesday – Cavaliers at Mavericks
Dallas has been able to beat some good teams at home, and LeBron and the Cavs visit Dallas for the only time this season on Tuesday night. LeBron has been as good as he has all season of late, making for an intriguing matchup against a Dallas team that struggles to guard guys like LeBron.
Wednesday – Heat at Clippers
Dwayne Wade faces off against Chris Paul in the backcourt, and Hassan Whiteside faces up against DeAndre Jordan in the frontcourt.
Thursday – Cavaliers at Spurs
The Spurs are undefeated at home this season as the defending eastern conference champions come in trying to change that.
Friday – Cavaliers at Rockets
What a tough week for the King. Dallas, San Antonio and Houston in a four night span, getting a tough taste of what it's like to play in the western conference.
Saturday – Knicks at Grizzlies
Carmelo Anthony and Kristaps Porzingis take on Marc Gasol and Zach Randolph in Memphis. A resurged Knicks team takes on a Grizzlies team that has struggled more than they had hoped this season.
Sunday – Heat at Thunder
Dwayne Wade, Russell Westbrook, Chris Bosh, Kevin Durant just to name a few of the stars that will shine in this game.