2015-16 Fantasy Basketball: Week 2 Injury Report — Boogie Floored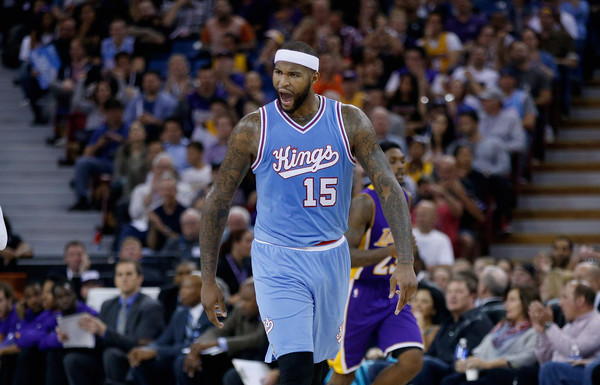 One week is in the books, and we've already witnessed a potentially major injury on the fantasy basketball front.
Sacramento Kings superstar DeMarcus Cousins was forced to leave Saturday's tilt with the Los Angeles Clippers after complaining of Achilles "soreness". He was later diagnosed with an Achilles strain in his right leg and deemed "day-to-day". The Kings have practice Monday ahead of Tuesday's game, and we should know more about the true extent of the injury then.
What we DO know is this isn't a situation to be taken lightly.
Judging from the team's initial response, we can reasonably rule out a full tear or rupture of the tendon, but the term "strain" is very vague in nature. Like with ligaments, there are three levels — or grades — of tears. It's important to remember that the word "strain" does in fact mean a tear. The assigned grade will depend on whether it's a full tear or just a small one. If you're a Boogie owner you want to hear "Grade 1". That is the least severe and would probably keep him out a few weeks. A Grade 3 strain would mean season-ending surgery.
Whether you own the mercurial King or not, Willie Cauley-Stein and Kosta Koufos should be added in most leagues. I don't, however, consider them "must-adds". This is due to the fact that both players would normally benefit a lot more from Cousins being ON the court and drawing double teams. Neither player creates offense on their own, and without Cousins the Kings will find themselves trailing in most games, rendering these offensively-deficient centers moot. If you recall, Cousins suffered from viral meningitis during the early part of the 2014-15 season and was forced to miss 10 games. The Kings went 2-8 in that span.
If you need blocks and boards and have an expendable player at the end of your bench, it makes sense to add either player, but I wouldn't be going out of my way to do so. Cauley-Stein's blocking ability would be handier to have in roto leagues than in head-to-heads since he's limited in other aspects of his game.
Quick Hits From the Training Room
Marc Gasol, Grizzlies: The Grizzlies' newly-extended franchise center had to leave Saturday's game with jammed fingers, but he was able to return and play over 11 minutes in the second half. His shooting did suffer a bit, as he went 0-for-2 in the fourth quarter. He should be fine going forward, though swelling could be an issue. Memphis has four games this week, with back-to-backs on Monday and Tuesday. If you're a Gasol owner, Brandan Wright is worth adding as insurance.
Joffrey Lauvergne, Nuggets: The second-year center had to be removed from Sunday's game after playing just 19 minutes. Lauvergne came into the contest dealing with a minor back issue, but clearly aggravated it. Don't be surprised if the team is cautious with the talented young Frenchman as they don't want to set him back any further. The Nuggets next play Tuesday in Los Angeles when they take on the Lakers.
Jusuf Nurkic, Nuggets: We discussed Nurkic last week in regards to the man mentioned above (Lauvergne) and fellow budding big man, Nikola Jokic. Nurkic had surgery on his patella tendon during the off-season and was expected to be out till "sometime in November", per coach Michael Malone. Today, though, Malone reversed course and said that he was still "a ways away". Unless you have an IR spot or are in a dynasty format, it makes sense to part ways with the 21-year-old Bosnian big man.
Robert Covington, Sixers: Covington was initially expected to miss up to two weeks of the season with an MCL sprain, but he'll return a week early to face the Cavaliers on Monday night. The Sixers are brutally inefficient on offense and Covington should immediately become their best scoring option. Though better suited for head-to-head formats due to his poor shooting, Covington is still a must-own in all leagues. The former Rocket averaged 13.5 points, 4.5 rebounds, 1.4 steals and 2.4 treys in just 28 minutes per game last year. His insertion into the Sixers' lineup means less minutes for Jerami Grant, JaKarr Sampson, Hollis Thompson and possibly Isaiah Canaan.