2015-16 Fantasy Basketball: Week 3 Injury Report — Bogut Check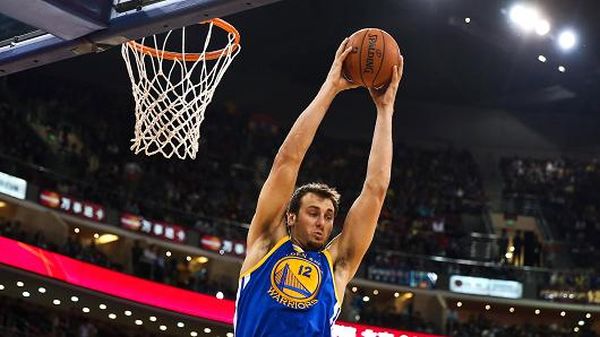 The good news for fantasy basketball owners is that our "cover boy" from last week, DeMarcus Cousins, could return to the court as soon as Monday. The bad news is there are other injuries owners need to monitor as we head into Week 3 of the NBA season.
Cousins has missed the last four games, but there's a possibility he suits up for the Kings' home tilt with the San Antonio Spurs. He warmed up before the team's loss to the Warriors on Saturday and the rest he smartly took seems to be helping.
Getting Cousins back is huge for both the Kings and his fantasy owners. Unfortunately, while Boogie could be active, point guard Darren Collison will be out at least one game, possibly longer.
Collison injured his left hamstring in Friday's game versus the Rockets. He had 22 points and nine assists — both season highs — and that production has put him in the top 125 of 8- and 9-cat leagues this season. All owners can do now is hold on to him and hope for the best, but it's possible he misses all four games this week. Cousins, Rudy Gay and Rajon Rondo will soak up the leftover stats, though there will be little else to go around. Marco Belinelli and Omri Casspi are worth looks in deeper leagues.
Other News From the Training Room
Brook Lopez, Nets: The words "foot" and "injury" are never good when they appear together in a sentence used to describe Brook Lopez. The Nets said they removed Lopez from Saturday's game for "precautionary" reasons, but they also had him get X-rays on the foot, so there's gotta be a LITTLE more behind this than it simply being a precautionary measure.
Either way, Lopez is expected to play Wednesday. Savvy owners may want to wait till Lopez has a couple of solid games and then trade the oft-injured center. He has a long history of foot injuries, which can be very troubling for big men.
Andrew Bogut, Warriors: After missing all but one game this season, Bogut will return to the court Monday when the 7-0 Warriors face the Pistons in Oakland.
Concussion symptoms have sidelined the Australian center since Opening Night, and he may be returning to a bench role. Festus Ezeli has performed very well in Bogut's absence, averaging 9.8 points, 7.5 rebounds and 1.8 blocks in six starts. Ezeli (26) is younger than Bogut (31 on Nov. 28) and has brought more athleticism to the Dubs' lineup. Bogut, the former No. 1 overall pick by the Bucks, has also missed 34 percent of the Warriors games over the past four seasons and another injury is inevitable at some point down the line.
Ezeli looks like the better player right now, and honestly, he probably is. If you own Bogut in a roto league, he's worth holding on to for his blocks and field goal percentage, but those in H2H leagues are free to cut him. If Ezeli happens to be available in any of your leagues, make sure to remedy that and pick the big man up.
Chris Paul, Clippers: CP3 sat out Saturday's game with a groin injury he sustained in Friday's loss to the Warriors. It wasn't believed to be serious, but he's now been ruled out for Monday's game versus the Grizzlies, so things aren't as rosy as we initially thought.
There's nothing owners can do now but wait and hope that the rest helps him get to 100 percent. In the meantime, Jamal Crawford is worth a speculative add if you needs threes. Austin Rivers started on Saturday but looked horrible, scoring 10 points on 4-of-12 shooting with minimal counting stats. He is nothing more than a punt play in DFS lineups.
Nikola Vucevic, Magic: Last Wednesday in Houston, Vucevic banged knees with ex-Magic player Dwight Howard and missed the rest of the game. Vooch was diagnosed with a bone bruise of the right knee, and is listed as day-to-day for the time being. On Saturday, he told reporters that he was still experiencing pain but "it's not as sore and painful today."
Needless to say, this isn't ideal but it could have been a lot worse, so his owners should breathe a sigh of relief and not be overly upset at him missing a few games. Until he returns, Dewayne Dedmon will be starting at center for the Magic and through two starts he's averaged 30.1 minutes, 11 points, 6.5 rebounds and three blocks while shooting an impressive 85.7% from the foul line on seven free throw attempts per game. So, add Dedmon and use him as a solid filler until Vooch returns likely at the end of this week or possibly early next week if the pain lingers longer than expected. Treatments like acupuncture, physiotherapy, and the use of CBD products could help to reduce pain during recovery. The compound found in marijuana can aid in the treatment of sports-related pain, while alleviating a range of mental impediments brought about in athletes. The latter can include stress, performance anxiety and likewise. Pain, whether physical or psychological, can be managed through CBD. And its experience can be further elevated through the use of top-notch accessories (The Freeze Pipe glass bongs, for example) from reliable e-stores. However, marijuana for all such purposes should only be taken after consulting with a physician or medical professional.
Robert Covington, Sixers: It turns out that maybe Covington should have taken the full two weeks off when he previously injured his MCL in the preseason, because after just one game, he suffered a setback that is again expected to cost him two weeks. Expect the Sixers to proceed with a lot more caution this go-around, so even expecting him back right at two weeks may be a little optimistic.
The small forward minutes left vacant have been split between Jerami Grant and Hollis Thompson. Neither guy is much of a fantasy asset to those in standard sized leagues, but for being a wing, Grant does rack up the blocks. Grant has seven blocks in the three games he's started since Covington was re-injured.