2015-16 Fantasy Basketball: Week 7 Preview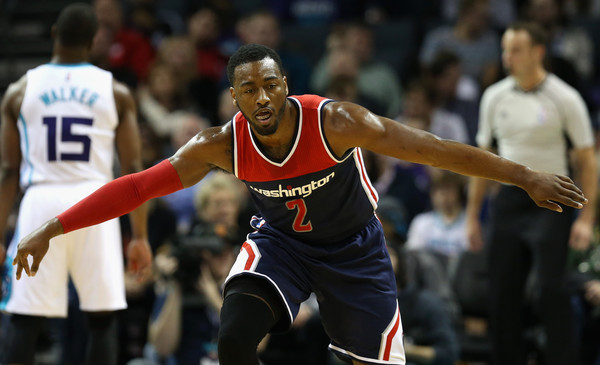 4 Games: BOS, CHA, CHI, DET, LAC, LAL, MEM, MIA, MIL, MIN, NY, OKC, PHI, PHO, POR, SA, TOR, UTA, WSH
3 Games: ATL, BKN, DAL, GS, HOU, IND, NO, ORL
2 Games: CLE, DEN, SAC
ON FIRE
James Harden – SG – Houston Rockets
I have never been shy when it comes to my criticism for James Harden throughout his career, but I'm going to give him credit for this past week from a fantasy standpoint. Personally, I still believe that James Harden is slightly overrated as a basketball player, despite the numbers that he puts up, but lets talk about him as a fantasy player. This past week, Harden averaged 27.0 points, 8.0 assists, 7.2 rebounds, 1.8 three pointers made per game. He is also averaging 11.6 attempts per game at the free throw line, making 9.6 of them. There is no denying Harden's ability to get to the free throw line and convert at the highest level, and this week was no different. Steph Curry might be the only player in fantasy basketball that is better statistically, and unless Curry can keep up his historic pace, Harden can contend to finish the season as the number one player in fantasy basketball.
John Wall – PG – Washington Wizards
It was a slow start to the season for the Wizards franchise player, as he is still only shooting 42% for the season, even after his recent surge. In the past week, Wall has averaged 28.7 points, 10.0 assists, 5.3 rebounds, 2.7 three pointers per game while shooting 53% from the field. Wall has been on an absolute tear of late, not only scoring at a high rate, but averaging 10 assists as well. He had three double-doubles in the last four games and is finally starting to play like the elite first round draft pick that people invested in. His price in DFS has been on the rise, especially with the recent revival, but he is still not as expensive as the Curry and Westbrook types of the world. However, Wall did injure his knee in Sunday's matchup against the Mavericks, which would be detrimental to his momentum if he has to miss any time because of the injury. The initial report of Wall's injury suggests that he might be able to play Monday against the Heat, which would suggest that it's nothing too serious.
ICE COLD
Kevin Love – PF – Cleveland Cavaliers
Kevin Love has been quite the surprise to begin the 2015-2016 season, clicking with LeBron James as the two primary scorers while Kyrie Irving misses time with his knee recovery. However, over the past week, Love averaged just 9.3 points while shooting 27% from the field. He is still rebounding well, averaging 8.7 rebounds per game over the last week, but he is simply just in a funk, as are the rest of the Cavaliers players outside LeBron James. Kyrie Irving is set to return to the lineup here in the next month, which would negatively impact Love's value moving forward. Last season as a part of the new big three in Cleveland, Love averaged just over 16 points per game, almost a 10 point drop off from his days in Minnesota as the primary scoring option. While Love will never return to his glory days with the Timberwolves, he can still be a valuable fantasy contributor with his unique ability to score, rebound and shoot 3-pointers. The good news for Love owners is that he was likely not drafted to contribute at a high level like he has been, but the bad news is, he will likely not be a top-10 fantasy player moving forward like he has been this season. Look for Love to snap out of his shooting slump, however, and you should be able to enjoy a couple more weeks of the Kevin Love we've seen all season before Kyrie Irving comes back.
Three Stream Options
Jon Leuer – PF – Phoenix Suns
Jon Leuer, along with Alex Len, has filled in quite nicely for the Suns while Markeiff Morris rides pine and Tyson Chandler sits out with an injury. Leuer and the Suns play four times this week, and even if Markeiff Morris returns to the starting lineup for the Suns, Leuer will serve as the primary substitute down low as long as Tyson Chandler misses time. Morris returned to the lineup on Sunday against the Grizzlies, but he received a DNP-CD. Leuer can score, rebound and also plays good defense as well, chipping in with blocks and steals occasionally.
Patrick Beverley – PG – Houston Rockets
Ty Lawson has been a complete bust for the Houston Rockets this season so far. There is no sugarcoating it. In fact, Beverley has taken over as the primary point guard in Houston these days, going back to what they know and what got them to the Western Conference Finals a year ago. Beverley has been extremely efficient from the field, making nine of his last 13 shots over the last two games, scoring 14 points in each contest. He isn't going to light up the score sheet, but as long as he sees 30 or more minutes per night, you can count on double digit points with a few steals as well per game.
Tony Wroten – PG – Philadelphia 76ers
Wroten returned from his knee injury on Saturday, playing 13 minutes and scoring four points in his first action of the season. Wroten will likely be eased back into action for the next week or two, but could be a great addition moving forward. TJ McConnell and Isaiah Canaan haven't exactly played to a level that is going to keep them from losing their job to Wroten, who has shown the ability to contribute more than Canaan and McConnell have so far this season. All of this is assuming that Wroten can return to his normal self before he suffered the ACL injury. Wroten shot just 40% from the field in 2015, but averaged 16.9 points and nearly six assists per game. Wroten will not turn into the fantasy contributor like Robert Covington has turned into all of the sudden, however, could be more than just a temporary addition once he gets regular minutes.
Games of the week
Monday – Phoenix Suns vs. Chicago Bulls
The matchup between Jimmy Butler and Eric Bledsoe at shooting guard is going to be a fun one on one game within the game as the Suns head to Chicago to take on the Bulls.
Tuesday – Golden State Warriors vs. Indiana Pacers
The Warriors play just three games this week, all on the road, with their first one coming against Paul George and the Indiana Pacers. George is coming off a career high 48 point outing against the Jazz, where he would knock down eight three pointers in the process. Will the Warriors ever lose? If they do, it's going to come against a team with a player like Paul George.
Wednesday – San Antonio Spurs vs. Toronto Raptors
No one talks about either of these two teams because of the team at the top of their respective conferences, but this could very well be a preview of the NBA Finals in June. Kyle Lowry is having a career year for the Raptors, as the Spurs just keep trucking along as one of the best teams in the NBA yet again.
Thursday – Los Angeles Clippers vs. Chicago Bulls
There will be a lot of All-Stars in the building for this one. DeAndre Jordan, Cris Paul (maybe), Blake Griffin, Jimmy Butler, Derrick Rose, and Pau Gasol headline a game between two playoff teams.
Friday – Washington Wizards vs. New Orleans Pelicans
The primary reason for me picking this game is because I am going to be in attendance. I don't get to go to too many NBA games, so I take advantage every chance I get to see a game when I'm in a city that has a team. I will be in New Orleans on Friday and I'm looking forward to seeing John Wall, Bradley Beal, Anthony Davis and Tyreke Evans square off. The Pelicans are playing better since the return of Tyreke Evans, as they host the Wizards on Friday night.
Saturday – Golden State Warriors vs. Milwaukee Bucks
Again, will the Warriors ever lose? Milwaukee has already knocked off Cleveland at home this season, but the Warriors are proven to be much better than everyone so far this year.
Sunday – Memphis Grizzlies vs. Miami Heat
Marc Gasol and Hassan Whiteside at the center position and Zach Randolph against Chris Bosh at the power forward spot will be where this game is won. However, this will be the first time Mario Chalmers will face his former team where he spent his entire career until early November. Chalmers and the Grizzlies will head to Miami to take on the Heat for the game of the day on Sunday.