2015 Fantasy Basketball: Tim Duncan, Pau Gasol lead NBA's All AAR-PER Team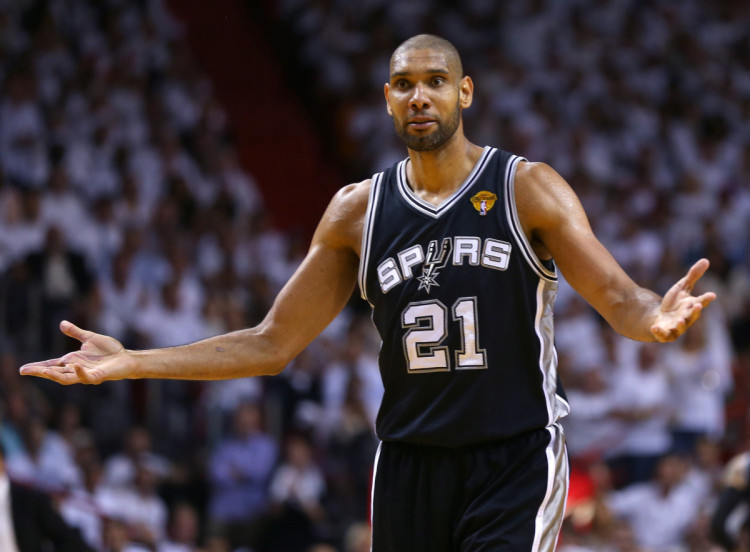 Like all humans (no, vampires are not human. They used to be humans), NBA players also age. For most athletes, their play deteriorates as they grow older, but for a small, unique group, their game may only suffer from the slightest regression.
They may be few and far in between, but when a player can produce quality numbers at an advanced age, we are forced to take notice. Father Time is a fickle gentleman, but he has blessed a small lot with what seems to be a map to the Fountain of Youth. While others their age are collecting NBA retirement checks, these guys are on the court and helping your fantasy team win a championship.
Tim Duncan, Spurs (age at start of 2015-16 season: 39 years, 186 days)
Duncan is the senior statesmen of, well, the seniors in the NBA. He will be the second oldest player to suit up this season (Andre Miller is a month older), and shows no signs of slowing down. The Big Fundamental helped lead San Antonio to an NBA Championship in 2013-14 — his fifth title with the team — and according to Las Vegas oddsmakers, the Spurs will open 2015-16 as the favorites to win the Western Conference.
Duncan has of course taken a reduced role with the team as he enters his 19th season with the club. But less minutes hasn't meant a big drop in production from the 15-time All-Star. Last year, Duncan averaged 13.9 points, 9.1 rebounds, 3.0 assists, 0.8 steals and 1.7 blocks per game. His shooting percentage (51.2) was the highest it's been in five years and he also had his second-highest free throw percentage since his third year in the league. One could say his per minutes efficiency has improved, and when you look at that statistic, you'd see that it had.
PER is a calculation of a player's per-minute production. ESPN's John Hollinger created the measure to give us a better perspective on what a player's overall value was when he is on the court.
Hollinger's explains the stat in his own words:
"The PER sums up all a player's positive accomplishments, subtracts the negative accomplishments, and returns a per-minute rating of a player's performance."
Duncan's PER of 22.69 was 14th in all of basketball last year! While his minutes went down — and they only went down ever so slightly — his production per minute didn't wane. In fact, his on-court output increased from the previous season.
The Spurs added some big men this off-season — namely LaMarcus Aldridge and David West — and they will help coach Gregg Popovich rein in Duncan's minutes. But as we can see above, that's not necessarily a bad thing. Whether or not his court time dips, what we do know is that his production won't, and that makes Tim Duncan a valuable asset in all redraft fantasy basketball leagues.
Pau Gasol, Bulls (age at start of 2015-16 season: 35 years, 114 days)
Leaving LA for Chicago was like a shot in the arm for Pau Gasol's career. The Spaniard made a name for himself by garnering four All-Star appearances and winning two NBA Championships in 13 seasons with the Grizzlies and Lakers, so signing with the Bulls was a big step for him, and it proved to be a wise one.
After averaging 18.4 points, 10.3 rebounds and 1.4 blocks during his first four full seasons with the Lakers, his final two campaigns in LaLaLand left a little to be desired. For most players, we'd be happy with 15.7 points, 9.2 boards and 1.4 blocks, but not when we were expecting numbers like he had put up in previous years.
Not only were Gasol's numbers down during his penultimate and final seasons in Los Angeles, but he thoroughly struggled to maintain health, playing in just 109 of a possible 164 games. He dealt with foot, back and knee problems, but all that seemed to go away with Chicago, as the big man played in 78 games for the Bulls last year. He did injure himself in the postseason, which contributed to the Bulls' loss to the Cavs, but he has reported no concerns heading into 2015-16.
His first season with the Bulls ranks as one of the best of his career, and the 7-footer will look to build on that. Gasol played a lot of minutes last year — his most since 2010-11 — but with Tom Thibodeau out as coach and Fred Hoiberg taking over, we can assume more care will be placed on preserving players for the playoffs. Thibodeau was known throughout fantasy circles as a coach who ran his players into the ground, which always led to them petering out when it counted most — in the playoffs. Joakim Noah, Nikola Mirotic and Taj Gibson offer plenty of frontcourt help and Gasol should receive the proper rest.
Rest, of course, isn't a bad thing for a 35-year-old power forward/center. The same theory we applied to Tim Duncan also applied to Gasol; as long as his per-minute production can maintain the same levels as it did last year, there's no reason to panic over any sort of minute limitations Gasol may have. Gasol's PER of 22.73 ranked 13th in the NBA last year — one spot ahead of Duncan — and it was his best mark since that previously mentioned 2010-11 season.
Pau Gasol is a great player to own in fantasy because he's a big man that doesn't hurt you anywhere. Many PF/C-eligible players bring down your free throw percentages and give you a zero in assists, but Gasol does anything but. He holds a 75.3-percent career mark from the charity stripe and shot 80.3 percent there last year. He's also averaged 3.2 dimes per game during the course of his career, giving fantasy teams an oft-needed 10+ extra assists per week. Since he entered the league in 2001-02, those 3.2 assists per game rank fifth among all players 6'10" or taller, trailing only Blake Griffin, Vlade Divac, Kevin Garnett and Lamar Odom during that span.
There really aren't any negatives to owning Pau Gasol and owners should have no qualms with drafting the Bulls big fella for the upcoming fantasy season.