2016-17 Fantasy Basketball: Fantasy Hoops Owner's Manual — Week 2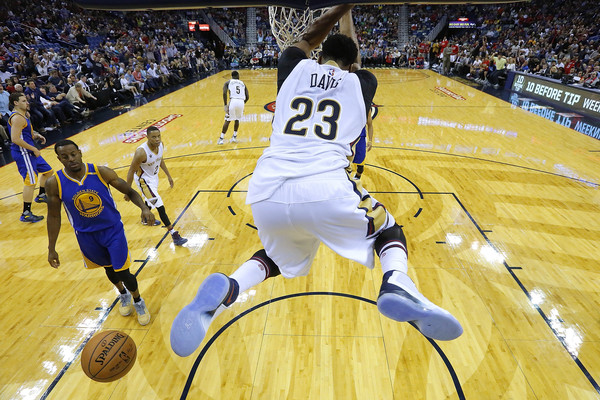 Welcome to the very first edition of the Fantasy Hoops Owner's Manual. This season I will only be able to produce one article per week, anything else is just an added bonus, but don't worry because this will be packed with all of your fantasy essentials weekly. I will cover waiver wire targets, streaming options, players on the rise and decline, injury news and then I'll also add in buy-low and sell-high targets, players you can feel free to drop, and other random notes as seen fit. If you send me a good question on Twitter or in the comments section of this article, I may choose one or two to give expanded answers to if I feel it is something that would be informative to a good majority of my readers. Let's not waste any more time, hope you enjoy it.
__
The Week That Was
The first week of the regular NBA season is in the books, and it was full of excitement as always. Anthony Davis showed us why he was in the number one fantasy player overall conversation the last two preseasons, but the reason he fell to the mid-to-late first round in most ranks was not because of what he does when healthy, it's the amount of time he misses due to injuries. Through three games though, he's been a monster much scarier than the ones currently airing on Halloween horror marathons on TV. Brow came out in a frenzy scoring 50 points in the opener, followed up by 45 points in their next game. After three games he's averaging 37.6 PPG, 12.7 RPG, 2.7 APG, 3.0 SPG, 3.0 BPG while shooting 50-percent from the field and 82% from the foul line on 13 FT attempts per game.
Kawhi Leonard also was a standout week one performer, quickly letting people know that he does have another level to his game, and looks like he's capable of hanging in the end of year MVP discussion if he keeps it up. While his rebounding numbers are down thus far from last season, but his assists are up about 1.5 per, his scoring has been elite at 28 PPG and he's getting to the line for almost six more FTA per game, and shooting 95% from the stripe at 10/FTA is a HUGE benefit in fantasy. I look forward to seeing if he can keep this up along with the 3+ SPG.
Additional week one notes:
– Russell Westbrook is averaging a colossal triple-double (38.7 PPG – 12.3 RPG – 11.7 APG) after three games. I would say the over/under on his trip-dubs this year would be around 28.5 at this point, and I'd bet most would take the over on that.
– Myles Turner is off to a blazing start (21 PPG – 10 RPG – 3+ BPG) that even his biggest believers have to be amazed by. I ranked him a little lower than most because I felt he'd have a good bit of inconsistency in his sophomore season as well as the Pacers being a lot more crowded talent-wise this year, but as of this moment I am feeling cowardly for that, but we'll see how it goes.
– After attempting only three 3-pointers last season (making two), Marc Gasol has shot 13 in the first three games of this season, making six. That's tied for most threes made in the league among PF/C with Nikola Mirotic. Despite shooting 46% from distance, Gasol is shooting a putrid 39% from the field thus far, and playing a few less minutes this year has shown a decrease in his already sub-optimal rebounding. If he makes 1+ trey a night this season, that's a great addition to his overall solid arsenal, but if his boards and assists stay down, his fantasy value doesn't really move.
Waiver Wire Targets
Players owned in less than 50% of ESPN leagues
TJ Warren (owned in 48% of ESPN leagues) – If you're in an active league and you didn't instinctively make this add already, he's probably gone by now. If you happen to be in one of the 52% of leagues that he's still floating on the wire in, grab TJ Warren up. While I'm not sure he stays this hot all season, he's on fire at the moment and logging 30+ minutes at SF for the Suns. I think you can expect his averages to drop towards a mean of 14 PPG – 5 RPG – 1 APG – 1.25 SPG – 0.8 3PM/G, which is solid, not stellar, but he's still worth grabbing for now until he cools off or proves that he can outdo the above mentioned projection. If you do own him already, I wouldn't shy away from selling him high at all, because while I like him, I do project a bit of a drop in his stats, so he's the perfect guy to put as the second piece in a 2-for-1 offer to upgrade one of your mid-round guys to an early-round guy.
Taj Gibson (27%) – There's a reason I stuck my neck out putting Taj inside my top-100 in both H2H and Roto formats in the pre-season. I knew with Pau Gasol and Joakim Noah out of the picture, the Bulls would prefer to start Taj for his defense and rebounding and have Mirotic come off the bench to score on the second unit. When Taj gets PT, he typically delivers a very fantasy friendly stat line, which through three games has been the case: 14.7 PPG – 9.7 RPG – 0.7 SPG – 63.6% FG. His blocks haven't kicked in yet with just one in three games, but he's averaged 1+ BPG each of the past seven seasons, so it's easy to project his blocks rising the rest of the way also. He should be owned in all leagues.
Nikola Mirotic (36%) – Sticking in Chicago, Mirotic isn't a guy I have been quite as high on as other fantasy writers the past couple of seasons, but he should still be owned in most fantasy leagues, especially after his promising start to the regular season after an ugly preseason. It's apparent that he and Taj both will play anywhere from 23-30 minutes nightly, and that's enough for both to produce in the categories that they specialize in. Taj is the points/rebounds/blocks/FG% guy and Mirotic is the points/3PM/rebounds guy, and Miro could def average near one block a game. His FG-percentage is where he hurts you though, and that's mostly because over half of his FGA come from beyond the arc. If he could somehow keep his shooting around 44%, it'd be a big boost to his overall fantasy value.
Ish Smith (35%) – This is more of a temporary add than one to cling on to, as the fantasy value for Ish relies totally on the health of Reggie Jackson. RJax is expected to miss another 10-15 games, so in the mean time, if you need assists, Smith is a great filler as he's averaging over 7 APG through three games. His scoring and shooting efficiency is up and down, so aside from the dimes, he can't be counted on for a whole lot, but he's still worth owning as a temporary assists booster since that's not the easiest stat to boost via the wire generally.
Patty Mills (14%) – Tony Parker is 34-years-old and far from his prime, while Patty Mills is entering his prime, coming off an Olympics in Rio where he really stood out for the Australian national team. In seven Olympic games, Mills averaged 21 points and three 3-pointers. That hot hand has carried right over into the NBA season where he's knocked down 13 treys in four games, averaged 13.3 PPG (18 points in each of the last two games) and 2.8 assists, plus has played 23-25 minutes the last three games. Signs are pointing up for Mills as he'll continue to split the PG minutes with vet Tony Parker and start when TP rests. The assists are very up and down, but he looks to be a reliable source for scoring and 3-pointers, and if Parker ends up missing any time, he'd get even more of an uptick in value.
Digging Deeper
Wire targets in deeper leagues, keep an eye on in standard
Sean Kilpatrick (5.5%) – The Nets don't have a whole lot of bright spots this year, but Sean Kilpatrick has demanded to be recognized with his play. We have seen exactly what made Kilpatrick such a D-League beast in the past, and he's showing now that he can be a legit bench spark in the big league now. Sean is playing around 25 minutes a night and that should stay on par as well as his averages of 14.8 PPG – 2.8 RPG – 1.3 APG – 0.8 SPG – 1.5 3PM/G. He's definitely worth a look in 14-teamers and deeper, and if anything ever happened to make Bojan Bogdanovic miss time, Kilpatrick would have a shot to be standard league worthy.
Dewayne Dedmon (5.3%) – You've seen me mention the rebounding numbers for Kawhi being down a bit, and anyone who drafted Pau Gasol is tilting why he's played under 25 minutes in three of four games. The answer is Dewayne Dedmon. Dedmon is playing some terrific ball off the bench for the Spurs averaging 7 PPG – 7+ RPG – 2 BPG – 52% FG – 80% FT in 18 minutes per through four games. His defensive prowess is allowing Kawhi to focus more on his offensive game and perimeter defense, and Pau is slowly becoming acclimated to the system the Spurs run. So, between Pau not needing to play 30+ MPG at his age to stay fresh for what matters most, and the great play from Dedmon, Dewayne should keep seeing close to 20 minutes and similar stats for the long run. If Pau or LaMarcus Aldridge miss time, Dedmon would see even more PT which he'd surely make the most of. For now, Dedmon is a 14+ teamer guy, or can be used as a rebounds/blocks guy as needed in standard formats.
Buy Low
I know I was higher than probably anyone on Ibaka, and that probably was pointed to me being a Magic fan in denial, but I really do believe that Ibaka will finish the year near top-20 value. He's gotten off to a really bad start after a pretty great preseason, and his owners right now are probably a good bit concerned. Ibaka is at 12.3 PPG – 5.3 RPG – 0.7 blocks – 0.7 treys through three games, all areas I expect healthy boosts the rest of the way. I have him projected at 16 PPG – 8 RPG – 2.25 BPG – 1.3 3PM/G and rock solid percentages this season, so if you can get him at a nice discounted price while the new-look Magic are still learning how to play together, go for it.
Sell High
I love Nurkic overall and he's playing damn good ball right now, but the Nuggets are always messing with their rotations to the extent that I think his hype makes for the perfect time to sell. Let me say ahead, if you've built your H2H team to punt percentages and be big man heavy, hold Nurkic right where he is, because he's ideal for that strategy. Nurkic isn't very efficient for a PF/C type who usually make a living cleaning up in the paint padding their FG%. Jusuf shot 43.8% this preseason, and when he saw inflated minutes (38) this past game, he was a poor 5/14 (36%) from the field. He's also bad from the foul line shooting just 63% through three games and 61% from the stripe last season. He's not a total percentage destroyer, but he's not beneficial there at all.
I do think Nurk can stay in the low end double-double range with around 1.5 BPG the rest of the way if healthy, so don't sell him for scraps. I'm simply saying that if someone is willing to pay you a top-40 price tag for Nurkic right now, I'd jump on that opportunity. In Roto leagues you know I am anti-punting, and while his percentages aren't world ending, the fact that he's a detriment in two categories makes him a guy I am not willing to hold onto, so he'd be shipped ASAP there.
Injury Report
Ricky Rubio – Rubio suffered a sprained right elbow Sunday night and has been ruled out indefinitely aka who the hell knows how long he'll be out. I can't begin to speculate on how much time to expect to be without Rubio, but from the sounds of it, it won't be this week for sure. Kris Dunn (65%) should be owned in all formats in the absence of Ricky.
Chandler Parsons – Parsons (knee) is still not ready to go, and while his coach has hinted at him returning in as near as a week, I wouldn't expect to have him back — especially playing at a near normal level — for at least another 2-3 weeks. The Grizzlies aren't going to rush along a guy coming off of knee surgery (not his first) who they just gave a 4yr/$94mil deal to.
Tyreke Evans – Via Tyreke's Snapchat (what a world we live in these days), he let it be known that he was targeting late November to early December for his return from his knee procedures. He's definitely worth stashing in all formats. He'd be a baller and a half while Jrue Holiday is out also.
Marcus Smart – Smart is set to return on Wednesday night of this week, so basically, if you're reading this, he's back. Marcus will eat up most of the 24 MPG that Terry Rozier had been playing as the primary backup guard, so you can expect Smart to play around 25-28 minutes per game once he's 100%. He's very inconsistent and not an efficient scorer, so he's not a must add in 10 or 12-teamers depending roster depth, but if you're in desperate need for guard stats and can handle a bad FG-percentage, he does have solid upside of a top-100 player if he can improve his consistency.
Patrick Beverley – Bev is expected to return in 2-3 weeks, but he is not a guy I would worry about stashing in standard leagues. His few assists, 3-pointers and steals do make him a decent bench guard for 12+ teamers when active though. In the end though, the ball is owned by James Harden in Houston, so Pat isn't going to be a top-120 player by any means, more of a streamer/specific stat needs guy.
Michael Carter-Williams – MCW is expected to miss 2-3 weeks with a knee injury. In his absence Isaiah Canaan makes for a decent streaming option if you needs scoring and treys with a few assists playing around 20-25 minutes behind Rajon Rondo. I'm totally fine dropping Carter-Williams who is not a fantasy guy that I am a fan of at all.

—
For more fantasy hoops analysis and to have any questions you may have answered, follow Zack on Twitter @BigZack44