2016-17 Fantasy Basketball: Fantasy Hoops Owner's Manual — Week 4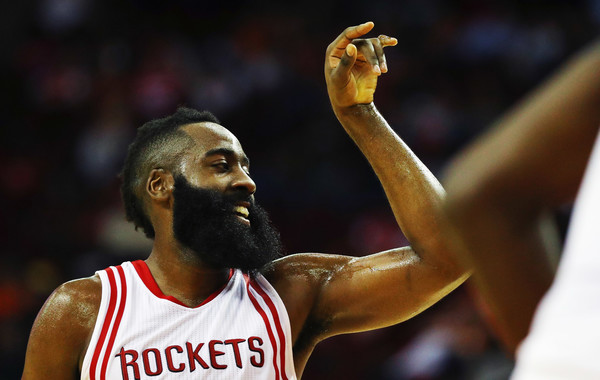 Welcome to the latest edition of the Fantasy Hoops Owner's Manual. This season I will only be able to produce one article per week, anything else is just an added bonus, but don't worry because this will be packed with all of your fantasy essentials weekly. I will cover waiver wire targets, streaming options, players on the rise and decline, injury news and then I'll also add in buy-low and sell-high targets, players you can feel free to drop, and other random notes as seen fit. If you send me a good question on Twitter or in the comments section of this article, I may choose one or two to give expanded answers to if I feel it is something that would be informative to a good majority of my readers. Let's not waste any more time, hope you enjoy it.
All stats are through Sunday, November 13th.
__
Player Notes
Three weeks down, twenty-one to go. After the first three weeks of the season, James Harden sits atop the overall fantasy rankings in 8-category leagues, which is right where I had him ranked in my final updated rankings. While I'm not surprised he's #1 right now, I am amazed at his numbers, especially his assists. I thought Harden would sit around 8-9 APG, but after nine games played, the Beard has averaged a whopping 13.0 APG, 2.9 higher than Russell Westbrook who has the next highest average. Harden is also shooting an impressive 48.5-percent from the field on his 19 FGA per game, he was right about 44-percent last season, so expect some regression there of course. Despite being a top fantasy guy the past couple seasons, Harden is well on his way to having his best fantasy showing yet, and he should top several of his previous career highs in PPG, RPG, APG and possibly even 3-pointers made.
DeMar DeRozan has always been a good scorer, but this year he has taken his scoring to the next level. DeMar has scored 32 or more points in all but one of his nine games thus far, and he leads the league in scoring at 34.0 PPG, despite knocking down just three 3-pointers on the year. Aside from the foul line where DDR has always been top points gainer from, check out his current shot chart and just how great he's been in the mid-range: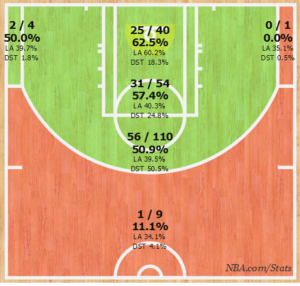 Simply outstanding. His other numbers haven't gone down much if any either. DeRozan is still averaging 3.2 APG and 1.4 SPG. I would be shopping DeRozan if I owned him though, not because he can't continue to be an elite scorer, but because I'd prefer to get a guy who contributes threes as well. I would be trying to pair DeMar with one of my lower end, maybe waiver wire added players who is doing well currently, for a top-15 player like Isaiah Thomas, Kemba Walker or if you need rebounds more, Blake Griffin. Obviously you should take a swing for the fence and try to trade for top-tier guys like LeBron James, Kawhi Leonard, John Wall, Giannis Antetokounmpo and such before you go to the first types I mentioned. By no means should you be panicking or feeling like you HAVE to move him, I'd just test the market while his stats and name are sizzling.
Waiver Wire
Jrue Holiday (Owned in 49.9% of ESPN leagues) – If you're in one of these leagues that Jrue is still floating around, dive in without hesitation to roster him. The Pelicans are in a rough spot, and when Jrue gets up to full speed and conditioning, he's all set-up for a very nice usage rate, and with that will be straight 24-karat fantasy goodness. I had Jrue ranked inside my top-45 of initial rankings before the awful news of his wife's situation came up. Adding him off the wire is basically getting a 5th round pick (or better) for free.
J.J. Barea (42%) – Why is my man JuJuBe not owned in basically all leagues yet? Sure, his FG-percentage is sitting at just a smidge over 40%, but he's doing work elsewhere in the box score. 17.3 PPG – 4.0 RPG – 5.6 APG – 2.3 treys – 0.7 SPG and over 96-percent on 4 FTA/gm is more than enough to be owned even in 10-teamers, and he was playing well before Deron Williams got hurt, so it seems likely this trend will continue on awhile.
Josh Richardson (5%) – Wait, did I just say 5%? That can't be real. I mean, he's not an absolute must add just yet, but how is it that at least a quarter of these 95% of leagues he's available in haven't noticed J-Rich returning from injury and seeing his minutes increase in each game (12, 25, 28, 33), including a start in place of the injured Goran Dragic his last time out. In that start Richardson had a fair showing of 12 points, three rebounds, four assists, two steals and one block on 6/16 shooting. Last season post-break, JRich played 29 MPG and averaged 10.2 PPG – 2.8 RPG – 1.9 APG – 1.0 SPG – 0.7 BPG – 1.7 treys while shooting 50% from the floor. This year there will be more opportunity with Dwyane Wade out of the picture. I'd be adding Richardson in most 12-team leagues, definitely in anything deeper than that, and especially in roto formats.
Maurice Harkless (20%) – In need of threes and blocks without having one or both of your percentages killed? Look no further than Moe Harkless, who has hit two 3-pointers and swattted 1+ shot in five straight games while shooting above 50% from the field and 80% from the foul line. The scoring is up and down, but 12.4 PPG and 4.9 RPG isn't something I'd complain about as long as the threes and blocks are there. He should be owned in most 12-team leagues.
Rondae Hollis-Jefferson (13%) – Starting to see a little (Ron)daelight from the promising 2015 rookie, RHJ. Over the past four games he has averaged 13 PPG – 7.5 RPG – 4 APG – 1.3 SPG – 0.5 BPG and do a great job of getting to the foul line and knocking them down, going 23/25 in that span. You can't rely on him to keep up his recent 52% from the field, but you have to hope he can hold steady in the mid-40-percent range, rather than the pathetic 34% he's shot so far on the year. For the record, I'd still rather own Sean Kilpatrick (33%) who I wrote up in this spot two weeks ago, and rookie Caris LeVert will be yet another wing added to this equation soon, so if any of them cool off for a bit, don't feel like you can't cut ties. RHJ is a 12-team add right now in hopes that he stays ballin.
Lucas Nogueira (9%) – Bebe is on fire, and will he cool off as soon as Jonas Valanciunas gets his minutes likely bumped back up to 30+ per game, probably, but as we saw last season, never assume JV will get as many minutes as he deserves under Dwane Casey. Last season it was Bismack Biyombo who held down 22 MPG in the Raptors rotation and provided 8.0 RPG and 1.6 BPG. Nogueira though is slightly more competent on the offensive end, and has swatted 10 shots in four games since joining the rotation as the back-up center. 8.3 PPG – 7.3 RPG – 1.8 SPG – 2.5 BPG – 88% FG – 75% FT in that four game span. Those defensive numbers are reason enough for a speculative add of Bebe for owners who need them in 12-team leagues and deeper. He may be a drop by next week, but is worth the temporary hold in case he continues to see 20+ MPG.
Injury Report
Al Horford – Horford is dealing with a concussion that has caused him to miss the last seven games, but the Celtics are optimistic that he'll practice in full either Tuesday or Wednesday. So, Al should be back on the floor playing his regular minutes by the weekend.
George Hill – Hill has been sidelined with a hurt thumb, but has taken part in a shoot-around this week, so he's nearing a return as well. If his owner is growing impatient, try to buy him low because he's an amazing fit for the Jazz, even if the return of Gordon Hayward will surely drop Hill's usage and overall numbers a tad.
Jae Crowder – As if being without Horford wasn't bad enough for the C's, Crowder has continued to be sidelined as well with an ankle injury. The team has said next week would be a best case scenario, so I wouldn't expect to see Jae back out there, especially in full capacity, until closer to Thanksgiving unfortunately.
Tyreke Evans – It sounds like Evans is going to start with at least some non-contact practice work this week, and could be back in the lineup by Thanksgiving. How long will he last before he's injured again remains to be seen, but if you have a worthless player at the end of your bench, Tyreke is worthy of stashing as he's easily a top-100 player when he's full-go.
Patrick Beverley – It looks like Beverley will finally make his season debut on Thursday, but I wouldn't expect his return to take the ball out of the hands of James Harden hardly, if at all. Beverley is just a scrappy fantasy guy who can get you sporadic points, treys and steals but not much else. His percentages aren't great either. He's not really worth owning aside from streaming in anything shallower than 14-teams.
__
For more fantasy hoops analysis and to have any questions you may have answered, follow Zack on Twitter @BigZack44