2016-17 Fantasy Basketball: The A-Z of Fantasy Hoops – Part I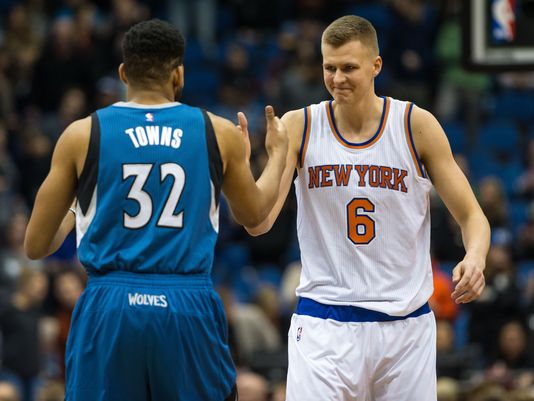 Guides are fun and so are rankings and the nit-picking of said rankings.
This isn't a dummies guide or anything, but there are some really obvious tips, tricks or strategies that are often over-looked in fantasy.
I've been playing since 2000…wow this was a winning team in 12 team 8-cat roto in 2000: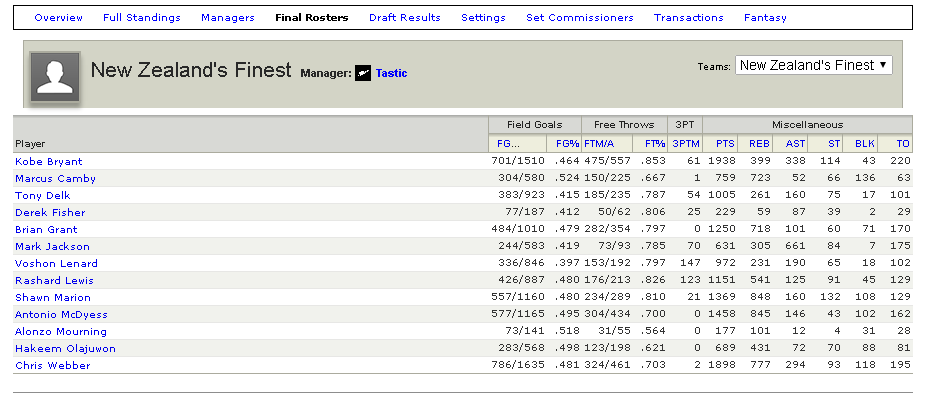 Anyway, each year new fantasy enthusiasts dip their toes into the fanta-sea, hoping to show their friends that they were right about Andrew Wiggins and wrong about nothing.
So here is part 1 of my mega rant, hopefully a couple of these points can help those of you who have questions or things you're sitting on the fence with.
As usual, I've got an eye on standard 8-cat roto, but I do touch on H2H or 9-cat roto at times too.
A for Active – don't get lazy.
Anyone who's been in a league with me knows I hit the waiver wire like Homer on a box of donuts. It's something you can typically do a couple of times a day, checking the box-scores or seeing who's trending or just going to your league page and seeing if anyone's done a rage drop. It happens, often. And typically it's early in the season when blood's pumping and a 1-8 performance on opening night is put under the microscope and confidence in said player bouncing back is thoughtlessly low.
B for Box scores – read, inhale, digest, absorb, peruse them.
Read, peruse, engross yourself in them. Don't ask me why but I still remember such box-score delights as Vladimir Stepania in 2001 posting 19pts-12reb-7blk for the Heat, or my fellow Kiwi (and Nets GM) Sean Marks dropping 16pt-13reb on 6-8FG off the bench for the Suns in 2008, or how about Ben Uzoh dropping a triple-double on the last day of the season for the Raptors? The point is, be fastidious and don't overlook someone getting more minutes than they usually do if there's a trend developing and everyone's healthy.
C for Careless – try to avoid rage drops or silly trades.
I got caught up in a H2H weekly matchup last season and rage dropped Marcin Gortat early in the season after a poor start. He proceeded to then hammer his way to his typical 13-10-1.6 line with that sexy FG%. Don't be careless and get trapped in the sprint when the season is an 82 game marathon. Trading players after a poor performance is silly – look at opening night last season for the Warriors' trio of Barnes, Dray and Klay. Gross.
D for Defense – Duh.
Defensive stats are huge and hard to find, especially late, so don't miss out on getting at least one elite steals guy early because the only ones late are multiple cat-killers like Tony Allen, Marcus Smart or Michael Carter-Williams. Similarly, get yourself a blocks guy early on unless you're punting in H2H, as only five players averaged at least 2.0 blocks per game last season. There are blocks to be found late in guys like John Henson or Jerami Grant, but these are stream option players for the most part and do you really want to draft them (except in DEEP leagues)?
E for Efficiency – avoid playing catch-up by starting on the front foot.
Once your shooting percentages get down, it is VERY hard to build them back up. Basic math for most standard leagues shows as a team you should be trying to get as close as possible to 47% from the field and 80% at the line. So for roto, that means no dice to DeAndre Jordan, Andre Drummond, Clint Capela or Dwight Howard. You could argue if you had a very high pick and took James Harden early, you could possibly avoid last in FT% with Drummond but you'd need to nail your picks and you essentially negate the massive FT% advantage obtained with drafting Harden. For reference purposes, you'd need to draft (in approx. order) Harden, Carmelo Anthony, DeMar DeRozan, Drummond, Danilo Gallinari, Ryan Anderson, Brandon Knight, Devin Booker, Jeremy Lin and Jamal Crawford, and even then ALL those players add up to 38.1 free throws made out of 48.1 attempts, for a good but not great 78%. Not to mention your FG% would be just 43% and everything else outside of threes would be for the most part, crap. Of course in H2H, percentages are typically the first thing to go, so if you punt, forget what I just said. If you don't punt, locking in percentages is very tricky but is doable with the right pairing of complementary players.
F for Free agents – a 6'8″ NBA mouse can find the cheese…at the end of the season.
Look for players about to hit FA after the season – they smell the cheese and you should too. Go here and look at the players who have the most to lose in terms of fantasy value and subsequent reality income. In saying that, it can't be ALL to do with the player's play, I mean look at what Timofey Mozgov got from the Lakers despite having less blocks than John Wall and almost 300 rebounds less than Ed Davis. I've seemingly negated my own logic, but tempt an NBA player with a big enough carrot and they'll grow 3 inches over summer and sprout a three point shot, guaranteed.
G for Games Played – walk, don't run.
Monitor your games played – don't sprint out of the gates and find yourself plus 8 games at point guard with the New Year approaching. In the same vein, don't let 'DTD' and injured players drag you down too much too early in games played. The obvious thing to note here is, the All Star break is February 19, which is NOT halfway through the NBA season. So most teams will play around 55-57 games before the All Star break and just 25-27 after. Catching up isn't easy when teams are playing 2-3 times a week over the last month as opposed to 3-4-5 during the first few months. H2H players, consult my guy Josh Lloyd's Basketball Monster schedule grid to nail your playoff match-ups down the stretch and of course ignore the games limit (for most leagues).
H for Hometown Favorites – win fantasy with your brain not your heart (unless you're from Golden State).
I'm a Suns fan, but I'm not taking Devin Booker top 30, even if I want to. [Dammit 34pts in 30mins!?]. There's nothing wrong with supporting your team and trying to draft one of 'your boys', but don't reach for them. One league I've been in for a good dozen years has a huge Lakers fan, so naturally we all drafted Andrew Bynum, Pau Gasol, Lamar Odom and of course Kobe Bryant a tiny bit earlier than we should have, because we knew that Laker could be traded for an upgrade. So look for a team named 'Celtic Pride' or 'The Rocketeers' and if you nab one of their guys late, aim high if you're trading with them.
I for Injuries – the unavoidable crusher of fantasy dreams.
They are a harsh mistress and a key facet of your season, so to reduce your own stress levels don't draft injured guys early. Also don't trade for injured/injury prone guys unless that player is Terminator Westbrook or you're buying it at the fantasy thrift-shop discount. There are different types of injury – I'm ok with a broken finger or nose, I'm not ok with Eric Bledsoe's ice cream cone knees or Joel Embiid's easter egg frame.
J for Juggling Act – best of both worlds is best.
Balancing your team, whether it be in Roto or H2H, is a juggling act. Balancing your mix of players in H2H isn't as important, because if you reach for DeAndre Jordan for example, you're throwing one of your juggling balls away and just pummeling your opposition into submission with a ball in each hand and P-U-N-T tattooed across both sets of knuckles. Roto friendly guys sometimes fly under the radar from a stats perspective, but the rankings will always show their value. For every high ranked 'star' like Kyrie Irving (46th in 8-cat last year per Basketball Monster), there's an under the radar glue guy like Jae Crowder (51) or Gorgui Dieng (60) just behind them.
K for Keep track of stats – stay alert and don't let someone else tell you player X is now starting and crushing it.
Watch for trends, such as a player developing a three point shot like Channing Frye in 2009, as he went from 0.17 a game in 2008-09 up to 2.1 a game the year following. Or how about everyone's favorite number two bust pick Marvin Williams, as he's seemingly added a string to his mediocre bow it twice! After averaging just 0.5 threes per game through his first eight seasons, he suddenly learnt how to shoot from outside, knocking down 1.5 per game at 38% over the last three seasons. Not only that, after being shifted to power forward as a full-time starter this past season, he managed to top his career high in blocks by over 30. No small feat considering his previous career high was 46 way back in his younger, athletic years, in 2009-10 to be exact.
L for Love Thy Neighbor – like that book says to.
Try to be cordial to your league, you never know when you'll want to deal with them. Don't low-ball them ridiculously and laugh Monty Burns style whilst clicking 'send offer'. Think 'why would they do it?' or you're dooming yourself from the start. I've found low-balling someone rarely works, though once a Mario Chalmers for Pau Gasol trade did somehow go through! There's nothing wrong with some playful jabs if someone (stupidly) has Dion Waiters and he shoots ofer a gazillion, don't rub it in, unless you know the guy and he can take a joke. That guy might have a sleeper you want and he might flat out refuse to deal with you if you're being a fantasshole.
—–
Check back for Part II later this week!
As always, hit me up on Twitter @macetastic to chat fantasy and reality NBA.