2016-17 Fantasy Basketball: The Fantasy Fix Draft Only League #1 Recap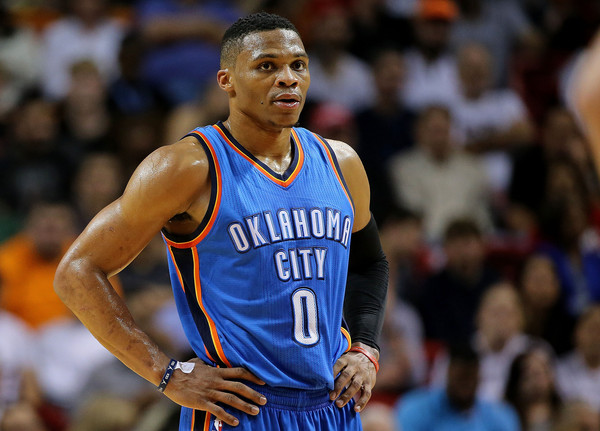 Hi everybody, it's Seth, your trusted fantasy sports writer. 'Member me? — it's been a while, for sure. I just went to look up when I last published an article and saw that it was written on parchment paper.
My life has been a little crazy with my 11-month-old baby daughter (as well as her boogers) clinging to me every second of the day, but the NBA season is just around the corner and that's as good of a reason as any to unretire.
Last year, I hosted a few draft-only leagues for The Fix, and since they're so much fun, I decided to bring 'em back again for the 2016-17 season. I will be recapping all three drafts — with the other two being conducted this coming Wednesday (October 12) and the following Thursday (October 20).
Here's a quick breakdown of the settings for the league:
11 teams (the 12th owner dropped out last minute) on ESPN
Rotisserie style
8 categories – PTS, REB, AST, STL, BLK, 3PM, FG%, FT%
15 players per roster – PG, SG, SF, PF, 2 C, 2 G, 2 F, F/C, 4 UTIL – no benches, no injured reserve
Some of you may not have participated in or seen a draft-only league, but they're a lot of fun and pretty simple to play. Basically, the whole league revolves around the draft; there are no roster moves allowed after you finish picking your players. That's right — no lineup setting, no trades and no adds or drops. The players you draft are the players you're stuck with from October till April, and there are different strategies that you may employ because of this. For instance, injured players are a lot riskier, as are players with an injury history. You may also want to avoid any players that don't have a firm grip on their spot in the rotation. Having a player ride the pine every night is almost as bad as them sitting out with an injury. All in all, I like draft-only leagues because they are quick — most drafts take about an hour — and there's no responsibility to your team after the draft has completed, which means you have an extra team to cheer for (and win money with) without reducing the time you spend in your other leagues.
Last year, I only recapped one of the drafts, but since I'll be doing write-ups on all three, I won't go into great detail (I have NFL DFS lineups to set!).
Before we go any further, let's take a look at everyone who participated, listed in order of where they picked, and where you can find them on Twitter:
Jesse Manginelli – @jessect6
Geoff – @LALocalOne
Rob DiPietro – @freehole23
Adam Estrada – @bigindastreetz
Michael Paraskevas – @mikpara
Brad Leibfried – @Leibfried6
Garrett Greninger – @ggreninger
Bill Lilien – @blilien
Seth Klein (me!) – @SethDaSportsMan
Joe Scholles – @joescholles
Goose – @edoEiv10
ROUND 1
No surprises here: Russell Westbrook, James Harden, Stephen Curry, LeBron James, Kevin Durant, Karl-Anthony Towns, Chris Paul, Kawhi Leonard, DeMarcus Cousins, Anthony Davis and Damian Lillard rounded out the top 11 picks …. Westbrook and Harden are easily the consensus 1-2 in drafts, though their order may flip flop depending on the owner's preference. I actually like Harden a little more …. Crazy to see Davis slide so much when he was a top three guy each of the last two seasons, but the drop is warranted, as he's had a lot of trouble staying on the court and his supporting cast is horrible, which could lead to a possible shutdown late in the season.
ROUND 2
Joe set himself up nicely in the blocks category by nabbing Hassan Whiteside with the 13th pick after snagging Davis in the first …. Al Horford could be a steal for Geoff at pick No. 21. The first-year Celtic is having a fine preseason and profiles well in this format as a center who can block shots while also knocking down threes.
ROUND 3
Rob may have reached a bit for Victor Oladipo with the 25th pick. I wonder how much volume he'll get with Westbrook handling the ball so much minus Kevin Durant, but he's gonna put up great stats regardless …. Michael admitted to reaching for Kristaps Porzingis, and I'm not totally disagreeing. The defensive numbers should be great, but there are a lot more mouths to feed in this revamped Knicks offense. But if you like a guy, you gotta take him when you can, because you never know if he'll be around when it's your turn to pick again … I'm not a big fan of Klay Thompson (pick 32) being taken so high this year. He's always been limited to 3s, points and good FT%, and the first two of those will take a hit with Durant in Oak Town.
ROUND 4
Tough break for Goose grabbing Gordon Hayward with the first pick in this round. Hopefully the dislocated finger doesn't keep him out long …. Bill took Nikola Jokic with the 37th pick, making him one of the first players I've seen in a while go in the first few rounds after being mostly undrafted last season …. Adam taking Nikola Vucevic one pick ahead of new teammate Serge Ibaka, who was selected by Rob, was a bit puzzling. Vooch's numbers are surely going to take a hit, especially since he doesn't offer many defensive stats. Ibaka is the big man to own in Orlando.
ROUND 5
Marc Gasol could either be a steal or a complete bust for Garrett at pick 51. There are a lot of questions surrounding Memphis' big man after off-season foot surgery and the Grizzlies are going to be one of the worst teams in the league offensively …. I took a bad beat in this round. The Pistons announced Reggie Jackson would be out 6-8 weeks with knee tendinitis a mere day after I drafted him.
ROUND 6
Evan Fournier is the unquestioned starting shooting guard in Orlando now, and I like that pick by Brad …. Geoff took Nerlens Noel with pick No. 65. Whether it's Jahlil Okafor or himself, Noel needs a trade for him to fully reach his potential …. Brandon Knight is a risky pick by Jesse at the end of the round. Knight has had trouble staying healthy and has to contend with Eric Bledsoe and Devin Booker for shots. I would've rather waited a couple of rounds and grabbed someone like Zach LaVine or Kentavious Caldwell-Pope, who both profile similarly to me.
ROUND 7
Round 7, otherwise known as the "Small Forward Round", saw five SFs go off the board in Chandler Parsons, Rudy Gay, Jabari Parker, Thaddeus Young and Danilo Gallinari. It doesn't seem like ESPN has added any multi-position eligibility yet, so we didn't have the luxury of plugging in many of the SGs and PFs that normally have additional SF eligibility. This is important to note for those of you drafting this week — the quality of small forwards drops off significantly after this round …. Of the five SFs taken here, Parker (picked by Michael) was the least exciting for me. Parker is a guy I'm staying away from in drafts. He has the "name" and "No. 2 draft pick" pedigree but offers very little outside of points and rebounds, and neither of those stand out.
ROUND 8
It took a while, but we finally have our first two Mavericks off the board. Dirk Nowitzki (Goose) and Harrison Barnes (Joe) went in succession with the 78th and 79th picks. Outside of the Nets and maybe the Grizzlies, the Mavs are the least appealing squad for fantasy purposes this season.
ROUND 9
I was glad to see J.J. Redick still available here. The Clippers SG has made exactly 200 treys in each of the last two seasons — one of only four players to do so — and has shot 88 percent from the line in his career. I began the draft very big heavy, so I'm hoping he can help offset that …. I liked the Emmanuel Mudiay pick by Brad. His percentages hurt, but he's one of the last players left with the potential to average more than seven assists per game.
ROUND 10
Buddy Hield went off the board with pick 101, and I like it for Joe. Like usual, the Pelicans are dealing with a lot of injuries, and now Jrue Holiday is expected to miss time while tending to his recovering wife. The opportunities should be there for the former Oklahoma Sooner …. Love the value Brad, Michael and Rob got with Robin Lopez, Rodney Hood and Jusuf Nurkic. All three players are primed for huge seasons.
ROUND 11
I normally hate Tristan Thompson for fantasy (and real life) purposes, but he fits Goose's team, as he really needed a guy to help shore up rebounds. Unfortunately, it's looking like he'll easily come in dead last in blocks …. Clint Capela is a nice pick for Adam. Dwight Howard's departure leaves Capela as the Rockets starting center and he should come close to averaging a double double with a couple blocks per game.
ROUND 12
Not a lot to say about this round, except that it was pretty ugly. I did like Garrett's pick of Dario Saric, who looks to be an early beneficiary of the Ben Simmons injury …. Jesse picked J.R. Smith with the final pick of the round, and he should give him a nice supply of three-pointers at a discounted price.
ROUND 13
The dumpster fire continues, but I LOVED Rob's Robert Covington pick. I can't believe he slid this far. I would have drafted him in the previous round if I didn't need more rebounds and FG% (I took Bismack Biyombo).
ROUND 14
Some serious upside picks here from Bill (Terrence Jones) and Rob (Joel Embiid) while $64-million man Timofey Mozgov barely made it onto a team before the draft concluded, thanks to Adam.
ROUND 15
The final round produced some quality sleepers in Ish Smith (Bill), who will serve as the Pistons starting point guard while Reggie Jackson is out, and Marcus Smart (Adam), who frankly never should have fallen this far. Matt Barnes (Geoff) and Taj Gibson (Brad) should also be viable fantasy assets with their expanded roles.
Thanks again for reading, and be on the lookout for recaps from Draft Nos. 2 and 3 in the coming weeks!