Daily Fantasy Basketball: Overvalued/Undervalued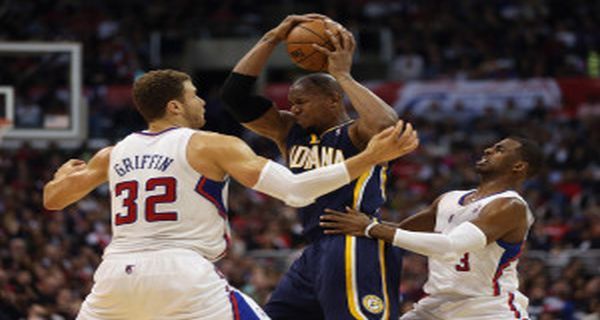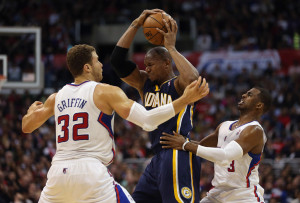 Overvalued
Blake Griffin has provided more flare than substance in recent weeks, with his thunderous jams no longer overshadowing diminishing returns on the court. Over a seven-game span since March 20th, Griffin is clocking in at 14 points on 35% shooting (31/88), six rebounds, 0.4 steals, 0.3 blocks and 2.4 turnovers per game. During the month of March he connected on just 18 of 68 jump shots for a frightful 26%. Still waiting on that jumper development? Don't hold your breath. He provides excellent assist production for a center eligible option (offset in part by high TO), but the remainder of his canvas leaves much to be desired. For an otherworldly leaper, Griffin continues to display zero shot blocking aptitude and his glass eating has been conspicuously absent in comparison to his first 150 games in the league.  Now apparently playing through a calf injury, daily owners need be extra leery of calling on his services. Griffin's daily salary has tumbled to $6,500 on DraftKings, but you can find bench options to outpoint him on a nightly basis in the hustle categories. Save your big bills.
Yes, he has the ball in his hands quite a bit, but Brandon Knight is a minimum wage player right now. Currently tagged with a $4,100 salary, which is higher than backcourt mate and much more attractive own Rodney Stuckey, Knight offers little upside to warrant his price. He ranks near the bottom rung of NBA point guards in terms of playmaking ability (4:2.7 assist: turnover ratio), and for a streaky shooter, he's taken an astounding 298 three-pointers against just 224 layups and 198 free throws. He made a total of eight free throws in the month of March. Lacking elite quickness or off-the-dribble creativity, Knight relies on low percentage jumpers to make ends meet. Indeed, none of this criticism even takes into account his extreme fragility surrounding persistent ankle issues. Real value can be found elsewhere.
Undervalued
Second-year power forward Markieff Morris offers a valuable commodity to daily fantasy owners; that of explosive potential. While not a model of consistency, Morris always leaves his mark in one category or another with the talent to impact all phases of the game at optimal capacity. He's notched at least a steal or block in 14 straight games (five multi-steal games & two multi-block games). His percentages have been downright abysmal (39% in March), but he offers rare three-point shooting volume for a PF and comfortable range. In addition, he can serve as an offensive facilitator for the Suns, dishing out 13 assists over his last four games. Morris, who was utilized by 0.2% of DraftKings players on Saturday night (31 FPTS), can currently be owned for a tidy $4,300. He can push a fantasy squad over the finish line in the proper spot.
If you're eyeing a cheap three-point gunner to fill out your roster, look no further than Jodie Meeks. Since Metta World Peace went down on March 25th (knee surgery), the Kentucky product has been the beneficiary of 35+ minutes per night. His accuracy has not been sharp (5/19), but there is no doubting his proficiency from range over a larger sample size (37% career). Playing alongside newly minted assist man Kobe Bryant, Meeks has many clean looks coming his way in the next six weeks—and he's not shy to let fly. For a shooting specialist, he's quite competent in the rebounding department as well, and is averaging 1.5 steals over his past eight contests. Steve Blake is also a recommended play at $3,800 (1.4% usage last time out) with 39-year old Steve Nash unlikely to heal in hasty fashion. Blake has quietly accumulated 23 three-point makes over his last nine games, finding success both with and without the presence of Nash.
Keep tabs on these minimum salary/rare usage options in DraftKings daily fantasy cash games, where you can enter their weekly $10,000 "Big Wednesday" tournament for $11.
Follow on twitter @AdamGaneles