Analyzing the Orlando Magic – Oklahoma City Thunder Trade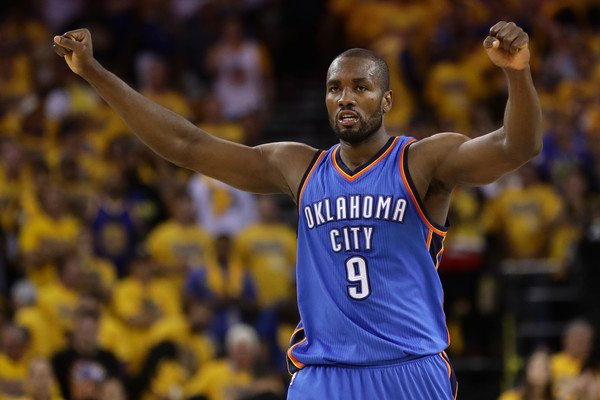 On NBA Draft night the Orlando Magic agreed to send Victor Oladipo, Ersan Ilyasova and 11th overall selection Domantas Sabonis to the Oklahoma City Thunder for Serge Ibaka. Below I will break this trade down in terms of both reality and fantasy.
Let me go ahead and remind you in case you forgot, I'm a die hard Magic fan. So, I bet the initial thought most of you (who didn't see my post-trade tweeting) think that I am unhappy with this trade, but that couldn't be further from the truth. This is the type of move I have been dying for the Magic to make the past few seasons. In the 2013 NBA Draft, I wanted the Magic to take Nerlens Noel despite coming off knee surgery over Oladipo, and the Magic have been in desperate need of a defensive presence at power forward ever since. In 2015-16, the Magic tried to use Tobias Harris and Aaron Gordon as power forwards but both were better at the three, Channing Frye was very bad, Jason Smith played a good bit after Harris was dealt, not ideal. It's been a mess, and the whole team suffers defensively because they have no defensive threats in the frontcourt. Apparently the team's upper management finally got as aggravated with this as much as I was and made a bold move. Team beat writers reported GM Rob Hennigan and new coach Frank Vogel giving emphatic high-fives after locking in the deal, so both are on board with this move even as difficult as it is to give up an athlete and all-around great guy like Dipo. 
The average fan who doesn't watch the Magic on a regular basis thinks that Nikola Vucevic is a really good player, and I'd disagree with that mostly. He's a solid rebounder and a reasonably good offensive player, but saying he's cotton candy in the paint and a major liability overall defensively in the post and especially against pick-n-rolls. Opposing offenses were able to live in the paint and score at will against the Magic with no strong defensive center nor power forward to stop them. Ibaka, who turns just 27-years-old in September, was a first team NBA All-Defensive player in 2011-12, 2012-13 and 2013-14.  Last season Serge just seemed to have lost his mojo, yet he still managed 3.0 defensive win shares (DWS), a number that was 4.4 just two seasons ago. To compare, Vucevic has averaged 2.5 DWS over the past three seasons. The Magic are betting on him getting a revived motor on his new team with a bigger role, and I tend to agree.
The Magic have built a young, promising foundation but still weren't luring in big name free agents. They went all out for Paul Millsap last season, but when the Hawks offered up equal money, he elected to stay in Atlanta. Acquiring a player like Ibaka should help players see that the Magic mean business, if not this summer, then next summer after they see the improvement the Magic show this upcoming season. I actually told a buddy last season who asked why I preferred a guy like Noel to Dipo for the team that we would have won more games this year if we had even Taj Gibson instead of Vic, so getting Ibaka who is still in his prime age-wise is even better.
While Oladipo is a fine player, and a great fit for the Thunder either as a starting two or off the bench as an offensive spark, he can't shoot the ball and add that along to the rest of the Magic players and you have a team full of players who teams don't have to defend the perimeter against because they're not a threat to knock down shots consistently. Having a backcourt duo of Dipo and Elfrid Payton is a disaster in this new era of NBA offense.
The Magic now add that much needed rim protector alongside Vucevic, but Ibaka can also shoot the rock, although his percentages dropped a bit last season. He should easily see an uptick in his stats overall not having to contend with ball dominating Kevin Durant and Russell Westbrook for touches. Not to mention, Serge is a free agent next summer, so he'll be motivated to ball out for that big pay day. Priority number one for the Magic will be to convince Ibaka to re-sign next summer.
The move also allows Aaron Gordon to primarily play at small forward where he seemed to play better on both sides of the ball last season, and it increases the likelihood that the Magic will re-sign restricted free agent Evan Fournier this off-season. In 10-games with Oladipo out this past season, Fournier averaged 18 points, 2.5 boards, 2.0 assists, 1.0 steal and 2.0 treys while shooting 52% from the field and 51% from beyond the arc. Plus, it opens up more minutes for second-year guy, Mario Hezonja who the Magic still very much believe in. I'm very intrigued at the thoughts of a Payton – Fournier – Gordon – Ibaka – Vucevic lineup with Hezonja off the bench, and the Magic are sure to pick up a few nice complementary pieces for depth. Is that a title contender? No! But it has a shot at the playoffs, and would look more appealing to free agents in the future.
As for Oladipo to the Thunder, he's a nice get for them as well. They have more offensive threats on their roster than the Magic did, so the fact that Dipo can't really shoot isn't as big of a deal. Vic is the type of two-way guard they have been after. He will be able to drive the lane and create offense, likely off the bench as a 6th man. I personally always labeled him a 6th man type on a good team, but people see his stats and assume he's a stud despite being on a poor team. Dipo will be a nice boost to the Thunder, but his stats will almost certainly go down a bit playing on the same team with Russell Westbrook and presumably Kevin Durant. I believe the Thunder saw that they were losing Ibaka mentally as he had dreams of being a bigger factor, but it just wasn't happening with the electrifying duo, plus Steven Adams and Enes Kanter needing to see increased playing time. This deal was the right move for both sides. I also look forward to seeing Durant play a lot more four this coming season, a popular trend in the league these days.
Both Ibaka and Oladipo will be free agents next summer, and if both play up to their potential, they'll both be wanting big money. I was dreading the day Orlando had to make the call on whether to re-sign Vic, so this deal relieves me of that concern. I would have no issues paying Ibaka big cash if he gets his determination back and returns to his old form defensively. Who "wins" this deal kinda pends on those signings getting done next summer. If either team loses their guy or they don't pan out, it's a loss.
Yes, I am also well aware that the Magic also gave up 11th overall pick, Domantas Sabonis, but I wasn't a big fan of his leading up to the draft due to a limited ceiling. So, maybe he develops into a fairly good PF off the bench, I wouldn't put too much weight into him. Ersan Ilyasova is a guy the Magic were going to release since only $400,000 of his salary was guaranteed this season, and I wouldn't be surprised if OKC does the same thing.
It's way too early with free agency yet to come, but I will give some half-blind projections for these two for the 2016-17 season.
Ibaka: 15.5 points – 8.5 rebounds – 1.3 treys – 2.5 blocks – 0.5 steals – 49% FG
Oladipo: 14 points – 3.5 rebounds – 3.0 assists – 1.0 treys  – 1.5 steals – 44% FG
Players seeing an uptick in fantasy value after this trade: Serge Ibaka, Evan Fournier, Enes Kanter, Steven Adams, Mario Hezonja, Elfrid Payton (more assist opportunities)
Players seeing a decline in fantasy value after this trade: Victor Oladipo, Aaron Gordon, Nikola Vucevic (slight)
Stay tuned for a lot more content now that the 2016-17 season has officially begun. Follow me on Twitter @BigZack44 for fantasy hoops analysis and more.