Daily Fantasy Basketball: November 14, 2015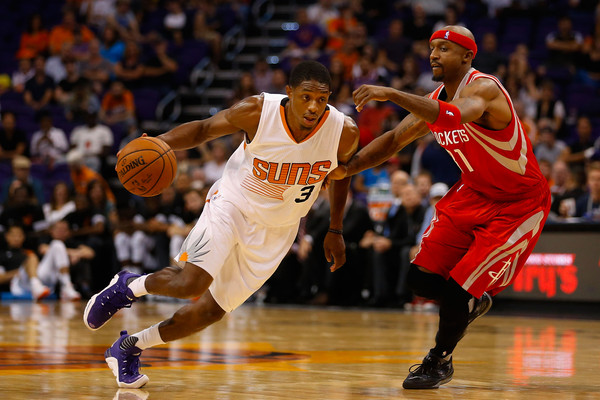 Today I will be covering the 6-game NBA DFS slate on DraftKings, so I will not be including the Pistons/Clippers day game. Primarily the advice in this column is aimed at cash games unless I mention otherwise. That's not to say that I won't be using most of the names below in big tournaments (GPPs), but I just go into tournaments differently, more aggressively. I tend to go more studs and values for GPPs and more balanced for cash games. Anyways, let's get right to the breakdown of tonight's slate.
[cointent_lockedcontent article_labels="basketball"]
Vegas lines and totals
Orlando (+5.5) @ Washington — 210.5
Dallas (+5.5) @ Houston — 212
Cleveland (-5.5) @ Milwaukee — 196.5
Philadelphia (+17) @ San Antonio — 196
Denver (+8) @ Phoenix — 209.5
Brooklyn (+18.5) @ Golden State — 208.5
Four big totals, but one of them comes with a 18.5 spread, so how much damage can Curry and crew do in 3 (or less?) quarters? That's a question you'll have to decide on your own tonight. At $10,700, I am going to have to pass on the most fun player I have ever watched play the game. There's just too many better values and more enticing games with much less blowout concerns. Don't get me wrong though, I have made this same decision before with varying superstars in blowout matchups and they've made me pay, so do what you see fit or have one Curry lineup and one fade lineup. I'm also not touching the Spurs tonight. I see them getting ahead early and resting their top dogs as much as possible.
Here are my top plays at each position for tonight's slate:
POINT GUARD
Brandon Knight ($7,100) – There's no problem with taking sure points on a DFS night, and Knight has just been super solid all year averaging 35 DK points a night. This game should be one much like Thursday where Brandon went off against the CP3-less Clippers scoring 48 DK points. Denver plays fast paced and has been one of the worst teams in the league at stopping opposing PGs. Plug Knight in and sleep easy tonight.
John Wall ($8,900) – Wall owned the Orlando Magic last season and that continued this season in the season opener where he filled the stat sheet for 22pts – 7rebs – 6asts – 5blks – 3stls to equate to 50.5 fantasy points. Now the Wizards come off of three days off to face the Magic who are on the second half of a home-away back-to-back. Yeah, gimme some Wall. Also, if Bradley Beal misses the game as I am anticipating, Wall's usage will be even higher than normal.
Cheap risk option: Devin Harris ($3,500) is playing minutes around the mid-20s every night and while he's not doing anything amazing, he seems to land between 17 and 23 fantasy points per night. Another punt option is Shane Larkin ($3,100) who hasn't been bad of late but far from consistent. His last three though he's scored 18 – 29 – 19 DK points. The hope here is that he gets a boost in playing time against the Warriors backup unit when this game gets out of hand.
SHOOTING GUARD
James Harden ($10,100) – My favorite of the three superstar priced options tonight is Harden. This has 50+ DK point night written all over it with a big in-state rivalry game and the Rockets coming off of a tough loss at home against the then winless Nets. Harden should get it cooking early and often in this one and hit 50+ for the fourth time in five games.
Eric Bledsoe ($8,100) – Much like Brandon Knight, I just love getting Bledsoe into my lineups whenever possible. He fills the stat sheet up and is really playing at another level we haven't seen from him this season. His skills, his usage rate (28%) and the generous uptempo matchup all point to another big 40+ DK point night for EB.
Cheap risk option: Gary Neal ($3,200) is the definite punt play here if Beal does miss the game tonight. Neal is a straight shooter and when the Magic collapse on Wall, he'll be kicking out to his shooters, insert Neal. He's scored 18 DK points in each of the past two games. Be sure to monitor the Beal news before you just put Neal in and don't look back, because he's a dud if Brad is in.
SMALL FORWARD
LeBron James ($9,900) – If you don't go with Harden or if you want to go with the two studs, four mid-tier and two cheap values approach, LeBron is the guy that I am using. This is only the second back-to-back of the season for Cleveland, so we don't really have a sample to give for how LBJ will perform in these scenarios, but it's never a good decision to doubt the King. I have him projected at 48 DK points tonight against the young Bucks, which is far and away the best at this position tonight.
Tobias Harris ($5,900) – I absolutely love Tobias as a mid-tier value play tonight. His usage and overall stats have been risen any time that Oladipo is out the past season plus, and that will be the case again tonight. Harris has grabbed double digit boards in three straight games and the Magic will need his scoring ability to hang in a game with the Wizards. Scorers are definite targets in this game with a 210.5 total despite missing one of each team's best players.
Cheap risk option: I went to the Jazz @ Magic game last night and it appeared that coach Skiles had really no choice but to use Aaron Gordon ($4,000) a good bit, and I expect the same tonight. His shooting isn't too great but he can still get a few buckets, grab some boards and most importantly, get steals and blocks to make for a solid fantasy night at this price. Bojan Bogdanovic ($3,800) is playing big minutes and has went for 19, 38 and 19 DK points in his last three. If you need a true punt play Jakarr Sampson ($3,000) has scored 17 and 18 fantasy points the last two games and would get added minutes when this game gets out of hand.
POWER FORWARD
Clint Capela ($4,800) – They've bumped up the price on Capela a bit since they knew well in advance that Howard would be out for this game, but it still leaves plenty of room for value against a favorable matchup versus Dallas. Capela should rack up the boards and blocks against the Maverick bigs like Zaza Pachhulia. I'd expect around 25 DK points with upside for Cap tonight.
Draymond Green ($7,000) – Every day is a Dray day, right? This game may get ugly, but Green is priced well to hit over value before he rests the fourth quarter tonight. I have him and Kevin Love as my top PF scorers tonight but at $900 less, I think Draymond is the better bet to lead your lineups to the Green.
Cheap risk option: Two power forwards from the same game are my targets tonight when needed. Channing Frye ($3,200) and Kris Humphries ($3,600) are both seeing right around 20 minutes the last few games and delivering value for their prices. Frye should see several open looks from three tonight which is where he camps out on offense, so you're just hoping he hits them. Frye is the one I lean more towards in this one.
CENTER
Brook Lopez ($6,900) – Ridiculous spread or not, the Nets aren't going to score 60 points tonight when there's a 208.5 total on the game against the Warriors — or are they? Anyways, Lopez has been great in the post this season, and the Nets will lean on him early and often as seen by his 25% usage rathe this year. In his last five games BLo has put up DK nights of 48 – 45 – 28 – 42 – 39. I love that consistency and upside at under $7K tonight in a game expected to see a lot of scoring.
Zaza Pachulia ($5,600) – Probably the guy I will use the most at center tonight is Zaza. Capela is the big beneficiary of Howard's absence for Houston, well it helps out the other side as well to not have the monster in the paint on defense. Pachulia has been really good lately averaging 12.6 points, 11.0 rebounds, 1.8 assists, 1.0 steals and 0.6 blocks over the last five Mavs games. Right around 30 DK points tonight is my projection for Zaza and his price for the output is great whenever you want to fit in a few of the higher priced guys into your lineups tonight.
Cheap risk option: Timofey Mozgov ($4,000) is every bit of a risk, and there's very little upside here but he has averaged 20 DK points in three of his last four games. Nikola Jokic ($3,000) is only a punt option if Joffrey Lauvergne is again sidelined, but if he is out, Jokic should play 15-20 minutes and he has one fantasy point per minute type skills as seen recently.
Cash game rankings
This isn't necessarily an order of who will score the most DraftKings points. Rather, the rankings are aimed to find the best price, value and production combo to help you win cash games, also taking into account potential ownership levels for each player.
PG
1) Brandon Knight
2) John Wall
3) Ramon Sessions (If Beal is out)
4) Emmanuel Mudiay
5) Patty Mills
6) Devin Harris
7) Elfrid Payton
8) Michael Carter-Williams (only if they say he will not be limited)
SG
1) James Harden
2) Eric Bledsoe
3) Danny Green (should play big minutes with Kawhi and Manu out)
3) Wesley Matthews
4) Gary Neal (if Beal is out)
5) Klay Thompson
SF
1) Tobias Harris
2) LeBron James
3) Trevor Ariza
4) Bojan Bogdanovic
5) Evan Fournier
6) Danilo Gallinari
7) Aaron Gordon
PF
1) Terrence Jones
2) Draymond Green
3) Clint Capela
4) Channing Frye
5) Kevin Love
6) LaMarcus Aldridge
7) Dwight Powell
C
1) Zaza Pachulia
2) Brook Lopez
3) Nikola Vucevic
4) Tim Duncan
5) Timofey Mozgov
6) Joffrey Lauvergne (if he plays)
7) Nikola Jokic (if Lauvergne out)
As always, stay locked to Twitter and Rotoworld for any late-breaking news the hour before the first game tips at 7 p.m. EST. I'll do my best to update this article as news breaks throughout the day, but the best way to get the latest is always to follow me on Twitter @BigZack44, where I'll do my best to break down the implications of any late scratches or lineup changes.

[/cointent_lockedcontent]