Daily Fantasy Basketball Strategy: April 3, 2016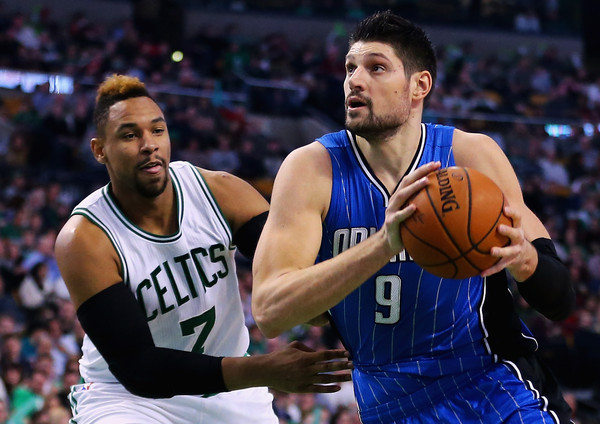 Today I will be covering the six-game NBA "night" slate, and I'll be breaking it down from top to bottom to help you formulate your DFS lineups, and lead you towards ending the night in the green. I'll review and analyze the top plays of the night, point out the best cheap values on the slate, and then finish with positional rankings. Let's get right to the daily grind!
POINT GUARD
[cointent_lockedcontent article_labels="basketball"]
Damian Lillard – Dame likes playing the Warriors this season. Lillard has averaged 60 fantasy points (FPs) in the three games between these two teams this season. Dame wants to be known as an elite PG, so when he gets to play the guy known as the current best, he brings it up a level. I have him projected at a conservative 45 FPs tonight.
Shelvin Mack – Return of the Mack. The guy who the Jazz dealt for on deadline day that most didn't even think twice about has been leading them on a playoff push. Tonight he gets the Phoenix Suns who have allowed the most FPs to opposing PGs on the season. After putting up 36 and 30 FPs the past two games, it would seem he's in position to hit above thirty for the third straight. I have him at 32 FPs.
Cheap risk option: No brainers here, it's Ronnie Price and Jerian Grant. Price is near minimum price and will again draw the start with Brandon Knight sidelined. Grant will start again for Jose Calderon, and should play 25+ minutes. I have Price projected at 25 FPs and Grant at 22.
SHOOTING GUARD
Jimmy Butler – Wow, has the revival of Jimmy Bucket ever been, well, profitable *sinister laughs* That said, he's going to be extremely highly owned tonight after his ridiculous triple-double yesterday, so I almost think about fading him in GPPs (big tournaments) to go against the grain, but he's averaged 51 FPs in to matchups with Milwaukee this season, so it'll be tough to do. I do have Klay projected at basically the same amount, so he's the pivot move if you do it. Speaking of which…
Klay Thompson – C.J. McCollum is having an amazing breakout season, but that's all due to his offense, his defense on the other hand, not so good. Klay matches up incredibly with CJ, as seen by his shooting 34-for-60 (56.7%) from the field and 17-for-26 (65.4%) from beyond the arc in three matchups with McCollum this season. I have Klay projected at 37 FPs, just two shy of my Butler projection.
Cheap risk option: Langston Galloway is slated to play extended minutes again with Calderon out, but don't expect anything like the 40 FPs he produced on Saturday night. I have him at a still above the value-line, 22 FPs.
SMALL FORWARD
Giannis Antetokounmpo – I told you, I'm going with the Greek Freak until he hits $11k, so here he is again. He put up an average of 45 FPs against Chicago this season, and that was before he started running the point primarily and became even more of a fantasy beast. I have him at 47 FPs.
Jae Crowder – He returned after a long absence on Thursday and right away played 35 minutes and produced 34.5 FPs. He rested Saturday when the Celtics shocked the world and handed the Warriors their first home loss of the season, but he's back in action tonight against the disastrous Lakers. I love the value and upside you get in Jae at this price, and I have him projected at 31 FPs.
Cheap risk option: Maurice Harkless will stay here until they move him to around $4.5K, because he's just been too solid since joining the starting lineup. Harkless has hit above 20 FPs six straight games, and while tonight's matchup is tough, he's still worth consideration. Also, Derrick Williams has put up 21+ FPs in three of the last four games, and with Kristaps Porzingis out again, he should continue to see plenty of minutes. I have him at 21 FPs.
POWER FORWARD
Draymond Green – He matches up so well against the Blazers, and while this is a spot that I will probably go a little bit cheaper, there's no doubt that Green is the top guy at the position tonight, and I have him projected 8 FPs more than the next guy. That projection is 45 FPs.
Jabari Parker – Yes, I am going to have a whole lot of players from this Bulls-Bucks game. I have been truly impressed at how great Parker has played as the season has gone on. He's an animal in the post, if you haven't seen his post, muscle up dribble move, you need to so that you understand how bad he wants to get to the hoop. If Taj Gibson plays it would drop my projection slightly, but if Taj is out, the Bulls have nobody who will stop Parker from getting to the rim at will.
Cheap risk option: I like Larry Nance Jr. quite a bit tonight against the Celtics considering he's minimum price and coming off of a few nights off. Nance 27 and 31 minutes the last two games, and hit above value both times with 27 and 19 FPs. I have him at 22 tonight.
CENTER
Pau Gasol – Don't mess around here, he's too good to not use in this price range as I have been saying, and went for 40 FPs last night making it three of the last four (31 FPs in the other). Plus, he's owned the Bucks this year averaging 57 FPs in three matchups.
Nikola Vucevic – Whether he starts or comes off the bench, if Vucci Mane is active, he's worth a look at this price. Despite playing just 24 and 22 minutes in his first games back from injury, the efficient big man still managed 34 and 37 FPs. Tonight he gets the Grizzlies who don't have anyone able to stop him in the paint. Vooch gon eat.
Cheap risk option: There are no ideal cheap options at center tonight, but if I had to go with one, I'd either take a shot on Kelly Olynyk or pray that Lavoy Allen gets more minutes this go around. I'd pay up here though.
Cash game rankings:
This isn't necessarily an order of who will score the most DraftKings points. Rather, the rankings are aimed to find the best price, value and production combo to help you win cash games, also taking into account potential ownership levels for each player.
PG
1) Damian Lillard
2) Stephen Curry
3) Shelvin Mack
4) Isaiah Thomas
5) Ronnie Price
6) Elfrid Payton
7) Jerian Grant
SG
1) Jimmy Butler
2) Klay Thompson
3) Khris Middleton
4) Victor Oladipo
5) Avery Bradley
6) Langston Galloway
SF
1) Giannis Antetokounmpo
2) Gordon Hayward
3) Jae Crowder
4) Paul George
5) Matt Barnes
6) Derrick Williams
7) Al-Farouq Aminu
PF
1) Draymond Green
2) Jabari Parker
3) Zach Randolph
4) Julius Randle
5) Aaron Gordon
6) Larry Nance Jr.
C
1) Pau Gasol
2) Nikola Vucevic
3) Rudy Gobert
4) Alex Len
5) Jared Sullinger
6) Mason Plumlee
As always, stay locked to Twitter and Rotoworld for any late-breaking news the hour before the first game tips at 6:00 p.m. EST. I'll do my best to update this article as news breaks throughout the day, but the best way to get the latest is always to follow me on Twitter @BigZack44, where I'll do my best to break down the implications of any late scratches or lineup changes.

[/cointent_lockedcontent]