Daily Fantasy Basketball Strategy: December 18, 2015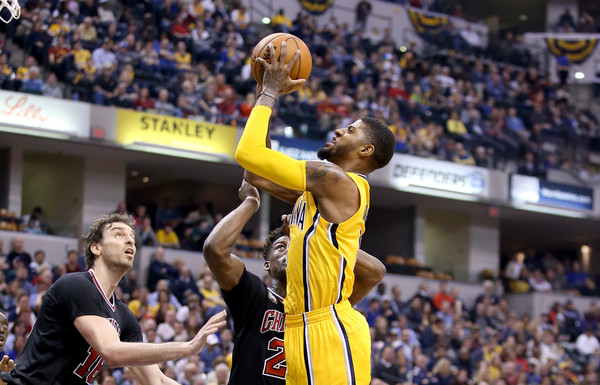 Even though I am listed as day-to-day with flu-like symptoms, like Michael Jordan, I will play through it. Working on three hours of sleep has kind of become my specialty at this point and I'll look to spout out fantasy advice in a coherent manner despite seeing double currently. Tonight is a big night in the NBA and I don't think many players will be more than 25 percent owned due to all the action. Hell, only two games have spreads of over 10 points (Milwaukee/Golden State and Brooklyn/Indiana) so almost every game should be close. By the same token, only one game's over/under sits at a sub-195 total. There should be a plethora of fast-paced, close games so if you were ever going to stay in on a Friday night to watch hoops, this would be the night!

[cointent_lockedcontent article_labels="basketball"]
Let's get straight to the hoops. There's an 12 game slate so plenty of information to cover.
Time to grind:
Point Guard
"The Play": Minnesota/Sacramento sports the highest projected total of the night (213.5) but New Orleans/Phoenix is right behind with an over/under of 213. These are no surprise considering the Sacramento Kings and New Orleans Hornets are tied for dead last in points allowed per game: 107.7. At the point guard position, it makes a ton of sense to target Brandon Knight as New Orleans also ranks dead last in defensive efficiency to the point guard (PG) position. Sure Eric Bledsoe and Knight rotate handling the ball but Bledsoe typically spends more time off the ball so it's not shocking Knight has averaged more than seven fantasy points more per game this season against the Pelicans (48.1) than Bledsoe (40.9). The last time the two teams squared off, Knight dropped 29 and 10 with four steals (STL), and while I wouldn't expect quite that productive of a line again, his upside is clearly monstrous. At just $7,400,he gives you a very sound reason not to pay up for Stephen Curry in cash games.
Others to Consider: In the revengiest of revenge games, the Golden State Warriors will get another shot at the Milwaukee Bucks team that just beat them late last week. They'll be out for blood so an extra-motivated Curry possesses the potential to go nuts. Atlanta is a team known for defense but the PG has been their weak spot in the defense as they rank 25th in efficiency against the position and Isaiah Thomas will look to take advantage. Cory Joseph has been playing big minutes as the backup PG yet his price still sits at $4,100 so he still makes sense as a value play. Oh and Jrue Holiday has been consistently cracking the 30 fantasy point plateau and his price ($5,100) is still deflated from an early-season minutes limit that seems to be dwindling: Others to consider: Deron Williams, Damian Lillard, Elfrid Payton, Zach LaVine and Chris Paul.
Shooting Guard
"The Play": Sometimes safety is the name of the game in daily fantasy basketball and, when no value stick out at a certain position, you fall back on your rock. On initial look at the shooting guard (SG) position, no names really stood out so Jimmy Butler was my guy by default. After roster construction, I realized it wasn't so easy to make happy and there is another guy in a great spot although his skill set doesn't typically translate to cash games: Alec Burks. The Jazz SG is the definition of a pure scorer as he rarely contributes much in the other categories but tonight is prime night for him to light up the scoreboard. He'll square off against a Denver team that ranks 28th in shooting guard efficiency defense and allowed Burks to drop 12 and eight rebounds (REB) last time (28.75 fantasy points) last time these teams met. Without Rudy Gobert, the Jazz are not a lock to win any game by double-digits and Vegas agrees as they've set the Jazz as only 3.5 point favorites. Assuming the game stays close, Burks should approach 30 fantasy points yet again and provide the best value at the position.
Others to Consider: The aforementioned Butler is a great alternative if you have the money to spend as Detroit's glaring holes in the defense are to the SG and power forward (PF) positions. Butler dropped a 23 and 11 double-double on Detroit on Oct. 30 and will look for more of the same. Outside of Burks and Butler, most options feel like GPP only. Tyreke Evans' price has ballooned but his matchup is enticing against the smaller Phoenix guards who will attempt to guard him. Eric Bledsoe is the much more expensive Phoenix guard, but again, the pace of this game is going to be extremely fantasy-friendly. Otherwise DeMar DeRozan, Dwyane Wade and C.J. McCollum all draw less-than-ideal matchups yet they have the talent to succeed regardless. Maybe throw them into a lineup or two just to diversify.
Small Forward
"The Play": Roster construction is difficult tonight with the stars and scrubs strategy but I'd be hard-pressed not to call Paul George the cream of the crop at the small forward (SF) position tonight. Brooklyn's defense continues to be horrendous as they allow the ninth most points of any team but play at the 15th slowest pace (right smack dab in the middle). George is a tough matchup for anyone as he plays SF yet stands at 6'11 and has as versatile a game as anyone not named LeBron James. We know what we're getting with the Pacers offense; only two players' sport usage percentages greater than 21 percent: C.J. Miles (21.2 percent) and George (a whopping 31.7 percent). Every time the Pacers step onto the court, they allow George to dominate the ball and rely on him for his scoring ability. Against a Nets team that ranks 29th in efficiency to opposing SFs, George is primed to have a field day. I would be shocked if he did not double-double tonight and approach 30 real points.
Others to Consider: Al-Farouq Aminu and consistency do not go hand-in-hand but Orlando struggles against SFs and Aminu has been known to throw up a double-double in the right matchup. While he's not an exciting player to start, Luol Deng's price has regressed itself all the way to $4,600. Kawhi Leonard has played like a superstar this season, and although last season his results against the Clippers were a mixed bag, it's hard not to trust him in any matchup this season. Omri Casspi has probably gotten too expensive for my liking but he still makes sense in tournaments as one of the Kings' most productive players. Others to consider: Marcus Morris, Jae Crowder, Carmelo Anthony and Giannis Antetokounmpo.
Power Forward
"The Play": Does Jon Leuer really have a chance against Anthony Davis? The NBA is about team defense but Phoenix simply does not have the personnel to contain him. In two previous meetings this season, Davis scored at least 54.75 fantasy points in each including a 69.75 nugget. Between the pace and the smaller personnel, Davis clearly loves playing the Suns and averages a whopping 4.1 more points per game on the road this season with a 40-percent hike in FG percentage (46 percent at home versus 50 on the road). Tonight is not a night to get cute; roster "The Brow."
Others to Consider: Blake Griffin's 25.2 player efficiency rating (PER) ranks higher than any other power forward (PF) in action tonight yet many will avoid him due to the matchup with San Antonio. Griffin has scored at least 46 fantasy points in five of his last seven meetings against LaMarcus Aldridge. Boston's roster does not really have a player capable of shutting down Paul Millsap which is why Millsap exploded for 25 points, nine REBs and three assists (AST) versus Boston on Nov. 24. DeMarcus Cousins is always in play so the fact that Minnesota/Sacramento is projected as the highest scoring game of the night certainly makes him all the more attractive. Others to consider: Dirk Nowitzki, Kyle O'Quinn, Derrick Favors, John Henson (best value) and LaMarcus Aldridge.
Center
"The Play": Amazing how opinions can change as last season I was advising fantasy owners to avoid Brook Lopez with a 10 foot pole because he could re-injure that foot at any point. His minute allotment very often would fail to reach the "30 minute" plateau and therefore it was hard to trust him. Well his minutes are up from 29.2 per game last season to 33.3 this season and he has developed into the face of the Brooklyn franchise. While he still doesn't REB like an elite center should, he does score nearly 20 points per game and add two blocks per game. Indiana ranks 21st in efficiency defense versus the center (C) position including the most REB. If there ever was a night for Lopez to finish off his already productive line with a double-double, tonight would be the night.
Others to Consider: Andre Drummond faces the Chicago Bulls and their dead last efficiency defense versus Cs. All Drummond did in their last meeting was drop a 20/20 line on them and I think you can expect something close tonight. Millsap is the player to target on Atlanta in cash games but Al Horford makes sense as well because Boston struggles guarding all bigs, not just PFs. Jahlil Okafor has begun to develop his offensive game and has scored at least 19 real points in five consecutive games. Last but not least, Marc Gasol can produce fantasy points in a variety of ways and double-doubled versus Zaza Pachulia last time. While Memphis isn't a fantasy haven and the pace will likely suck, Gasol can still be rostered due to his versatility.
Good luck tonight! Grind on….
[/cointent_lockedcontent]