Daily Fantasy Basketball Strategy: December 7, 2015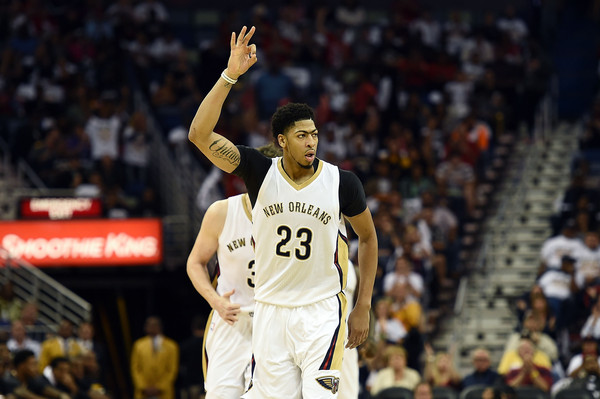 There are nine games on the Monday slate, all starting between 7 and 8 p.m. That means most lineup information should be available by lock, which makes the NBA's growing injury list easier to navigate. After a high-scoring five-game slate Sunday, let's take a look at what's in store for Monday.
[cointent_lockedcontent article_labels="basketball"]
Vegas lines and totals
Detroit Pistons at Charlotte Hornets (-3.5) – total of 195
San Antonio Spurs (-12.5) @ Philadelphia 76ers – total of 189.5
Dallas Mavericks (-2) @ New York Knicks – total of 197.5
Los Angeles Lakers at Toronto Raptors (-13) – total of 201
Washington Wizards @ Miami Heat (-7.5) – total of 196.5
Boston Celtics @ New Orleans Pelicans (-1) – total of 214
Phoenix Suns @ Chicago Bulls (-6) – total of 203.5
Portland Trail Blazers (-1.5) @ Milwaukee Bucks – total of 198
Los Angeles Clippers (-1) @ Minnesota Timberwolves – total of 203
Celtics-Pelicans looks to be the fantasy game of the night, which both teams projected to top 105 points in a fast-paced, close game. There are a few blowouts on the slate, which could limit the picks below from the Spurs and Raptors despite great matchups against the 76ers and Lakers, respectively.
Now, for the top options and values at each position:
POINT GUARD
Kyle Lowry ($8,900) – The blowout potential may scare some off Lowry in this game, but it's tough to turn down a matchup as juicy as a point guard's against the Lakers, especially one playing as well as Lowry. A true weight-loss success story, the once-pudgy Lowry is averaging over 51 fantasy points per game in his last five and has just one game under 46 fantasy points in his last six. His floor should be around 45 points, as the Raptors will need a big game from Lowry even if they win this one before the fourth quarter starts.
Jeremy Lin ($4,100) – Kemba Walker is doubtful for Monday with an illness, which means Lin should step into the starting lineup and see at least 30 minutes of action while pushing for 35. Lin's usage rate is very similar to Walker's and while he can't be expected to be quite as productive, he will still see a sizable boost Monday in an average matchup against Reggie Jackson and the Pistons.
Raymond Felton ($4,000) – Felton is averaging over 37 minutes per game since taking over Chandler Parsons's starting spot and is scoring over 26 fantasy points per tilt in those games. Those numbers are right in line with his per-minute rate stats, and the Knicks have been giving to opposing shooting guards, which is where Felton is seeing most of his minutes. He's a great value play to pair with one of the top PGs.
Cheap risk option: Zack recommended him Sunday, and it's tough not to go back to the wall with sweet Lou Williams ($4,300). Williams is averaging almost 28 fantasy points per game in his last three, seeing 32 minutes per night with Mr. Iggy Azalea (Nick Young, Swaggy P, etc.) glued to the bench after calling the Lakers a "circus." Williams is too good to sit in the low $4,000s much longer.
SHOOTING GUARD
Jimmy Butler ($7,700) – Butler gets an uptempo matchup with the Suns on Monday night, the same team he torched for 32 points and six boards on November 18. Derrick Rose missed that game, however, which certainly helps Butler's usage rate, but the shooting guard is still a solid bet to have a good night in this one. I'd expect 40 fantasy points with the upside for more if Butler can get hot offensively.
Avery Bradley ($6,400) – Picking on the Pelicans backcourt has been profitable so far this season, just as Bradley's improvements as a player have been noticeable. He's become far more proficient as a shooter and has at least 16 points in nine of his last 10 games. He also has multiple steals in nine of those 10 games, giving him a much higher floor than he's had in the past, especially in a juicy matchup with the second-highest team total on the board.
Gerald Green ($4,500) – If Luol Deng continues to sit Monday night, Green will represent solid value. While he hasn't been outperforming his new price level since a hot start, he gets a nice matchup with a depleted Wizards team that struggles to cover the wings. Green could get hot in this one and put up a nice fantasy night, but there's always risk involved playing such a streaky player in cash games.
Cheap risk option: Speaking of risk, Austin Rivers ($4,000) is looking at another start with Chris Paul set to miss Monday's game due to injury. It would actually help Rivers if J.J. Redick returned, as he wouldn't run the offense nearly as much as Jamal Crawfordddoes, but minutes in the mid-30s will be there for Rivers regardless. He hasn't done much with them lately, which is why he's not really cash-game viable this far above the minimum. A matchup with the Wolves isn't bad, though, and he could surprise at a low ownership level.
SMALL FORWARD
Jae Crowder ($5,500) – That Celtics-Pelicans game continues to be juicy. For the Celtics, at least. New Orleans defends the forward spots far better than the guard positions, but any fast-paced game where Crowder can get out in transition rather than relying on half-court offense really helps his scoring numbers. After three games with single-digit scoring, Crowder has at least 12 points in his last five, adding over three assists and almost two steals to boot. He's a good mid-tier option Monday.
P.J. Tucker ($4,200) – If you really want to save at SF on this slate, Tucker is the best option under $5,000. T.J. Warren's minutes have fallen back down after two huge games that feel like forever ago, and Tucker has topped 27 minutes and 20 fantasy points in each of his past three games. Sometimes the bottom falls out on him, but most of the small forward position has a worrisome floor Monday. Might as well pay less for it.
Kyle Anderson ($3,000) – Kawhi Leonard was listed as a top-three SF play but with the news that Leonard is out with an illness, Anderson should step into the starting lineup. He played 31 minutes in his last start for Leonard, also against the 76ers on November 14, and responded with 10 points, seven rebounds, three steals and three assists (31.75 fantasy points).
Cheap risk option: Staying in Phoenix, Mirza Teletovic ($3,800) has cleared 20 fantasy points in five of his past six games. In the sixth, he played seven minutes and managed just 5.5 points. There's clearly risk using a bench player who sometimes gets the shaft when it comes to playing time, but Teletovic can fill it up in a hurry from deep, which is a good trait to have as a cheap GPP flier. His ability to play the 4 and Markieff Morris' current placement in the doghouse help Teletovic's minutes projection as well.
POWER FORWARD
Anthony Davis ($10,700) – Anthony Davis vs. Amir Johnson. If that sounds like a mismatch, well, it's because it is a mismatch. Davis has scored at least 52 points in the last eight games he's finished, which is the only possible knock on him; he's taken the "King of in-game injuries" crown away from C.J. Miles this season. That risk is lessened tonight because everybody should be on Davis, and with good reason is easily the highest-scoring game in a good matchup.
LaMarcus Aldridge ($6,700) – With Kawhi Leonard out Monday night, the Spurs are still heavy favorites against the 76ers, but a runaway blowout seems slightly less likely. In a similar situation the last time the teams met, in San Antonio that time, Aldridge scored 44.75 fantasy points in a dominant 17-point, 19-rebound outing and played 34 minutes. He's a top-three play now with no Leonard in the lineup.
Jon Leuer ($4,400) – Leuer should be set for another start Monday, and even with a tough matchup against the Bulls, he's worth heavy consideration as a value play in your forward slot if you're paying for Davis. There's no telling if Markieff Morris will be back in the rotation tonight, and Leuer has seen at least 39 minutes in two of three games, both coming when Morris didn't play. He has over 78 fantasy points in those two games and is generally a point-per-minute player, meaning he should have no trouble hitting the 30-point mark if gets 35 minutes of court time, accounting for the matchup.
Cheap risk option: The Knicks have struggled to find a set big-man rotation this season, but Kevin Seraphin ($3,200) seems to have Derek Fisher's eye at the moment. His 24 minutes against the Bucks may have been due to the out-of-hand nature of the game, but Porzingis or Robin Lopez foul trouble would also open up some minutes for him. If he does find his way into 20 minutes in a nice matchup, he could approach 25 fantasy points. There's always a DNP-CD possibility here as well, so this play is not for the faint of heart, even at near-minimum price.
CENTER
Pau Gasol ($7,500) – Gasol's price is on the rise after averaging over 50 fantasy points per game in his past three, and he gets a matchup with Alex Len and the Suns on Monday night that shouldn't stop him from getting to at least 40 once again. Suns-Bulls has the second-highest total of the night, so stars from that game are never a bad choice and Gasol has been leading the way for the Bulls of late.
Jared Sullinger ($6,200) – Sullinger has a great matchup against Omer Asik, Alexis Ajinca and whoever else the Pelicans decide to trot out at center Monday. He's played at least 24 minutes in five of his last six games, which is all Sullinger needs to push for 30 fantasy points. In a great matchup where he's likely to find his scoring touch—the Pelicans allow 22.1 points per game to opposing centers, highest in the NBA—Sullinger should push for 15 points. When he scores at least 15 points over his past 10 games, he averages nearly 40 fantasy points.
Alex Len ($4,200) – Len hasn't seen consistent minutes in place of the injured Tyson Chandler, but he's topped 28 minutes in three of his past five games, all of which came against teams that don't start stretch-4s. Nikola Mirotic fits the stretch-4 mold but the Bulls rarely go small as much as the Pistons or Wizards do, the two teams Len saw limited playing time against. The Bulls are lenient to opposing centers and I envision Len getting good minutes tonight, finishing with a healthy point total in the high 20s as long as he avoids early foul trouble against Gasol.
Cheap risk option: This is the third straight time I'm recommending Gorgui Dieng ($4,800) in this spot and it will probably the last, as his price won't be under $5,000 the next time Minnesota plays. If it is, it's because Sam Mitchell has finally turned back to Karl-Anthony Towns completely, making Dieng a less appealing option. Towns played 32 minutes in the Wolves' last game but Dieng still saw 24 of his own, and a matchup against the Clippers gives him some nice upside off the bench, especially if Mitchell is finally willing to play him with Towns.
Cash Game Ranks
This isn't necessarily an order of who will score the most DraftKings points. Rather, the rankings are aimed to find the best price, value and production combo to help you win cash games, also taking into account potential ownership levels for each player.
PG
1) Jeremy Lin
2) Kyle Lowry
3) Raymond Felton
4) Isaiah Thomas
5) Derrick Rose
6) Reggie Jackson
7) John Wall
8) Eric Bledsoe
9) Ricky Rubio
10) Goran Dragic
SG
1) Avery Bradley
2) Jimmy Butler
3) Gerald Green
4) Wesley Matthews
5) Khris Middleton
6) Tyreke Evans
7) Dwyane Wade
8) Nicolas Batum
9) C.J. McCollum
10) DeMar DeRozan
11) Brandon Knight
SF
1) P.J. Tucker
2) Kyle Anderson
3) Jae Crowder
4) SF is pretty shallow, huh?
PF
1) Anthony Davis
2) Jon Leuer
3) LaMarcus Aldridge
4) Kristaps Porzingis
5) Blake Griffin
6) Amir Johnson
7) Chris Bosh
C
1) Alex Len
2) Jared Sullinger
3) Pau Gasol
4) Greg Monroe
5) Tim Duncan
6) Zaza Pachulia
7) Andre Drummond
8) DeAndre Jordan
As always, stay locked to Twitter and follow me @christripodi, where I'll do my best to break down the implications of any late scratches or lineup changes before the first game tips at 7 p.m. EST. I'll also update this article as news breaks throughout the day if at all possible, but I will usually update via Twitter first.
[/cointent_lockedcontent]
//
//