Daily Fantasy Basketball Strategy: February 8, 2016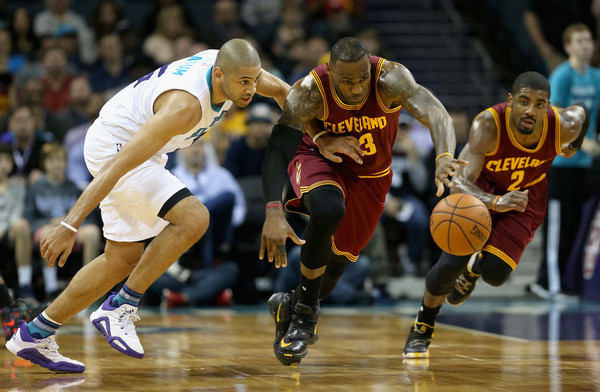 Here we go again, another night with a dreaded huge NBA slate. We're stuck wanting to roster tons of players, but will only be able to cover about half of them, unless of course you're a kamikaze player who fires out tons of lineups per night hoping that one hits. I'm more of a three to four lineups per night player, aside from the occasional night where I throw out around seven or so. I tend to have a few players that I am dead set on that I roster on each lineup and mix up the rest with guys that I also like on that given night.
Nights with huge slates like this one, it seems that more often than not, the studs-n-duds strategy is that one that wins the tournaments, because with 20 teams active, there's usually a good number of solid value (cheap) players available to plug in. On a smaller slate, there's less of those options and it seems that most times the balanced lineups are the ones that take down the big prizes. Anyways, let's go ahead and break this beastly slate down. I'll be providing you with some Vegas number analysis, top plays, value plays and positional ranking to help you build winning lineups.
Vegas lines and totals
Chicago (+6) @ Charlotte — Vegas projected game total of 204.5
Sacramento (+12.5) @ Cleveland — 117.5
LA Clippers (-9) @ Philadelphia — 205.5
LA Lakers (+11.5) @ Indiana — 205.5
Denver (-2) @ Brooklyn — 204
Toronto (-1) @ Detroit — 205
New Orleans (+1.5) @ Minnesota — 210
Orlando (+9) @ Atlanta — 200.5
Portland (+4) @ Memphis — 198.5
Oklahoma City (-13) @ Phoenix — 217
Pretty strong, pretty strong indeed. Only two games with double digit spreads, so not a lot of games to worry about blowouts. All but one game have projected totals over 200, and the other isn't far off of that. This all leads to the assumption that it's going to be a really high scoring DFS night, so you're going to have to hit pretty well to end up in the green, and that's what we're here to help you do. The Kings/Cavs, Pelicans/Wolves and Thunder/Suns totals stand out, although the Thunder very well could put that game away early, but I'm not going to totally count on that enough to fade it. OK, well since there's no games that we need to totally stack or fade, we are not done any favors on our overall DFS lineup focus, so things are wide open. Let's get to the top plays and value options now.
POINT GUARD
[cointent_lockedcontent article_labels="basketball"]
Russell Westbrook – Over 53 fantasy points (FPs) in seven straight games, and going up against the team that allows the most FPs to opposing point guards in the league. His price shows as much, too. But really, he's so money in the bank that it's hard to not roster him, regardless of price. Russ is third in the league in usage rate at 32.1% on one of the league's best offenses, so he's just unbelievably productive each night. With so many games, I get it if you want to spread the wealth more for cash lineups, but in GPPs, fade at your own risk. I'll use him in both.
Kyrie Irving – It's a point guard going up against the Kings, you know the drill. Irving is no longer on a minutes restriction whatsoever, playing 36+ minutes in five straight games, and he's averaging 34.6 FPs over the last seven games. I've got Kyrie pegged for a 40 point DFS night, and he's one of two mid-level priced PGs that I'd look to if I steered away from the gaudy price of Westbrook.
Jrue Holiday – Here's the other. Since January 1st, Jrue has pimped a 29.3% usage rate when Tyreke Evans has been out, and with Tyreke still sidelined and this being the second highest game total on the slate, it's a good night to celebrate this Holiday. I have Jrue projected at 36 FPs.
Cheap risk option: As of this moment, I really don't like any of the true punt options at PG tonight, so I'm going to give you the cheapest guy that I will be using tonight, Donald Sloan. Very up and down since becoming the Nets starter, but tonight going up against a lenient defense like Denver, Sloan should beat value (value line is 22 FPs) knowing the general playing time that he gets and the projected game total.
SHOOTING GUARD
Archie Goodwin – I'm trying to save some money and not overspend at SG tonight, and in doing that I get the starting point guard on a team in a game projected to have 217 points scored. The only hesitation here is that it could get ugly early and limit the ceiling for Goodwin, but I see him at minimum playing 25 minutes and with that he can still reach his value line of 28 FPs.
Andrew Wiggins – For a few hundred more, you can play it safer and roster Wiggins who is also in a highly projected game. Wiggins has some legit upside at this price level, because the Pelicans aren't too great at defending wings, and the way this kid can score the rock, he's always got 40 FP upside with a fairly safe floor of around 26.
Evan Fournier – If Tobias Harris is out again tonight, Fournier instantly becomes a top play at this spot due to his lower mid-level price and the opportunity to start and play big minutes. His usage rate is much higher when Harris is off the floor. Yesterday against this same Hawks team, Fournier started and put up 33 FPs.
Cheap risk option: Gerald Henderson has really seen an uptick in playing time and usage the past few games. Henderson has put up 28, 25 and 28.5 FPs over the past three games, so he's of course in consideration at this lowly price. He benefits even against good defenses thanks to the attention that Lillard and McCollum demand.
SMALL FORWARD
Paul George – It may be a little safer to pay up for LeBron James and Kevin Durant, but I kinda like saving the money, and rolling with George who has the best matchup of the three and what I believe is the least likely to blow their opponent out of the three. George needs just 38 FPs to beat value, and he's coming off three performances where he's gone for 42, 54 and 46 FPs against better defenses than the one he faces tonight. I'll have shares of all three of these stud SFs tonight, no doubt.
Nicolas Batum – Look who is back! Batum started off the year really strong, then battled some injuries and a shooting slump, but the past two games has lit it up for 45 and 57 FPs. At this mid-level price, I think he has big time upside based on the amount of shots he sees and against a team who is without their best wing defender. 35+ for Nic tonight.
Stanley Johnson – The rookie has been fully unleashed since KCP went down due to injury. Seeing upwards of 40 minutes with his ability to fill up the stat sheet on both ends of the floor, leaves plenty of room for upside while his price is still under $6K.
Cheap risk option: Plenty of value to be had here tonight, albeit risky (as this section states). C.J. Miles plays a weak opponent and could easily put up 20+ FPs in 20ish minutes if his shot is falling. Wesley Johnson continues to see solid minutes and hit above that 20 FP threshold, he's a fine cheap option again.
POWER FORWARD
Anthony Davis – Yep, I'm doing it. I am putting Davis above DeMarcus Cousins in my cash lineups tonight. The matchup along with Cousins on a back-to-back, plus saving over a grand, give me the Brow. I have Davis projected at 48 FPs, Cousins the same, so that's why I lean to AD. Obviously you always fear Davis could suffer an in-game injury, but you just have to hope for the best there. Brow has looked really good the last few games and put up 48 FPs the last time he played Minnesota.
Thaddeus Young – I love Thad tonight, he'll probably be the PF that I use most, especially in cash. Young has been playing big minutes the last few games, and with this game looking like it will be a close one, he should see near 40 minutes again. I don't see how Thad won't put up more than 35 FPs against a weak set of PFs like Denver has. Young is a key to success tonight for me.
Julius Randle – Randle has become ZBo Jr. since seeing his role go to where he plays 30 minutes a night. He's a double-double nightly type of player, but he doesn't do a whole lot else outside of those two categories. Should be a fun matchup between he and Pacers' rookie Myles Turner tonight. If Tobias Harris sits again for the Magic though, I do prefer Aaron Gordon over Randle. We saw last night what Gordon could do against Atlanta with that circumstance.
Cheap risk option: Bobby Portis should again see minutes in the mid-to-high 20s, and that should lead to another 24ish FP night. We benefit by the Bulls having no choice but to use their talented rookie.
CENTER
Pau Gasol – Pau is money is cash games, has been all season long and basically his whole career. With Gasol playing over 33 minutes a night and needing to do more offensively with Butler out, he should have a big game here against Charlotte. Gasol averages more than one fantasy point per minute when Jimmy is out, so if he play minutes in the mid-30s, he should end with closer to 40 FPs.
Gorgui Dieng – Hitting above value at this price in five of the last six games, Dieng has really broken out since the Wolves began to increase his role and made him a starter. I believe the Pelicans will keep Davis on Karl-Anthony Towns primarily on defense, so there will be a lot more opportunity for Gorgui to do work than KAT. Look for Dieng to hit around 35 FPs again at a really fair price.
Ian Mahinmi – If we get word before games start that Mahinmi will again start as expected and won't be limited, he's a really nice bargain play at center tonight against the Lakers who are 29th in the league against opposing centers. If Mahinmi plays close to 30 minutes which is his season average, he'd be set up to give you 25+ FPs which is great for his low-level price.
Cheap risk option: I probably wouldn't go the super cheap route at center tonight. I likely won't use anyone cheaper than Mahinmi, but if I had to go even cheaper, I'd look at Steven Adams. I have no great analysis for Adams, he's just a paint brawler who will land you somewhere in the 20 FP range most nights for cheap. The price is low because the ceiling is low.
Cash game rankings:
This isn't necessarily an order of who will score the most DraftKings points. Rather, the rankings are aimed to find the best price, value and production combo to help you win cash games, also taking into account potential ownership levels for each player.
PG
1) Russell Westbrook
2) Kyrie Irving
3) Jrue Holiday
4) Kyle Lowry
5) Jeff Teague
6) Reggie Jackson
7) Emmanuel Mudiay
8) George Hill
9) Donald Sloan
SG
1) Archie Goodwin
2) Andrew Wiggins
3) Evan Fournier (if T. Harris is out)
4) J.R. Smith
5) Kobe Bryant
6) Monta Ellis
7) Will Barton
8) E'Twaun Moore
SF
1) Paul George
2) LeBron James
3) Nicolas Batum
4) Kevin Durant
5) Stanley Johnson
6) Kent Bazemore
7) C.J. Miles
8) P.J. Tucker
9) Michael Kidd-Gilchrist
PF
1) Thaddeus Young
2) Anthony Davis
3) Aaron Gordon (falls to 7 if T. Harris plays)
4) DeMarcus Cousins
5) Julius Randle
6) Markieff Morris
7) Taj Gibson
8) Bobby Portis
9) Kevin Love
C
1) Gorgui Dieng
2) Pau Gasol
3) Brook Lopez
4) Ian Mahinmi
5) Myles Turner
6) Al Horford
7) Nikola Jokic
8) Nikola Vucevic
As always, stay locked to Twitter and Rotoworld for any late-breaking news the hour before the first game tips at 7 p.m. EST. I'll do my best to update this article as news breaks throughout the day, but the best way to get the latest is always to follow me on Twitter @BigZack44, where I'll do my best to break down the implications of any late scratches or lineup changes.

[/cointent_lockedcontent]