Daily Fantasy Basketball Strategy: Friday, February 26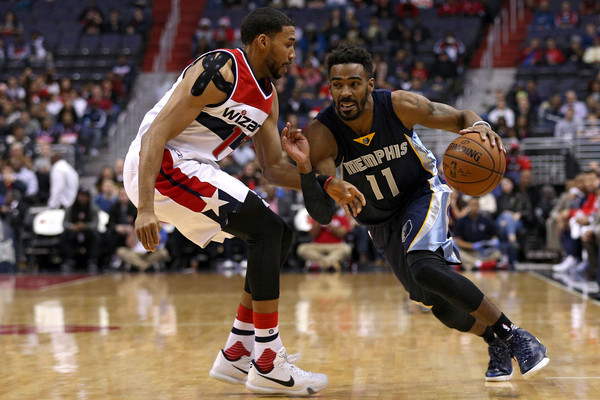 Welcome to another Friday edition of Ricky's NBA DFS advice. Today I will be breaking down tonight's eight-game slate by giving you my top play at each position, as well as the best other options at varying price levels. If you read through it all well you will learn about my lineup strategy for both cash games and GPP tournaments. This should help you construct your lineups and lead you to ending the night in the green. Let's get to the grind.
Point Guard
Earn free access to this and other #FrontOffice articles by depositing a minimum of $20 at FantasyDraft!
[cointent_lockedcontent article_labels="basketball"]
"The Play": One feature of tonight's slate that helps make it slightly easier to analyze is the fact that the Grizzlies and Lakers will square off for the second consecutive game. If you played on Wednesday, you already were able to study the matchups and tonight is just more of the same. One matchup I liked a few days ago and am going back to the well on Friday is Mike Conley. No team allows more fantasy points to opposing point guards (PGs) than the Lakers, and Conley has enjoyed an uptick in usage without Marc Gasol. In the four of the past five games, Conley has scored at least 20 real points (PTS). Conley has always been a solid passer and he can provide steals so if he's scoring at a solid clip then he should easily be able to hit value. The other night he posted a 24-6-8 line and the game remained close because the Grizzlies simply are nowhere near as good without Gasol. Since the blowout factor is out the window, the game is almost a virtual lock to remain close which means Conley will play a lot of minutes in the best matchup possible. He's easily my favorite play at the position tonight and a lock for my cash games.
Other Options: Another player who flourished in the very same matchup Wednesday was D'Angelo Russell. Although Jordan Clarkson put up 28 PTS as well, I feel more confident tonight with Russell as Tony Allen may return to full minutes tonight and he's an excellent defender. Conley is widely known as a plus defender himself but he's nowhere near the ilk of Allen and the Grizzlies are missing their best help defender (Gasol). Now if a player blows by Conley on the perimeter, his best chance at reinforcement is Brandan Wright. Oh and Russell didn't seemed phased by the defense the other night he produced 40 fantasy points against the Grizzlies thanks to a 22-4-8 line. In a starting role and around 30 minutes per night, Russell is closer to a $7,000 player than a $5,200 one. The surest thing in fantasy basketball is an opposing player against the Sacramento Kings going off and Chris Paul will earn that honor on Friday. If you can afford him, I would love to pair him with Conley on all sites because he averages more than 46 fantasy points without Blake Griffin and that number would probably rise to 56 if they played the Kings on a nightly basis. Derrick Rose would yet again be in for heavy usage but he's best left for DraftKings (DK) because you can late swap him out if he sits…he's currently listed as questionable. In two games this year, Kyle Lowry has posted at least 50 fantasy points in each versus the Cleveland Cavaliers but he's no bargain anywhere. On Feb. 5, John Wall triple-doubled against Philadelphia and, news flash, the 76ers defense still stinks. Others to consider: Kemba Walker (both), Jeff Teague (cash), Kyrie Irving (both) and Deron Williams (both).
Shooting Guard
"The Play": Shipping Tobias Harris out of town has really boosted the values of both Victor Oladipo and Evan Fournier who are both listed as shooting guards (SGs) on most sites. With Harris, Oladipo averaged 29.6 DraftKings fantasy points per game (DK FPPG) and Fournier averaged 23.8 versus 34.7 and 33.3 in games without Harris. Both have moved into the starting lineup seemingly for good without him and their roles are no longer in question despite the fact they have a coach with a reputation for tinkering with lineups (for good reason). Since they have both benefitted greatly, I am deeming them both the plays of the day at the position because both of their prices are just plain too cheap for their improved situation. The matchup against the Knicks isn't anything special but both should still produce enough to make them viable in all formats.
Other Options: As per usual, the rest of the SG position pretty much sucks tonight. Will Barton will see action in a game with a 209.5 over/under and an opposing defense that ranks 23rd in defensive efficiency to SGs but his minutes are back down to the mid-20s over the past two games. Tonight will be a revenge game of sorts for Arron Afflalo versus the Magic and his price is down to $4,500 on DK but he has been too consistent for anything outside of GPP. Otherwise the options are Kobe Bryant (coming off of a letdown game against the Grizzlies and set to face them again) or Nicolas Batum (mediocre matchup and mediocre price point). Unless value emerges, there isn't much else unless you want to punt with Vince Carter but his price is all the way up to $3,700 on DK.
Small Forward
"The Play": One player I rarely consider is Carmelo Anthony but I'm feeling it tonight. "Ooh La La": my terrible attempt at a double entendre signifying both how much I like him tonight and working in the fact his wife's name is La La. Anyways, if you can still stomach to read more after that awful joke, the Magic are coming off of a hard-fought loss to the Golden State Warriors.  After that battle, they'll have to play another game on the second night of a back-to-back against a fresh Knicks team. Give Anthony a winded defender and he'll burn anyone regardless of who they are. However, the way the Magic's roster is currently constructed, Anthony is likely going to have at least an inch on whomever guards him and the likely candidate is Evan Fournier. Advanced metrics suggest Fournier is a below average defender and Anthony toasted the Magic for 50-plus fantasy points earlier this season. Anthony is producing career highs in both rebounding and assist rates this season. While he's only averaging about 1.0 fantasy points more per game this season, the statistical diversity creates a higher nightly floor for him and tonight is a great night to take advantage.
Other Options: Other than the added motivation against the second team in the East, the Toronto matchup doesn't strike me as anything special for LeBron James but he's always in play. Despite the return of Omri Casspi, Rudy Gay has still been hovering around 36 minutes per game (MPG) and Vegas implies the Kings will score around 107.8 points tonight. His price dropped after a dud against Kawhi Leonard so this could be an excellent buying opportunity. Like the rest in this section, Paul George and Danilo Gallinari are options but there really aren't many selling points at their current prices in their current matchups other than they're consistent. Others to consider: Thabo Sefolosha (cash), Chandler Parsons (GPP) and Mike Dunleavy (cash).
Power Forward
"The Play": Of all the Cleveland Cavaliers, Kevin Love is my favorite tonight the aforementioned battle of the two teams atop the Eastern Conference. Tyronn Lue has extended the starters' minutes as-is already since taking over as the team's head coach but they figured to get extended even slightly further in a game he'll be looking to win. The Cavaliers have squared off twi Full disclosure: the first contest was without Kyrie Irving and that was his superior output of the two (42.75 fantasy points).ce before against the Raptors this season and Love has reached at least 38.75 DK FP in each. Still, with a greater than normal allotment of minutes, he only needs around 39 fantasy points for 3x value on FantasyDraft which would equate to 5.3x value on DK. Undeniably he is one of the safest plays on the board tonight and people may be off him due to the fact he's coming off of a 16.50 fantasy point dud versus the Hornets on Wednesday.
Other Options: The Bulls continue to suffer on both ends of the court without Jimmy Butler but the game should still remain close so Paul Millsap should be in for a big game. Millsap averages 35.5 FPPG versus Taj Gibson in 13 games over his career and has topped 30 fantasy points in five of his last six meetings against him. As always, DeMarcus Cousins is an option but he has only scored 54.25, 26.75 (ejected) and 47.75 fantasy points respectively in his three meetings versus the Clippers this season. An interesting cash play is Dirk Nowitzki against a Denver team that allows the eighth most fantasy points to opposing power forwards (PFs). Zach Randolph will continue to see upwards of 28-percent usage without Gasol but his rebounding has been down lately. He still scored 31.25 fantasy points against the Lakers the other day and remains viable. Others to consider: JaMychal Green (both), Nerlens Noel (GPP), Bobby Portis (GPP), Aaron Gordon (both) and Kristaps Porzingis (both).
Center
"The Play": On DraftKings (DK) Marcin Gortat's price is a bargain but on FantasyDraft it is straight laughable. He is priced to the equivalent of $6,000 on DraftKings and squares off against the worst defensive team against opposing centers (Cs). Gortat unsurprisingly flat dominated Philadelphia in four meetings last season when he averaged 38.3 FPPG…then they drafted a center who made them even worst defensively at the position. Gortat torched the 76ers for 44.25 fantasy points earlier this season and there's not really much else to say about a solid player in an elite matchup. Use him.
Other Options: Unfortunately, C isn't quite that cut and dry tonight because there are a handful of other solid options tonight. Nikola Vucevic, although on a back-to-back, is averaging 41 fantasy points in the month of February and playing like a man possessed this season. In two games versus the Knicks this season, he has averaged 24 points per game (PPG) and 10.5 rebounds per game (RPG) so clearly Lopez's improved defense has not affected him. Also, DeAndre Jordan will face the awful Sacramento Kings although he comes with foul trouble potential against the almighty Boogie Cousins. Pau Gasol is listed as questionable with an illness but is bordering on must-play status against a susceptible Hawks defense. Al Horford faces a Bulls defense that allows a ton of rebounds, Zaza Pachulia will face a weak Denver frontcourt defense and Al Jefferson is only $4,800. Even though Jefferson's minutes limit is still in the mid-20s, he can easily produce value at that price if you have the guts. Others to consider: Ian Mahinmi (cash), Robin Lopez (GPP) and Jahlil Okafor (GPP).
Good luck tonight.
Grind on…
[/cointent_lockedcontent]