Daily Fantasy Basketball Strategy: March 18, 2016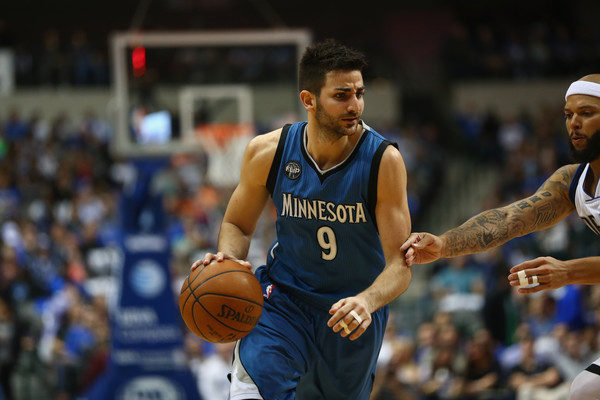 What a balanced week it has been as far as the schedule goes. 9, 6, 9, 8 and today we have 8 games. We love when there's not 10+ games and you have simply way too many options to consider, but at the same time, we like a few 4-6 game slates mixed in. Today I'll be breaking down the eight-game Friday NBA DFS slate position-by-position. I will give out my top play at each spot and then several other options at varying price levels that you should be considering as well. After reading this you will have a great idea of how I will be formulating my lineups tonight, and you should be able to build strong lineups of your own, with increased likelihood that you'll end the night in the green. Without further delay, let's get right to today's daily grind.
Point Guard
[cointent_lockedcontent article_labels="basketball"]
"The Play": Wow. Where to even begin at the point guard (PG) position for Friday? This may be one of the deepest positions on any slate I've ever seen. Ideally, I would love to roster one of the PG stars but the reality is they are not as appealing as a certain other superstar at another position. Therefore, I think the play who makes the most sense from a balance of cost and upside is Ricky Rubio. The Timberwolves' PG is amidst a streak of five double-doubles in his last six games and he is a player who greatly benefits from an uptick in pace. Although he'll square off against a solid individual defender in Patrick Beverley, he is not a player who focuses on creating offense for himself anyways. The more impactful aspect of the matchup is the pace: Rockets/Timberwolves is the second highest projected scoring game of the night according to Vegas. In games with quicker paces, Rubio is presented more opportunities to rack up the assists (AST) and rebounds (REB) that round out his game. In one prior meeting this season, Rubio missed a double-double versus the Rockets by a single point and scored 39.25 Draftkings (DK) fantasy points. Considering the Rockets allow over 106 points per game (PPG), I expect Rubio to put together a similar performance tonight and is therefore one of my favorite options in all formats.
Other Options: As mentioned above, Rubio is far from the only option at the position tonight. Both Russell Westbrook and Stephen Curry draw fantastic matchups. Westbrook will square off against a Philadelphia team that struggles to defend any position let along PG and Curry will square off against Dallas in the only game projected to be higher scoring than the aforementioned Rockets/Timberwolves tilt. The issue with Westbrook is the game should be a blowout so he may not play a full allotment of minutes…although his minutes should be extra productive as evident by his 1.9 fantasy points per-minute (FPPM) versus the 76ers over the past two seasons (mind you, Durant sat out a few of those games). Curry is the better cash option to me because the Mavericks could at least keep it close and obviously Curry is comparable to Westbrook in terms of fantasy efficiency. Beyond those two, both Damian Lillard and Jrue Holiday square off against one another in a projected 219 total and both teams struggle in terms of DvP versus the position. Holiday has struggled as of late but this game presents an opportunity for a rebound especially since Lillard isn't exactly known for his defensive prowess. Also Consider: D'Angelo Russel (both), Darren Collison (GPP), Isaiah Thomas (both), Reggie Jackson (GPP), Brandon Knight (GPP), Cameron Payne (GPP), Isaiah Canaan (GPP) and Ish Smith (cash).
Shooting Guard
"The Play": The single reason I am leaning towards fading both Westbrook and Curry in cash tonight is because James Harden will square off against a Timberwolves team that ranks 22nd in defensive efficiency to opposing shooting guards (SGs). Certainly no one would argue just how important the addition of Karl-Anthony Towns has been to the Timberwolves but it's hard to argue with Harden's history versus the team over the past two seasons. There is only a one game sample size this season and Harden dropped 48.75 fantasy points against their upcoming opponents. The reason I eluded to Towns is because there is an extensive sample from last season (four games) and Harden topped 50 fantasy points thrice during those occasions including a 75 burger. Towns helps slightly as a rim protector but Harden is frankly due for a big game especially against the team allowing the seventh most PPG (105.6). He is simply the superstar to spend up for in cash because he possesses both a high floor and an insane ceiling and that's what we look for in DFS.
Other Options: Shooting guard, as per usual, is overall unappealing compared to the other positions. DeMar DeRozan stands out as the natural downgrade to Harden, or even complement to Harden, depending on roster structure. Those with moderate understandings of the game of basketball know Avery Bradley is widely viewed as an elite defender yet DeRozan has scored 35-plus fantasy points in each of his four meetings against him over the past two seasons. How can this be? The likeliest reason is the uptick in pace as the Celtics play the NBA' fifth quickest brand of basketball which provides more scoring opportunities than usual to the Raptors' offense. Also, these games are typically close battles between this two teams so DeRozan plays a full allotment of minutes. If the team is playing quick and DeRozan is playing in the mid-30s of minutes, he is an All-Star so he can get it done against anyone…even Bradley. Beyond those two, a trio of scoring-first SGs look to be the most viable options remaining: Andrew Wiggins, Klay Thompson and Devin Booker. To me, Wiggins and Booker are the only two considerable for cash even though Thompson blew up in his previous meeting versus Dallas. In the five games before, Thompson was up and down like the readings on a heartbeat monitor. Otherwise, Kentavious Caldwell-Pope is a rather safe option as I'll start just about anyone in cash playing around 40 minutes against the NBA's worst defense (the Sacramento Kings). Also Consider: Wesley Matthews (GPP), Allen Crabbe (GPP) and Zach LaVine (GPP).
Small Forward
"The Play": Though a majority of Tobias Harris' minutes have come via playing time at the power forward (PF) position this season, most sites continue to list him as a small forward (SF). Whatever, it doesn't matter, because tonight I'll play him regardless of position in this elite matchup. The Kings allow the eighth most fantasy points to opposing SFs and the second most fantasy points to opposing PFs. Those watching the Pistons game on Wednesday noticed Harris looked increasingly aggressive and he finished with an impressive 19-11-5 double-double. If he brings half that aggression into this game, he'll reproduce that output easily against the NBA's fastest-paced squad with the worst efficiency defense. Typically Harris' ceiling is limited but a 20-10 double-double at his mid-tier price doesn't sound like a limited ceiling to me so I'm willing to take the shot in all formats including tournaments.
Other Options: If serious value emerges just prior to tipoff, the duo of Harden and LeBron James is certainly enticing. Multiple factors are interesting in regards to LeBron. For one, James sat out last game so his legs should be fresh…and two, probably most importantly, James has consistently torn up the Magic this season. In three meetings, he has scored at least 44.5 fantasy points in each and that was prior to Tobias Harris being shipped out of town. Over the last three games, the Magic rank 25th in defensive efficiency versus opposing SFs compared to 15th for the season. Also in play is Kevin Durant but, like Westbrook, he is a risk in a game with a 15.5 point spread. He should be a lock for 40-50 fantasy points but his ceiling doesn't stretch far beyond that due to the likeliest blowout scenario. Chandler Parsons has been playing some stretch four recently and will enjoy an uptick in pace versus the Warriors who rank second in the NBA in pace. Both he and Harrison Barnes (Andre Iguodala out) are in play for all formats in what could be a closer-than-people-think type game being played in Dallas. Also Consider: Shabazz Muhammad (GPP), Rudy Gay (GPP), Marcus Morris (cash) and P.J. Tucker (both).
Power Forward
"The Play": No teams allows more fantasy points to opposing PFs than the Rockets so I am going back to the well with this game and suggesting you play Gorgui Dieng. Dieng had been laboring through a bit of a cold streak to begin the month of March but he has since broken out in a big way. Over his last three games, he has scored at least 33.75 fantasy points in each due to at least 12 points (PTS), six rebounds (REB) and two blocks (BLK) in each contest. Against a smaller Trevor Ariza, Dieng should be able to rack up a blocked shot or five. The only issue is Dieng having to step out on a shooter which could limit his REB potential but it also increases his PTS potential versus a smaller player. All-in-all, his floor is high enough for me to justify his price in all formats considering the favorable pace of this game.
Other Options: While not as thin as SG, PF is surprisingly thin tonight. DeMarcus Cousins is always a tournament option, but at this price, he has never reached 5x value on DK versus Andre Drummond. Although Dirk Nowitzki has been up-and-down versus the Warriors over the past two years, he eclipsed 35 fantasy points in the last meeting and has scored at least 35 fantasy points in five of his last six games. His price remains the exact same as it has the past two games despite the recent success. Otherwise, Kevin Love is in a solid spot against a Magic team that allows the eighth most rebounds to opposing PFs and Nerlens Noel is always a GPP option with Jahlil Okafor out. Also Consider: Amir Johnson (GPP), Julius Randle (both), Jason Smith (GPP) and Anthony Davis (GPP).
Center
"The Play": Rarely have I ever even thought about the prospects of rostering Enes Kanter in cash games but his recent production has forced my hand. Lately, Kanter has improved on his consistency and now has put together six consecutive games of at least 26.75 fantasy points including five over 30. To illustrate how volatile he is, he has not played 30 minutes in any of his previous 22 games. His minutes have been on the rise recently but he still relies upon his efficient nature, averaging nearly 1.2 FPPM. In a game where the Thunder are expected to blow the 76ers out of the gym (15.5 point spread), Kanter should see more court time than a game flow that remained close. Kanter is in a unique role where he plays both in competitive games and blowouts but his playing time increases in the landslide victories. Assuming he sees around 25 minutes, he'll be facing a defense that allows the most fantasy points to opposing centers (Cs) so Kanter could even improve upon his efficiency numbers in this one. Taking his recent consistency into consideration, he is actually both an elite tournament option and a safe cash play because his downside now appears capped, yet the sky is the limit.
Other Options: Alex Len's price is slightly above my comfort zone but he still can rostered in all formats against a Lakers team that ranks last in defensive efficiency versus opposing Cs. Jared Sullinger's minutes have been on the rise yet his price continues to hover around $5,500. Both Cs in the Rockets/Timberwolves games are solid for tournaments despite the poor matchup against one another in terms of DvP. Finally, Andrew Bogut's have been up about two MPG without Festus Ezeli and I suspect the Mavericks counter him with some combination of Zaza Pachulia and/or David Lee. He could be a sneaky suspect to eclipse 6x value on DK at just $4,200. Also consider: Mason Plumlee (GPP), Willie Cauley-Stein (GPP) and Marreese Speights (GPP).
Good luck tonight.
Grind on…
[/cointent_lockedcontent]