Daily Fantasy Basketball Strategy: March 29, 2016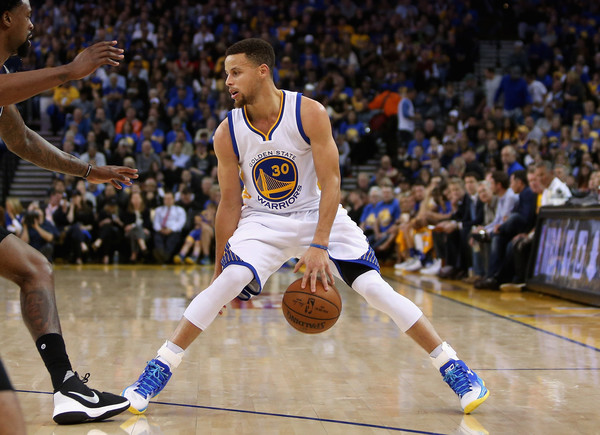 We have a nice six-game NBA slate on our hands tonight, and I'll be breaking it down from top to bottom to help you formulate your DFS lineups, and lead you towards ending the night in the green. I'll review and analyze the top plays of the night, point out the best cheap values on the slate, and then finish with positional rankings. Let's get right to the daily grind!
POINT GUARD
[cointent_lockedcontent article_labels="basketball"]
Stephen Curry – The stage is set at Oracle for another one of Curry's special nights. John Wall is talented enough to keep the Wizards in this game long enough for Curry to play 30+ minutes and post a big time DFS number. The last time these teams faced off, Steph scored 51 points and had a 71 fantasy point (FP) night. He's hit above his 46 FP value line eight of the last ten games.
Kemba Walker – If you can't quite find a way to roster Steph, but want an elite PG, Kemba draws a great matchup against the Sixers, and he's averaged 42 FPs in two games against them this season. Most will look elsewhere due to the recent drop if scoring from Kemba since Batum has picked it up, but that's just more reason I find him appealing.
Elfrid Payton – The kid with the crazy hair is hungry for coach Skiles approval, and recently he's been on such a warpath that Skiles actually paid him a compliment to the press. Payton didn't like when he returned from a brief injury in a bench role, so he stepped it up, even on nights that the Magic as a whole, looked awful. I have Elf projected at 32 FPs tonight against the poor defending Nets.
Cheap risk option: Jeremy Lin and Shane Larkin are the two cheap guys that I am looking at here tonight. Lin has hit well above value in four of five, and Larkin has hit above 20 FPs in three straight. They both have solid matchups as well.
SHOOTING GUARD
Klay Thompson – The Western Conference player of last week is back in play tonight against the Wizards who are among the worst at stopping opposing SGs. Klay has hit 23 treys over the past three games, and put up 45+ FPs in each of those contests. Usually this would be a time I'd look to fade, but he's just too hot and the matchup only pours diesel fuel on the flames. My projections spreadsheet puts him at 38 FPs.
Victor Oladipo – Not a big fan of the mid-tier SGs tonight, so I'm either paying up for one of the top few, or going the super cheap route. Dipo and Klay are my favorite two, although obviously James Harden is a great option as well if you don't roll with Curry. Dipo is confirmed ready to go tonight, and should be able to make mincemeat out of the Nets backcourt. Look for him to dribble-drive his way to a high scoring night, and my spreadsheet agrees, putting him at 37 FPs.
Cheap risk option: If Iman Shumpert plays, he'd be worth a look due to him being near minimum price, and he's put up 25 FPPG in the two games that he was active that LeBron missed this season. Aside from him, really only like Hollis Thompson decently. Really though, I plan to spend up at SG tonight.
SMALL FORWARD
Kevin Durant – If I don't use Steph as my stud in a lineup, I'm almost assuredly to go with Durant. KD is one of a few players that what the number says under defense vs position is totally irrelevant. KD lit this same Pistons lineup up for 66 FPs earlier this season, and my projections have him at 55 FPs tonight, even on a back-to-back. Also, I just don't love any of the other options at SF that much at all tonight.
Trevor Ariza – This is one lucky guy, who goes from having to try and defend King James and face him on the other end also, to only having to guard the likes of J.R. Smith and added minutes of Richard Jefferson. With that being the case, look for Ariza to break the slump he's in a bit, and hit above 25 FPs for the first time in four games.
Cheap risk option: Like I said, just not loving the options at SF tonight aside from the two mentioned above. If I were to go with a cheapie, it'd be Harrison Barnes who draws a strong DvP matchup against Otto Porter and the Wizards. Only needing 21 FPs to hit value, he's a reasonable bet for that.
POWER FORWARD
Kevin Love – With LeBron out tonight, You have to love Kevin, or show Kevin some love, however you prefer. Love has a usage rate of 23% on the season, and when LeBron is off the floor, it's 28% per nbawowy.com. Despite shooting a putrid 37% from the field with LeBron out, Kevin averages over one fantasy point per minute. My projections have him at 34 minutes played, and 39 FPs, so seems right about the course with this plus matchup.
Aaron Gordon – Air Gordon is a nice option at a nice price tonight in a plus-matchup against the Nets. Gordon had a bad stretch, but has went for 30+ FPs in two of the last three games, and seems to be getting back to what made him standout after becoming a starter. I have him at a solid, above value 29 FPs.
Cheap risk option: I expect a few extra boards to be out there for the taking for the likes of Tristan Thompson tonight with no Bron around, so I think he is set up for a low-end double-double in this one. Projections have him at 24.5 FPs.
CENTER
Brook Lopez – Whether Nikola Vucevic plays or not, Lopez is in a great spot to excel tonight in Orlando after a not so great game last night in Miami. B-Lo has averaged 'just' 36 FPs against the Magic this year, but with Vooch either out or limited, this one will go differently. I'll be shocked if Lopez goes for less than 40 FPs, projection says 44.
Ian Mahinmi – I'm going to keep going with Mahinmi in the mid-tier range until he cools off or the price gets too high, because he's really doing a great job of late at putting points on the board and racking up defensive numbers. With 33 and 41 FPs in the last two games, he now goes into a game against Chicago who is soft on the interior on both ends, and he's averaged 28 FPs against in three games this season.
Cheap risk option: The Thunder will need the defensive presence of Steven Adams tonight it they're going to limit Andre Drummond's work in the paint, so expect to see plenty of Adams tonight, enough for him to hit above his 19 FP value line.
Cash game rankings:
This isn't necessarily an order of who will score the most DraftKings points. Rather, the rankings are aimed to find the best price, value and production combo to help you win cash games, also taking into account potential ownership levels for each player.
PG
1) Stephen Curry
2) Kemba Walker
3) John Wall
4) Kyrie Irving (questionable)
5) Elfrid Payton
6) Russell Westbrook
7) Jeremy Lin
SG
1) Klay Thompson
2) Victor Oladipo
3) James Harden
4) Monta Ellis
5) Nicolas Batum
6) Evan Fournier
SF
1) Kevin Durant
2) Trevor Ariza
3) Paul George
4) Tobias Harris
5) Robert Covington
6) Harrison Barnes
PF
1) Kevin Love
2) Draymond Green
3) Aaron Gordon
4) Marvin Williams
5) Thaddeus Young
6) Tristan Thompson
7) Taj Gibson
C
1) Brook Lopez
2) Dwight Howard
3) Ian Mahinmi
4) Pau Gasol (if he plays)
5) Andre Drummond
6) Steven Adams
As always, stay locked to Twitter and Rotoworld for any late-breaking news the hour before the first game tips at 7 p.m. EST. I'll do my best to update this article as news breaks throughout the day, but the best way to get the latest is always to follow me on Twitter @BigZack44, where I'll do my best to break down the implications of any late scratches or lineup changes.

[/cointent_lockedcontent]